The 7 Best Breweries in Ottawa
Fancy a brewski? You're in luck because today we're going to plunge head-first into the world of breweries in Ottawa!
If you're feeling tired of the usual commercial beers, I highly recommend going for something local and with a distinctive taste. Of course, you're going to have to know where to look first, so that's what we'll do.
I'll be giving a rundown of five of the best breweries of Ottawa based on customer ratings. We will also take a closer look at what they have to offer to beer lovers, along with their pros, cons, and reviews.
How Much Do Breweries in Ottawa Charge?
To understand how much a craft brewery visit will cost, you must first know about Ottawa's unique culture and drinking habits. Believe me when I say the two are closely intertwined.
Being a truly multicultural city has allowed people who visit and live in Ottawa to enjoy a wide variety of food from all over the world. And how best to pair delicious meals from China, the Middle East, Latin America, India, and other countries than with local craft beer?
The average Canadian drinks around 80 litres of beer in a year. Roughly translated, that's enough to fill up nearly a thousand Olympic-sized pools – with over 80% of that beer being products of Canadian craft breweries.
So yes, it's safe to say the Ottawans love their beer. As further proof, there's an Ottawa Beer Fest that's been around for nearly a decade now.
The festival features over 40 Canadian craft breweries, along with fun activities like the 5K Craft Beer Fun Run/Walk and beer pong. Apart from local and domestic craft beers, attendees can partake of some wine, ciders, imported beers from Europe, and other specialty brewskis.
This yearly celebration has put Ottawa firmly on the beer destination map. It's also succeeded in shining the spotlight on local craft breweries, along with the best international cuisine paired with them.
A 20-piece ticket sheet to sample different beverages and food at the Ottawa Beer fest costs $20. Of course, it's up to the vendor to price their samples, usually served up in 12, 8, or 4-ounce cups.
There's also an active Ottawa beer tourism industry organized by Brew Donkey and other groups. Depending on customization preferences, a private tour can cost anywhere between $25 to $100 (+ tax) per person.
But how much will a locally crafted beer set you back? Let's take a look at what the most popular breweries in Ottawa have to offer.
BREWERY
PRODUCT PRICE
Beyond the Pale
Pale Ale Project $3.10 (473 ml./4.9%)
The Darkness $3.10 (473 ml./5.6%)
Tooth and Nail Brewing Company
Tenacity Pale Ale $3.00 (355 ml./5.5%)
Fortitude Stout $3.00 (355 ml./5.4%)
Stray Dog Brewing Company
Shaggin' Wagon $3.98 (473 ml./6.4%)
One Hop Wonder: Eclipse $4.56 (473 ml./6.4%)
Waller St. Brewing
Tiger Milk (White Stout) $6.50 (500 ml./4.5%)
Black DIPA $8.00 (500 ml./8.5%)
Take note that the prices typically reflect the volume of beer per container, as well as the alcohol content by volume. However, other factors such as packaging, ingredients, branding, advertising, and brewery practices could affect the final price tag.
The Best Breweries in Ottawa
Now that you have an idea how much a uniquely crafted local beer costs, it's time to take a closer look at the breweries behind them. I will mention the different factors that will make them worth a visit (or at least an online order).
1. Beyond the Pale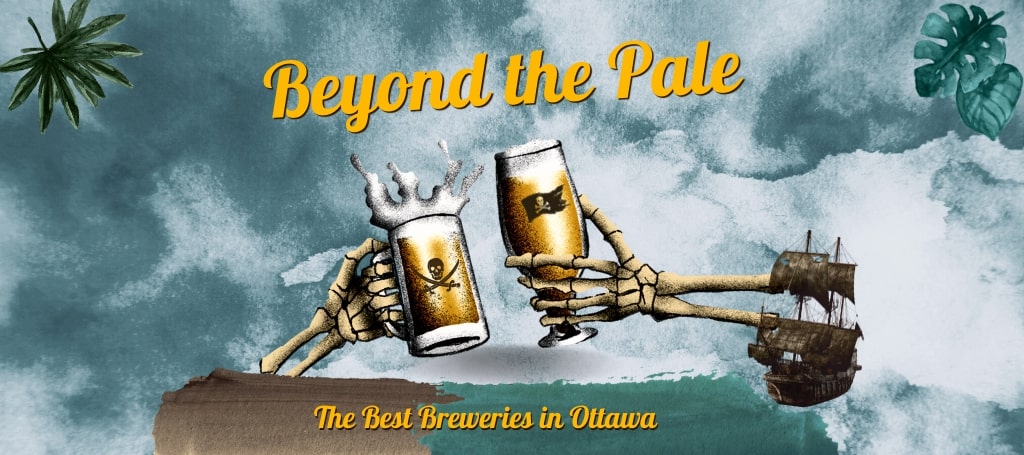 | | |
| --- | --- |
| PRODUCTS | Beyond the Pale craft beers in bottles and cans, BTP Smoque House takeout food, gift cards, house wine, beer glasses, T-shirts, toques, tank tops, hot sauce |
| WEBSITE | https://btpshop.ca/ |
| ADDRESS | Beyond the Pale Brewing Company Unit 108, City Centre Avenue, Ottawa, Ontario K1R 6K7 |
| CONTACT DETAILS | (613) 668 2337 |
| OPERATING HOURS | 11 AM – 8 PM |
Ever since 2012, they have been serving 16 crafted beers to the local of Ottawa. They are our first choice because aside from beer, they can also provide you with delicious barbeque by the Smoquehouse Team.
A bestseller on their menu is the Pale Ale Project — the refreshing and flavourful result of a year's worth of trial and error using a variety of combos.
Another one is The Darkness, which uses hops, some roasted barley, and chocolate malts to come up with a stout that's bold and full-bodied.
These are few of their signature drinks which means you will never be able to taste these any where else!
What's great about them is that the brewery is open seven days a week from 11 AM to 8 PM. Boasting a large, "socially-distanced" patio to accommodate diners and craft beer aficionados,
Unlike others, they also offer its food and specialty brews in their online shop as an added COVID safety measure. Get that beer and enjoy watching Netflix.
Expansive food menu to go with the good craft beer selection
Reasonably priced beer offerings
Pet-friendly onsite restaurant
Free (contactless) delivery all over Ontario for orders $60 and up
Some beer selections are low in stock or unavailable
Customer Reviews
Care to know what customers have to say about their Beyond the Pale experience? Read on!
"They have a good selection of craft beers. We had a few snacks which were good. Although the place is pretty big, it was quite packed on a Saturday afternoon. There are tables outside. Good service." – Seat13C
"A microbrewery with a good selection of beer, and quite a good menu. Had chicken tacos (super spicy) and pulled pork sandwich (excellent). Very good IPA, aromatic and tasty." – 572kamilp
2. Tooth and Nail Brewing Company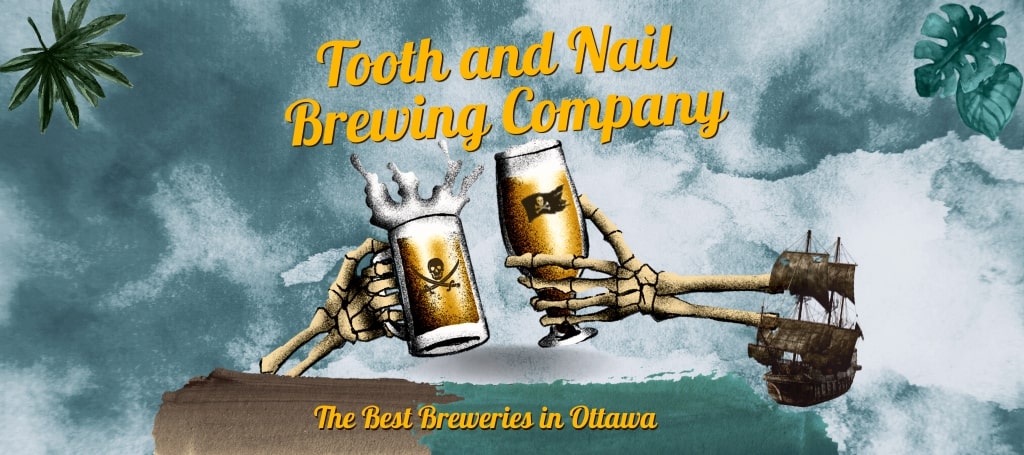 If there is a brewery specifically designed for people-watching, it would be Tooth and Nail Brewing Company. It's conveniently located in a decidedly hipster part of town where many tourists and visitors gather and mingle.
The brewery itself is accompanied by a beer bar that offers up the usual bar chow of chips, nuts, pretzels, and olives. However, those looking for a fuller meal to go with their favourite stout, pale ale, or lager could also order pastrami or country ham and pickle sandwiches.
But for those who wish to stay at home and enjoy their craft beer, Tooth and Nail Brewing Company's website offers a catalogue of its bestsellers. Curbside pickups and Ontario-wide shipping can give you peace of mind as you sip on the aromatic and flavourful Fortitude Stout.
In stark contrast to its bare-faced website, Tooth and Nail have quite an active Facebook page. Customers can see updates and brewery announcements on the feed, as well as send private messages in real-time.
Reasonably priced beer offerings
Has an outdoor dining area for COVID compliance
Free local delivery all over Ontario for orders $45 and up
Menu options limited to mostly bar chow
Customer Reviews
Read some feedback from people who have tried what Tooth and Nail Brewing Company has to offer:
"Being outside of our normal stomping ground, we had not gone in here for a sit-down. Finally made it on a beautiful fall night. They have Community seating outdoors, which is a great way to make new friends. Friendly crowd. The overall noise level is on the louder side, but in a good way. We had a great waiter, and have a great beer. I ordered the pretzels and they were not what I was expecting – and I loved them." – Dawn M.
"Enjoyed drinks here with friends on Saturday night. Really liked the interior, it's big but still felt cozy. Service and beer were both good! The beers I tried were hoppier than I expected but I'd definitely go back again to try something different. Quite a few beers on tap as well as one cider (not their own). I had a flight of 3 beers which was reasonably priced at about $7. Cool spot in the neighbourhood!" – Lindsay K.
3. Stray Dog Brewing Company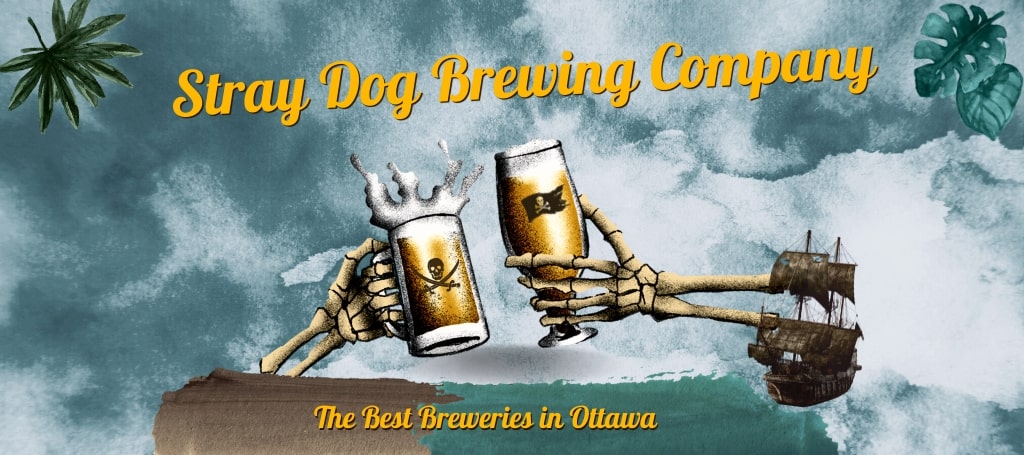 PRODUCTS
Stray Dog craft beers in cans, shirts, beer by keg, beer glasses, beard oil, mugs, hats, sweaters, dog plush and leashes, beer soap, gift cards, hot sauce, coffee, marinade, salsa, socks, patches, hoodies
WEBSITE
https://straydogbrewing.ca/
ADDRESS
501 Lacolle Way, Unit 4, Orléans ON, K4A 5B6
CONTACT DETAILS
613-830-7364 (SDOG)


[email protected]

OPERATING HOURS
Sunday to Thursday 12 noon – 6 PM
Friday to Saturday 12 noon – 7 PM
If you've ever wanted to hit a pub but don't want to leave your beloved furry pal behind, you're in luck. Stray Dog Brewing Company is a dog-friendly brewery where Spot, Snoopy, and Scrappy are welcome (as long as they are properly leashed, that is).
The company's microbrewery offerings are nothing to turn your nose up at, either. A sip of the creamy (yet refreshing) award-winning Shaggin' Wagon New England IPA will make you realize why this hidden space has bar habitués flocking to it.
Stray Dog also offers seasonal and one-off craft beers. If you fancy a full 30-litre keg of your favourite brew, they can fill that up for you as long as it's in stock.
Should you become (or are already) a fan of Stray Dog Brewing Company, you'll be glad to know that the company has an impressive range of non-beer merchandise at their online shop. There are clothing and grooming items for humans, and dog plushes and leashes for their canine companions, too!
Bronze medal winner at the 2018 Ontario Craft Brewing Awards (for Shaggin' Wagon IPA)
2019 Craft Beer Market Big Hoppa first place winner (for Shaggin' Wagon IPA)
Wide variety of merchandise for sale
Dog-friendly establishment
No food menu
No weekend deliveries
Customer Reviews
How do dogs (and their humans) find Stray Dog Brewing Company, you ask? Find out below!
"We enjoyed a wonderful evening, nice cold beer, brought our dog who enjoyed the atmosphere and friendly staff. Great beer, friendly people all around. Water for my dog, treats, it was excellent." – Joof C
"As part of the Brew Donkey brewery tour here in Ottawa, I discovered this gem hidden in an Orleans industrial park. The brewery has won numerous awards and it shows. The space is very inviting, clean and modern. This is a great spot to chill after a long day fighting traffic on the Queensway to get home. The staff were super friendly and very knowledgeable of their many offerings. I highly recommend the Jeanne D'Ark Oatmeal Stout and the Summer Slam Cucumber Wheat beer (it sounds like a weird combination but it was super refreshing). Check it out. You won't be disappointed." – Ottawa Andy
4. Waller St. Brewing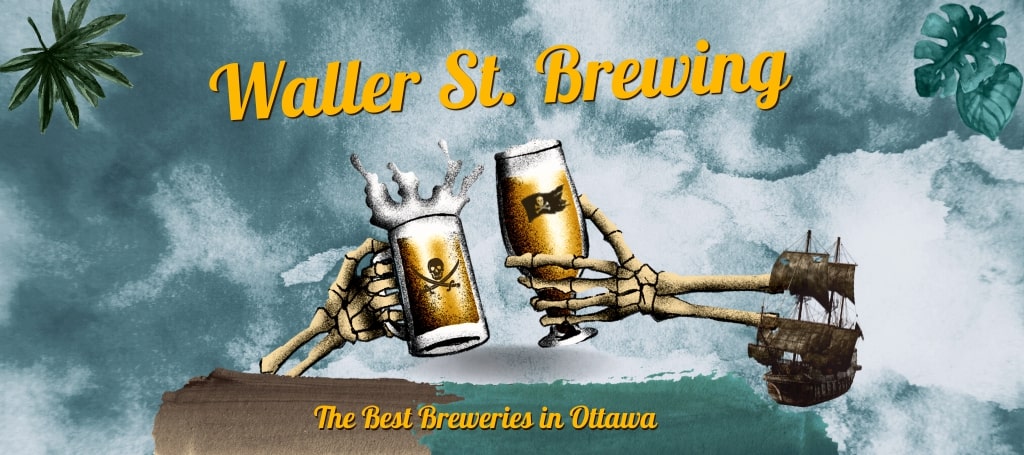 PRODUCTS
Waller St. craft beers in bottles, beer glasses, stickers, shirts, beer carriers, dog treats, magnets, growlers, gift baskets, gift cards
WEBSITE
https://waller-st-brewing.square.site/
ADDRESS
14 Waller St. Ottawa, ON K1N 9C4
CONTACT DETAILS

[email protected]

OPERATING HOURS
Open for pick-up only Monday, Tuesday, and Thursday 10 AM – 3 PM
Friday to Saturday 2 – 6 PM
The founders of Waller St. Brewing envisioned a speakeasy-like atmosphere for their microbrewery. Taking inspiration from the Prohibition era, they set up shop in a small basement which can only be accessed by a steep flight of stairs.
Today, it's become the cozy little underground brewery that is hard to keep under wraps. Though it currently does strictly curbside pickups and deliveries only, the full catalogue of craft beers can be viewed and ordered online.
If you're looking for something big, bold, and with hints of roasty chocolate and licorice, you can't go wrong with the Black DIPA 8.5%. On the other hand, the Tiger Milk White Stout will give you a pleasantly creamy mouthfeel with hints of cocoa and coconut.
It's also great to note a seemingly minor but important process the brewers throw in with their Bottle Return system. With just a click of a button, bottle deposits are encashed (the money is enclosed in an envelope) when delivery staff comes around to pick up the bottles.
The helpful staff makes beer suggestions to customers
Intimate Prohibition-era, old tavern-style ambience
Bottle deposits are exchanged for cash
Free home deliveries for locations 20 km. away from the brewery
Small basement location not suitable for social distancing
No food menu
Currently for pick-up and deliveries only
Customer Reviews
Thinking of giving Waller St. Brewing a try? Get to know what previous customers have to say about it, first:
"A small brewery with a large selection and wide array of different beers. One of the best in Ottawa." – Ryan G.
"This little underground gem is everything I read about and more! It had history, tons of character, great friendly staff and best of all fantastic microbrews of various flavours! It brought my pallet to new places with ingredients like beets in beer which was out of this world for me! But all others we equally as fantastic too if you are a craft beer lover like me! I've told other microbrewery owners across the country about this place as a best practice place to check out for sure! Keep making us want great beer!" – Viking TravelGuy
5. Flora Hall Brewing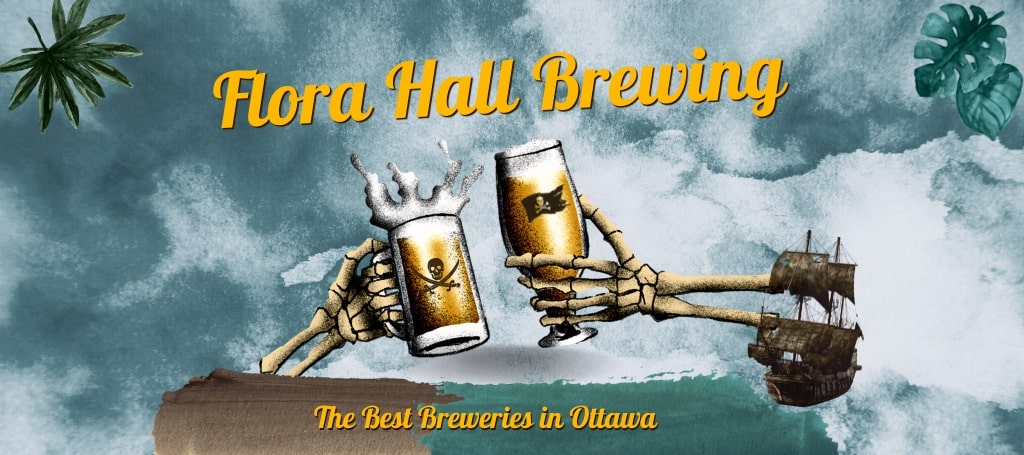 PRODUCTS
Flora hall canned beers, mugs, glasses, caps
WEBSITE
https://florahallbrewing.ca/
ADDRESS
37 Flora Street Ottawa, ON K2P 1A7
CONTACT DETAILS
(613) 695-2339‍
OPERATING HOURS
Monday – Thursday: 4:00 PM – 11:00 PM
Friday – Sunday: 12:00 PM to 12:00 AM
Built to bring together years of travel experience of owner Dave Longbottom, Floral Hall Brewing serves contemporary takes on classic comfort foods and brews from around the world.
That said, customers can find everything from Floral Hall's menu, from light Vietnamese salads to hearty Hoppin' Johns. As for its beer, it offers English Ordinary, Idaho, Northeast, and West Coast IPA, Farmhouse Saison, Dry Hopped Sour, and American Oat Pale Ale, all crafted in its two-vessel brewhouse.
The interior of this brewer is composed mostly of dark metal, tiles, and wood. This creates a chill ambience where people can gather with friends and relax.
Floral Hall Brewing extends its welcoming ambience as it also delivers craft beer right into its customers' homes. This brewery delivers beer within 24 hours of online ordering, just as long as there are adults at home to receive the delivery
However, Flora Hall's food and beer might leave you wanting more and spending more as its servings are relatively small for its price. At least, that's what we've gathered from other customers of this pub.
Takeout and delivery options available
Delivery within 24 hours of online ordering
Wide assortment of cuisine
Craft beer styles from around the world
Small portions and servings
Deliveries limited to weekdays
Customer Reviews
Read these reviews to know what customers like and dislike about this brewery:
"Biked here quite often during the summer for some yummy bites and drinks. IMO best brewery in Ottawa! They delivery so check out their website, just wish that there was more variety online but I assume it's due to canning limitations."
—Thao P
"We love Flora Hall !! They have a patio open on the weekend taking up the whole street, with plenty of space for social distancing (and delicious beer at the same time !). Their staff is going above and beyond to follow all of the rules to keep everyone safe (masks while walking to the bathroom, very clear signage for walking directions, great communication of the rules with each guest). We got wonderful, efficient, and friendly service from Tyler who gave us perfect beer recommendations and a great experience. We will be back !"
—Grace Monahan
6. Local Lager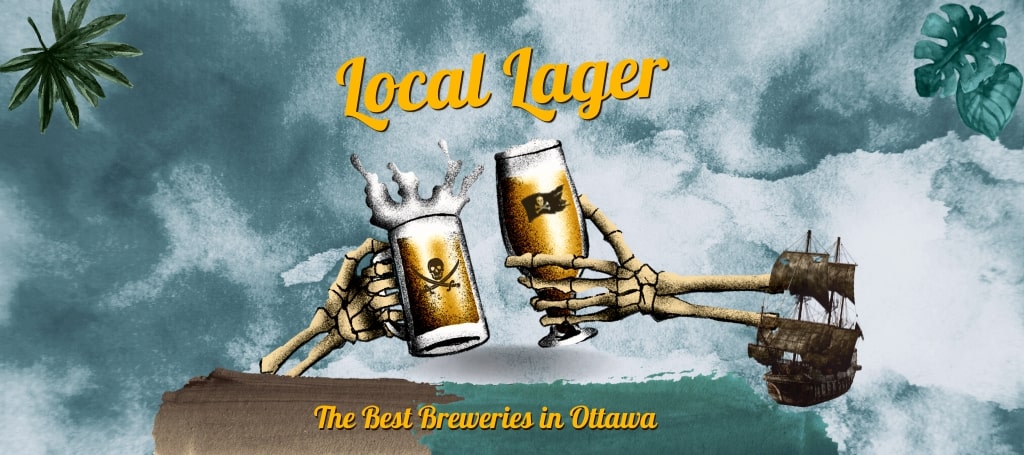 Founded in 2018, Local Lager lives by simplicity as it only brews one simple brew under one simple brand. That said, this brewery doesn't offer much of a choice since it also sells one brew.
Luckily, Local Lager's American pale brew is versatile as it's good for drinking on all occasions. Local Lager doesn't even use any preservatives to maintain a fresh, pure, and crisp taste for its beer.
Because it focuses only on one signature product, Local Lager has the capacity to supply its signature beer to over 34 restaurants, pubs, and other dining and drinking places in Ottawa. In exchange, Local Lager allots most of its proceeds for the local community.
And for those who can't find Local Lager's signature brew anywhere close, they can still opt for home delivery. This way, anyone in Ottawa has the chance to taste Local Lager's beer.
Aside from beer, Local Lager also makes its brand known by selling merchandise like t-shirts. This side product is yet another great way Local Lager draws in money for the local community.
Its signature brew is versatile
No preservatives added
Readily available in numerous restaurants
Home delivery available
Limited to one brew
Only one size
7. Ale/Sessions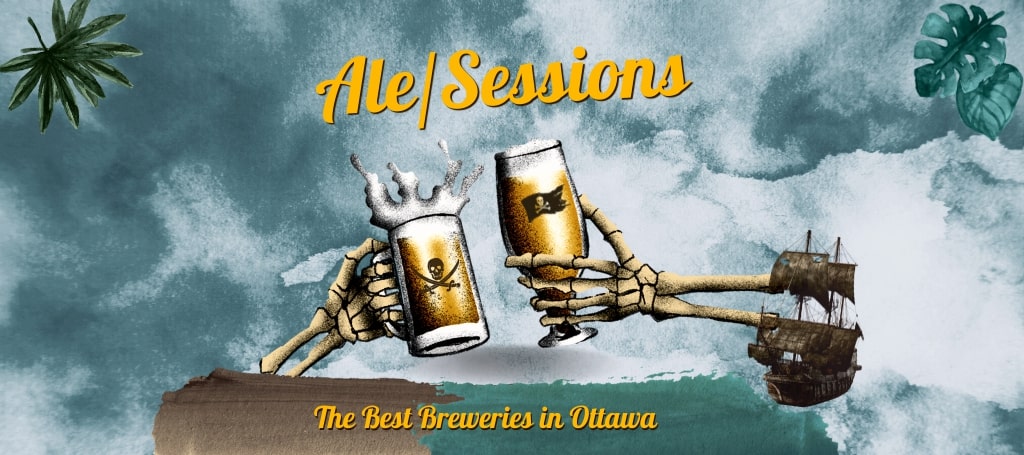 While this next entry isn't exactly a brewery, it can still help you find the best brewery in Ottawa. Canadian Publication, Ale/Sessions has every bit of information on spirits and beer around the country.
It has features on different craft beers and breweries all around the country. Ale/Sessions is a great online tool for those who are always travelling, looking for the best Canadian drinking and dining places.
This online publication is also best for those who really love to discover new blends and brews because every month, Ale/Sessions features a beer of the month. Ale/Sessions also delivers the latest news about beer festivals and the like.
However, Ale/Sessions is only an online publication, and thus you can't actually get any beer through them. And since Ale/Sessions is a nationwide publication, you may often find yourself craving beer from different Canadian cities and provinces with no way of getting it.
Features beers and spirits
Monthly feature of the best beer
Nationwide reach
No actual beers sold
Only provides insights on beer and breweries around the country
FAQs About Breweries in Ottawa