The Best Boiler Repair Services in Ottawa
Winters in Ottawa can be unforgiving, making a functional boiler more necessary. If your home still uses the old yet energy-efficient heating system, you can count on many HVAC technicians to be able to service it.
To simplify your selection process, we have listed the best boiler repair services in Ottawa we believe you can trust with your home heating. We also provided information about average costs and other boiler-related concerns to assist you further in your search.
How much do boiler repairs cost in Ottawa?
The national average for boiler repairs is $399, with the range going anywhere between $200 and $600.
Factors that will affect the cost include your system's make and model and your chosen service provider. The parts that need repair or replacement will also add to the total expense.
Here are other cost details about boiler repairs that you need to know.
| Service | Estimated Cost |
| --- | --- |
| Thermostat replacement | $100 - $300 |
| Circulator pump replacement | $900 and higher |
| Boiler replacement | $3,650 - $8,140 |
| Boiler replacement (high-end models) | $11,000 and higher |
| Labor fees for boiler replacement | $1,000 - $2,500 |
Know that HVAC contractors will vary in their service fees. Some may charge by the hour, and others will charge a flat rate.
Be sure to confirm the pricing details with your selected provider so you can prepare your budget accordingly.
Top Boiler Repairs in Ottawa
Ottawa has a long list of HVAC contractors servicing boilers, as heating is central to keeping residents comfortable inside their homes during winter.
However, it can be difficult to pick one service provider when you have so many companies to choose from. To make your life easier, we have sifted through the broad selection using the following criteria.
1. Enercare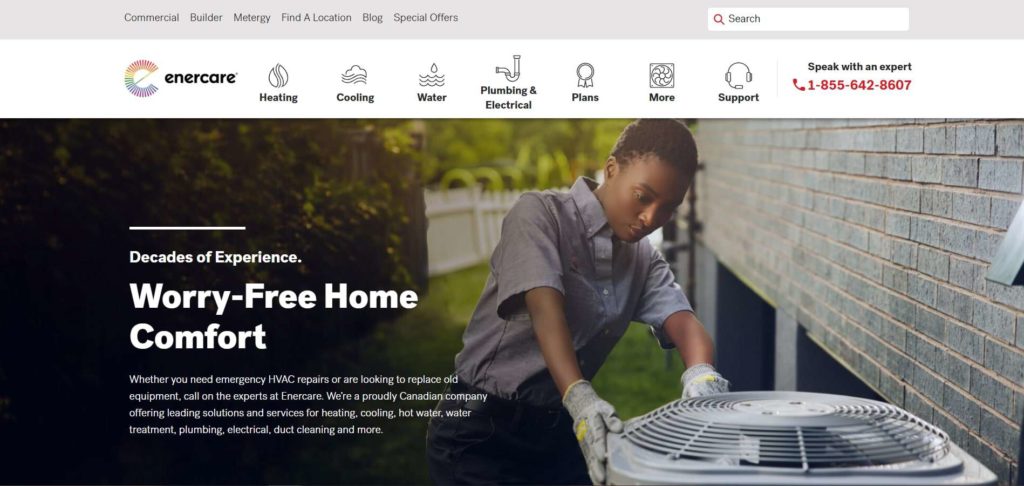 Test
Info
SERVICES
- Air conditioner repair, maintenance, and installation

- Boiler and furnace repair, maintenance, and installation

- Water heater repair and rental

- Plumbing repair and duct cleaning

WEBSITE
https://www.enercare.ca/
ADDRESS
2160 Thurston Dr., Ottawa, ON K1G 6E1
CONTACT DETAILS
(613) 216-0023
OPERATING HOURS
Open 24 hours daily
| | |
| --- | --- |
| Criteria | Rating |
| Range of services | ★★★★★ (5/5) |
| Expertise | ★★★★☆ (4.5/5) |
| Knowledge | ★★★★★ (5/5) |
| Efficiency | ★★★★☆ (4/5) |
| Customer service | ★★★☆☆ (3.5/5) |
| Responsiveness | ★★★☆☆ (3/5) |
| Helpfulness and friendliness | ★★★★☆ (4/5) |
With its broad selection of services and high-quality products, Enercare is a service provider worth mentioning.
Its long experience in the HVAC business dates back to the 1900s. Today, it's a leading company servicing furnaces, boilers, and air conditioners, among others.
Know that the company will send its technicians to your home even if your malfunctioning boiler wasn't bought from or installed by them.
Enercare also offers a protection and maintenance plan should you entrust your boiler to them for future repairs.
We love that you can expect same-day services from the company. That's a much-needed feature since boilers can break at the worst timing, say during freezing weather.
However, know that Enercare can do that only if you call its office by 5:00 PM. Consider listing a backup company should your emergency happens in the dead of night.
We also find the company lacking in responsiveness, which we attribute to Enercare's thousands of customers. Such a large and well-known service provider is not immune to delays and glitches in communication.
If Enercare manages to tune up its customer service, we can see it being the ideal HVAC company.
Also offers boiler rentals
Upfront pricing on protection and maintenance plans
Installs boilers from leading brands
Open daily
Same-day service only applicable by 5:00 PM
Susceptibility to delayed responses
Customer Reviews
Efficient from start to finish
"Fast, professional, and efficient service. The first repair crew was quick to arrive and explained the situation clearly. The installers were very careful in the house and great to deal with. The sales representative was very knowledgeable and helpful. We could not have asked for better service at a difficult time." —John Gagan, Google Reviews
Gold-standard technicians
"We had Norm come by and do a routine check on our boiler. Everything was excellent! He kept us safe and let us know we should replace our boiler soon and he even went in and vacuumed up all the dust surrounding the boiler! An absolute gem. Give this man a raise." —Matthew Barr, Google Reviews
2. Reliable Home Environment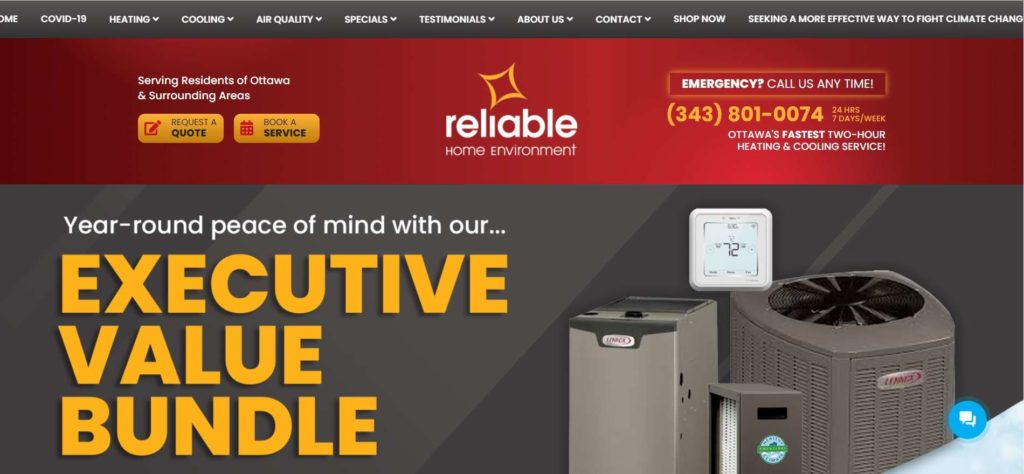 Test
Info
SERVICES
- Furnace and boiler installation, replacement, and repair

- Air conditioner repair and service

- Air filtration systems

WEBSITE
https://reliablehome.ca/
ADDRESS
18B Enterprise Ave., Nepean, ON K2G 0A6
CONTACT DETAILS
(343) 801-0074
OPERATING HOURS
Open 24 hours daily
| | |
| --- | --- |
| Criteria | Rating |
| Range of services | ★★★★☆ (4.5/5) |
| Expertise | ★★★★☆ (4.5/5) |
| Knowledge | ★★★★☆ (4/5) |
| Efficiency | ★★★★★ (5/5) |
| Customer service | ★★★★☆ (4.75/5) |
| Responsiveness | ★★★★☆ (4.5/5) |
| Helpfulness and friendliness | ★★★★★ (5/5) |
We suggest Reliable Home Environment as another company you should check out for its efficient emergency services.
The company is known for its quick responses to requests. If you have an emergency, you can count on Reliable to send you a technician within two hours under normal circumstances.
Moreover, the service provider won't charge you an extra fee for emergency repairs. Yes, even if you're calling for help outside office hours or during the weekends.
Reliable uses Lennox products for its boilers and other HVAC solutions. The brand is known for its energy-efficient systems, so you don't need to worry about quality if ever you want to replace your boiler or install one.
Consequently, you might want to look for other companies if you prefer other brands. The company also offers a 10-year warranty for parts and labor but only for its Lennox equipment.
That issue aside, Reliable Home Environment has a reputation for living up to its name, so its service is worth trying.
Responsive customer service desk
Top-quality HVAC systems
Does not use sub-contractors in servicing systems
Accredited by the Better Business Bureau (BBB)
Dealer of only one HVAC system brand
A bit far from downtown
Customer Reviews
Finishes the job within the promised time
"We were very pleased with the professionalism, knowledge and pleasant Reliable staff who replaced our very old air conditioning/heating system. The men were well organized and efficient and clearly knew what had to be done. It was a big job but they completed it within the estimated time frame. I highly recommend this company." —Sharyon Smith, Google Reviews
Impressive customer care
"From the booking phone call to the service appointment was EXCELLENT. [The] very informative staff at the office and the techs who have come on-site have been AWESOME. I will never do HVAC business with anybody else. When my family members and friends current units hit the road I will make sure they use Reliable unless they like poor customer service elsewhere." —KD, Google Reviews
3. Climate Works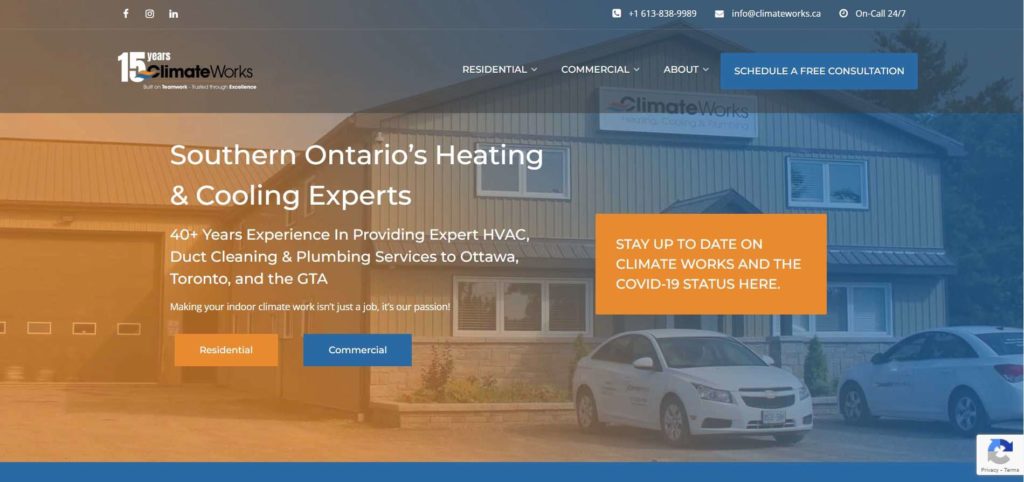 Test
Info
SERVICES
- Furnace, boiler, and heat pump services

- Air conditioning services

- Plumbing services

- Ductwork

WEBSITE
https://www.climateworks.ca/
ADDRESS
2639 Pollock Rd., Richmond, ON K0A 2Z0
CONTACT DETAILS
(613) 838-9989
OPERATING HOURS
Open 24 hours daily
| | |
| --- | --- |
| Criteria | Rating |
| Range of services | ★★★★★ (5/5) |
| Expertise | ★★★★☆ (4.5/5) |
| Knowledge | ★★★★★ (5/5) |
| Efficiency | ★★★★☆ (4/5) |
| Customer service | ★★★★☆ (4.5/5) |
| Responsiveness | ★★★★☆ (4/5) |
| Helpfulness and friendliness | ★★★★★ (5/5) |
Climate Works is one of the best companies to hire if you need a one-stop shop for your HVAC needs. Aside from home heating and cooling, it performs ductwork, duct cleaning, and air purification.
Moreover, it offers commercial services, so you can also hire them for your office or stores.
Like our other picks, the company has a crew to repair, replace, or install a new boiler in your home.
We also love that Climate Works has a list of boilers on its website including Lennox and NTI systems. If you want a new boiler, you have an accessible reference and the information you need to decide quickly.
Moreover, we like that they offer a free virtual consultation. The company will speak to you via video call, which is practical, as the crew will sometimes need to see the equipment's condition.
However, the provider's online quote and consultation request forms are not as comprehensive as the others. There are no convenient dropdowns to label your problem, so you need to spell it out in the message box.
That said, we suggest that you call the company for follow-ups to reduce or prevent miscommunication.
Impressive range of services
List of boilers comes with specs
Partnered with a financing company to further assist clients
Consultation comes at no cost
Online booking form too general
Services might become pricey
Customer Reviews
Provides impeccable service
"More than satisfied with the work – from start to finish. Reliable, very professional, thorough and attentive to detail, and most courteous." —John H, Google Reviews
Goes above and beyond
"Our indirect electric water tank on our combined hydronic heating and domestic water system started leaking on a Sunday evening, with water running over the basement floor. Avoiding an expensive emergency service call, Climate Work's tech Alex walked me through adjusting a complex series of shut-off valves over Facetime. Creative thinking and a practical solution to stem the leak until he could make a regular service call Monday afternoon. Alex worked non-stop from 1:00-6:00 p.m. on Monday to replace the tank and make a series of other repairs and adjustments, getting our domestic hot water and hydronic heating up and running. He was cheerful, helpful, and industrious throughout this demanding urgent project." —David Schwartz, Google Reviews
4. Advanced HVAC Inc.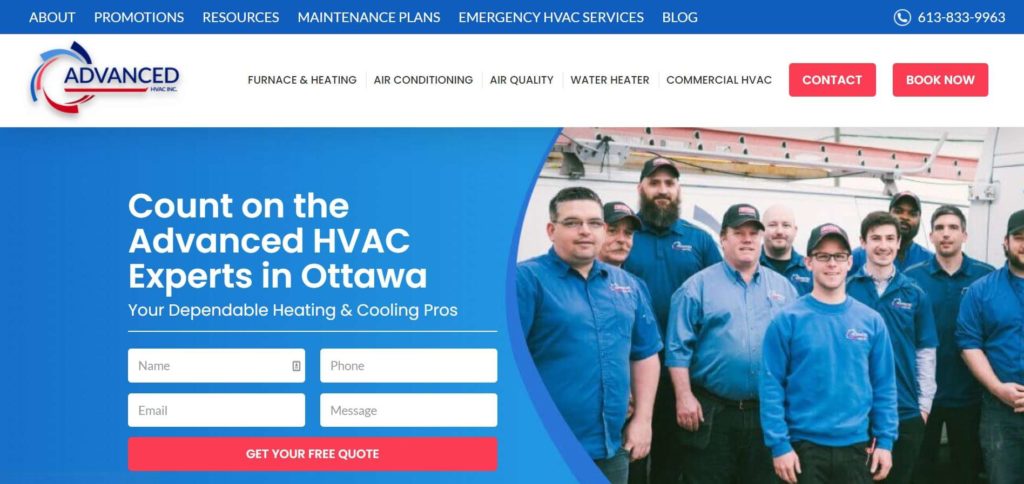 Test
Info
SERVICES
- Furnace, boiler, and gas furnace installation, repair, and maintenance

- Air conditioning repair and maintenance

- Commercial heating and air conditioning

WEBSITE
https://advancedhvac.ca/
ADDRESS
5450 Canotek Rd. #65, Gloucester, ON K1J 9G5
CONTACT DETAILS
(613) 833-9963
OPERATING HOURS
Open 24 hours daily
| | |
| --- | --- |
| Criteria | Rating |
| Range of services | ★★★★☆ (4.5/5) |
| Expertise | ★★★★☆ (4.5/5) |
| Knowledge | ★★★★★ (5/5) |
| Efficiency | ★★★★☆ (4/5) |
| Customer service | ★★★★☆ (4.5/5) |
| Responsiveness | ★★★★☆ (4/5) |
| Helpfulness and friendliness | ★★★★★ (5/5) |
Despite boilers being an older heating system, Advanced HVAC Inc. assures homeowners that it has a capable team of professionals to handle the equipment.
The company's technicians have a combined experience of 100 years, reflected in the efficiency and knowledge of the crew visiting homeowners in Ottawa.
Advanced HVAC understands the frustration of a broken boiler during the harsh winter season. As a response to customer needs, it offers emergency services and is open all day and night.
We like that the company also allows rentals of HVAC equipment aside from the usual repairs. Such a setup will help homeowners save on costs, particularly maintenance fees.
However, know that Advanced HVAC carries the NTI brand. If you're one to prefer keeping their options open, companies with a diverse product line might be better for you.
The company also serves several towns around Ottawa, so there might be occasional delays in their response to your requests. Thankfully, it will do its best to make up for drawbacks by providing top-quality services once the crew steps inside your home.
Free quote request
Reasonable service fees
Affordable maintenance plans available
Accredited by BBB with an A+ rating
Probable communication hiccups due to demand
Carries one boiler brand
Customer Reviews
Offers the best value for your money
"Advanced HVAC provided the best quote, and their installation crew was awesome! They were respectful of the property, installed everything perfectly, and were very professional! The in-home quote was thorough, and they really have the best prices!" —Stephanie Mondor, Google Reviews
Business owner-approved
"We appreciate how everything was done very professionally and exactly as scheduled. The unit appears to be working excellently. All our interactions with Advanced HVAC employees were cordial and they worked with us to do the work when it best fits into our business's needs. Thank you, everyone" —Reid Telfer, Google Reviews
5. Air Zone HVAC Services Inc.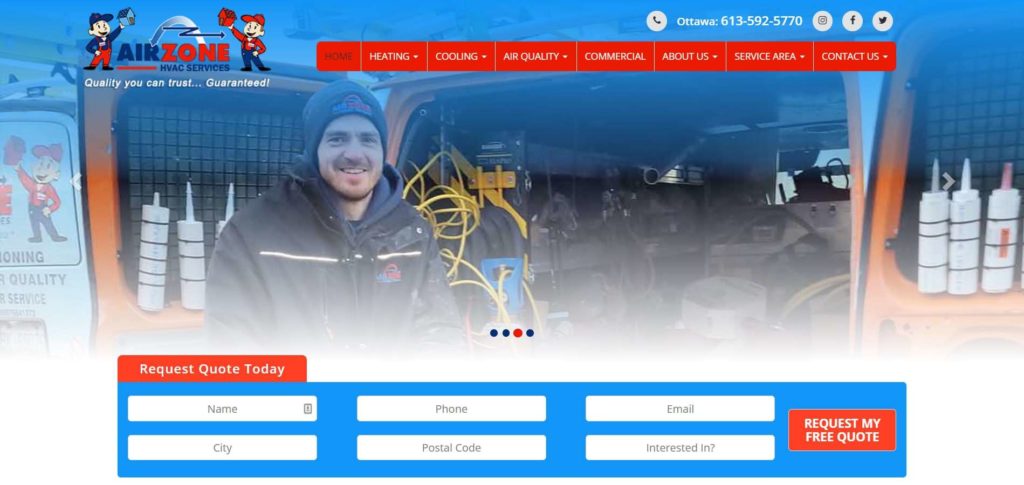 Test
Info
SERVICES
- Heating and cooling installation, repair, and maintenance

- Indoor air quality analysis

- Air filters

WEBSITE
https://www.airzonehvac.ca/
ADDRESS
174 Colonnade Rd. #27, Ottawa, ON K2E 7J5
CONTACT DETAILS
(613) 592-5770
OPERATING HOURS
Open 24 hours daily
| | |
| --- | --- |
| Criteria | Rating |
| Range of services | ★★★★☆ (4.5/5) |
| Expertise | ★★★★☆ (4.5/5) |
| Knowledge | ★★★★★ (5/5) |
| Efficiency | ★★★★☆ (4/5) |
| Customer service | ★★★★☆ (4.5/5) |
| Responsiveness | ★★★★☆ (4/5) |
| Helpfulness and friendliness | ★★★★★ (5/5) |
Air Zone HVAC Services Inc. has your back if your boiler isn't from Lennox or NTI.
The family-owned business carries boilers from Bosch, which is globally renowned for its efficiency, and IBC, which is Canadian-made and budget-friendly.
That said, we love that you can still count on the company's repair services if your system doesn't fall into the two brands. After all, we are talking about a provider with a team of well-trained HVAC professionals.
The time will come that repairs won't do it for your boiler. Thankfully, Air Zone can replace your system with their models, and you can enjoy up to 10 years of warranty for parts.
The company also offers maintenance and protection plans. However, they only cover furnaces, fireplaces, and air conditioning systems.
The silver lining is that should you avail of the company's other services, you're sure to be offered chances for protection packages whatever your budget is.
Open for emergency services
Also offers boiler retrofits
Energy-efficient boiler systems
Boiler quote request offered free of charge
Occasional unresponsiveness
Limited maintenance and protection packages
Customer Reviews
Streamlined process
"Made an appointment to get my HVAC system inspected. The appointment was filled the same day. [The] receptionist who took the request emailed me back with an appointment time and the technician who would be coming. The technician (Bryan) arrived on time. Completely professional, friendly, and first-class. Described my issue and Bryan proceeded to do his work. Took his time and ran a multitude of tests to determine that my HVAC system was still running safely. Also spent time answering my questions and was able to diagnose the cause of the issue I was having. [I] will definitely work with this company and Bryan again." —Jay Bright, Google Reviews
Earns loyal clients
"Hands down these guys are best in the city! I've used AirZone for years and they will have my business for life." —Jamie Clarmo, Google Reviews
FAQs about Boiler Repairs in Ottawa
---
Boilers are a lifesaver during the cold months, so make sure they're up and running as winter sets in the city. We hope our selection of top boiler repair services in Ottawa can help you choose your favorite contractor.
If you're considering replacing your boilers with a furnace, we also have a few companies we believe can help you. Here are the best furnace repair services in Ottawa you can check out.