Hitting the bar after a long day is oftentimes a nice way to relax. It's also a great venue to eat out, let loose, and spend some time with friends.
So if you're thinking of unwinding a bit and wrapping up your day getting full or a little tipsy, this list of the best bars in Ottawa is what you need.
Specialties of the Best Bars in Ottawa
To give you a glimpse of what you can expect on your visit, below is a table that shows the specialties of each bar in our list.
Bars
Specialty
The Manx Pub

Lamb Curry Wrap

Tofu Tacos

Local Brews

Stolen Goods Cocktail Bar

Dressed Oysters

Tomato Salad

Cocktails

Patty's Pub

Homemade Ale

Shepherd's Pie

Salmon Boxty

The Hyde

Cocktails

Five Spice Pork Belly

10Fourteen

Cocktails

Charcuterie

Nachos
Top Bars in Ottawa
The bars below were selected based on the following criteria:
1. The Manx Pub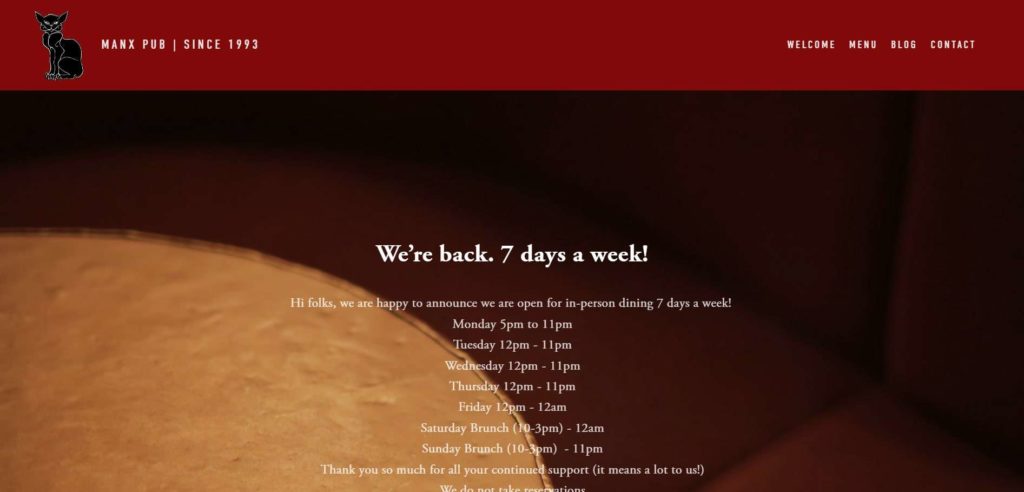 Test
Info
PRODUCTS & SERVICES

Brunch

Dinner

Takeout Beverages

Whiskey

Draught Beers

Wine and Bubs

WEBSITE
https://www.manxpub.com/
ADDRESS
370 Elgin St Suite No. 1, Ottawa, ON K2P 1N1, Canada
CONTACT DETAILS
Phone: +1 613-231-2070
OPERATING HOURS

Monday to Wednesday : 5 PM - 11 PM

Thursday to Friday : 12 NN - 11 PM

Saturday to Sunday : 10 AM - 11 PM
| | |
| --- | --- |
| Criteria | Ratings |
| Menu | ★★★★★ (5/5) |
| Price | ★★★★★ (5/5) |
| Location | ★★★★★ (5/5) |
| General Feedback | ★★★★✩ (4/5) |
Operational since 1993, The Manx Pub has built a good reputation over the years. Conveniently located along Elgin Street, it has become one of the popular nighttime destinations in Ottawa.
Today, the bar offers a wide range of menus that extend from brunch to dinner. On your visit, you might want to try some of the customers' all-time favorites like the Lamb Curry Wrap or the Tofu Tacos, which are great for vegans.
The wedge fries with garlic mayo are also worth a try.

When it comes to drinks, there are great selections of whiskey, draught beers, and wines to choose from. Takeout beverages for house celebrations include bottles of wine and some non-alcoholic drinks like Becks and Sober Carpenter.
It's also great to know that there are board games and books to keep customers entertained.
As the bar doesn't accept reservations and gets filled up fast, you might want to come earlier to secure a table. When the whole place gets busier, wait times are expected to get a little longer.
While it's nice that it operates daily, Monday to Wednesday have relatively shorter hours from 5 PM to 11 PM.
Nonetheless, with fairly priced food and drinks, friendly staff, and a cozy ambiance, The Manx Pub remains one of the best places to be.
Established in 1993
Convenient location
A variety of food and drinks
Offers board games and books
Open daily
Does not accept reservations
Relatively small space
Customer Reviews
Bravo
"What a pleasant surprise from an unassuming pub with some seriously unique vibes! It was both my friend's and my first time here and we were blown away by how delicious the food was. We ordered the burger and the naan pizza on the specials menu. Both were amazing. In particular, their take on fries was unique and very tasty. As depicted in the photo, you get these thick, hearty potato slices that you might think feel more like potato wedges than fries, but they're still super crunchy and crispy on the outside, and pleasantly pillowy on the inside. Service was great and they serve their own brand of beer… Not much else to say. Bravo." — Eric Ding, Google Reviews
One of the best hidden gems
"The Manx always has great service, beer, food and vibes. One of the best hidden gems in Ottawa." — Erin Benton, Google Reviews
2. Stolen Goods Cocktail Bar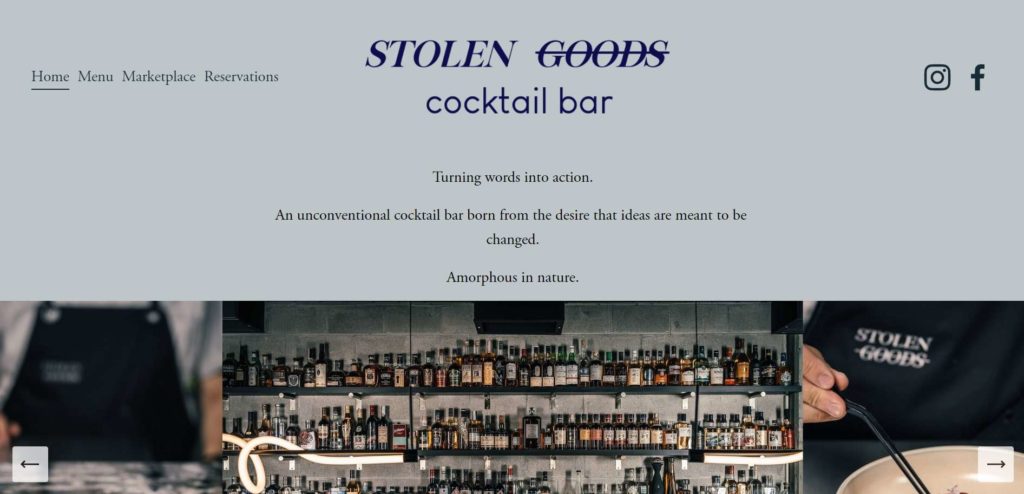 | | |
| --- | --- |
| Criteria | Ratings |
| Menu | ★★★★✩ (4/5) |
| Price | ★★★★★ (5/5) |
| Location | ★★★★★ (5/5) |
| General Feedback | ★★★★★ (5/5) |
Situated along one of the main streets in Ottawa, Stolen Goods Cocktail Bar is one bar you wouldn't want to miss.
Despite its relatively small area, it is a nice, intimate space that can bring people together. Its covert exterior, matched with cozy interior decors, makes the experience extra special.
The bar has a decent selection of food you could try. Choices range from Dressed Oysters to Beef Tartare.
There are also specially curated menus for two if you're dining in with someone.
This establishment also has a wide array of drinks to enjoy — from beers and wines to bourbons and cocktails that are prepared through an unconventional approach.
Interestingly, there is also cool merchandise in the form of hoodies and Black-Market Bitters that are up for grabs.
Apart from great food and unique drinks, we also like that the owners and staff members are nice and friendly. We must say that their hospitality is superb and that the people here care about their craft.
But since there are no phone lines available, reservations can only be done through emails or OpenTable messaging for any changes. As the bar has relatively limited space, parties larger than 6 are recommended to reserve via email.
Accessible location
An array of food and drinks
Specially curated menu for two
Offers store merchandise
Relatively small space
No phone lines available for reservations
Customer Reviews
An absolute gem
"My new favourite cocktail bar in Ottawa. Stolen Goods is an absolute gem. Incredible food based on seasonal ingredients with an extensive, creative and innovative cocktail list. I would definitely go back. A must try for whiskey fans too!" — Ziad Saab, Google Reviews
Highly recommend
"By far my new favorite spot for a night out in Ottawa! Sexy space, creative dishes and cocktails with an exteeensive backbar selection. AND staff that take good care of you. Highly recommend" — Hannah Wilkins, Google Review
3. Patty's Pub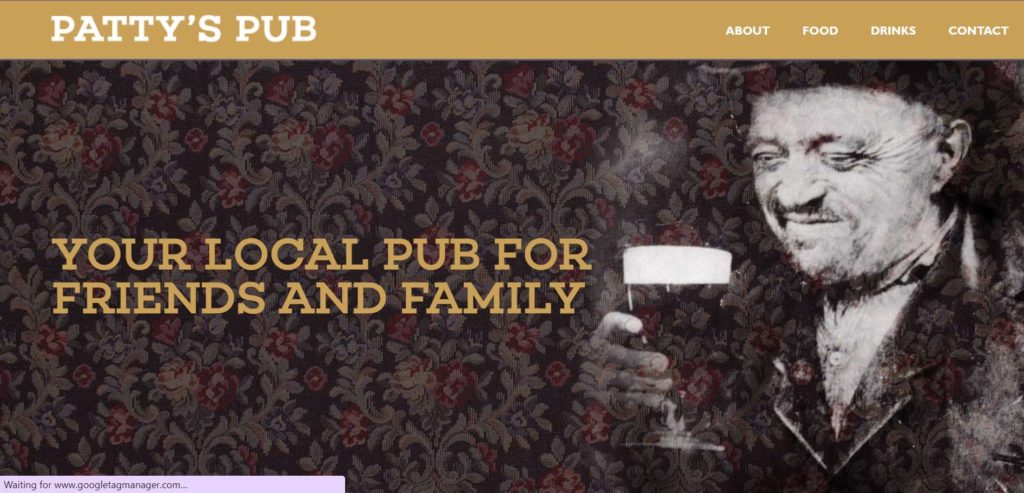 Test
Info
PRODUCTS & SERVICES

Appetizers

Soups and Greens

Sandwiches

Burgers

Fried Fish

Boxtys

Pasta

Pub Fare

Beer

Wine

Liquor

WEBSITE
http://www.pattyspub.ca/
ADDRESS
1186 Bank St, Ottawa, ON K1S 3X9, Canada
CONTACT DETAILS
Phone: +1 613-730-2434
OPERATING HOURS

Monday to Tuesday 4 PM - 11:30 PM

Wednesday to Sunday 12 NN - 11:30 PM
| | |
| --- | --- |
| Criteria | Ratings |
| Menu | ★★★★★ (5/5) |
| Price | ★★★★✩ (4/5) |
| Location | ★★★★✩ (4/5) |
| General Feedback | ★★★★✩ (4/5) |
Located along Bank Street in Ottawa, Patty's Pub is one nice bar to consider when looking for a good place to hang out. For generations, this bar has taken pride in its line of authentic ale, which we think is a must-try.
Aside from this, it also offers a variety of food options which include appetizers, sandwiches, burgers, and pasta. We recommended trying out the Shepherd's Pie, Salmon Boxty, and French Onion Soup.
Patty's Fish and Chips is also one of the favorites you ought to try.
There are tons of choices for drinks — from beer and wine to some liquor such as scotch, whiskey, and classic cocktails. If uncertain, you might want to try the Ashton Local Craft Beer options first.
But food and drinks are just two of the things we like. Apart from these, we also adore its hearty, rustic atmosphere inside that makes every moment more relaxing.
It's great, too, that dogs are allowed on the patio, and that parking along the side street makes the bar more accessible.
The servers are great as they are always friendly and attentive. They are knowledgeable about the menu items and are good with small talk.
Although things here may be deemed pricier by some, the impeccable service and great food and drinks make this place worth visiting.
Good location with nearby parking
Offers authentic ale
A wide selection of food and drinks
Dog-friendly patio
Some products can be pricier
Closes before midnight
Customer Reviews
Hands down
"We loved Patty's Pub! Hands down the best French onion soup I've had in a looong time. All the food was delicious, the beer was perfect and the staff was so friendly! Can't wait to make another trip to Ottawa so we can swing by again!" — Amanda Gallo, Google Reviews
A quiet neighborhood gem
"A quiet neighborhood gem. Patty's pub has two sides: a perfect patio, shaded but next to busy Bank Street, where you can watch the world bustle by while enjoying some amazing local beers. (Ashton Brewing is my favorite!)
And the other side is the warm, cozy pub, with a big stone fireplace and hardwood floors. Great for summer or winter, always good service, good people, and good food. Enjoy" — Mark Hughes, Google Reviews
4. The Hyde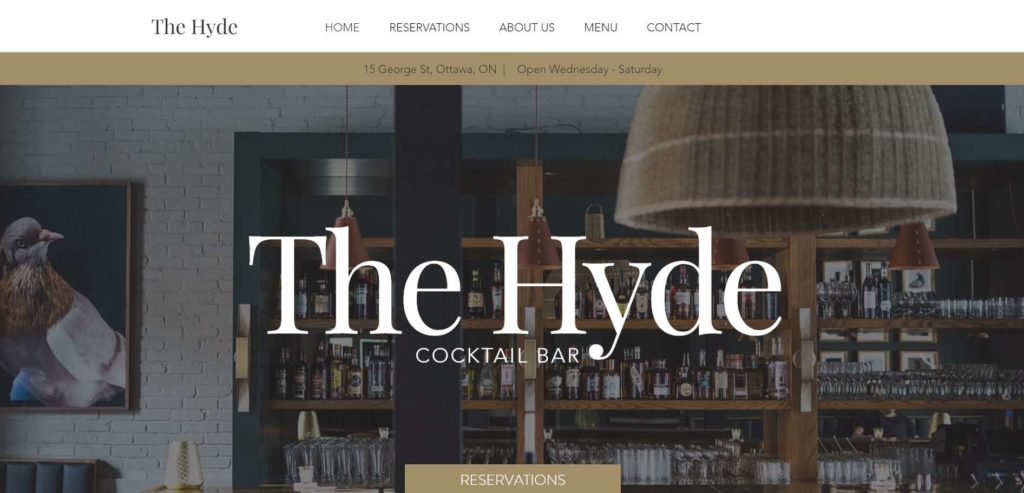 Test
Info
PRODUCTS & SERVICES

Charcuterie

Salad

Pork Belly and Sliders

Cocktails

Wine

Beer

Spirits

WEBSITE
https://www.thehyde.ca/
ADDRESS
15 George St, Ottawa, ON K1N 6Z6, Canada
CONTACT DETAILS
Phone: +1 613-422-5111
OPERATING HOURS

Wednesday to Saturday 4:30 PM - 2 AM
| | |
| --- | --- |
| Criteria | Ratings |
| Menu | ★★★★✩ (4/5) |
| Price | ★★★★✩ (4/5) |
| Location | ★★★★★ (5/5) |
| General Feedback | ★★★★★ (5/5) |
The Hyde is located in the heart of downtown Ottawa, and this is one of the reasons why we like this place. Aside from being accessible, it also offers a warm ambiance that everyone can enjoy.
With nice decors, great lighting, and smooth music in the background, your time at this place will surely be a good one. But this bar is more than just having a great atmosphere.
We like that the owner, Jeff, takes his craft seriously and is great at preparing carefully curated stirred and shaken cocktails. He goes out of his way to ensure guests enjoy themselves.
When you get the chance, we recommend trying the Witless Comeback, Terry's Orange, or Widow's Bite. You might want to also try the Espresso Martini with a twist of caffeine.
For classic lovers, there are wines, beers, and some spirits, too, to get you tipsy.
While the food menu is relatively limited, there are still some great choices to choose from. There's Seasonal Halloumi Salad and Five Spice Pork Belly for protein lovers.
The K.F. Cauliflower is also something worth trying.
Since the bar is only open from Wednesday to Saturday, securing a reservation is highly recommended. This is made extra easy with OpenTable for instant and secured online booking.
Located in the heart of downtown Ottawa
Specially curated cocktails
A decent array of other alcoholic drinks
Easy online reservation
Limited food choices
Closed from Sunday to Tuesday
Customer Reviews
We will for sure be back
"I definitely recommend visiting this little spot! The bartender Jeff is lovely and very welcoming. My friend and I shared the cauliflower which was so delicious, truly one of a kind. Not to mention the amazing cocktails, we will for sure be back" — Dani Gibbons, Google Reviews
Awesome new spot
"Awesome new spot in Ottawa! Jeff the bartender is so talented, he made me a super yummy off the menu drink! Plus, the music was perfect, cute decor/lighting, & there was an awesome ambiance. Yummiest espresso martini we have had in a while + a delish cherry on top. Cannot wait to come back!! :)" — Mara Wheelehan, Google Reviews
5. 10Fourteen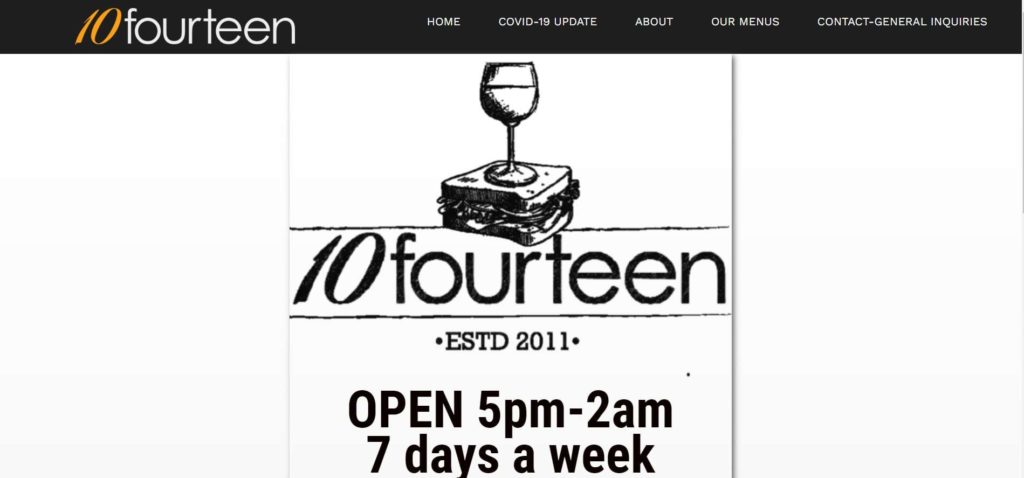 Test
Info
PRODUCTS & SERVICES

Charcuterie

Nachos

Pizza

Sandwiches

Dessert

Beers

Wines

Cocktails

WEBSITE
http://www.10fourteenbar.com/
ADDRESS
1014 Wellington St. W, Ottawa, ON K1Y 2X9, Canada
CONTACT DETAILS
Phone: +1 613-422-8610
OPERATING HOURS

Monday to Sunday 5 PM - 2 AM
| | |
| --- | --- |
| Criteria | Ratings |
| Menu | ★★★★★ (5/5) |
| Price | ★★★★✩ (4/5) |
| Location | ★★★★★ (5/5) |
| General Feedback | ★★★★✩ (4/5) |
10Fourteen is a good place when looking for expertly crafted cocktails and carefully selected beers. Located along a major street in Ottawa, finding it is an absolute breeze.
Alongside a great atmosphere with good music selections is an array of food, beer, cocktails, and wine to choose from. The Bar Bites include selections like Mac n' Cheese, Pizza Pockets, and Cauliflower Wings.
If you're undecided, we would strongly recommend trying out the Charcuterie and Jerk Chicken Nachos.
Turning to alcoholic drinks, carefully crafted cocktails are hard to miss. Getting yourself a decent glass of Pink Cashmere or Midnight Hour with a twist of cold brew espresso is bliss.
If you want to stay on the safe side, there are also classic drinks that might interest you. You may opt for a Martini or a Manhattan to keep you warm for the night.
Despite having some issues, what got us is the bar's incredible service. The bartender has always been so sweet, friendly, and accommodating.
Although some might have not been very happy with the food rates, everything in this bar is worth the shot. The pinball machine, some board games, and live guitar music make things extra special.
Great location
Expertly crafted cocktails
A variety of food and drinks
With live music
Some rates can be pricier
Issues with some crew members
Customer Reviews
Absolute gem of Ottawa
"Absolute gem of Ottawa, super friendly, amazing food (nachos are chef's kiss) and a lovely atmosphere! There was always a pinball machine and some board games to play with friends or meet some nice people there! Loved the live guitar music! Definitely would go there again!" — Alex Rojco, Google Reviews
My go-to place
"10Fourteen is my go-to place for a good night out. Decently priced drinks with good food options (especially their charcuterie board). The atmosphere is great as well, good music selection with a dimly lit vibe which makes for great moments with friends. Service is incredible as well, I definitely recommend it to anyone in and around the area looking for a good time." — Aurora17, Google Reviews
6. The Laff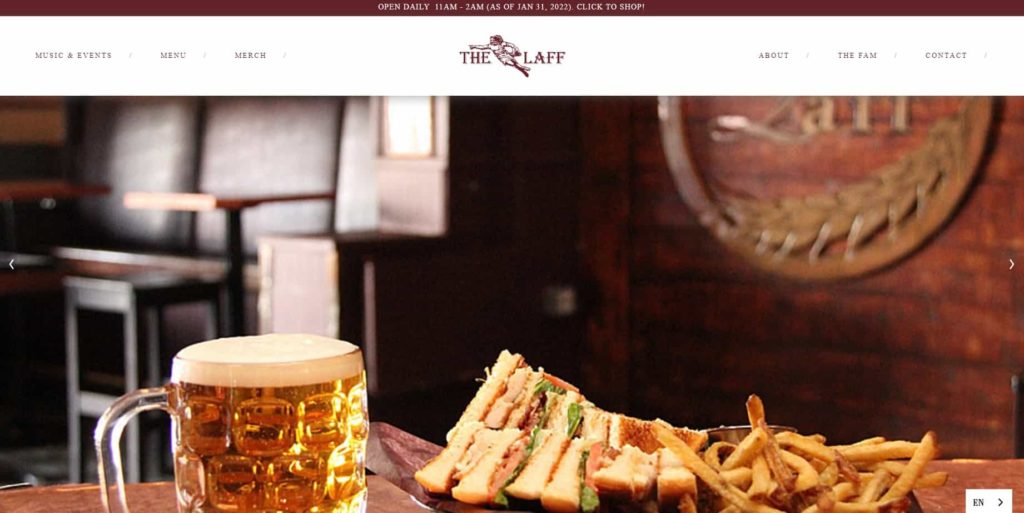 Test
Info
PRODUCTS & SERVICES
Music & Events

Poutines

Snacks

Nachos

Mains

Desserts

Drinks

WEBSITE
https://www.thelaff.ca
ADDRESS
42 York St, Ottawa, ON K1N 5S6, Canada
CONTACT DETAILS
+1 613-241-4747
OPERATING HOURS
Monday - Sunday: 11 AM - 2 AM
| | |
| --- | --- |
| Criteria | Ratings |
| Menu | ★★★★★ (5/5) |
| Price | ★★★★★ (5/5) |
| Location | ★★★★★ (5/5) |
| General Feedback | ★★★★✩ (4/5) |
The Laff is one of Ottawa's reputable taverns that has been operating in the area ever since 1849 and has since then been known in the area through various names such as The Exchange Hotel, Grant's Hotel, The Salmon Arms, The Johnson House, and the Dominion House.
Born out of a colorful culture and history, they offer 10 live shows per week such as bands, open mics, shows, and house parties among others to ensure that customers will always have something new to engage in every week.
Aside from this, they also offer clients an extensive array of menu items such as poutines, nachos, salads, main course meals, and other snacks that embody the tavern's local identity as well.
Note though that even if they are open until 2:00 AM daily, the kitchen is only available until 9:00 PM, which clients may need to be aware of beforehand.
Nonetheless, with their quality selection of menu items, customizable delectable selections, and diverse array of events offered, we highly recommend interested clients in the area to pay them a visit.
Warm and welcoming community and customer service
Rich culture and stories
Accommodates a wide array of music and events
Limited kitchen hours daily
Customer Reviews
Here are some reviews from their clients:
"This is the oldest tavern of Ottawa, a must for people visiting the city, the have great choices of beers and spirits, there are some food plates if you get hungry. Saturday is when Lucky Ron plays, it is almost an institution here."
"I have been to the 'laff' a few times now.I love the informal, friendly atmosphere here. Grab a drink, find a table and if you get lucky you may get to hear some good tunes. The bar has a good selection of local beers, generous helping of snacks all at great prices. Such a central location; a definite stop on my next Byward market visit."
FAQs about Bars in Ottawa
---
There you have it! We hope that the list has helped you find the perfect place to hang out and chill — alone or with the company of some friends.
And since you're on this page, you might also find the following articles interesting: