Want to experience axe throwing? Here are 4 places where you can book your visit.
Axe-throwing is a sport that's been growing in popularity over the years, and it's not hard to see why. It's a fun, adrenaline-fueled activity that will test your aim and coordination and is a great way to blow off some steam and relieve stress.
Thankfully, Ottawa is home to several top-notch establishments that cater to both beginners and seasoned axe throwers. The best axe-throwing places right here in Ottawa are Bad Axe, BATL Axe, In The Air, and LumberJaxe.
Personally, there's nothing like doing some axe-throwing after several nights of overtime or having your lunch stolen from the office pantry to destress. Or maybe schoolwork is taking its toll on you, and you need something a bit more badass to get the edge off.
So grab your friends, put on your lumberjack hat, and let's get throwing!
Bad Axe Throwing Ottawa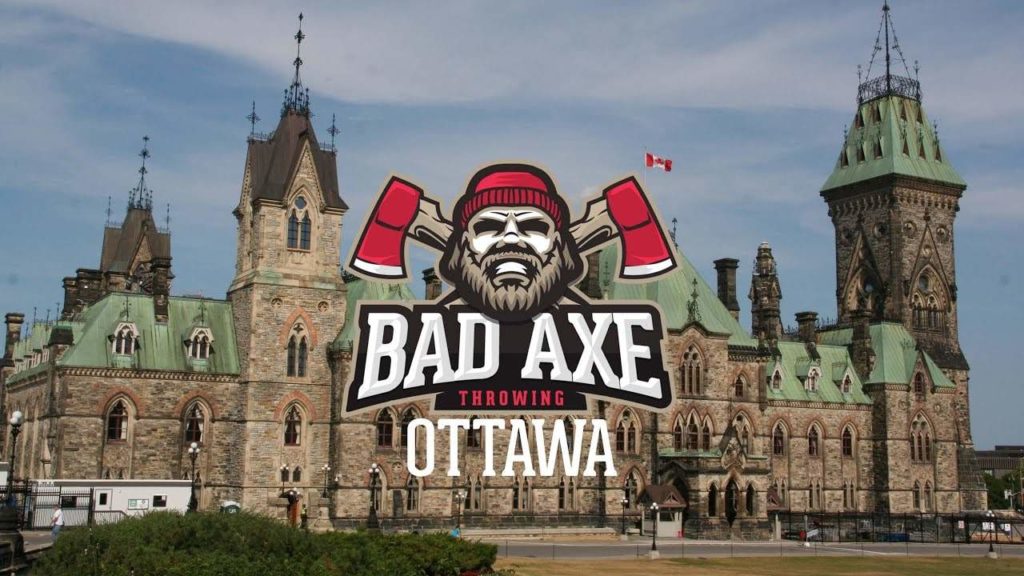 ADDRESS: 1580 Liverpool Ct #8, Ottawa, ON K1B 4L2
CONTACT DETAILS: (844) 818-0999
WEBSITE: https://badaxethrowing.com/
Bad Axe Throwing is a popular destination conveniently located just 2 mins from the 417 and down the street from the Canada Science and Technology Museum.
Since its launch in 2015, it's been featured in CBC, The Sun & the Ottawa Citizen for its innovative take on the sport of axe throwing.
With its recent facility upgrades, Bad Axe Throwing is the perfect venue for birthday parties, corporate events, team-building activities, bachelor parties, and private events. If you ask me, it's one of the best places to make lasting memories!
I had the opportunity to try axe throwing here, and I really loved the cool, grunge-style interiors. Even though it didn't have all the fancy technology as other places did, it was still an amazing experience overall.
One of the best parts was that I was able to bring my own food and drinks, which added to the fun and helped keep my energy up the whole time!
You can book a reservation from Monday to Sunday, 8 AM – 11 PM, but walk-in schedules are subject to change, so you'd have to check the official website to be sure. Also, take note that it only accepts credit card payments at this time.
| Type of Booking | Pricing |
| --- | --- |
| Walk-Ins (Booking Not Required) | $24.98/Hour |
| Large Group Rate (Private Lanes & Dedicated Coach) | $35/Person (1.5 Hours & Minimum of 31 People) |
| Bad Axe Pack (Private Lanes & Dedicated Coach) | $41.99/PERSON (1.5 Hours & Minimum of 8 People) |
| Axe Throwing Leagues | $135 - 285 |
BATL Axe Throwing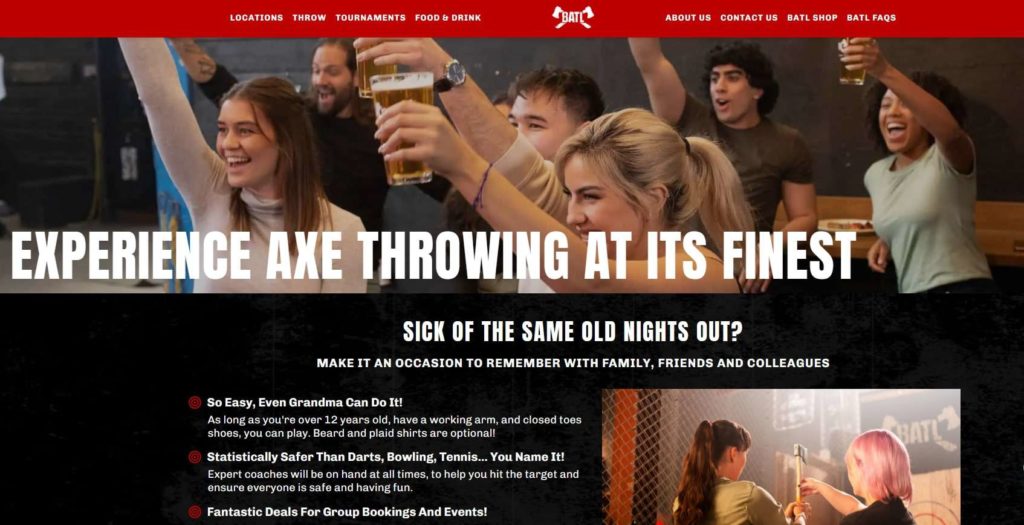 ADDRESS: 2615 Lancaster Rd #29, Ottawa, ON K1B 5N2, Canada
CONTACT DETAILS: +1 (613) 686-6642
WEBSITE: https://batlgrounds.com/book-axe-throwing/?venue=ottawa
Upon arrival at BATL Axe Throwing, you'll be greeted by some super friendly staff who are knowledgeable and safety-conscious. They'll explain everything you need to know about axe throwing and coach you on how to properly throw before you start.
Even if you're a total newbie, don't worry — you'll be hitting bullseyes in no time!
One thing that sets BATL apart from other axe-throwing places is its variety of games. You can choose from classic games, such as Aiming for the Bullseye, or mix things up with games like tic-tac-toe or "Around the World."
If you like challenges and competitions, it's definitely a great way to keep things interesting and challenge yourself and your group.
While we were there, we also got to talk with some of the other customers that were having fun. One person said, "I had more fun than I thought I would have," while another said they had fun learning in a very safe and protocol-approved condition.
We certainly agreed with one of the new friends we made when they talked about being sore after spending the day axe-throwing. But it's just a sign that we had a great workout that day!
| Type of Booking | Pricing |
| --- | --- |
| BATL Casual (2-20 Persons, coaching, free throws, variety games, book ahead/same day online, private lanes & axes) | $29.99+/Person (1 or 2 Hours) |
| BATL Party Packs (4-10 Persons, drinks included, coaching, flat rate, book ahead/same day online) | $174.99+/Group (1 or 2 Hours) |
| BATL Premium (6-20 Persons, big axe, dedicated coaching & trainer, managed tournament) | $43.99/Person (2 Hours) |
In The Air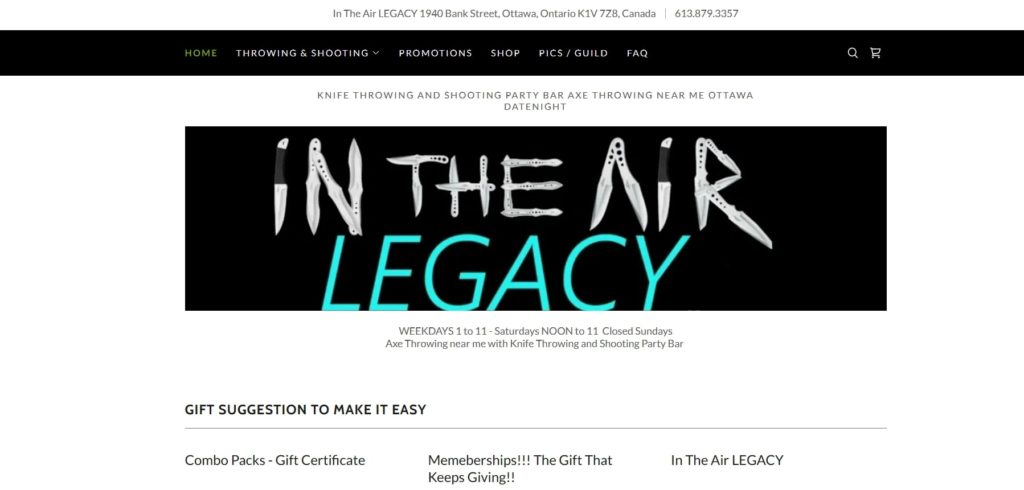 ADDRESS: 1940 Bank St, Ottawa, ON K1V 7Z8, Canada
CONTACT DETAILS: +1 (613) 879-3357
WEBSITE: https://intheairguild.com/
In the heart of Ottawa lies another hidden gem for those looking to try something new and exciting. In The Air is the ultimate destination for axe-throwing enthusiasts, with its incredible service, excellent coaching, and affordable prices.
Walking into In The Air, the first thing you'll notice is the unique and cool decor, with amazing art for sale all over the place. Even its logo has depth and catches your attention.
The staff was incredibly friendly and welcoming, and they'll take the time to educate you on the history of the knives if you're interested. They don't just teach you how to get a bullseye, but they'll also take you on a journey of super cool movie-inspired throws!
During my visit, we tried knife and axe throwing, got to use pellet guns, played air hockey, and even watched a movie. One of the staff was our instructor and made us confident and comfortable, bringing the whole experience to another level.
His presence wasn't just entertaining, but he also ensured we were safe and guided us the whole time. So we can confidently say that what sets In The Air apart from other axe-throwing places in Ottawa is its fantastic coaching and service.
The instructors are patient and friendly and take the time to explain and assist you every step of the way. If you get thirsty, In The Air even has its own bar so you can spice things up and have a drink or two while enjoying the activities!
| Type of Booking | Pricing |
| --- | --- |
| Walk-Ins (Booking Not Required) | $18.95/30 mins. |
| AXE Throwing League Glow in the Dark | $139.95 |
| Booked Parties (Full training, group coach, & private party arena) | $39.95/Person |
| Knife & Axe Throwing League Glow In The Dark (Axe & Knife League) | $179.95/Person |
LumberJaxe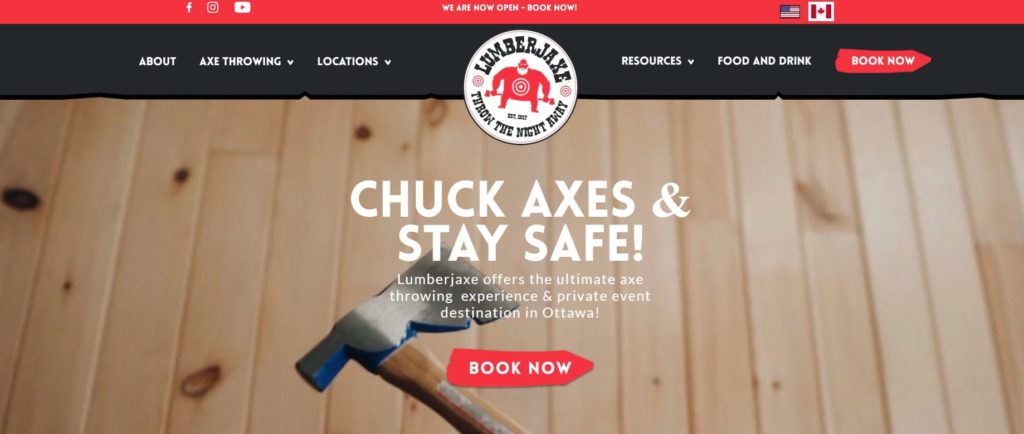 ADDRESS: 250 City Centre Ave #232-230, Ottawa, ON K1R 6K7, Canada
CONTACT DETAILS: +1 (613) 702-8175
WEBSITE: https://lumberjaxe.ca/
From the moment I walked in, I knew it was going to be a fun and exciting experience here at LumberJaxe. The venue, located in the old City Centre, had a cozy and rustic vibe that really added to the overall experience.
The staff was incredibly friendly and helpful, just like many of the reviews had mentioned. They took their time to explain the steps to consistently hit the target using different axe-throwing techniques.
I was impressed with their level of patience, especially as they taught my friends that haven't tried axe-throwing until now. It was clear they wanted everyone to have a great time, no matter their skill level.
During the hour-long session, I was able to throw many bullseyes and had a lot of laughs every time I missed. I also found out that I preferred double-handed throwing over single-handed, but it was great to have the option to try both!
The instructors were really helpful the whole time and kept cheering us on when we got hits, but they also encouraged us even when we missed.
LumberJaxe offered food and drinks as part of our package deal, which was fantastic since axe-throwing uses up a lot of energy and can get tiring. I was pleasantly surprised by the quality of the food and drinks, which were served promptly by the staff.
The team at LumberJaxe really made our entire experience memorable, facilitating a tournament for us and keeping score, which was really fun and competitive. It was great to see new sides of each other, and we all had a blast!
Overall, I felt safe and had so much more fun than I could have expected during my brief visit. It's definitely a place worth going back to!
Type of Booking
Pricing
Hourly Reservations (Personal coaching & private lane)
$28+/1 Hour

$39+/1.5 Hours

$45+/2 Hours

$33+/1.5 Hours (Monday 5:00 - 10:00 PM)

$39+/2 Hours (Monday 5:00 - 10:00 PM)

Walk-In
$28+/1 Hour

$45+/2 hours

$22+/1 Hour (Monday 5:00 - 10:00 PM)

$39+/2 Hours (Monday 5:00 - 10:00 PM)

Jaxe League
$20+/Person (Night)
What's the minimum age for axe throwing?
The minimum age to take part in axe-throwing activities for most establishments is over 12 years old.
However, some establishments allow children younger than 12 as long as they can throw the axe safely and their guardian/parent is present.
Can you drink and do axe throwing?
You can definitely do axe-throwing while chugging down a pint or two because axe-throwing establishments themselves offer drinks for sale! You can also buy snacks or bring your own at most establishments.