The 5 Best Attic Insulation Services in Ottawa
In popular culture, the attic is usually associated with monsters. But we all know that the true monster in the attic is improper insulation.
This is why it's important to have our attics properly insulated. To do that, we need the best of the best when it comes to attic insulation.
In this list, we'll talk about the best attic insulation services available in Ottawa. We'll discuss their rates, equipment and of course, their customer relations.
How Much Does Attic Insulation Cost in Ottawa
When it comes to attic insulation, there are lots of services available. The trick is finding the right one that matches your budget.
In the table below, you can compare the charges and available services of the best attic insulation companies available in our city.
| Company Name | Insulation Services Available | Estimated Price |
| --- | --- | --- |
| Jarrah Contracting Services | Blown-In InsulationSpray Foam InsulationInsulation Removal | $1.50 - $3.50 per foot |
| Inso-Tec Inc. | Cellulose Fiber InsulationSpray Foam InsulationInsulation Removal | $1 - $4.00 per foot |
| Mackay and Sons | Granite Countertop Installation | $2 - $3.50 per foot |
| Paul Cuerrier Insulation | Spray Foam Insulation | $1.50 - $3.50 per foot |
| Stewart Roofing | Fiberglass Insulation | $1.50 - $3.50 per foot |
The Best Attic Insulation in Ottawa
Insulation is very important especially in the attic. We want to make sure you get the best services off our list.
For this reason, we've chosen to base our list on the following criteria:
1. Jarrah Contracting Services

| Test | Info |
| --- | --- |
| SERVICES | Blown-in Insulation, Spray-Foam Insulation, Insulation Removal |
| WEBSITE | https://www.jarrahcs.com/ |
| ADDRESS | 1580 Michael Street, Ottawa, ON, K1B 3T7 |
| CONTACT DETAILS | (613) 866-8262 |
| | |
| --- | --- |
| Criteria | Ratings |
| Rates | ★★★★★ (5/5) |
| Equipment | ★★★★★ (4/5) |
| Warranty | ★★★★★ (5/5) |
| Staff | ★★★★☆ (4/5) |
Jarrah Contracting Services has been around for a long time, providing insulation services in Ottawa and even in the Greater Toronto Area.
Available to both residential and commercial areas, Jarrah is able to provide flexible services. They can handle houses in the suburbs or even apartments and buildings alike.
Their specialties in insulation are blown-in and spray foam insulation. They can also place these insulation materials in other parts of your house.
For those who don't know, blown-in insulation basically means filling in your house's caveats with stud or joist cavities to cover the attic floors and walls. These loose materials are light yet able to insulate heat properly around the area.
Spray foam, on the other hand, refers to insulation material that seals wall cavities, ceiling, and floors through a spraying equipment. This method can be faster compared to blown-in insulation.
The biggest advantage of spray-in foam insulation is how it removes air infiltration. This is a better option if you want to avoid heat coming from air as well.
Aside from their services, Jarrah takes pride in their experienced and professional staff. They are known around Ottawa as one of the best insulating services in the area.
Other than insulation, Jarrah's services also cover landscaping and even painting. They also take pride in their environmentally friendly ways of providing service.
Decent rate
Provides other services
Environmentally-friendly
Staff is hard to contact
Often fully booked
Customer Reviews
Great service

"Hired this company to top up the insulation in my home and they gave me a great service. Not only did they add insulation in the attic as I requested, they added caulking around the windows to seal cracks and added insulation in my wall plugs. Would definitely recommend their services." – Dinin Dalael
Professional and courteous

"I had Jarrah Contracting services come in today to do the attic insulation. The guys were very professional and courteous. They showed their work and went the extra mile offering their help in areas that are outside the scope of what they do. I was very satisfied with their services and will certainly recommend to all my friends and family." – Walid Saab
2. Inso-Tec Inc.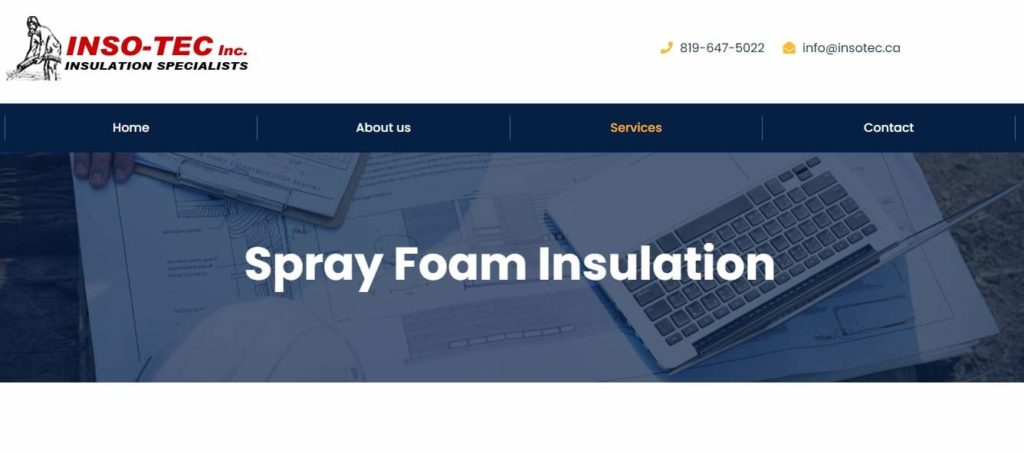 | Test | Info |
| --- | --- |
| SERVICES | Spray-Foam Insulation, Cellulose Fiber Insulation, Insulation Removal |
| WEBSITE | https://insotec.ca/ |
| ADDRESS | 340 Albert St, Ottawa, ON K1R 7Y6, Canada |
| CONTACT DETAILS | 819-647-5022 |
| OPERATING HOURS | Monday - Saturday: 5:00 AM - 9:00 PM |
| | |
| --- | --- |
| Criteria | Ratings |
| Rates | ★★★★☆ (4/5) |
| Equipment | ★★★★★ (5/5) |
| Warranty | ★★★★★ (5/5) |
| Staff | ★★★★☆ (4/5) |
Many residents are concerned that insulation can cause unwanted effects not just to the environment but also to our health. Asbestos poses a carcinogenic threat to people and many residents are wary of that.
Luckily, companies like Inso-Tec specialize in non-carcinogenic materials for their insulation. They know that health is just as important as having the right insulation in your home.
Their spray-foam insulation and their cellulose insulation are what they are most proud of. They're up to industry standards and they're also safe to have around your house.
Another good thing is that these insulation products are able to provide air-tight thermal protection. On top of that, they even have soundproofing qualities.
Insulation like this can be especially suitable for aspiring musicians who want to have their own studio at home.
Aside from being environmentally conscious, we also like seeing health-friendly companies like Inso-Tec. The company is also part of the Canadian Urethane Foam Contractors Association, the Régie du bâtiment du Québec, and the Better Business Bureau.
They have received high ratings from all these business-governing bodies so you know that they mean business.
You can be sure that with Inso-Tec, both quality and health and safety are top priority.
Non-carcinogenic materials
Lightweight spray foam available
Air-tight insulation from heat
More expensive
Customer service takes a while to respond
Customer Reviews
Full marks

"Everyone at Inso-Tec very professional. I had a lot of work done on my house in the last year or so. No problem was too great for the technicians. The work was done perfectly. I am a very satisfied customer. Not only that, they are all very pleasant to have around. Full marks from me!" – Jane Mactavish
Satisfied

"Beyond satified with the quality of work… very professional, polite and knowledgeable… i would recomend this company to anyone experiencing or "suffering" rather from a cold home… not only is my home warmer more energy efficient but also cooler during hot summer days… this has reduced the cost of heating and cooling of my home in a way i never could of imagine… the best part is they also have a company called chugg construction which made my life much easier as i didn't have to deal with 10 different companies to insulate and finish my basement… i will most definitely have all my work done by this company in the future…Thank you again for the amazing work!" – Jus
3. Mackay & Sons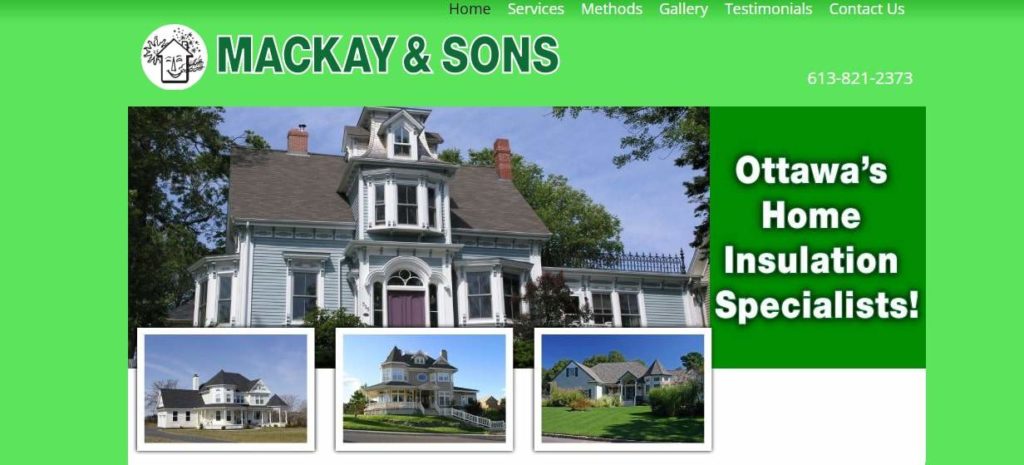 | Test | Info |
| --- | --- |
| SERVICES | Blown-in Insulation, Spray-Foam Insulation, Insulation Removal |
| WEBSITE | https://www.mackayandsons.ca/ |
| ADDRESS | 4100 Larry Robinson Road, Russell, ON K4R 1E5 |
| CONTACT DETAILS | 613-821-2373 |
| OPERATING HOURS | Monday – Friday: 8:00 AM – 5:00 PM |
| | |
| --- | --- |
| Criteria | Ratings |
| Rates | ★★★★☆ (4/5) |
| Equipment | ★★★★★ (5/5) |
| Warranty | ★★★★★ (5/5) |
| Staff | ★★★★★ (5/5) |
Mackay & Sons is already a household name when it comes to roofing and insulation. They have been around since before the 80s.
With over 40 years of experience under their belt, you can be confident that your roofing and insulation needs are met.
Mackay & Sons make sure to ask their customers what they want. They focus on increasing comfort in your own home by fixing the acoustics and decreasing heating.
One thing we like about Art Mackay's company is how they offer special perks to customers.They give discounts to senior citizens and also give free consultation with a full warranty for all the insulation services they do.
This is perfect because they specialize in working on older homes. You can expect every nook and cranny in your aging home to be filled with topnotch insulation materials.
Unfortunately, they're not as confident in working in more modern homes but they're still willing to learn which is always appreciated. This shouldn't be a cause for worry but we still wanted to note it for those who live in homes with more modern designs.
We like that they also specialize in climate control, something that is very important when it comes to insulation.
They also guarantee undamaged walls after every job they do which is a sigh of relief for many customers.
The company has earned a certification from the Canadian General Standards Board and the owner himself will be around when they do the work.
Senior discounts are available
Free consultation
Specializes in older homes
Dated website
Not as knowledgeable when it comes to modern design
Customer Reviews
Highly recommended

"Art offered a quick reasonable quote, was a straight shooter, and did the work without any issues for adding additonal attic insulation. He came as a referral through a mutual friend, and I would recommend him myself now." – Michael Conroy
Immediate improvements

"Art Mackay and his team did a great job on our insulation of our 1919 Ottawa home.Immediately after he left we noticed how much more comfortable our 2nd floor was, Very happy with all aspects of the work performed! Nice to deal directly with the owner-no wonder he was so highly recommended. "– Jeff Rosebrugh
4. Paul Cuerrier Insulation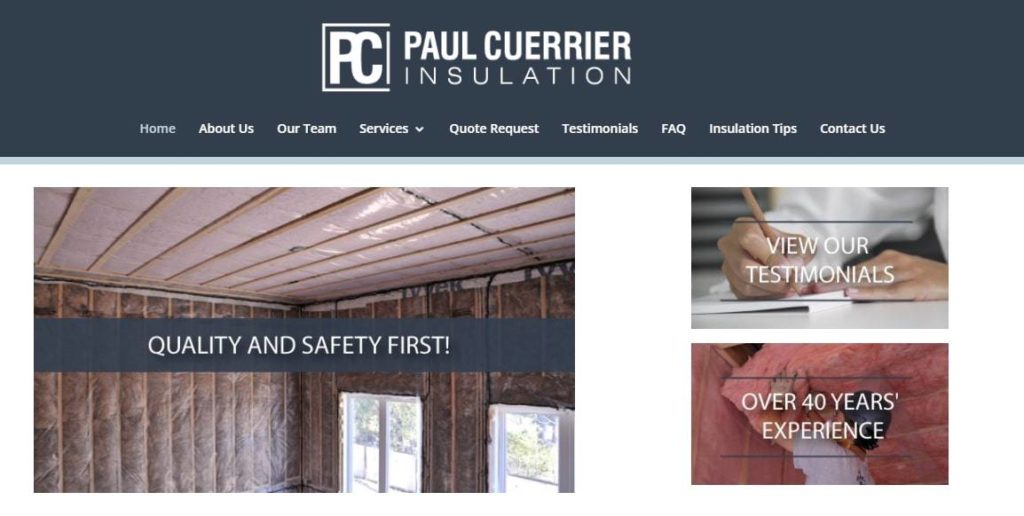 | Test | Info |
| --- | --- |
| SERVICES | Spray-foam Insulation |
| WEBSITE | https://www.pcinsulation.com/ |
| ADDRESS | 2634 Joanisse Rd, Hammond, ON, K0A 2A0 |
| CONTACT DETAILS | 613-487-2229 |
| OPERATING HOURS | Monday – Friday: 8:00 AM – 5:00 PM |
| | |
| --- | --- |
| Criteria | Ratings |
| Rates | ★★★★☆ (4/5) |
| Equipment | ★★★★★ (5/5) |
| Warranty | ★★★★★ (5/5) |
| Staff | ★★★★★ (5/5) |


With almost 50 years of experience, Paul Cuerrier Insulation (or PCI for short), is all about quality insulation. A company that has survived this long needs to have high standards.
Specializing in spray foam insulation, basements, and attic insulation, it's interesting to see how much the company has grown from starting out as a small business.
They also have a large client base of homebuilders and home owners. This may be a concern for some customers who are looking for a more personal touch for their insulation services.
But from what we've seen, PCI treats their big-time and small-time clients equally. It all comes down to what you can pay.
PCI is willing to give equal amounts of attention to their smaller clients if they're willing to shell out the money. Their services are top-tier but so are their prices.
In other words, their services are much more expensive but with their experience, you can be confident that you'll be getting your money's worth.
PCI has worked with many builders as well. Brands such as Urbandale Construction, Valecraft, and more are all under their resume.
It's one of the reasons why their services are more expensive than the others on this list.
Depending on your budget, PCI can be a great company to start with.
Has a whole team of experts, each with their own contact number
Huge clientele
Great reputation
Expensive compared to others on the list
They focus more on commercial projects rather than residential
Customer Reviews
Recommended

"From the phone call for a price quote for attic insulation right till the acceptance of the quote, there was absolutely no pressure to purchase. The quote was very detailed and the installers arrived at the designated time. They worked cleanly and very quietly. Everything was replaced or picked up before the installers left, so there was not any disruption for us. PC insulation has a very reliable couple working in the blown insulation department. We would recommend them to anyone." – Jim Ullett
Respectful and professional

"The two installers Patrick and Angele showed up on time and took care of protecting flooring and nearby furniture. They were respectful and very professional. They listened to specific requests and carried them out very satisfactorily; this included making sure openings (bathroom fans and fans) were sealed to air loss using a vapor barrier and caulking. Rulers were installed for later inspection. I was given clear explanations of what the work would entail, as well as options (cardboard vents vs. styrofoam baffles 24″ wide). I appreciated knowing about the options so that I could make an informed decision. The hatch was also weather-sealed and topped up with additional insulation. Overall, very satisfied of a job well done, would recommend this company." – Diane
5. Stewart Roofing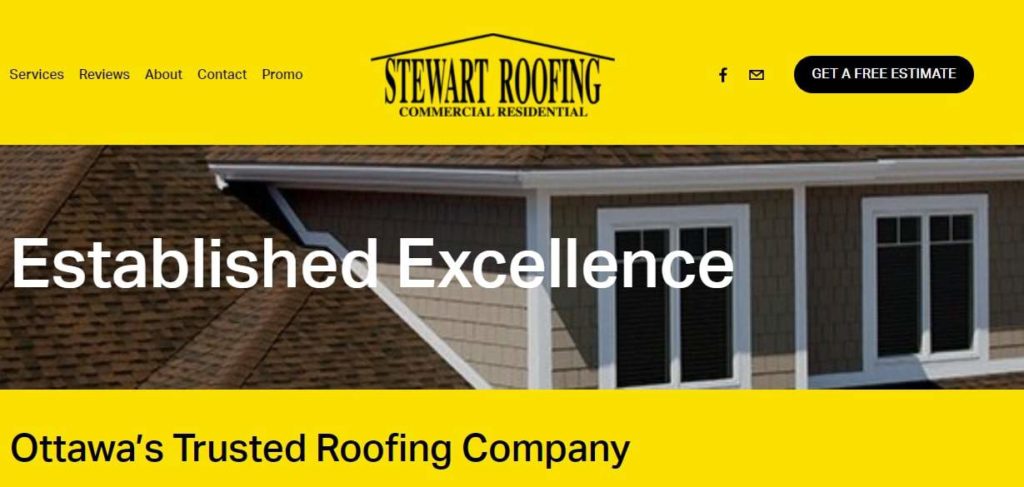 | Test | Info |
| --- | --- |
| SERVICES | Fiberglass Insulation, Other Roofing Services |
| WEBSITE | https://www.stewartroofingottawa.com/ |
| ADDRESS | 15 Grenfell Crescent #205, Nepean, ON K2G 0G3, Canada |
| CONTACT DETAILS | (613) 864-0131 |
| OPERATING HOURS | Monday – Friday: 8:00 AM – 4:00 PM |
| | |
| --- | --- |
| Criteria | Ratings |
| Rates | ★★★★☆ (4/5) |
| Equipment | ★★★★☆ (4/5) |
| Warranty | ★★★★★ (5/5) |
| Staff | ★★★★★ (5/5) |
30 years of experience may seem small but don't get us wrong. Stewart Roofing still does the job and does the job right.
Recognized as one of the best premiere commercial residential roofing companies in the Ottawa region, Stewart Roofing is definitely up there with the best choices for your attic insulation.
Specializing in shingle and flat roof categories, Stewart Roofing took the insulation world by storm when they first started and until now, they are as reputable as ever.
One thing that caught our attention with Stewart Roofing was that they have an A+ rating with the Better Business Bureau. We're also impressed that they were deemed 'Preferred Contractor' by Owen Corning, a famous American roofing company and one of the largest manufacturers of fiberglass composites.
Although more focused on roofing, Stewart Roofing is also a good choice of insulation services. They are able to work with all types of buildings and the company has a team of experts who know the ins and outs of insulation practices.
It should be noted, however, that Stewart Roofing only uses Fiberglass insulation. Fiberglass is safe but can be a dealbreaker for some who prefer foam.
Fiberglass insulation is different from the usual spray-foam insulation we're used to. They use melted glass with a combination of other materials such as wool, to insulate the customer's preferred area.
This type of insulation is known to be energy efficient. Fiberglass insulation is also known to help lower down heating and cooling bills by 40 to 50%.
It all depends on your preference but Stewart Roofing is in this list because of the service they are able to provide.
Team of experts with their own contact number
Huge clientele
Great reputation
Expensive compared to others on the list
Fiberglass insulation only
Customer Reviews
Very satisfied

"I am very satisfied with the new roof provided by Stewart Roofing. The estimator, and the installing were all very courteous and hard working. I had Owen-Corning shingles installed and the are a great looking product with a fantastic 50 year warranty. I am very pleased with all my dealing with Mr. Stewart and his staff including the office lady Bonnie who answered all my emails promptly. I would certainly recommend Stewart Roofing and the Owen-Corning product to anyone looking for a new roof. Thank you all!" – Karen
Punctual and well coordinated

"I contracted Stewart Roofing to re-shingle my, approximately, 3000 ft2 home. The estimator was thorough and clear in conveying his description of the estimate and his recommendations regarding my requirements. No pressure sales, and open to questions! Punctuality, the crew arrived at the mutually agreed upon time, ready to begin. The materials, machinery, and manpower were well coordinated, so that they could commence working immediately. In my conversation and interaction with the roofers, over the course of the two days it took to complete the roof, I found them to be extremely courteous and hard-working. I am highly impressed with the company's professionalism and the caliber of the finished product. As such, I would have no hesitation to recommend the company to friends and family". – Matt
FAQs About Attic Insulation in Ottawa
---
Insulation is key if you want a comfortable home. It helps keep your home warm during the colder days, and helps your home insulate the heat during hotter days. Here are our top picks for insulation services in Ottawa.
Do you think we've chosen the best options in the city? If you have any recommendations, let us know!
Want to learn more about taking care of your home? Check out this guide for making your home a healthier place.