5 Best Places for Art Supplies in Ottawa
Are you looking for some coloring materials you can use for art schools? What about a nice set of brushes for an oil painting masterpiece you can showcase in an art gallery?
Finding the best places for art supplies in Ottawa is made easy with this list. But before we proceed, let's first go through some of the basic art supplies and how much they usually cost.
How Much Do Art Supplies Cost in Ottawa
The art supplies you need will naturally depend on what you intend to do. While charcoal painting may require some pencils and sketchbooks, oil painting may need you to get some brushes and a canvas.
Regardless of what your artwork needs, below is a table that gives you an idea of the costs of different art materials.
The price ranges here are just estimates so it is best to check things out before making a purchase.
| Types of Art Supplies | Price Ranges |
| --- | --- |
| Drawing pencil | $1 - $36 |
| Colored pencil | $1 - $114 |
| Pen | $1.50 - $114 |
| Marker | $1.50 - $184 |
| Eraser | $2 - $15 |
| Charcoal | $2 - $24 |
| Sharpener | $2 - $74 |
| Pastel | $2 - $84 |
| Brush | $3 - $39 |
| Paint | $4 - $119 |
| Watercolor | $4 - $99 |
| Sketchbook | $7 - $26 |
Finding the Best Places for Art Supplies in Ottawa
To trim down our choices for this list, the following criteria were used in the selection process:
1. Michaels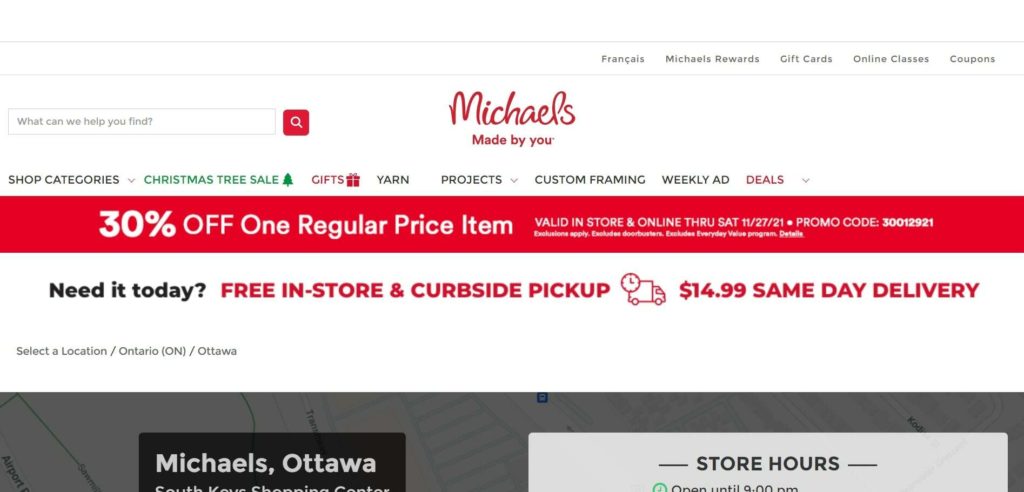 Test
Info
PRODUCTS AND SERVICES
Cricut, Canvas, Frames, Storage, Yarn & Needlework, Art Supplies, Apparel Crafts, Baking Supplies, Beads & Jewelry, Crafts & Hobbies, Craft Machines, Decor, Floral, Holidays & Occasions, Kids, Paint, Papercraft, Party, Teacher Supplies, Wedding, Projects, Kids Activities, Yarn Patterns
WEBSITE
https://canada.michaels.com/en/Home-Show
ADDRESS
2685 Iris St, Ottawa, ON K2C 3S4, Canada

F, 2210, Bank St, Ottawa, ON K1V 1J5, Canada

CONTACT DETAILS
Iris St.: +1 613-726-7211

Bank St.: +1 613-521-3717

OPERATING HOURS
Monday to Saturday 9:00 AM - 9:00 PM

Sunday 10:00 AM - 7:00 PM
| | |
| --- | --- |
| Criteria | Ratings |
| Wide Selection of Products | ★★★★★ (5/5) |
| Reasonable Prices | ★★★★✩ (4/5) |
| Delivery Services | ★★★★★ (5/5) |
| Customer Feedback | ★★★★★ (5/5) |
We like Michaels because they offer a wide selection of products to choose from. Their selections extend from art supplies and papercraft to decors and craft machines.
Their products also encourage your creativity through their DIY projects and other fun activities. Their free online classes and in-store events are great for kids!
Michales also offers custom framing with a variety of lifestyle collections. The good part is that they offer packages and free appointments with their designers to provide suggestions to suit your framing needs.
If you're into yarns, then Michaels will be a great place for you. Their vast color selections and designs are perfect for keeping you warm and chic at the same time.
Another nice thing about this particular store is the Michaels Rewards. Members get to enjoy exclusive deals, events, and early alerts for big sales.
On top of this, they also price match and ensure that qualifying items are offered at 10% less compared to competitors. The best part is that it applies to both in-store and online purchases!
Their special discount offers for teachers, military personnel, and senior citizens have also caught our attention. People belonging to any of these categories get more discounts and savings to enjoy.
It is also nice that Michaels provides additional convenience through their in-store, curbside, and same-day delivery options. The only downside is that the $14.99 rate for same-day delivery might be too costly for some.
Nonetheless, we still think that Michaels is a nice store where one might find what he needs.
With a wide selection of products
Offers great deals and promos
The price match
Michaels Reward
Multiple delivery options
Has 2 store locations
Prices are relatively higher
Delivery rates may be costly
Customer Reviews
Great experience
"Overall great experience. Staff were very helpful and friendly (Kim, Michelle, Josefina and Kevin were exceptional). They greeted us as soon as we walked into the door. They were patient and very welcoming. This location has great sales and great selections. The store is extremely clean and well organized." — Rose G (Penny), Google Reviews
Love this store
"Love this store.. I say this because they have never failed to have what I was looking for. In fact if I had any complaint it would be that I always walk out with much more or additional items than I went in for. With it's setup the store present so many crafting options that one may not have previously considered. The staff have always been friendly and able to answer my questions, if needed." — C Pawis (Northernsun), Google Reviews
2. Wallack's Art Supplies & Framing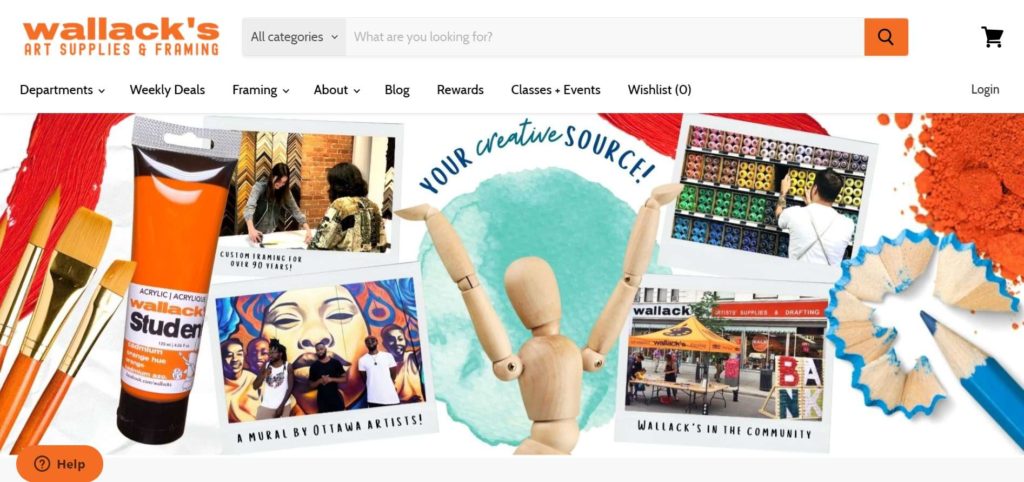 Test
Info
PRODUCTS AND SERVICES
Gift Cards, Painting, Drawing, Printmaking, Sculpting, Studio Supplies, Stationery, Crafting, Kids Creative Supplies, Books, Frames, Custom Framing, Drawing Classes, Space Rental
WEBSITE
https://wallacks.com/
ADDRESS
231 Bank St, Ottawa, ON K2P 1W9, Canada
CONTACT DETAILS
+1 613-234-1800
OPERATING HOURS
Monday to Saturday 10:00 AM - 6:00 PM

Sunday 11:00 AM - 5:00 PM
| | |
| --- | --- |
| Criteria | Ratings |
| Wide Selection of Products | ★★★★★ (5/5) |
| Reasonable Prices | ★★★★✩ (4/5) |
| Delivery Services | ★★★★★ (5/5) |
| Customer Feedback | ★★★★✩ (4/5) |
Wallack's Art Supplies & Framing offers a wide range of products – from gift cards and painting materials to books and frames.
Their painting section boasts nice selections of paints, brushes, canvases, and supports. Their drawing department houses quality materials like pens, markers, pastels, and inks.
One notable thing about their drawing products is that it includes materials that are used for technical drawing. Although with relatively fewer options, these products are great for engineering students or professional architects.
They also have a nice product category for kids. We think that these carefully selected products will be useful in helping young artists develop their creativity.
To provide additional convenience, the store also offers other services that cover framing, custom-made products, and artwork services. If you intend to have your masterpieces framed, you might want to avail of their free consultation to plan things better.
If you plan on holding an exhibit, they also have space rental services. Located downtown, it is also a good place for other events such as wedding receptions and cocktail parties.
Aside from having weekly deals, loyal customers are also given more ways to save through their Orange Circle Rewards Program. Members will not only earn redeemable points but also receive perks like access to VIP shopping events and extended 30-day returns.
It is also worth mentioning that Wallack's Art Supplies & Framing price match! If conditions are met, they will match the lower prices offered by other online or physical stores for the same product.
You might also be interested to join their drawing classes. However, do take note that this would cost you around $11 to participate.
Offers vast selections of art supplies
Provides custom-made frames
Offers nice discount promos
Price matching
Orange Circle Rewards Program
Relatively expensive prices
Redemption costs a lot of points
Customer Reviews
Vibe is perfect for an art store
"I loving Wallack's!!! The vibe is perfect for an art store. The employees are helpful and kind! The products are fairly priced and they have good sales. Their house brand is very impressive." — V N, Google Reviews
Store is amazing
"This store is amazing! They carry so many different products that I could spend all day in this store browsing through everything they have. I'm always greeted with a friendly smile from the employees so I have nothing but positive things to say about my experiences at this store." — Shaunna Preston, Google Reviews
3. DeSerres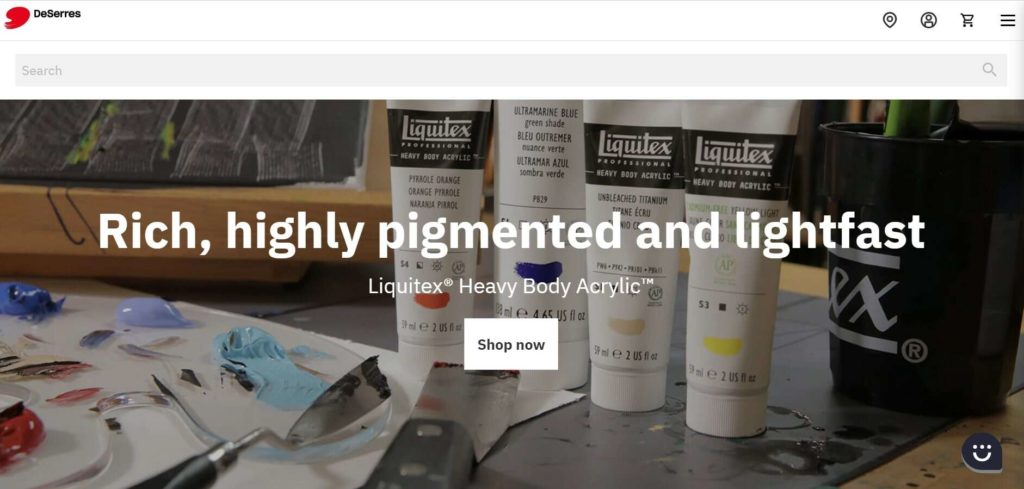 Test
Info
PRODUCTS AND SERVICES
Art & Graphic, Creative Hobbies, Home & Studio, Games & Kids, Creative Space, Art Lessons, Gift Cards, Business Services
WEBSITE
https://www.deserres.ca/
ADDRESS
1200 St. Laurent Blvd, Ottawa, ON K1K 3B8, Canada
CONTACT DETAILS
+1 613-238-3303
OPERATING HOURS
Monday to Saturday 10:00 AM - 6:00 PM

Sunday 11:00 AM - 5:00 PM
| | |
| --- | --- |
| Criteria | Ratings |
| Wide Selection of Products | ★★★★✩ (4/5) |
| Reasonable Prices | ★★★★★ (5/5) |
| Delivery Services | ★★★★★ (5/5) |
| Customer Feedback | ★★★★✩ (4/5) |
DeSerres has an array of supplies that includes products for arts and graphics. These products range from markers and pens to painting knife sets and canvases.
They also have an exclusive section that kids would love. Under this category are great selections of art stuff and toys that help children have fun while fostering their creativity.
Also worth noting is their decent collection of products for the creative hobbies of adults. You will find nice things here like Canadian yarns for knitting scarves and floss packs for embroidery masterpieces.
We also like the art lessons they offer online via zoom. These virtual classes are ideal for everyone as they focus on useful art techniques – from watercolor painting to acrylic pour painting.
These classes, however, may not be appealing for some as they are not offered for free. These virtual lessons come with charges that start at $45 for 1.5 hours of workshop.
Nevertheless, another nice thing about this store is its Creative Club, which allows you to earn points that can be used to get some of the products you like. We also like the idea that students, members from artists' associations, and partner companies will get an additional 10% on regularly priced items.
They also throw in 100 bonus points on your first purchase as a member! That's already halfway towards your first redeemable points at 250, which is equivalent to a $5 discount!
With a decent array of products
Offers web-exclusive discounts
Creative Club Rewards Program
Has relatively fewer product offers
Non-competitive discount promos
Customer Reviews
Beautiful art store
"Very beautiful art store! The staff was super patient and friendly with us. They have a wide range of markers and different art supplies. Surprisingly unlike other craft stores, this one carries relatively high quality yarn" — Giorgio, Google Reviews
Got everything you need
"While not the cheapest place for supplies, this is the best art store in Ottawa. It's got everything you need, and lots you don't need. Perfect for gift ideas for artsy folk." — Jeremy, Google Reviews
4. The Gifted Type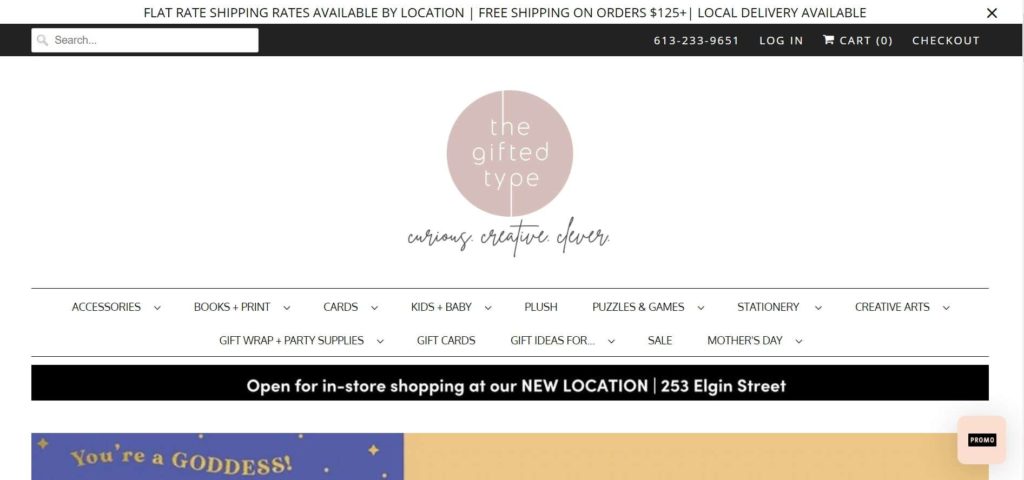 Test
Info
PRODUCTS AND SERVICES
Accessories, Books & Prints, Cards, Kids & Babies, Plush, Puzzles And Games, Stationery, Creative Arts, Gift Wrap And Party Supplies, Gift Cards, Gift Ideas
WEBSITE
https://www.thegiftedtype.com/
ADDRESS
253 Elgin St, Ottawa, ON K2P 1L8, Canada
CONTACT DETAILS
+1 613-233-9651
OPERATING HOURS
Monday to Wednesday 10:00 AM - 6:00 PM

Thursday to Friday 10:00 AM - 7:00 PM

Saturday 10:00 AM - 6:00 PM

Sunday 11:00 AM - 5:00 PM
| | |
| --- | --- |
| Criteria | Ratings |
| Wide Selection of Products | ★★★✩✩ (3/5) |
| Reasonable Prices | ★★★★✩ (4/5) |
| Delivery Services | ★★★★★ (5/5) |
| Customer Feedback | ★★★★★ (5/5) |
The Gifted Type has various kinds of art supplies – from pencils and markers to adult activity books and DIY craft kits. It is interesting to know that their product lines also cater to older customers with young hearts.
Among the popular art products they have for adults are coloring books and paint-by-sticker activity books. Their paint-by-number kits, cross stitch kits, and embroidery kits are also perfect to relieve stress while allowing creativity to flourish.
Of course, there are also some nice things specially curated for kids and even babies. They have puzzles and games and huggable plush items, too.
Also included in their array of selections are gift bags and party supplies should you need some for an upcoming event. They also have cards for different occasions and stationery for office needs.
One thing we like about this place is that it has nice gift ideas for various events. This place is a good spot not only for artsy folks but also for presents for our loved ones.
We also like that the store offers free shipping within Canada for orders exceeding $125. They also have the same-day local delivery that comes with a flat rate based on location.
The only downside we noticed is that their store is relatively smaller and gets crowded easily. You might need to purchase the things you need online and opt for an in-store pick-up instead.
Offers a decent array of products
Popular for gift ideas
Relatively fewer selections
Small store
Customer Reviews
The cutest store ever
"The cutest store ever!! You are definitely bound to find the gift you need for someone else, and also yourself lol. Stock is ever changing and always so well curated, and staff are super sweet and helpful. Definitely stop in if you get the chance :)" — Kam Google Reviews
Overall experience is flawless
"this place is so cute & i catch myself stopping in every chance i get. stationary, stickers, quirky pins, cute lil project things. perfect for anyone even a little bit creative!" — Kay D., Google Reviews
5. The Papery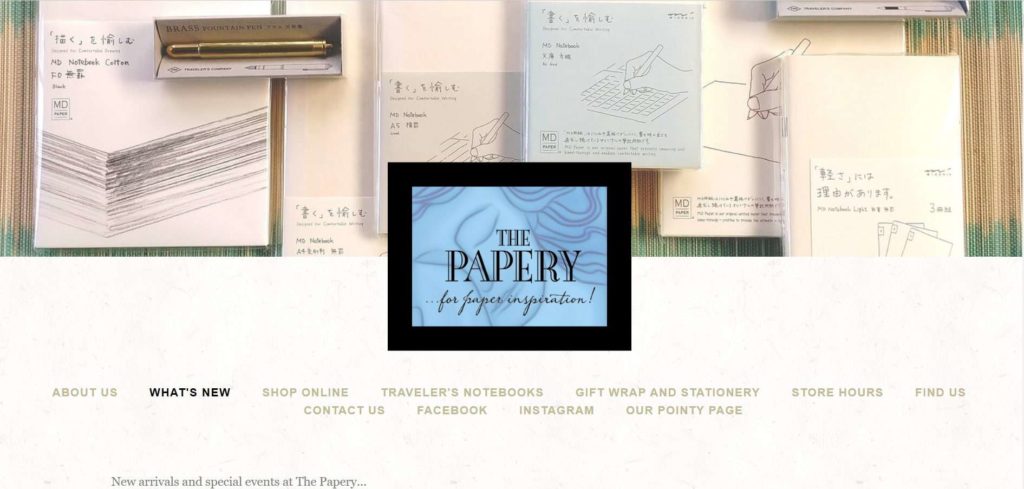 Test
Info
PRODUCTS AND SERVICES
Gift Ideas, Origami, Cards And Stationery, Party Supplies, Pens, Journals, Arts And Crafts,
WEBSITE
https://shop.papery.ca/
ADDRESS
850 Bank St, Ottawa, ON K1S 3W1, Canada
CONTACT DETAILS
+1 613-226-4780
OPERATING HOURS
Monday to Saturday 10:00 AM - 6:00 PM

Sunday 11:00 AM - 5:00 PM
| | |
| --- | --- |
| Criteria | Ratings |
| Wide Selection of Products | ★★★✩✩ (3/5) |
| Reasonable Prices | ★★★★✩ (4/5) |
| Delivery Services | ★★★★★ (5/5) |
| Customer Feedback | ★★★★✩ (4/5) |
The Papery takes pride in its wide selection of products. They offer various kinds of art supplies that extend from cards and stationery to arts and crafts.
Some of the popular art supplies they have include watercolors, colored pencils, pens, markers, and drawing pads. Also worth noting is that they specialize in social stationery and other paper elements.
So if you're into Origami, The Papery is a nice place to visit. They have a decent collection of papers, kits, and booklets that are great for the Japanese art of paper folding.
Another interesting product they have is their Ferris Wheel Press ink, which is water-based and compatible with all types of fountain pens. If you enjoy using fountain pens, these products that are available in different colors are for you.
They have Blackwing pencils, erasers, sharpeners, and slate notebooks, too. Blackwing pencils, by the way, are manufactured in Japan and are known to be smooth and beautiful.
If you're planning on throwing a nice party, they also have supplies for you. They offer a wide range of candles, plates, napkins, balloons, and all other sorts of decorations.
You can also find nice pairs of Blue Q socks for both men and women. We think that these humorous socks would be a nice gift or a nice way of giving someone a good laugh.
Lastly, it's worth mentioning that The Papery has a Loyalty Program that lets you earn points. But there weren't many details given on the website except that it only applies for in-store purchases.
Has a nice array of products
Specializes in social stationery
Nice place for origami needs
Has relatively fewer art supplies
Limited loyalty program coverage
Customer Reviews
Amazing store
"Amazing store! Obviously they have loads of interesting cards for literally any occasion, but you can also find puzzles, painting supplies, fun party items, quality notebooks, calendars, ribbons, lux wrapping paper, colourful envelopes, and many gift items. Their seasonal items are also something to look forward to, especially before Christmas." — Monika Jaskolka, Google Reviews
Worth a visit
"I love having a card shop near me when you need a special card for a unique occasion. They have a little bit of everything. Totally worth a visit!!" — Miranda Boyer, Google Reviews
FAQs About Art Supplies in Ottawa
---
Finding good stores to get art supplies can be hard sometimes, but we hope that this list has made things easier for you. Enjoy working on artwork and let your creativity bloom!
If you're looking for other fun activities, especially for kids, you might want to check this.