The 6 Best Antique Dealers in Ottawa
Antiques are a good way to spice up your home. They're usually known as collector's items and are very unique compared to ordinary decorations.
In this article, we will be discussing the best antique dealers in Ottawa and the services they offer for collectors and non-collectors alike.
How much do antique dealers charge for their services?
Antique dealers charge for services they offer. This includes delivery, cleaning, etc. More information can be found in the table below.
| Service | Average Estimated Costs |
| --- | --- |
| Appraisal | $350 to $700 |
| Cleaning | $64 to $116 |
| Restoration | $1,000 to $5,000 per piece |
| Shipping & Delivery | $100 - $1,000 depending on size & value |
| Home Decor Set | $55 - $115 depending on value |
The Best Antique Dealers in Ottawa
Finding the most optimal antique dealer, especially in a city full of them, can be a difficult task. We narrowed down the best choices using the following criteria:
1. Ottawa Antique Market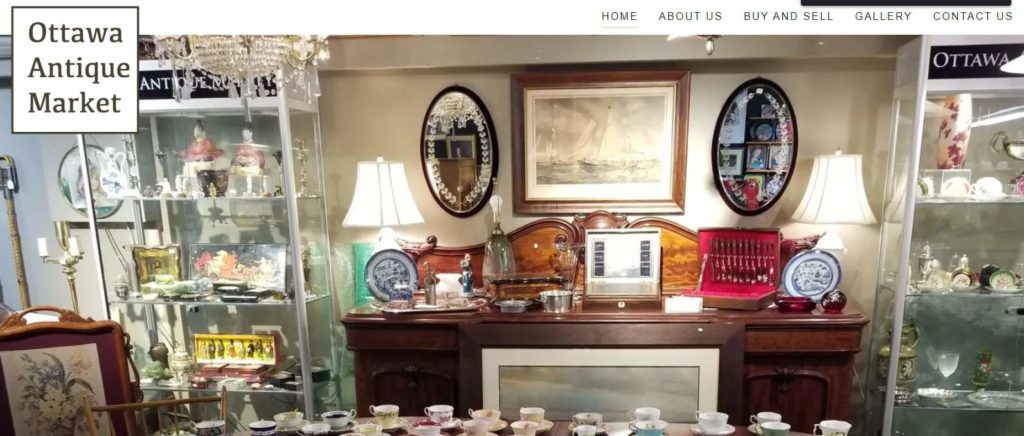 | Test | Info |
| --- | --- |
| SERVICES | Antique Buy & Sell, Antique Delivery & Pick Up, Viewing, Antique Gallery |
| WEBSITE | https://ottawaantiquemarket.com/ |
| ADDRESS | 1179 Bank St Suite A, Ottawa, ON K1S 3X7, Canada |
| CONTACT DETAILS | 613-730-6000 |
| OPERATING HOURS | Open everyday: 10AM - 6PM |
| | |
| --- | --- |
| Criteria | Ratings |
| Rates | ★★★★★(5/5) |
| Location | ★★★★ (4/5) |
| Services | ★★★★★(5/5) |
| Selection | ★★★★★(5/5) |
The Ottawa Antique Market is quite unique because it actually consists of multiple antique stores in one area. With over 25 stores, you can be sure to find the right services for your needs.
Among the services these stores offer are cleaning, buy and sell, delivery, and more. If you have an interesting item of your own and want to know its value, you have multiple places to go to and compare prices.
These stores also have fine art items, and we were impressed with how these artworks were organized properly. From mid-century art to Victorian art and Georgian art, all of these can be found in the Ottawa Antique Market.
We were also impressed with the cleaning services some of these stores offer. They can help you clean up your rare antique collectibles without damaging them.
There are also clothing pieces available in the stores. They carry vintage clothing, which is very popular among the current generation — but for a more expensive price.
Some of these stores also offer pricing services for vintage clothing you may have at home.
The only downside is the lack of online stores, which can make the shopping experience a bit of a hassle.
Overall, we believe the Ottawa Antique Market's services and solid selections make up for its drawbacks.
Good selection of era-specific artworks
Open everyday
Has good vintage options for clothing
Cleaning and pricing services
No online store
Can get crowded at times due to its numerous stores
Customer Reviews
Touring history
"I find it so fascinating to walk through history. Exploring items that have years worth of stories to tell. Trying to figure out what things are, what they may have been used for. Seeing how things used to be made with love as an artisan crafts the item. So many things to choose from. — Dan C
Good place
"If you like poking around antique stores this place might be for you! Lots of nice things to look at, some treasures found! Friendly people, worth a good look if you are in the area." – Graham Dutton
2. Yardley's Antiques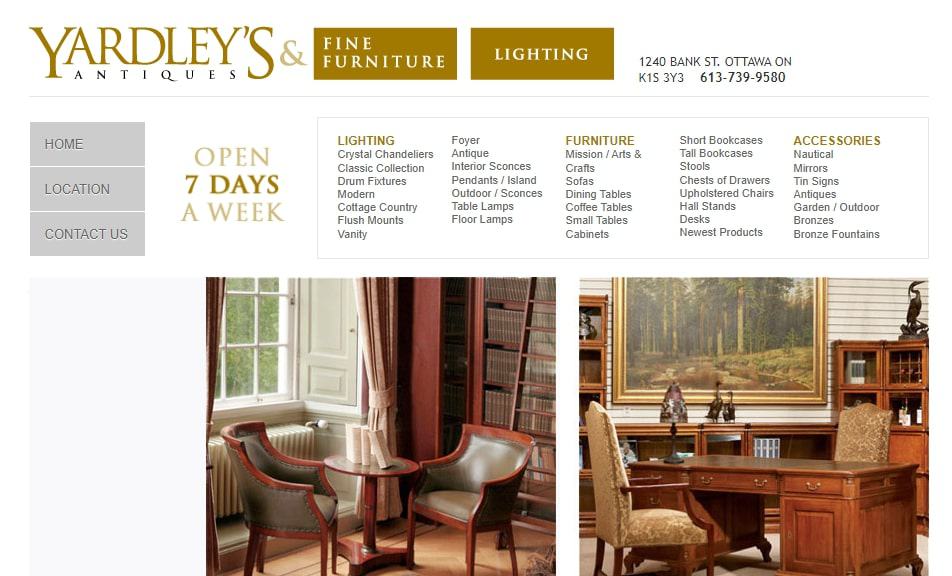 | Test | Info |
| --- | --- |
| SERVICES | Antique Buy & Sell, Antique Delivery & Pick Up, Viewing, Antique Gallery |
| WEBSITE | http://yardleys.ca/ |
| ADDRESS | 1240 Bank St, Ottawa, ON K1S 3Y3, Canada |
| CONTACT DETAILS | 613-739-9580 |
| OPERATING HOURS | Open everyday: 10AM - 6PM |
| | |
| --- | --- |
| Criteria | Ratings |
| Rates | ★★★★★(5/5) |
| Location | ★★★★ (4/5) |
| Services | ★★★★★(5/5) |
| Selection | ★★★★ (4/5) |
If you're looking for classic-themed but practical items that you can use every day, Yardley's is the antique dealer for you. The store is most well known for classic lighting and furniture.
If you have old furniture from a previous home, you can bring it to Yardley's to see if it can fetch a good price. The store offers pricing services and also acts as a buy & sell market where you can find good deals for antiques.
Yardley's 35 years of experience in dealing with antiques make it one of the best dealers in the city. The store itself can be considered a work of art and is very impressive as a gallery on its own.
It's a good place to just look around and check out different antique items. Its staff will also be glad to help you estimate the price of an antique you already own and they may even buy it off you — if you're willing.
The downside is the store is small and tight, so it's hard to navigate inside it. If you plan on just looking around, be ready to squeeze through tight spaces.
Overall Yardley's is a solid antique dealer. Its selection of different era artwork and furniture makes it worthwhile to explore the store despite its small size.
Good set of items from furniture, plate ware, toys, and more
Organized items makes it easy to find specific types of stuff
Closed on weekends
Store is tight and it may be hard to move around inside it
Customer Reviews
Found a treasure

"Can't express my excitement with this little treasure find from Yardley's. Great service from the owner and his staff. We have been going in for years and always found nice little things like candle sticks, statues, pictureframes and paperweights but this pedal car absolutely made my day." – M. S.
Great job
"Always my favorite antique store in all my travels. The chandelier crystals bin gets me every time.Be prepared to squeeze into some pretty tight places." – T. L.
3. Champagne dit Lambert Antiques Ltd

| Test | Info |
| --- | --- |
| SERVICES | Antique Delivery & Pick Up, Viewing, Antique Gallery |
| WEBSITE | No website available |
| ADDRESS | 1130 Bank St, Ottawa, ON K1S 3X6, Canada |
| CONTACT DETAILS | 613-730-1181 |
| OPERATING HOURS | Open everyday: 10AM - 4:30PM |
| | |
| --- | --- |
| Criteria | Ratings |
| Rates | ★★★★(4/5) |
| Location | ★★★★ (4/5) |
| Services | ★★★★★(5/5) |
| Selection | ★★★★★(5/5) |
Champagne dit Lambert Antiques Ltd is located in a delightful area where people can come and go smoothly with no issues. The antiques in this store are quite unique and some can be considered very expensive.
One of the antique items that we found interesting was the silverware it has on sale. If you're thinking of selling, the store accepts metalware and other antique items.
It also offers its very own antique gallery, perfect for those who want to take a tour and just look at unique items from the past. Delivery is also available for buyers who are too busy to visit the store.
Bargaining can be done for those who want to save money. We also like that some of the store's products have discounts.
Disappointingly, this antique dealer does not have its own website. It would've been better if it at least had a Facebook page so it can be contacted online regarding a viewing schedule and pricing of items.
Unfortunately, without these, you can only reach it in person or through its mobile number.
With that said, Champagne dit Lambert Antiques Ltd is still a good dealer of antiques because of its numerous items available for sale, its viewing gallery, and its pricing services.
Good selection of items
Location can be accessed easily
Open everyday
No website
No online store to check catalog
Customer Reviews
Consistently good

"We have shopped for many years at this shop. In fact most of our home furnishings are from them. They have always been consistent in their quality of goods, their fairness of pricing and their dedication to customer satisfaction. We have evolved to a point in our relationship with this shop that they often call us when they acquire an item that they feel may appeal to us. Some shoppers may not realize that they also operate the warehouse shop around the corner below the coffee shop. Some great items at a competitive price can be found there. Do yourself a favour if you are sourcing some high quality antiques: pay a visit to Champagne dit Lambert." — Tom Lawson
Wide variety

"Great store with a wide variety off older and newer items. Individual booths ensure that you should be able to find what you are looking for.
Best times to go are when the vendors are there though (they aren't always there so be sure to check when they are in, if they arent), this will give you the chance to bargain on prices that are already pretty fair. Repeat customers get good deals on items. Would highly recommend this location to anyone." – Adrian Leblanc
4. A Fine Thing Furniture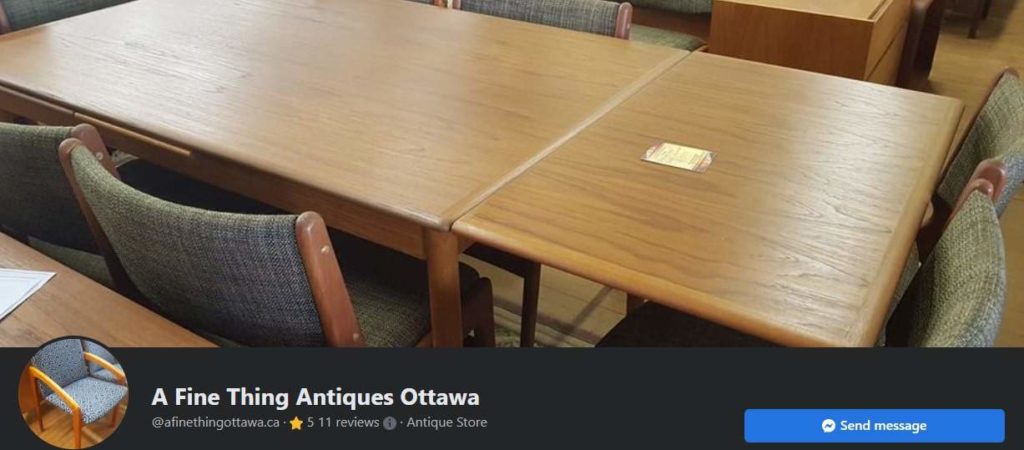 Test
Info
SERVICES
Antique Furniture, Buy & Sell, Delivery
WEBSITE
https://www.facebook.com/afinethingottawa.ca/
ADDRESS
989 Somerset Street West Ottawa, ON, Canada K1R 6R8
CONTACT DETAILS
613-729-1388
OPERATING HOURS
Tuesdays to Saturdays: 10:30AM – 4:30PM

Sundays: 12PM - 5PM

Closed on Mondays
| | |
| --- | --- |
| Criteria | Ratings |
| Rates | ★★★★ (4/5) |
| Location | ★★★★ (4/5) |
| Services | ★★★★★(5/5) |
| Selection | ★★★★★(5/5) |
Contrary to what you may believe, A Fine Thing Furniture, has more to sell than just furniture. Although its specialty is more on vintage furniture, this dealer still has other antique items under its belt.
What's interesting about A Fine Thing Furniture is that it can also be considered a thrift shop because of the lower prices it offers on its items.
Items that are usually around $120 in other stores are just $100 and below here. Talk about a great steal.
Aside from the solid bargains, the store also offers buy & sell services for its vintage furniture and other antique items. It also has delivery services for the bigger items it has for sale.
A Fine Thing Furniture's items are mostly furniture but we were still impressed with the selection it has. It offers the usual types of furniture such as mid-century and Victorian, as well as lesser-known types, like funk furniture.
A downside to this store is its location. The area is a bit small and if you have a vehicle, it may be hard to find a decent parking space.
With that said, A Fine Thing Furniture is still impressive because of its selections of antique furniture and merchandise.
Offers discounts
Good set of antique furniture with rare era-based styles
Parking can be difficult
Not many options outside of furniture
Closed on Mondays
Customer Reviews:
Neat store

"Neat store, that actually feels more like a giant Normas warehouse. Lynn was very helpful and accommodating reducing my final amount. Happy with the goods I purchased. Found quite a few discrepancies from item to item in price but to be expected. Great overall experience, I'd have to find parking on the middle of Somerset so would recommend a better plan of attack next time I visited. Could easily spend an afternoon rather than just an hour. So much to see and if you enjoy antiques highly recommend." – Nick J.
Fun and interesting

"Really nice store! Full of fun stuff to look through. I woulda almost given it a five stars except for that I couldn't have afforded any of the furniture. Granted, I'm on a tightish budget and I don't know anything about the quality of the antiques I was looking at. But I was lightly browsing for a side table to go next to my bed and nothing I found was under 100 dollars. Usually 130+. I'd probably get something off of the Facebook Marketplace that was a little cheaper. Other stuff that wasn't furniture, though, felt totally reasonably priced. If you can't afford a 200-500 dollar piece of furniture, this isn't where I'd look, but it's great for decorations and antiques to put around your house. There were several things I might have bought if I didn't have to carry them all home with me" – Gabrielle Huston
5. Aubrey's Antiques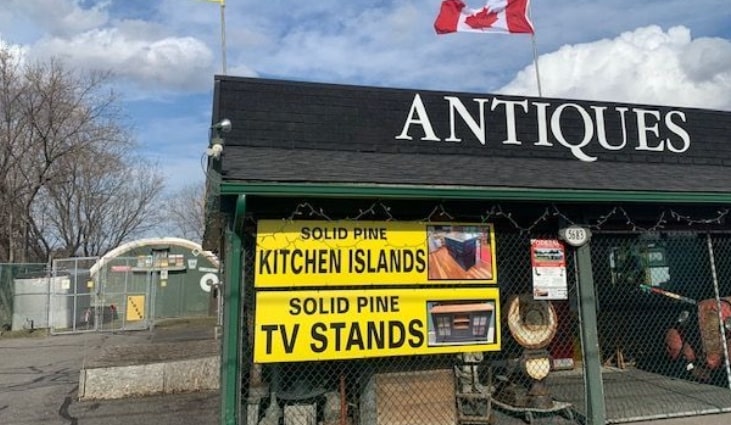 | | |
| --- | --- |
| Criteria | Ratings |
| Rates | ★★★★ (4/5) |
| Location | ★★★★ (4/5) |
| Services | ★★★★★(5/5) |
| Selection | ★★★★★(5/5) |
For over 30 years, Aubrey's Antiques has been one of the most recognized names when it comes to antiques. The Aubrey family is a known collector of different antiques from different eras.
This store not only buys and sells antiques, but it also shows off different antique collections during its outdoor shows. It's also a member of the Antique Dealers Association of Canada.
Among the many items this store has, glass, china, furniture, and old toys are the most prominent. These types of items are also what the Aubrey family is interested in — in case you plan on trading antiques with them.
We're also impressed with Aubrey's collection of antique stoneware and some other mundane items, such as old street signs and old brand signs. It is not just a store but also a sort of museum where visitors can peruse items from the past and learn about them.
Disappointingly, Aubrey's isn't open during the weekends, so visiting the store during these days is a no-go. During weekdays, it is busy and full of life from numerous collectors who like to check out the items it has for sale or display.
With that said, Aubrey's is definitely a great choice for collectors of antique items who are still new to the hobby and want to learn more about the things they're collecting.
Good location, spacious and easily accessible
Unique antique items such as street signs, stoneware, and more
Closed on weekends
No online store available to peruse
Customer Reviews:
Great store

"Great little antique store right on the highway. Antiques are mostly from the 60s and earlier however there was a tiny vinyl section. The albums are somewhat overpriced but I was happy to spend the money when I saw that the owners were Seniors who seemed to love what they were doing." – Sean Cusson
Kind staff

"Aubrey's Antiques is a hidden gem just outside of Ottawa. Not only do they have a lot of eclectic antique pieces they also carry beautiful, high quality wooden furniture pieces, made locally. Ken was very kind and thoughtful, he sent me additional photos of the piece I inquired about, put it on hold for me and even helped us load it into our car. I won't hesitate to look there next time I need any furniture for my home." – Meaghan Christie
6. The Vintage Crate
| | |
| --- | --- |
| Criteria | Ratings |
| Rates | ★★★★ (4/5) |
| Location | ★★★★ (4/5) |
| Services | ★★★★★(5/5) |
| Selection | ★★★★★(5/5) |
The Vintage Crate, which is situated in the heart of the old town of Arnprior, is brimming with a lovely selection of well chosen antiques and home goods.
They strive to offer one-of-a-kind products and presents in order to provide our customers with a "one-of-a-kind" experience. They support Canadian craftspeople and designers by purchasing locally manufactured goods.
After David left the high tech sector after 35 years to pursue his passion for antiques, the trip began in December 2016. The Vintage Crate opened its doors in May 2017 following months of renovations to the old Mathers Insurance Building's interior and exterior.
David personally selects and curates his collection of antiques, while his wife Denise concentrates on the company's gift and decor divisions.
Checking their antiques, we noticed an abundance of antique toys and signs which are interestingly on demand. They also have numerous lighters, pocket knives, watches and folk arts which can fetch a high price as time goes by.
High-quality antiques
Experienced and accommodating staff
Affordable rates
They have one online store gifts and one online store for antiques located on their website.
Customer Reviews
Highly inclusive and up to date on current human processes
"Finally visited this GEM! There's something for absoluetly everyone one of every age group. They have intentially hand picked every item. Highly inclusive and up to date on current human proceses. Get here quick!" – Miranda Ryersee
The owners are incredibly nice and helpful
"By far one of the most beautiful stores in Arnprior! My spouse and I travel from Ottawa to visit occasionally. It is always a new experience each time we go as they always have new antiques and home décor available. The owners are incredibly nice and helpful, they always go out of their way to make each customer feel special." – Jesse Perreault
FAQs about Antique Dealers in Ottawa
---
Looking for antique dealers can be difficult but this article should make the task easier.
Interested in looking at other types of art? Check out the best art galleries in Ottawa!