The 5 Best Amusement Parks in Ottawa
Amusement parks are a great way to have some fun with your family and friends. Ottawa has plenty of excellent options for different kinds of amusement parks and all of them are unique in the atmosphere and activities they offer.
In this article, we will be reviewing the best amusement parks in Ottawa.
How much does it cost to visit an amusement park?
Amusement parks' prices depend on the size, location, and type of activities offered. The table below should show the average entrance fees at the different Ottawa parks we listed.
| Service | Average Membership/Entrance Fee |
| --- | --- |
| Calypso Theme Waterpark | $28 - $32 |
| Funhaven | $15 - $25 |
| Ian's Christmas Adventure Park | $20 - $30 |
| GlowSport Ottawa West | $40 - $45 |
| Marked Ultimate Family Adventure Park | $70 - $100 monthly |
The Best Amusement Parks in Ottawa
To find the best amusement parks, we looked at the following criteria:
1. Calypso Theme Waterpark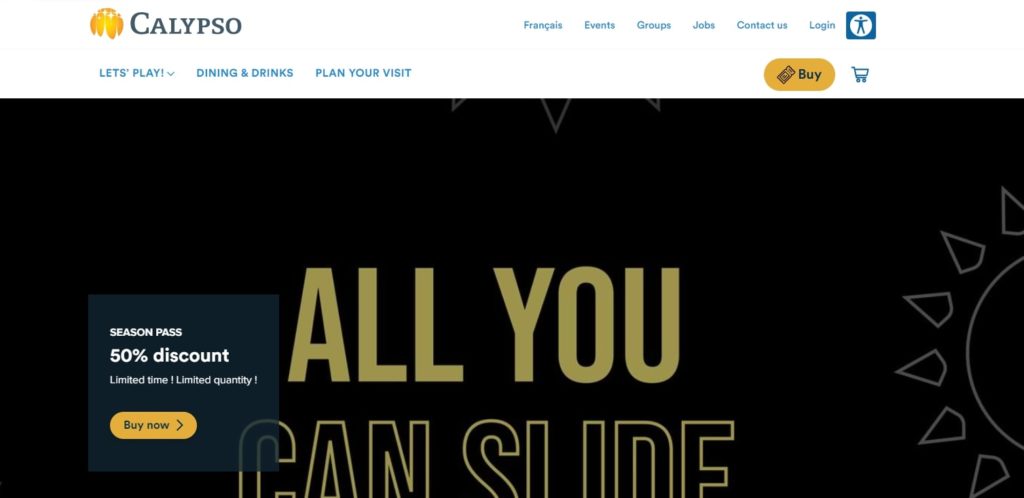 Test
Info
AMENITIES

Water Park

Restaurant

Summit Tower

Kongo Expedition

VIP Zone

WEBSITE
https://www.calypsopark.com/en/
ADDRESS
2015 Calypso St, Limoges, ON K0A 2M0, Canada
CONTACT DETAILS
Phone: 613-443-9995
OPERATING HOURS

Monday to Sunday : 10AM–5PM
| | |
| --- | --- |
| Criteria | Ratings |
| Rates | ★★★★(4/5) |
| Amenities | ★★★★★ (5/5) |
| Location | ★★★★★(5/5) |
| Schedule | ★★★★★(5/5) |
Calypso Theme Waterpark is the perfect place to escape the heat and have some fun. It provides a unique environment with plenty of slides and attractions to keep everyone entertained.
As of writing, the waterpark has 35 slides, 100 water games, and 2 theme rivers. We love the wave pool where you can catch some waves on a boogie board or just relax on the sand and soak up the sun.
Many of the slides are huge and offer a thrilling experience. If you have kids, there are smaller slides that they can enjoy without getting too scared.
Another thing that makes Calypso unique is its family activities such as volleyball games and Zumba sessions. There are even shows with fireworks and music so you can spend the whole day having fun!
It's very convenient that Calypso offers online ticket selling so you won't have to wait in line to buy your tickets when you get there. There are suites so guests can stay overnight and enjoy some more of the park the next day.
The only drawback of this establishment is the pricey suites, but if you don't plan on staying overnight, you can probably just pay the regular admission price and enjoy the entire park in a day!
Great summer destination
Has large slides
Online ticket selling
Easy to access
Customer Reviews
Kids loved it
"Our kids loved the park and we all want to visit again. I would highly recommend this water park!" – Lawrence Y.
Amazing
"Amazing rides with reasonable waiting times. A very nice area for little kids. Lot's of clean washrooms. Seats and barbecue tables are all over the pleace. Staff were very nice." – Khaled
2. Funhaven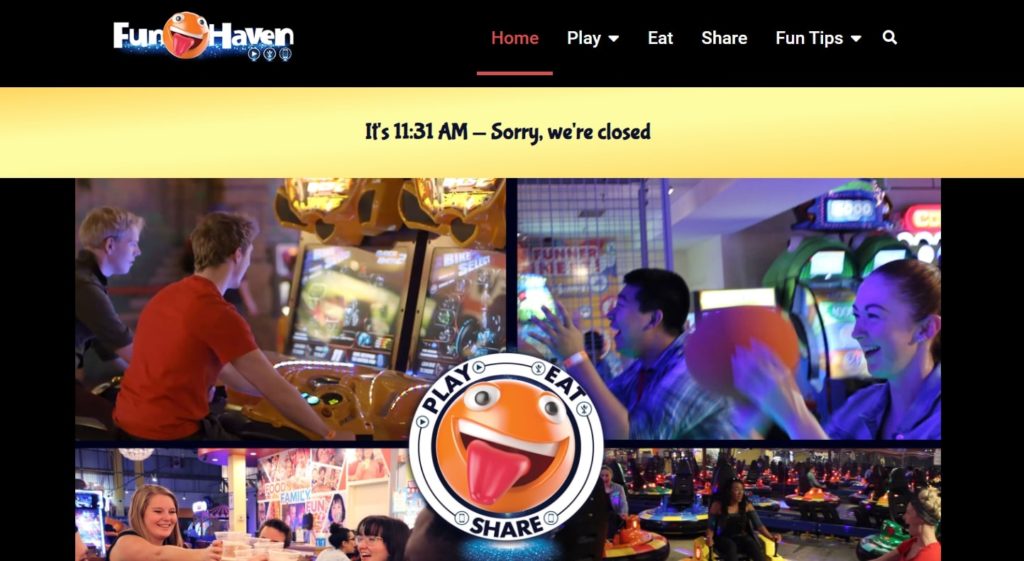 Test
Info
AMENITIES

Crazy 8

Bumper Cars

Jungle Gym

Laser Tag

Bumper Cars

Arcades

Escape Rooms

WEBSITE
https://www.funhaven.com/
ADDRESS
1050 Baxter Rd, Ottawa, ON K2C 3P1, Canada
CONTACT DETAILS
Phone: 613-828-4386
OPERATING HOURS

Monday to Thursday : 3–9PM

Friday : 1PM–12AM

Saturday : 10AM–12AM

Sunday : 10AM–9PM
| | |
| --- | --- |
| Criteria | Ratings |
| Rates | ★★★★★(5/5) |
| Amenities | ★★★★★ (5/5) |
| Location | ★★★★(4/5) |
| Schedule | ★★★★(4/5) |
Baxter Road's Funhaven is another great option for those looking for a family-friendly amusement park. It's an indoor establishment full of fun activities such as laser tag, bumper cars, jungle gyms, and more.
It has been operating since 2011 and although it's a fairly new park, it attracts thousands of people every year thanks to its convenient location and reasonable prices.
The family-owned park is open all year round and offers a range of special events throughout the year. It is also a great option if you're looking for somewhere to hold your next birthday party or special event.
What makes Funhaven unique is its escape rooms. These rooms are designed for groups of four to eight people and the goal is to solve a series of puzzles and find clues to escape within sixty minutes.
Escape rooms are great because they offer a thrilling experience but are safe and suitable for people of all ages and abilities.
Of course, some people may still prefer a theme park that's open and outdoors. If that's the case for you, then you may have to go with a different option.
But if you're fine having fun in an indoor setting, Funhaven is an excellent place for families to spend time together and have fun without breaking the bank.
Multiple amenities
Great for younger children
Promotional deals
Also has arcades
Customer Reviews
Loved the coaster
"Very fun. We went on Tuesday for half price games. Staff was friendly. We did notice that some of the same games were different prices so we picked carefully. Kids loved the coaster!" – Mary Garvin
A blast even for adults
"My kids and I had a total blast and could easily spend an entire day. Well worth the money. I would even go without kids and have fun!" – Melissa Poncia
3. Ian's Christmas Adventure Park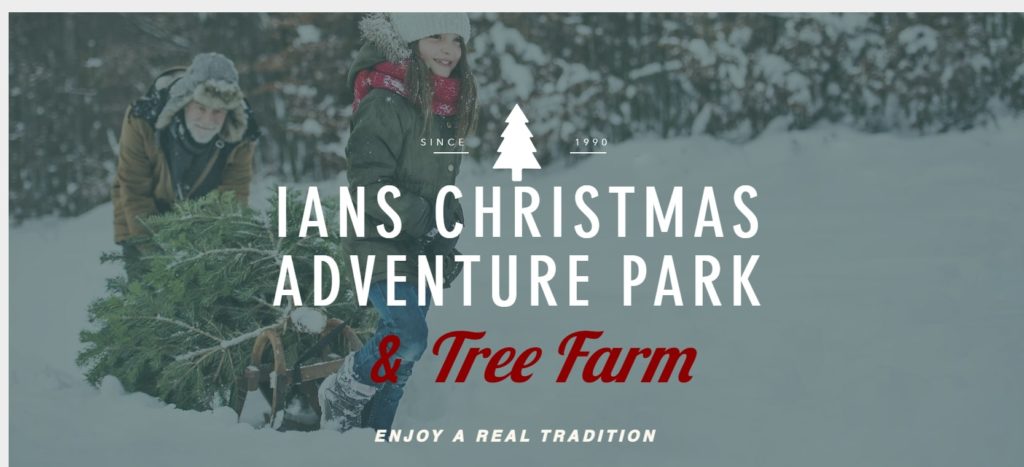 Test
Info
AMENITIES

Hay Ride

Zip Line

Movie Night

Meet Santa

Farm Animals

Candy Cane Lane

Fire Pits

Santa's Workshop

Outdoor Skating Rink

Sled Area

Hiking Trails

WEBSITE
https://www.ianschristmaspark.ca/
ADDRESS
804 Richmond Rd, Beckwith, Ottawa, ON K0A 1B0, Canada
CONTACT DETAILS
Phone: 613-253-0086
OPERATING HOURS

Monday to Wednesday : Closed

Thursday to Friday : 1–9PM

Saturday to Sunday : 9AM–9PM
| | |
| --- | --- |
| Criteria | Ratings |
| Rates | ★★★★★ (5/5) |
| Amenities | ★★★★ (4/5) |
| Location | ★★★★★ (5/5) |
| Schedule | ★★★★★ (5/5) |
If you're looking for the perfect amusement park during the holidays, lan's Christmas Adventure Park is a wonderful option. It's family-friendly and has a wide variety of rides, including a hay ride, a zip line, and more.
Located on Richmond Road, the Christmas Adventure Park started operating in 1980. Since then, it's become one of the most popular attractions in the area.
The park is perfect for kids of all ages because of its many attractions. It has a Santa workshop and an elaborate light display featuring different Christmas characters.
It has its own skating rink and sled area for the winter months. Its friendly staff is always happy to help make your visit as enjoyable as possible.
We love how Christmas Adventure Park combines traditional holiday activities with fun and exciting attractions to make for an unforgettable visit!
It has farm animal sections as well and is pet friendly so the whole family can enjoy a day out together.
Every year, families look forward to visiting the park and seeing all their Christmas decorations on display.
The only drawback is the park isn't as impressive during the summertime. It's a must-visit attraction during the fall and winter months, though!
Multiple amenities
Great for the holidays
Pet-friendly
Wheelchair-accessible
Fewer activities during summer
Customer Reviews
Best place
"Best place to take the kids. Great fun in the winter. Tale the family down to cut your very own tree or pick a precut one if you like. Bring your toboggan to hit some hills. Meet with Santa and enjoy some yummy hot chocolate. Stop by the shop on your way out and grab some beautiful handmade reindeer for your front lawn!! We visit every year and never get tired of it! Keep up the great work!!" – Martina Ethier
Great staff
"Great place to bring the whole family to find a Christmas tree. There was no snow on the ground when we went so some of the activities were not available, however there were plenty of other things to do. Cut your own tree or pick a pre-cut one from a large selection. The staff was nice and helpful." – Kasper B.
4. GlowSport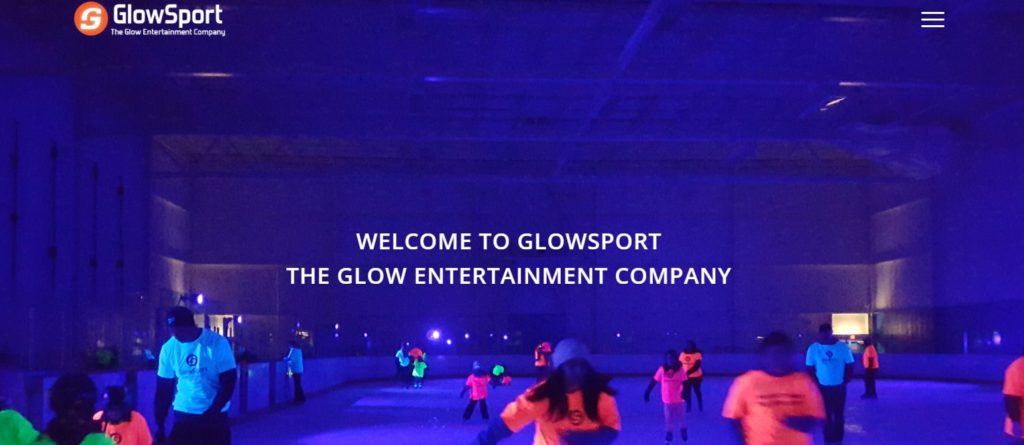 Test
Info
AMENITIES

Laser Tag

Nerf Gun Battles

Glow Crafts

Glow Painting

Glow Sports

Glow Fitness

WEBSITE
https://glowsport.ca/
ADDRESS
1590 Liverpool Ct, Ottawa, ON K1B 4L2, Canada
CONTACT DETAILS
Phone: 613-878-8793
OPERATING HOURS

Monday to Sunday : 9AM–5PM
| | |
| --- | --- |
| Criteria | Ratings |
| Rates | ★★★★★ (5/5) |
| Amenities | ★★★★ (4/5) |
| Location | ★★★★(4/5) |
| Schedule | ★★★★★(5/5) |
GlowSport is another impressive amusement park in Ottawa. Aptly named, this one focuses more on games like laser tag, nerf gun battles, glow crafts, and other light-based activities.
What makes GlowSport awesome is its unique attractions. Its "Dark Zone" arena has blacked-out lights, creating the perfect backdrop for battling your friends to a satisfying game of laser tag.
It's also a perfect choice if you have loved ones with disabilities. There are activities like glow crafts and glow painting, which can accommodate wheelchairs, walkers, and anyone who might have trouble navigating other parks.
It's also educational for children who are interested in arts and crafts. They'll have fun exploring the dark while making all sorts of cool creations like masks and magic wands.
GlowSport accepts group bookings of 15 or more. This makes it a perfect venue for birthdays and even corporate events like team building and company retreats.
The only drawbacks of GlowSport are that it's an indoor-only park and it's smaller than most amusement parks in Ottawa. Some may prefer big open areas with lots of thrilling rides.
However, if you're looking for unique and memorable experiences that don't necessarily involve rollercoasters or bumper cars, this place is perfect for you.
Unique attractions
Great for both adults and kids
Educational
Accepts events
Safe even for people with disabilities
Smaller than most amusement parks
Indoor only
Customer Reviews
Top notch!
"Top notch service! I never give anybody 5 star reviews but these guys EARNED IT!!! Huge thanks for dealing with and managing a group of teens for my daughter's birthday. I would recommend this place to anyone looking for a fun engaging adventure out." – Kevin Pollock
Amazing
"This place is amazing! Such a unique idea and a great way to have fun! Last weekend I held my birthday there, on the night of a snow storm. Most of my guests were unable to make it through the blizzard but the Glowsport staff would stop at nothing to turn it around." – Natasha Mintenko
5. Marked Ultimate Family Adventure Park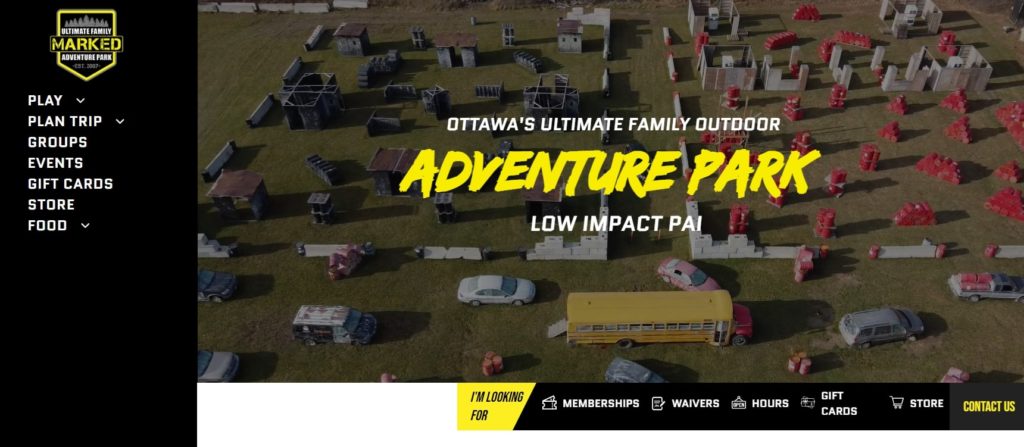 Test
Info
AMENITIES

Axe Throwing

Batting Cage

Laser Tag

Paintball

Obstacle Course

Ultimate Campfire

Water Gun Fights

WEBSITE
https://www.marked.ca/
ADDRESS
13259 Hwy 7, Carleton Place, Ottawa, ON K7C 0C5, Canada
CONTACT DETAILS
Phone: 613-863-6423
OPERATING HOURS

Monday to Friday : 10AM–5PM

Saturday to Sunday : Closed
| | |
| --- | --- |
| Criteria | Ratings |
| Rates | ★★★★★ (5/5) |
| Amenities | ★★★★★(5/5) |
| Location | ★★★★(4/5) |
| Schedule | ★★★★★(5/5) |
Marked Ultimate Family Adventure Park is a solid amusement park for thrill seekers of all ages. With activities such as laser tag, paintball, obstacle courses, and more, it's sure to keep you and your kids entertained for hours.
The most unique aspect of the park is its batting cages and axe-throwing range. These activities are a great addition to the park and really add to the overall experience.
The massive fields are great for baseball practice as well. If paintball is too intense for your kids, water gun fights are also a fun option.
Marked Ultimate's major selling point is its family-based activities so both you and your kids will have fun no matter what!
The park accepts gift cards, which is a great way to treat the kids to a fun day out without breaking the bank.
There's even a restaurant inside the park so you and your family can rest and refuel after a full day of playing sports and enjoying other activities.
The only problem we have with this place is the fact that it's closed on weekends. Weekends are the best days to go out with your family so it's a bit weird that the park is closed during those days.
Family-based activities
Promotes friendly competition
Accepts gift cards
Has its own restaurant
Customer Reviews
Had the best time
"We recently had my son's 7th birthday party here, playing Laser Tag. The boys had the BEST time, and we're pretty exhausted when the party was done. Every boy asked their parents to have their party here next! The staff was so accommodating, informative and involved. The facility was very well taken care of. All around, the best experience!!" – Kayla Somers
Tons of fun
"Took my son for his 9th birthday and used the batting cage and the obstacle course. It was tons of fun and the children had a blast. Pretty sure we will be back." – Bruce Gray
FAQs about Amusement Parks
---
And that's it for the best amusement parks in Ottawa. You may also be interested in the best kids' activities you can do with your little ones.