The 10 Most Mouth-Watering Fried Chicken Restaurants in Ottawa
Who doesn't love fried chicken? These crunchy and juicy finger foods are one thing that you can never go wrong with when you want to eat something to fill your empty stomach.
One thing I love about Ottawa is that you can find so many great restaurants that serve incredible chicken. If you want to grab a piece for yourself, here are some of the best places to go for a delicious meal.
Fried Chicken Club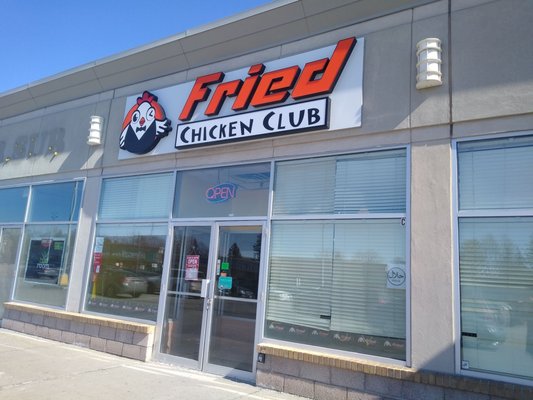 Location: 1910 St. Laurent Blvd unit C02, Ottawa, ON K1G 1A4, Canada
Price: $12.95-$35.95
Website: https://friedchickenclub.ca/
Social media:
Operating Hours:
Monday-Sunday: 11 AM-10 PM
The Fried Chicken Club in Ottawa is a popular dining establishment that specializes in serving delicious finger foods and more.
Located in the heart of the city, the club has gained a reputation among us Ottawans for its mouthwatering fried chicken and welcoming atmosphere.
The menu at the establishment features a variety of options to satisfy every craving. Whether you prefer bone-in or boneless chicken, spicy or mild flavors, or classic or unique twists, the club has something for everyone.
I'm personally a bit of a fan of spicy stuff, so I added a bit of heat to my meal. It turned an already good piece of fried chicken into a great one for me, and I just took one bite after another until only the bones were left.
These flavors, combined with the juiciness and tenderness of the meat, make for one heck of a feast, whether solo or with your family and friends.
The restaurant offers a range of fried chicken cuts, such as wings, drumsticks, thighs, and breast pieces, each prepared with its own signature blend of spices and seasonings.
You can also choose from a wide range of delectable side dishes and sauces. There are classic favorites like crispy french fries, creamy coleslaw, buttery biscuits, and tangy pickles.
Additionally, the club offers a selection of homemade sauces that you can use to personalize your dining experience. These range from traditional barbecue and honey mustard to spicy buffalo and tangy ranch.
To complete your meal, the Fried Chicken Club also offers a variety of beverages. You can enjoy a range of soft drinks, refreshing lemonades, iced teas, and craft beers from Ottawa's local breweries.
The drink menu is designed to perfectly complement the flavors of the fried chicken, ensuring a satisfying and enjoyable dining experience.
Gogiya Korean Fried Chicken & Dolsot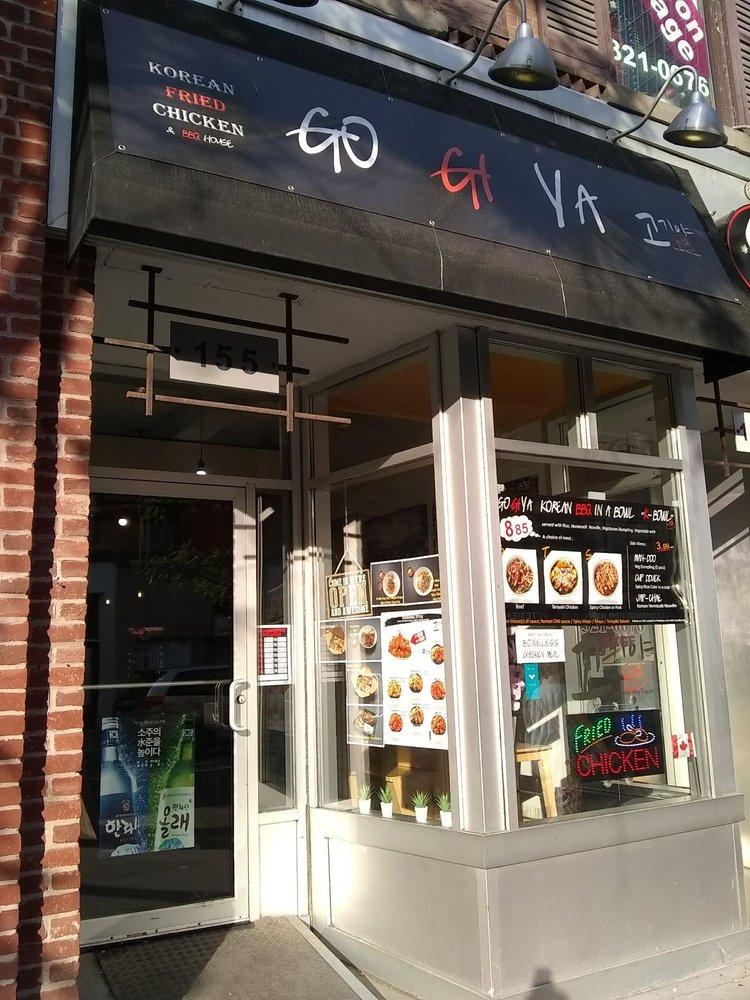 Location: 155 Bank St, Ottawa, ON K1P 5N7, Canada
Price: $17.99-$27.95
Website: https://www.gogiyabbq.com/menu-main
Social media:
Operating hours:
Monday-Thursday: 11 AM–11 PM
Friday: 11 AM–12 AM
Saturday: 11:30 AM–12 AM
Sunday: 11:30 AM–8 PM
Gogiya is the go-to place for Korean-style fried chicken here in Ottawa.
When I first ate at the restaurant, I got a piece of double-fried chicken. This method of cooking gave it a crispy exterior while keeping the meat inside juicy and tender.
To accompany the chicken, you can choose from a wide variety of sauces, such as soy garlic, spicy, honey butter, or sweet and tangy. My personal favorites were the soy garlic and honey butter flavors, as they had a zesty taste that I absolutely adored.
At Gogiya, you can expect to enjoy the signature Korean fried chicken, prepared with a variety of flavorful sauces.
It offers different cuts of chicken, such as wings, drumsticks, or boneless options. You can choose from different levels of spiciness based on your preference.
In addition to fried chicken, the restaurant also serves other Korean dishes like dolsot bibimbap, bulgogi (marinated grilled beef), and kimchi. There is also a side dish known as "banchan" that you can try out.
The combination of crispy fried chicken and sizzling hot stone pot dishes like dolsot bibimbap makes this restaurant a popular destination for Korean food enthusiasts.
Golden One Fried Chicken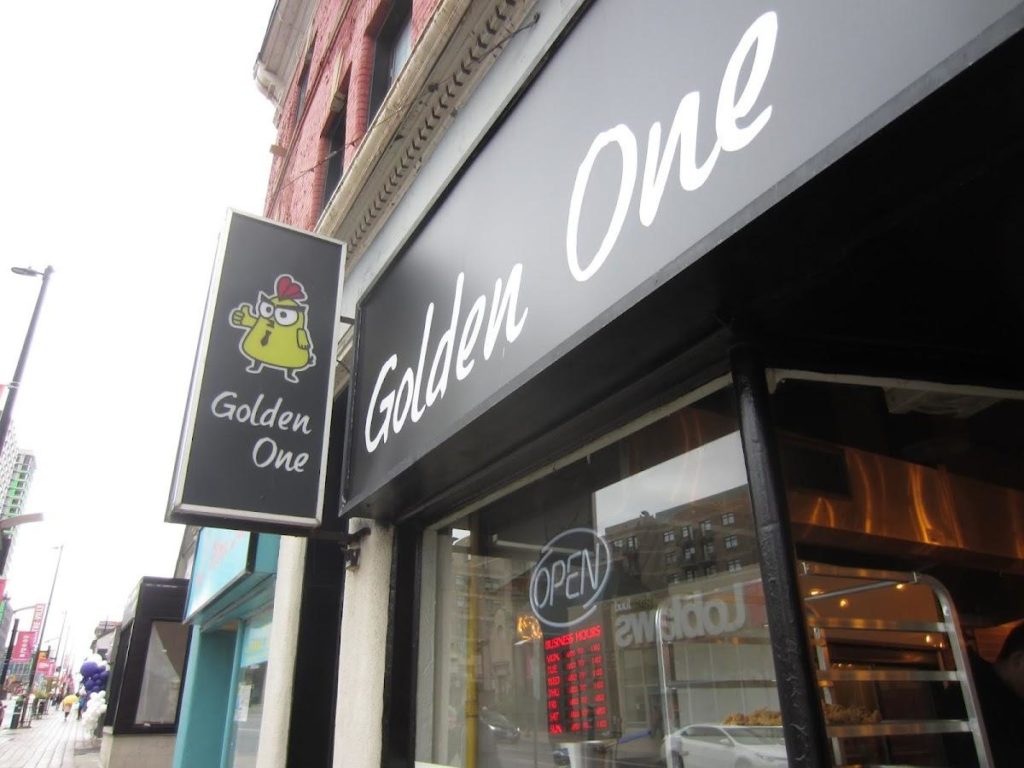 Location: 354 Rideau St, Ottawa, ON K1N 5Y8, Canada
Price: $5.49-$26.99
Website: https://www.zmenu.com/golden-one-fried-chicken-ottawa-online-menu/
Operating hours:
Monday-Thursday, Sunday: 12–11 PM
Friday-Saturday: 12 PM–12 AM
This is another Korean establishment on the list. Golden One Fried Chicken is a cozy store that serves plenty of good food and more.
Well prepared and not over-seasoned, the chicken here is pretty much perfect. The portion size was fair for the price, and the packaging is very friendly for the environment.
Golden One's offerings are super crispy and juicy. Every bite was just dripping with juice, and it had me coming back for more.
Another thing that I really love about this Korean chicken joint is that its orders are made fresh on the spot. You are guaranteed to have a piping hot meal straight from the fryer, with the side of your choice.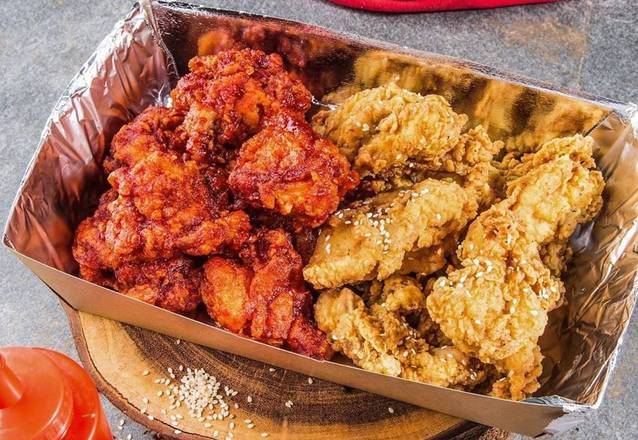 As for the menu, you can order parts based on your preference. The store sells thighs, legs, breasts, and the ever-present wings.
For the flavors, there are a total of three different sauces you can choose from. These are lemon pepper, hot buffalo, and barbeque.
Personally, I'm a fan of the lemon pepper. The zesty flavor just hits right, and it mixes in perfectly with the pepper's hot and brash flavor.
The other two flavors are also pretty tasty in their own right. The hot buffalo is the perfect sauce for the spicy aficionados out there, and the barbeque is just a timeless classic that you can't go wrong with.
O-Frango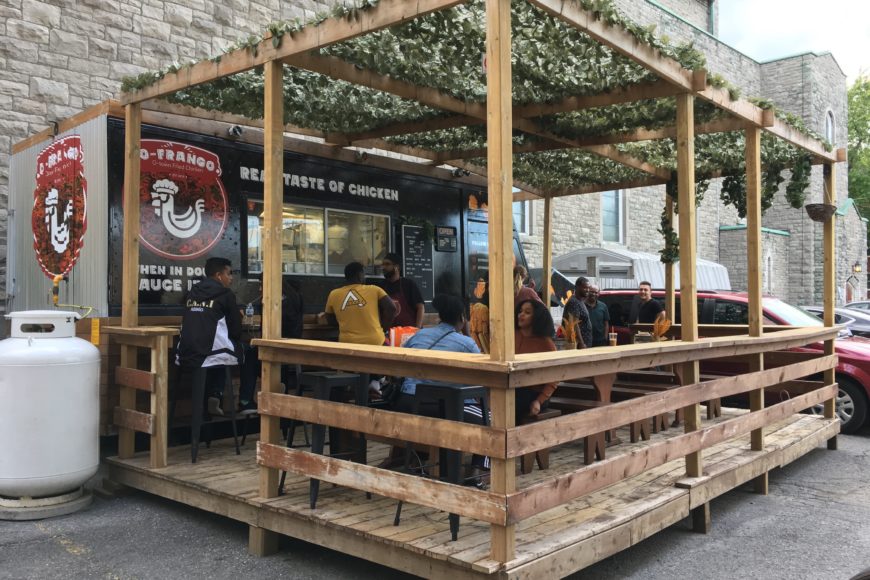 Location: 151 Laurier Ave E, Ottawa, ON K1N 6N8, Canada
Price: $12.79-$29.59
Website: https://www.ofrango.ca/
Social media:
Hours:
Monday-Sunday (Except Fridays): 1–8 PM
Friday 2–8 PM
Imagine having a container filled with golden brown fried chicken along with a generous serving of fries. Now, give those delicious finger foods a LOT of tasty sauce.
That's what O-Frango's fried chicken is like. For such a simple stall that's tucked in an alley behind a church, it's packing some incredible food that you should not miss!
The stall brings a different experience when you compare it to the different joints I've listed so far in the list. Instead of the usual chicken served with some sides and sauce, you get a 2-in-1 meal with a generous amount of sauce.
As for the taste, let's just say you'll be experiencing an incredible explosion of flavor as you take the first bite. I thought that the relish would overpower the chicken and fries, but they somehow managed to come together in one delicious package.
If you're a certified fried chicken lover, you will want to drop by this stall!
Da Chicken Cribb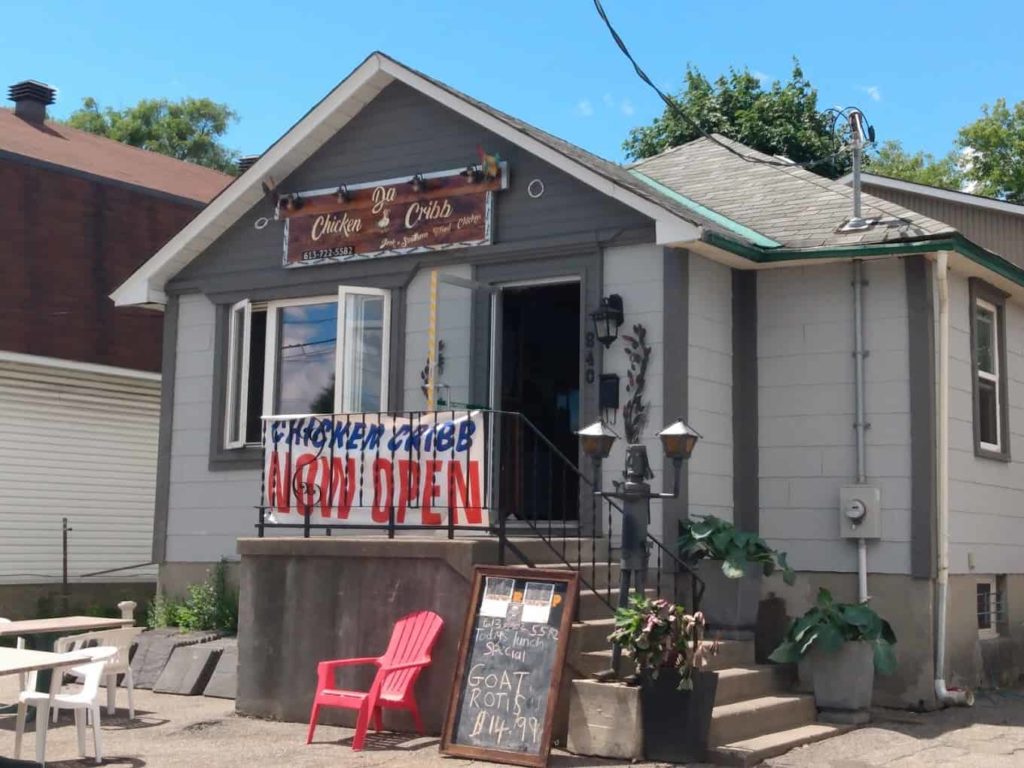 Location: 840 Boyd Ave, Ottawa, ON K2A 2E1, Canada
Price: $11.80-$42.50
Website: https://restaurantguru.com/DA-CHICKEN-CRIBB-Ottawa
Social media:
Operating hours:
Monday and Sunday: Closed
Tuesday-Saturday: 12–8 PM
Da Chicken Cribb can be best described as southern fried chicken with a Caribbean twist.
This small cottage at 840 Boyd has been transformed into a rustic place with delicious food. Rough exposed wood welcomes you inside the little space, which is primarily a kitchen with some coolers for drinks and a small seating area.
It offers a bit of a personal touch since you will see the chef/owner cooking for you personally. Like with most entries I've put on the list, the restaurant also offers a bit of spice to liven things up.
The chicken here is marinated with a variety of spices, such as thyme, allspice, garlic, onion, paprika, and hot peppers. These spices give it that distinct Caribbean taste that will have you coming back for more.
Once the meat is done marinating, it is covered in batter and then deep-fried to achieve a crispy and golden-brown exterior. The result is a satisfying combination of crunchy and succulent textures that features Southern and Caribbean-style flavors.
This is the reason why you have people lining up just to have a taste. I've come to this place several times already, and I never get tired of its chicken!
Holly's Hot Chicken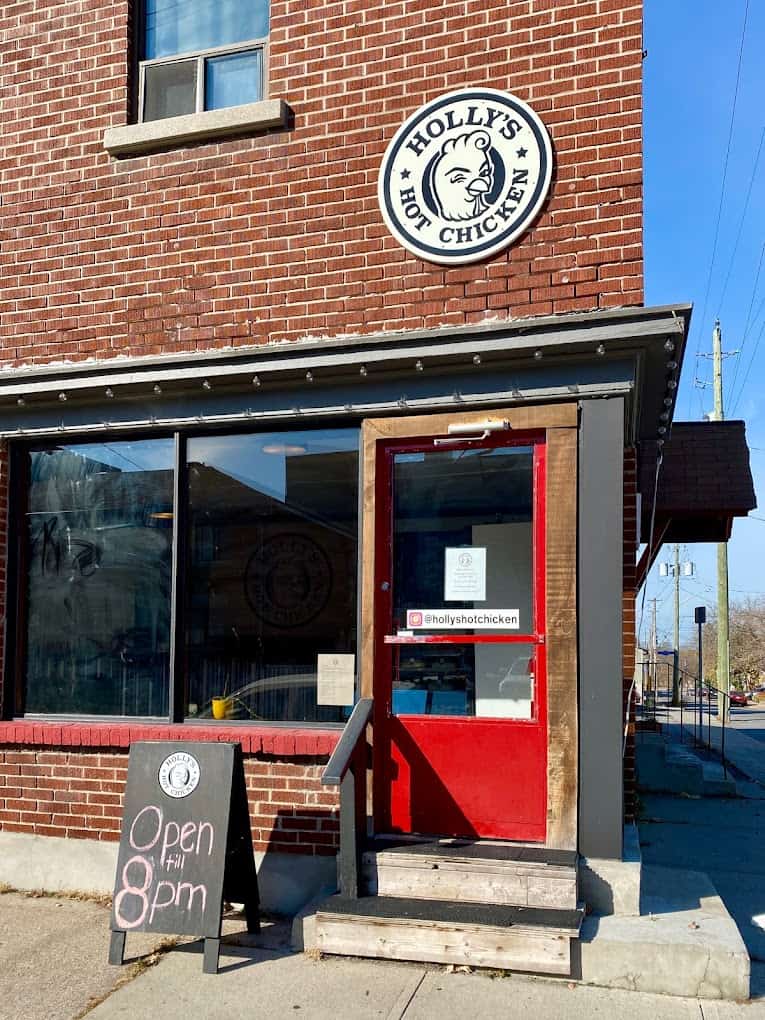 Location: 45 Armstrong St, Ottawa, ON K1Y 2V6, Canada
Price: $12-$88
Website: https://www.hollyshotchicken.ca/
Social media:
Operating hours:
Monday, Tuesday, Sunday: Closed
Wednesday-Thursday: 11:30 AM–7 PM
Friday: 11:30 AM–8 PM
Saturday: 12–6 PM
If you're ever craving some delicious and crispy chicken sandwiches, I highly recommend Holly's Hot Chicken. Holly and her husband Steve have been working together for years now to serve Ottawans some of the best food out there.
When I heard people singing praises about Holly's chicken sandwich, it got me curious. So when I got the chance to visit the restaurant, I took my chance and went to grab a bite.
All I can say is that I wasn't disappointed. As a matter of fact, my expectations were completely exceeded.
I went with the safe option and got myself a regular sandwich. To make my meal more interesting, I also got myself a small poutine and a chocolate Nutella doughnut for dessert.
When I finally took my first bite, I was amazed at how absolutely delicious it was. It was marinated to perfection, and the fresh and crispy chicken fillet just made the sandwich even better.
I must admit that I thought it was simple on the surface, but I was mistaken. You wouldn't think that this sandwich, with its brioche bun, crisp lettuce, and mayo, would turn out to be oh-so-delicious.
To this day, I still keep going back to Holly's Hot Chicken for a delicious meal. And to be completely honest, I'm still wondering what Holly's secret is for making the meat so tender and juicy.
Of course, the chicken sandwich isn't the only good thing here. I have to give a shoutout to the poutine as well.
It's a well-made rendition of a well-known Canadian comfort food, and it never ceases to please my taste buds. It made my meal all the more enjoyable and memorable!
Overall, Holly's is a place that any chicken sandwich fanatic should visit when they have the time.
Fatboys Southern Smokehouse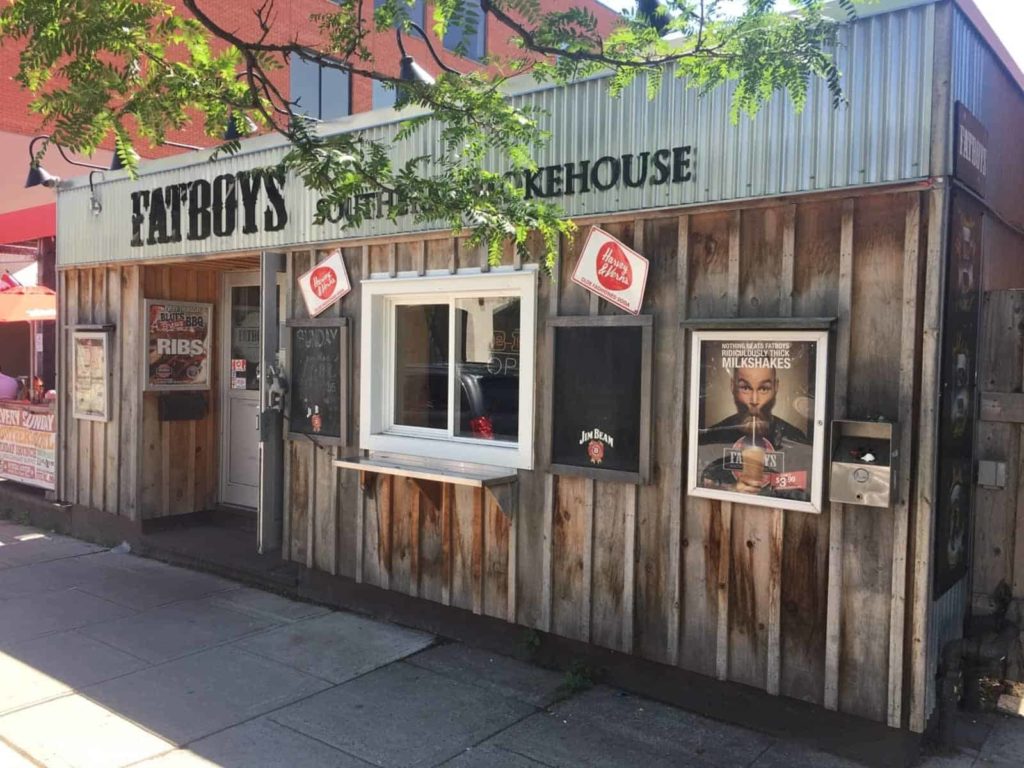 Location: 34 Murray St, Ottawa, ON K1N 9M5, Canada
Price: $13.99-$28.99
Website: https://fatboys.ca/
Social media:
Operating hours:
Monday-Tuesday: Closed
Wednesday: 4–8 PM
Thursday: 4–9 PM
Friday: 4–10 PM
Saturday: 2–10 PM
Sunday: 2–8 PM
Fatboy's Southern Smokehouse in Ottawa is known for its delicious fried chicken that's been made with a unique blend of seasonings and cooked to perfection. This gives it a crispy and flavorful exterior while maintaining juicy and tender meat on the inside.
The overall presentation of the chicken is quite simple and in line with most southern-style restaurants. But don't let that fool you into thinking that this is just another piece of run-of-the-mill fried chicken.
The first time I bit into the chicken, I was just amazed at the overall quality. Everything was perfect, from the crunch to the tenderness and juiciness of the meat.
To make things even better, Fatboy's offers different variations of fried chicken for you to choose from. This allows us to choose our preferred level of spiciness.
Whether you prefer mild, medium, or hot, they have options to suit various taste buds.
In addition to its fried chicken, Fatboy's Southern Smokehouse also serves other Southern-style comfort food dishes such as pulled pork, ribs, mac and cheese, cornbread, and collard greens.
The staff of this restaurant is dedicated to capturing the authentic flavors of Southern cuisine and delivering a satisfying dining experience to their customers.
If you're a fan of fried chicken and Southern cuisine, Fatboy's Southern Smokehouse in Ottawa is definitely worth a visit.
The King Eddy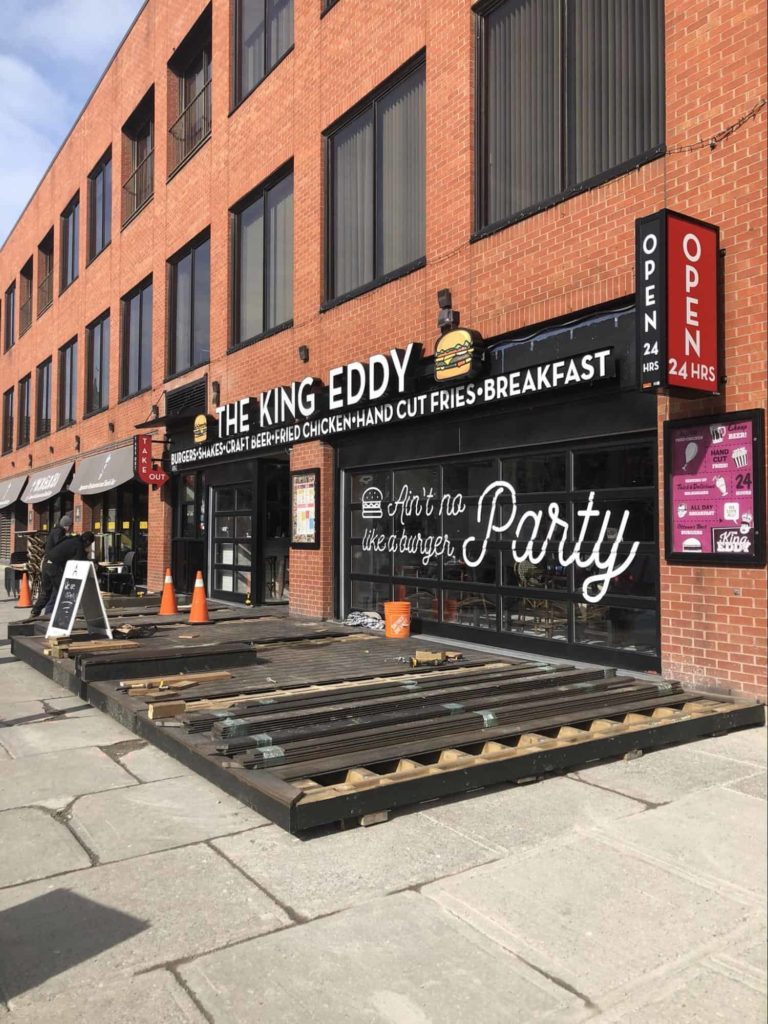 Location: 47 Clarence St., Ottawa, ON K1N 5P9, Canada
Price: $26.99-$51.99
Website: https://www.kingeddyburgers.com/
Social media:
Operating hours:
Monday-Thursday, Sunday: 8 AM–10 PM
Friday-Saturday: 8 AM–11 PM
King Eddy is known for serving some of the best burgers and fried chicken in Ottawa. Once you try out the restaurant for yourself, you'll see why it has earned this reputation.
Located near the ByWard Market, King Eddy serves Canadian cuisine at reasonable prices.
I first went here with two friends of mine. We ordered a bucket of northern-style chicken and three orders of fries.
The chicken was thick and juicy, as well as tender. It was well-marinated as every bite I took was just seeping with delicious juices that made me crave more of it.
The batter was also cooked to golden brown perfection and had a nice crunch that truly made the chicken a spectacular treat. Add some gravy to the mix, and not a single piece was left.
Then you have its chicken sandwich, which is some of the best I've had in the city. King Eddy's sandwich is cooked to perfection, just like its regular chicken, and features some light dressing that blends in well with the fillet.
The fries, too, are pretty great. They are crispy and complement the chicken and the burgers perfectly.
Hot Star Large Fried Chicken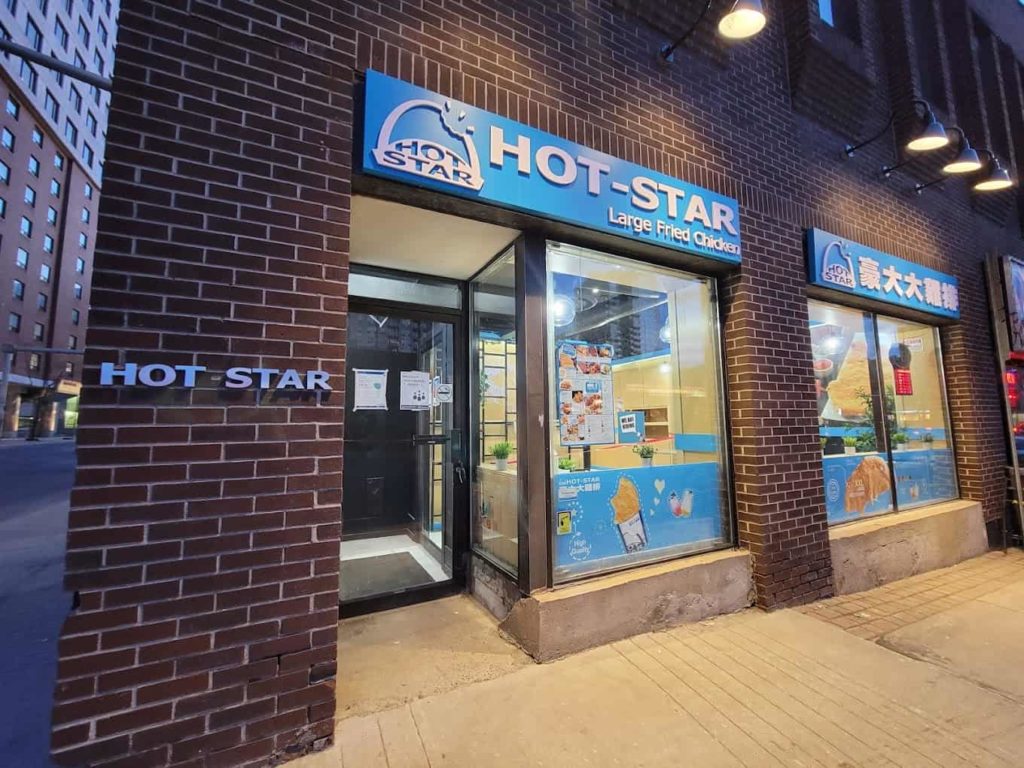 Location: 412 Dalhousie St, Ottawa, ON K1N 9J9, Canada
Price: $13.49-$74.75
Website: http://www.hot-star.ca/
Social media:
Operating hours:
Monday-Thursday, Sunday: 12–9 PM
Friday-Saturday: 11 AM–9 PM
Have you ever eaten a massive chicken fillet before? If not, this will be your chance to do so.
Hot Star Large Fried Chicken is a popular Taiwanese fast-food chain known for its signature dish, the "Large Fried Chicken." It gained international fame for its extra-large, crispy, and flavorful fried chicken cutlets.
The chain has since expanded to various countries around the world, a testament to its popularity.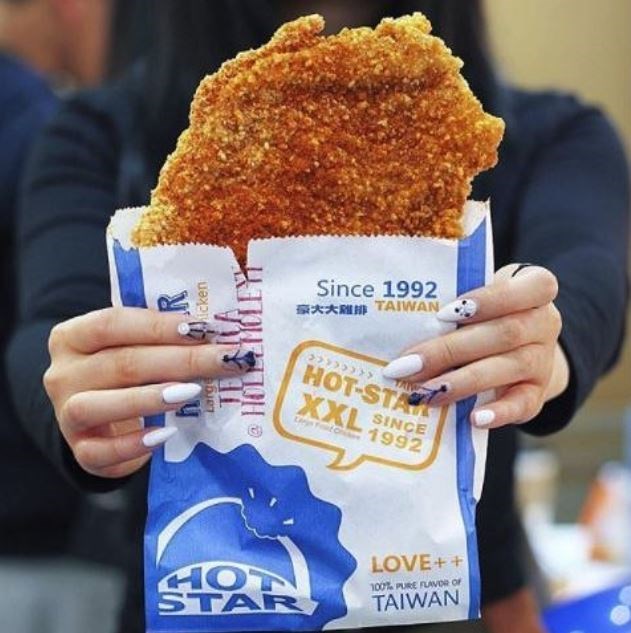 The large fried chicken at Hot Star is made using a special technique where a piece of chicken breast is tenderized, marinated, and then deep-fried to perfection. The result is a huge, golden-brown cutlet that is crispy on the outside and juicy on the inside.
This is significantly larger than a typical serving, which makes it a substantial meal on its own. If I'm starving and craving some fried chicken, you can bet that I will go here for a delicious and filling meal.
Hot Star offers a variety of flavors and seasonings to enhance the taste of their fried chicken. You can choose from original, spicy, barbecue, seaweed, and more.
There is also a range of dipping sauces and toppings available, so you can customize your meal based on your preferences.
Hot Star's outlets are often characterized by long lines of customers eager to savor their delicious and satisfying fried chicken. So if you want to get a bite to eat here, better arrive early!
The quality ingredients, unique cooking techniques, and mouthwatering fried chicken make it a must-visit restaurant on my list.
Mary Brown's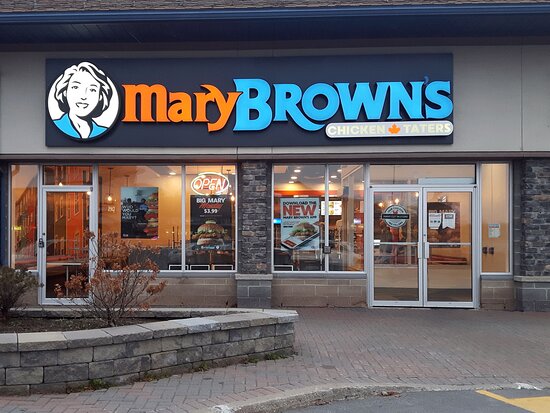 Location: 222 Hunt Club Rd, Ottawa, ON K1V 1C1, Canada
Price: $12.79-$95.99
Website: https://marybrowns.com/
Social media:
Operating hours:
Monday-Sunday: 11 AM–10 PM
Mary Brown's chicken is more similar to Kentucky Fried Chicken (KFC) rather than Popeye's chicken. In terms of taste, it's less salty than KFC's signature drumstick.
The chicken's crunchiness is just perfect, a positive that really made me fall in love with it. It was extremely satisfying to hear the crackling of the batter as I bit into the chicken and tasted its delicious juice.
Speaking of juice, the meat is extremely juicy and tender, which shows off how well-marinated it is. This, along with the crispiness, come together to make one delectable meal for everyone to enjoy.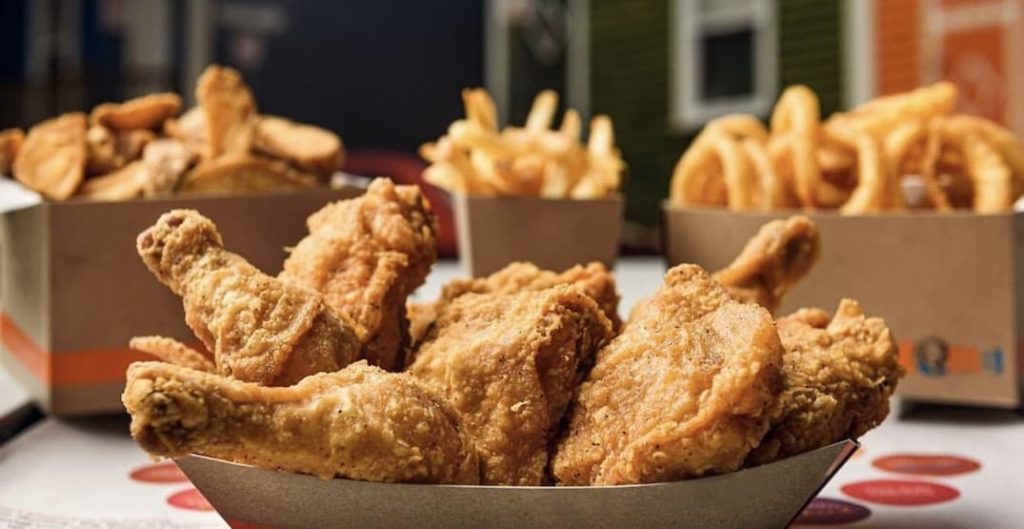 For the sides, the potato wedges are pretty plain on their own, but they become absolutely delicious with the gravy poured on top. The mild batter also gives them a pretty nice crunch.
Then you've got the onion rings, which were crunchy and delicious and quite tasty. I personally found them pretty good without any dip, but you can dip them in some ketchup if you'd like.
Finally, you've got the fries. They are regular-cut potatoes, not shoestring or thick-cut. They weren't battered like the potato wedges, but they still had a pretty good taste all around.
The macaroni and cheese salad is pretty heavy and creamy, which might turn off some people, but I did end up enjoying it regardless. The gravy was thick and flavorful with chicken.
With that said, I think Mary Brown's is up there with the heavy hitters of Canadian fast-food chicken like Popeye's and KFC. Besides, I believe all these joints can coexist because they each provide something unique for fried chicken lovers.