The Definitive Guide for a Shopping Trip in Sparks Street Ottawa
Imagine a shopping area that has nearly every item that you could ever want. Wouldn't you love to spend hours just exploring that place, looking through every shop that catches your eye?
This is exactly what it's like to go shopping in Sparks Street, Ottawa.
From numerous stores to exciting events, this is a must-see place for anyone who is in Ottawa, whether local or tourist. It's for this reason that I love going to this area with my friends and family.
Interested in going to Sparks Street? Before you go, let me give you a comprehensive guide to the area so you can get around easily.
Overview of Sparks Street in Ottawa
Sparks Street is a historic pedestrian mall located in Ottawa, the capital city of Canada. It is known as one of the country's oldest pedestrian streets and has a rich history dating back to the early 19th century.
Sparks Street runs parallel to Wellington Street and is situated in the heart of downtown Ottawa, just a few blocks away from Parliament Hill. The street spans approximately three blocks, from Elgin Street in the east to Lyon Street in the west.
The origins of Sparks Street can be traced back to 1808 when Nicholas Sparks, an early settler and entrepreneur, acquired the land and established a farm.
Over the years, the street evolved into a bustling commercial hub, attracting various businesses and shops. In fact, Sparks Street became Ottawa's original commercial district before the development of the nearby Rideau Centre and other shopping areas.
Today, Sparks Street is a vibrant pedestrian mall that showcases a mix of heritage buildings, modern architecture, and a wide range of retail shops, restaurants, cafes, and entertainment venues.
The street's unique pedestrian-only design makes it a popular gathering place for locals and tourists alike. During the warmer months, outdoor patios and events such as festivals, concerts, and markets bring additional life to the street.
Sparks Street also boasts several notable landmarks and attractions.
One of the most iconic features is the Sparks Street Mall Arch, an archway marking the entrance to the pedestrian mall. The arch serves as a symbolic gateway and a recognizable symbol of the street.
Moreover, Sparks Street is home to several historical buildings, including the former Bank of Canada building, which now houses boutiques and shops, and the West Memorial Building, a stunning example of Gothic Revival architecture.
Overall, Sparks Street offers a blend of history, culture, and commerce.
Its pedestrian-friendly environment, coupled with its central location in Ottawa, makes it a vibrant and bustling destination for visitors and locals looking to enjoy shopping, dining, and entertainment.
How to Get to Sparks Street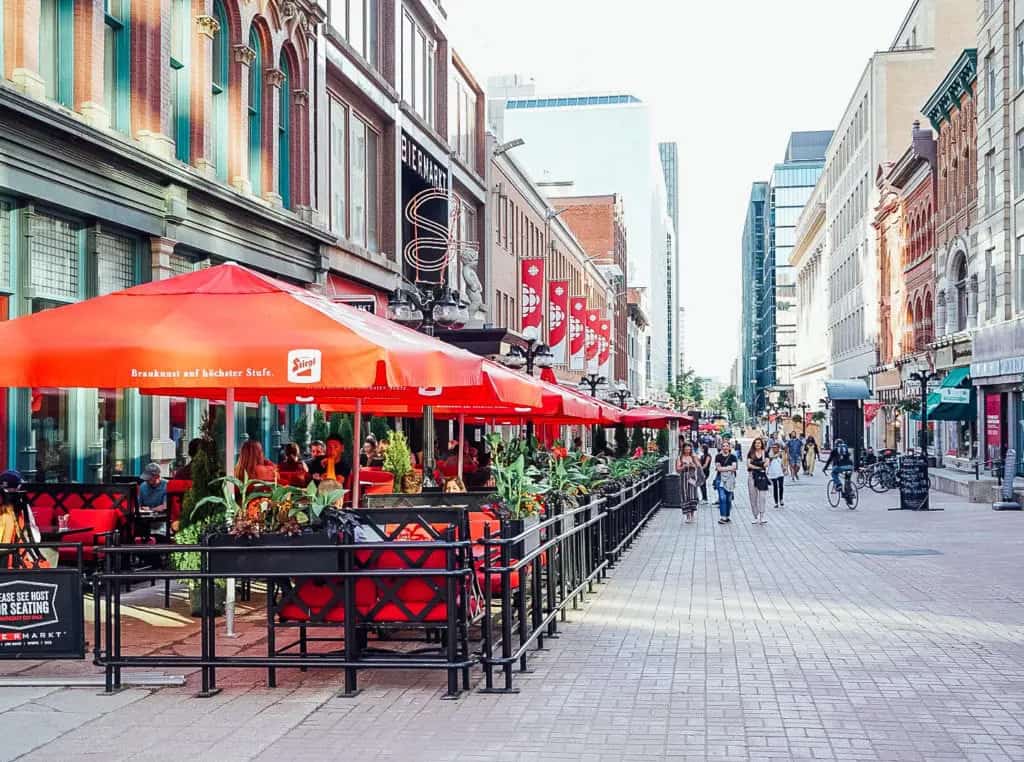 You can get to Sparks Street either through a private vehicle or public transportation such as cabs and LRTs. It's also possible to get there by walking if you are close enough.
If you took the O-Train, you will want to stop at either the Lyon or Parliament stations, depending on your location.
I and plenty of Ottawan locals know just how fun it is to explore Sparks Street. It is a pedestrian-only zone, making it easy to stroll along and take in the sights.
Sparks Street is also relatively compact, so you can easily explore the shops, restaurants, and attractions on foot without the need for transportation.
In terms of access, you can get there on foot from many popular attractions, including Parliament Hill and the Rideau Canal. Besides walking, you can also access it by public transportation.
Car
If you're driving to Sparks Street, type "Sparks Street, Ottawa, ON" in your GPS app.
Once on Sparks Street, you'll be able to find several parking options nearby. There are both street parking spots and parking garages in the vicinity, including the World Exchange Plaza and the Queen Street Garage.
Public Transportation
If you're using public transportation, the two major transit stations closest to Sparks Street are Rideau Station and Parliament Station. The city's bus and train systems provide convenient access to the area.
What to See on Sparks Street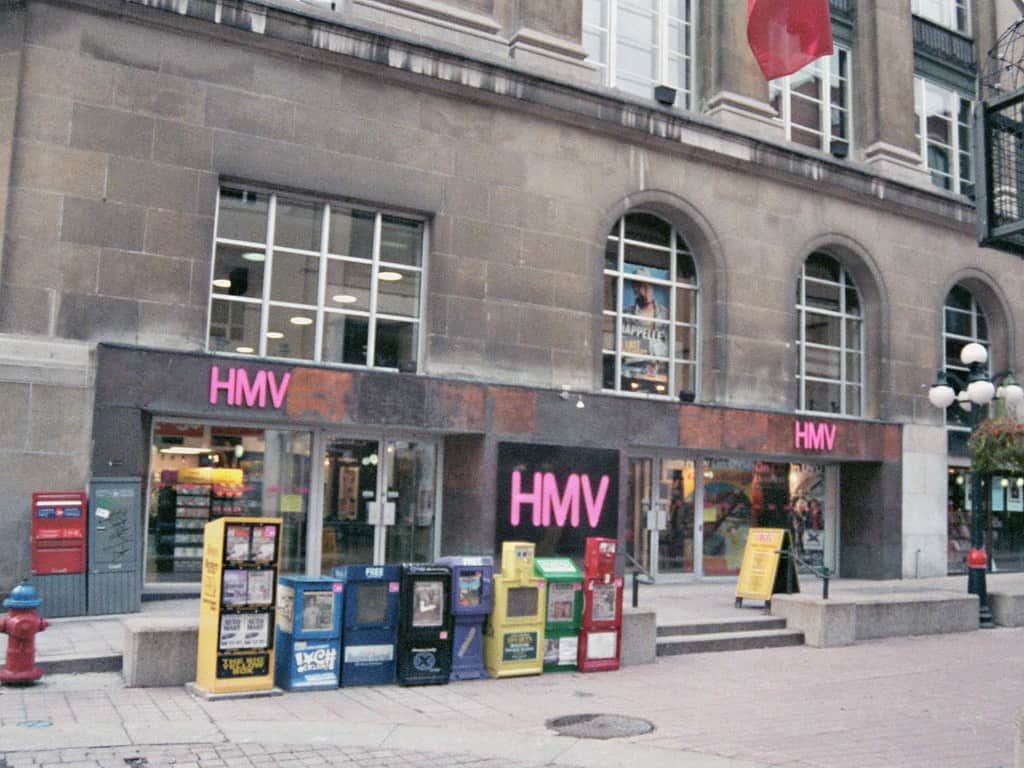 Sparks Street in Ottawa offers a unique shopping experience, with a variety of stores and boutiques to explore. While it may not have the same scale as large shopping malls or districts, it provides a charming atmosphere and a range of specialty shops.
Here are some highlights of the shopping options on Sparks Street:
Boutiques and Specialty Shops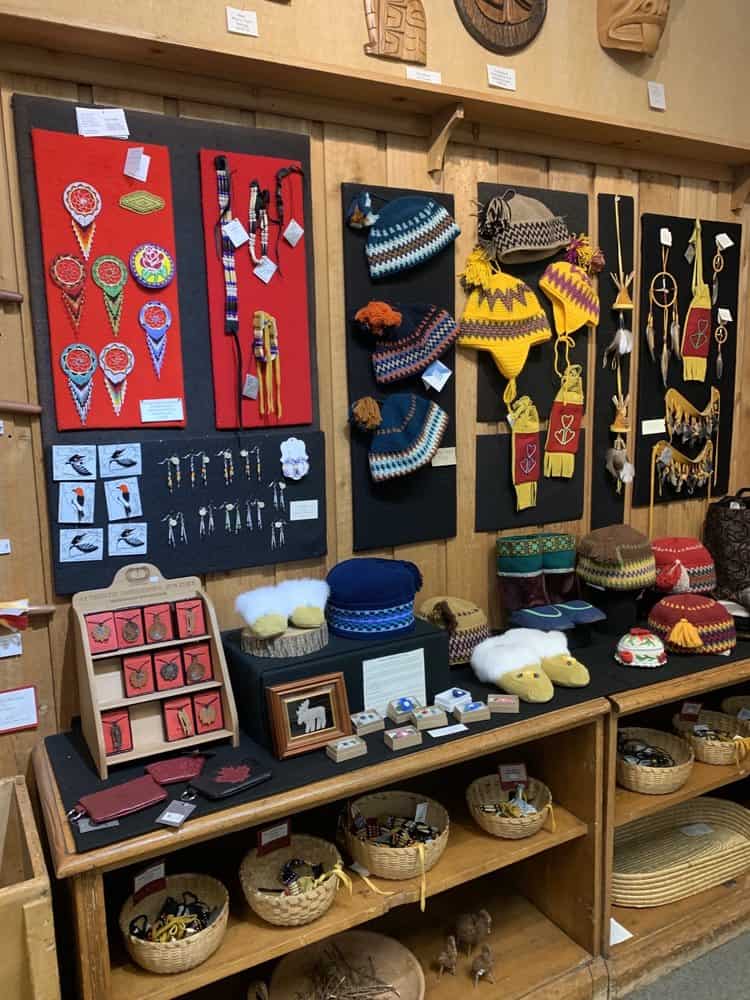 Sparks Street is known for its boutique shops, offering a curated selection of fashion, accessories, home decor, and unique gifts. These stores often feature local designers and artisans, providing an opportunity to discover one-of-a-kind items.
Fashion and Apparel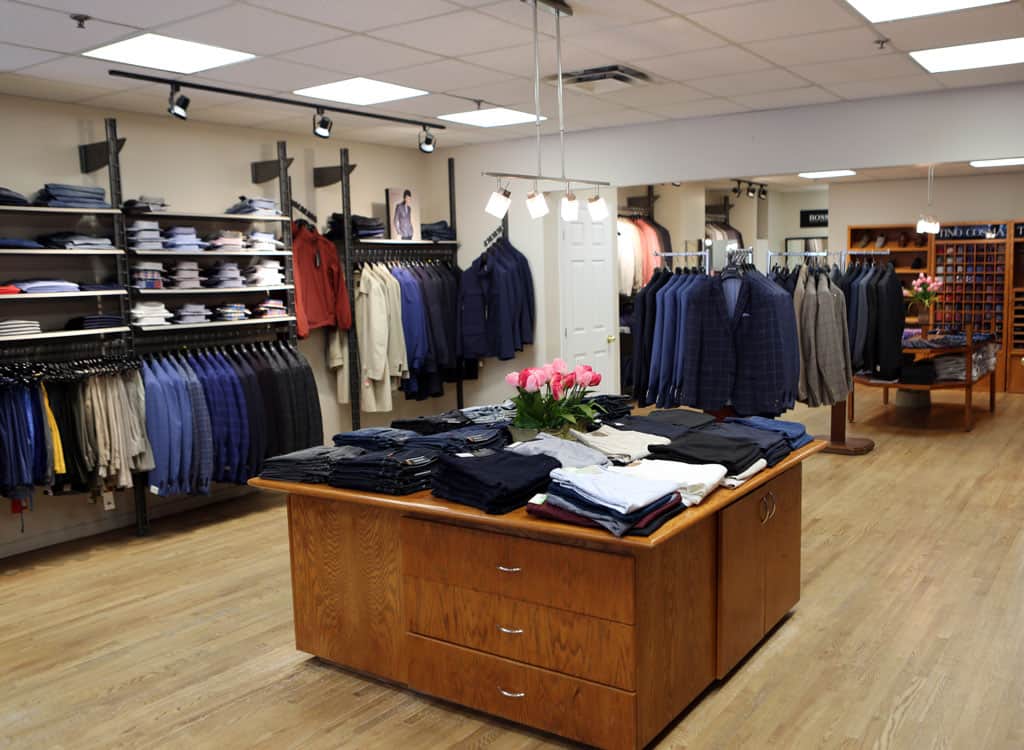 You'll find a mix of clothing stores catering to different styles and preferences. From upscale boutiques to trendy fashion outlets, Sparks Street offers options for both men and women, including clothing, footwear, and accessories.
Art Galleries and Craft Shops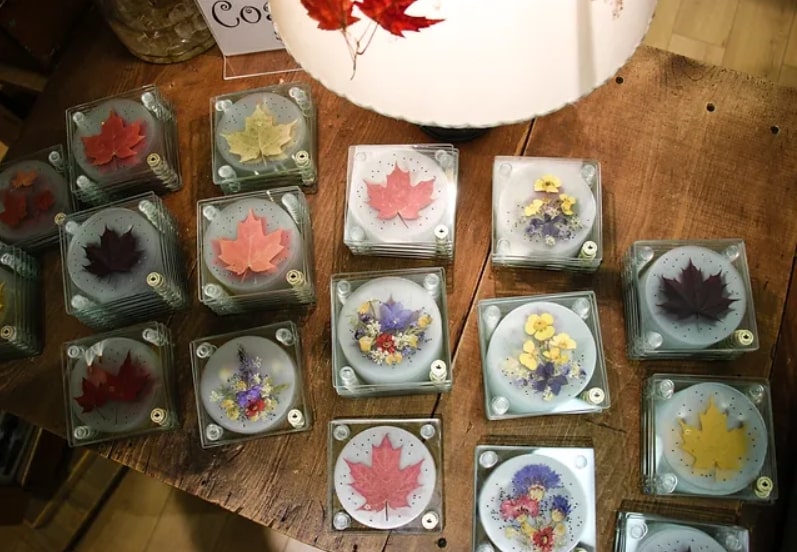 Art lovers will appreciate the presence of art galleries and craft shops on Sparks Street. These establishments showcase and sell works by local artists, including paintings, sculptures, jewelry, and other handmade crafts.
Souvenir and Gift Shops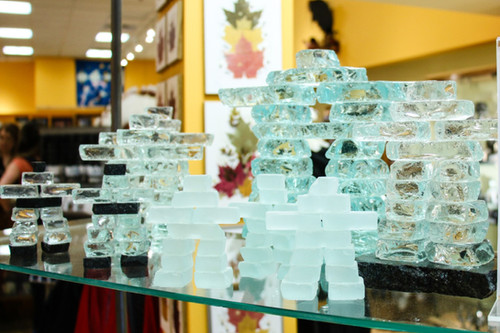 If you're looking for a souvenir or a gift to take back home, Sparks Street offers various shops specializing in Canadian-themed merchandise, including maple syrup, Indigenous crafts, and other mementos.
In addition to these options, Sparks Street also hosts seasonal events and festivals, during which you can often find pop-up shops and markets showcasing local artisans, food vendors, and other unique products.
While Sparks Street may not have the extensive range of shopping options found in larger commercial areas, its charm lies in its smaller, locally owned establishments that provide a distinct shopping experience.
It's a great place to explore and discover hidden gems while enjoying the historical ambiance of Ottawa's pedestrian mall.
Top Shops and Boutiques on Sparks Street
Besides its restaurants, cafes, and festivals, Sparks Street is also popular among locals and tourists for its shops and boutiques.
Here are some of the top shops and boutiques you can find on Sparks Street in Ottawa:
| Name | Category | Address |
| --- | --- | --- |
| NRML | Fashion & Accessories | 184 Rideau St, Ottawa, ON K1N 5X6, Canada |
| Morgante Menswear Limited | Fashion & Accessories | 141 Sparks St., Ottawa, ON K1P 5B5, Canada |
| Bello Uomo | Fashion & Accessories | 159 Sparks St., Ottawa, ON K1P 5B5, Canada |
| À 2 prêt-à-porter | Fashion & Accessories | 151 Sparks St., Ottawa, ON K1P 5B9, Canada |
| Howard Jewellers | Jewelry | 220 Sparks St., Ottawa, ON K1P 5C1, Canada |
| Genuine Bijoux | Jewelry | 206 Sparks St., Ottawa, ON K1P 5C1, Canada |
| Alyea's Jewellers | Jewelry | 50 Sparks St., Ottawa, ON K1P 5A8, Canada |
| Dixon Jewellers | Jewelry | 71.5 Sparks St., Ottawa, ON K1P 5A5, Canada |
| The Gifted Type | Gifts & Souvenirs | 254 Elgin Street Ottawa, ON K2P 1L9 |
| Boogie + Birdie | Gifts & Souvenirs | 256 Elgin St, Ottawa, ON K2P 1L9, Canada |
| Canada's Four Corners | Arts & Crafts | 93 Sparks St., Ottawa, ON K1P 5B5, Canada |
| The Snow Goose Gallery | Arts & Crafts | 83 Sparks St., Ottawa, ON K1P 5A5, Canada |
Fashion and Accessories
Want to expand your wardrobe? Make sure to check out these awesome clothing stores around Sparks Street's area.
NRML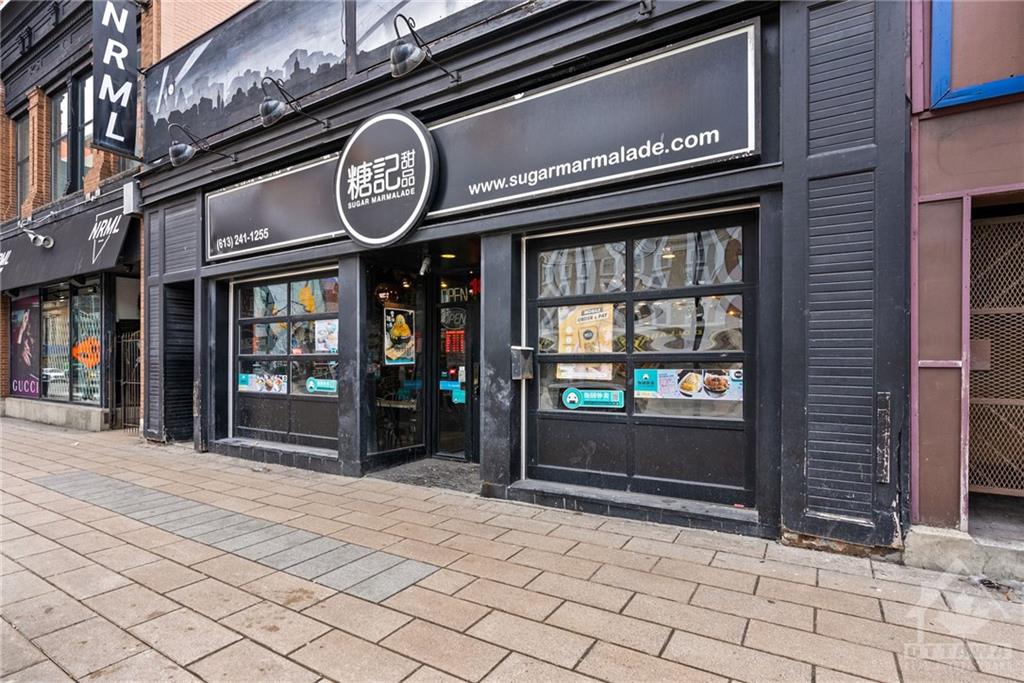 Address: 184 Rideau St, Ottawa, ON K1N 5X6, Canada
NRML is a well-known streetwear boutique that sells a well-curated selection of footwear, clothes, and accessories. It's ideal for both urban fashion fans and those who like more casual attire.
Morgante Menswear Limited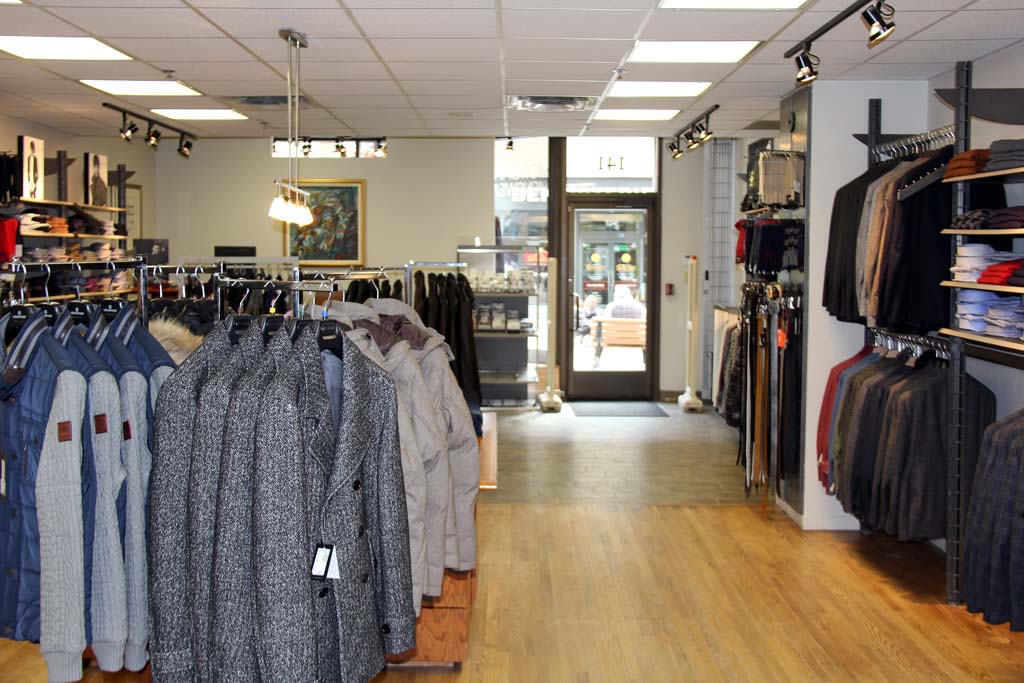 Address: 141 Sparks St., Ottawa, ON K1P 5B5, Canada
From suits, jackets, ties, and more, you will definitely be able to update your look or gift new clothes from Morgante Menswear.
It also offers custom tailoring and wardrobe consultations if you want something a bit more specialized for you, a friend, or a relative.
Bello Uomo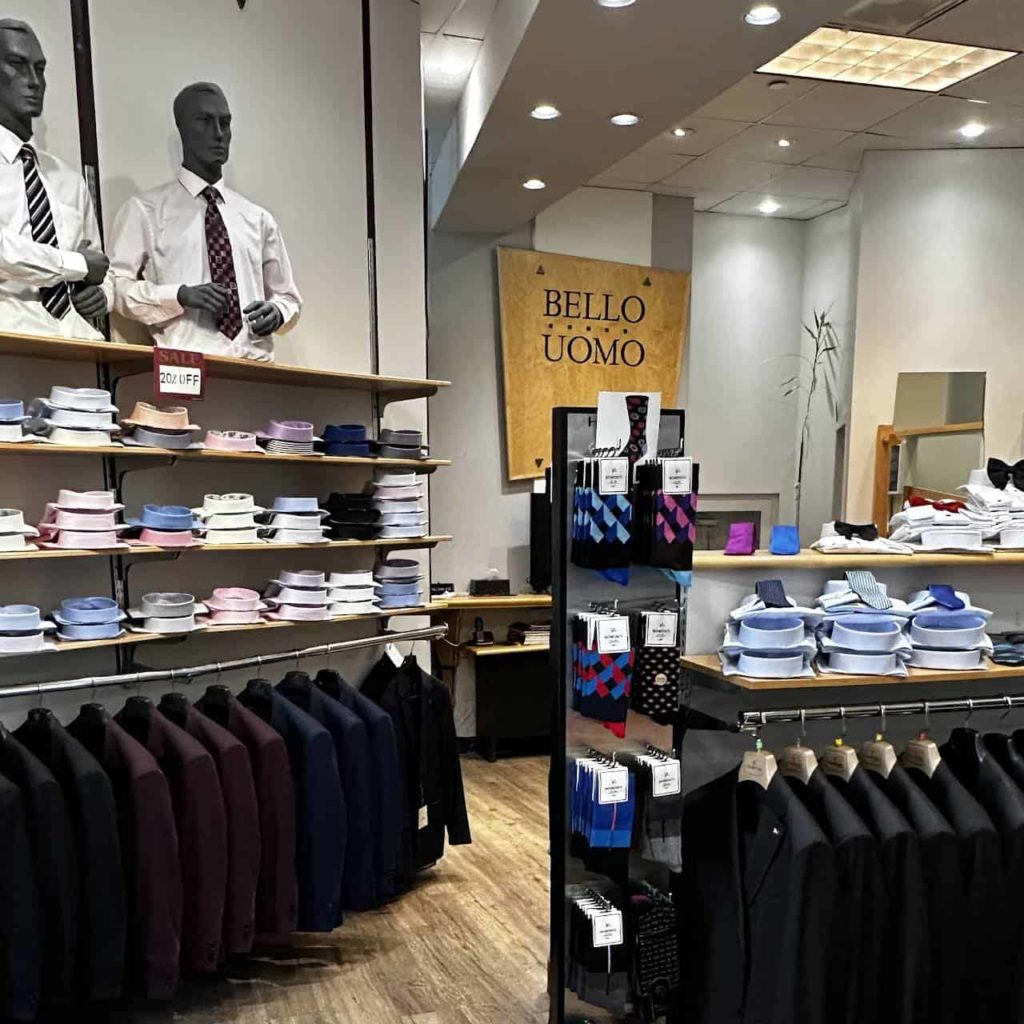 Address: 159 Sparks St., Ottawa, ON K1P 5B5, Canada
If you want to find more menswear options, you can find some at Bello Uomo. From jeans, dress shirts, belts, and more, there are a lot of items to gift or add to any fashionable man's closet.
À 2 prêt-à-porter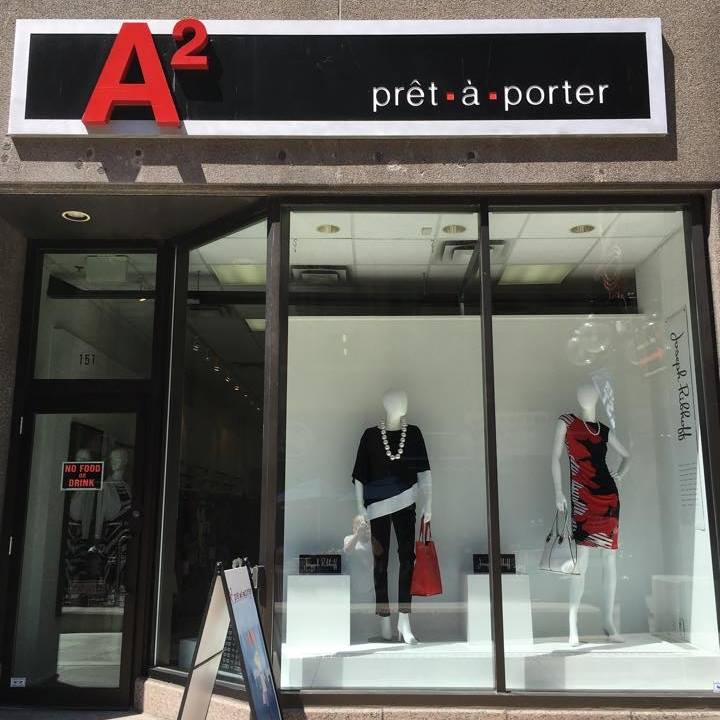 Address: 151 Sparks St., Ottawa, ON K1P 5B9, Canada
A2 Pret a Porter specializes in Canadian-made fashion, perfect for the professional woman. Browse its collection of dresses, pants, shirts, jackets, and more.
Jewelry
No shopping center is complete without a few jewelry stores. Sparks Street features plenty of quality locations that can satisfy your desire for precious stones and metals.
Howard Jewellers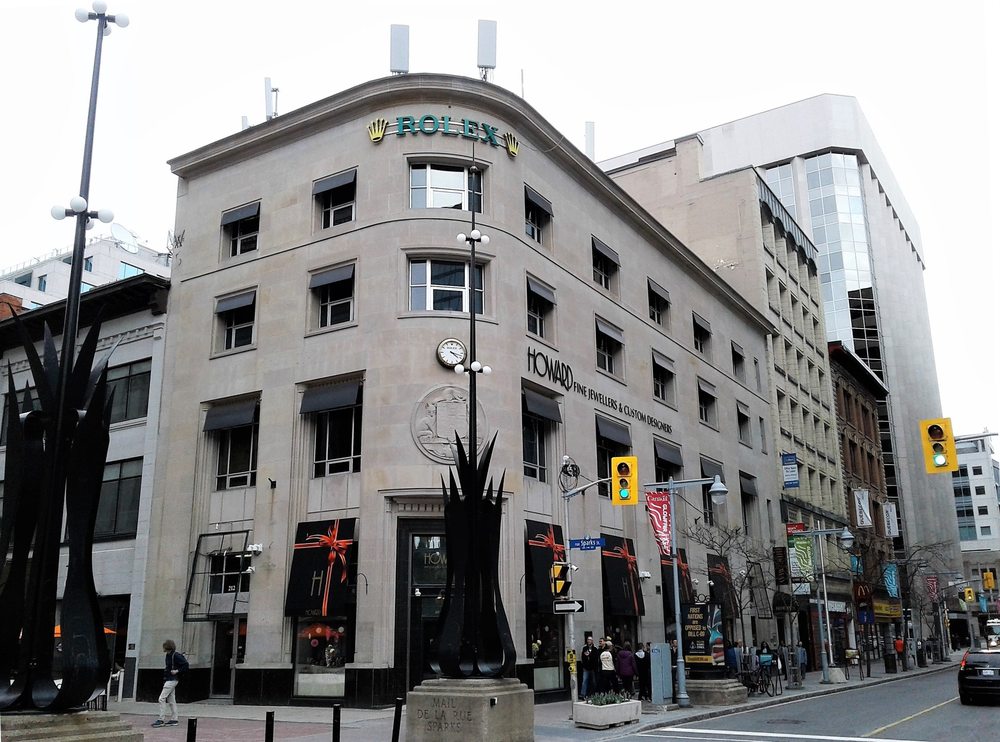 Address: 220 Sparks St., Ottawa, ON K1P 5C1, Canada
Howard Fine Jewelers has been on Sparks Street for nearly 50 years and is a family-owned business. It is one of Ottawa's greatest jewelers due to its exceptional quality and service.
It has plenty of exquisite pieces to browse, including engagement rings, wedding bands, fine jewelry, Rolex, and more. Whether you're purchasing for an engagement, a special event, or for yourself, they'll make the occasion extra special.
With its in-house designers, you can bring your ideal accessory to life!
True Bijoux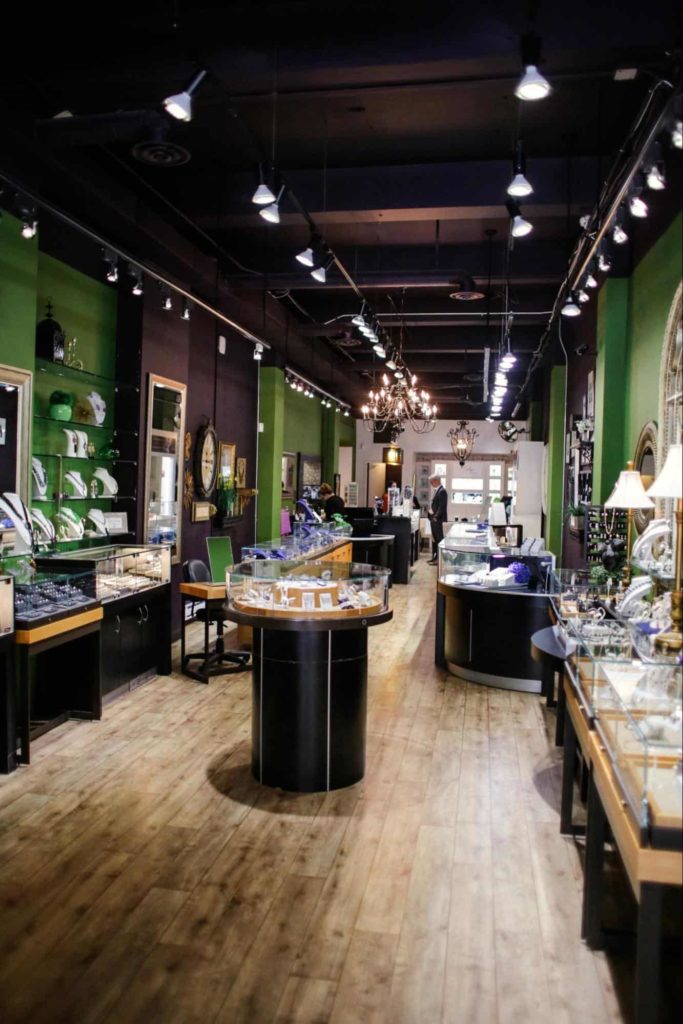 Address: 206 Sparks St., Ottawa, ON K1P 5C1, Canada
True Bijoux is Howard Fine Jewellers' sister store and offers a unique combination of fine jewelry, fashion, vintage, and more. It features a wide selection of engagement rings to suit your budget and preferred style.
If you prefer old items, you should look into its estate collection. Lindsay Appotive, the proprietor, has even designed her own Petit Bijoux line that definitely has a few eye-catching designs.
Alyea's Jewellers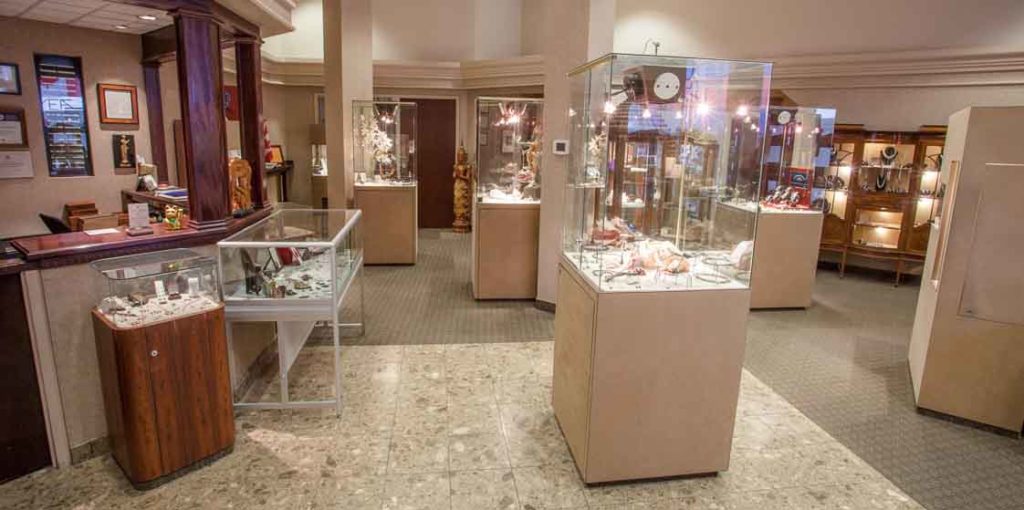 Address: 50 Sparks St., Ottawa, ON K1P 5A8, Canada
Since 1961, Alyea's Jewellers has provided customers with quality accessories. Whether you want to add more to your collection, preserve an heirloom, or create a unique piece of work, its experts can assist you.
If you want something extra special, the shop's designers, gemologists, and goldsmiths can collaborate with you to create the custom diamond ring of your dreams.
Dixon Jewellers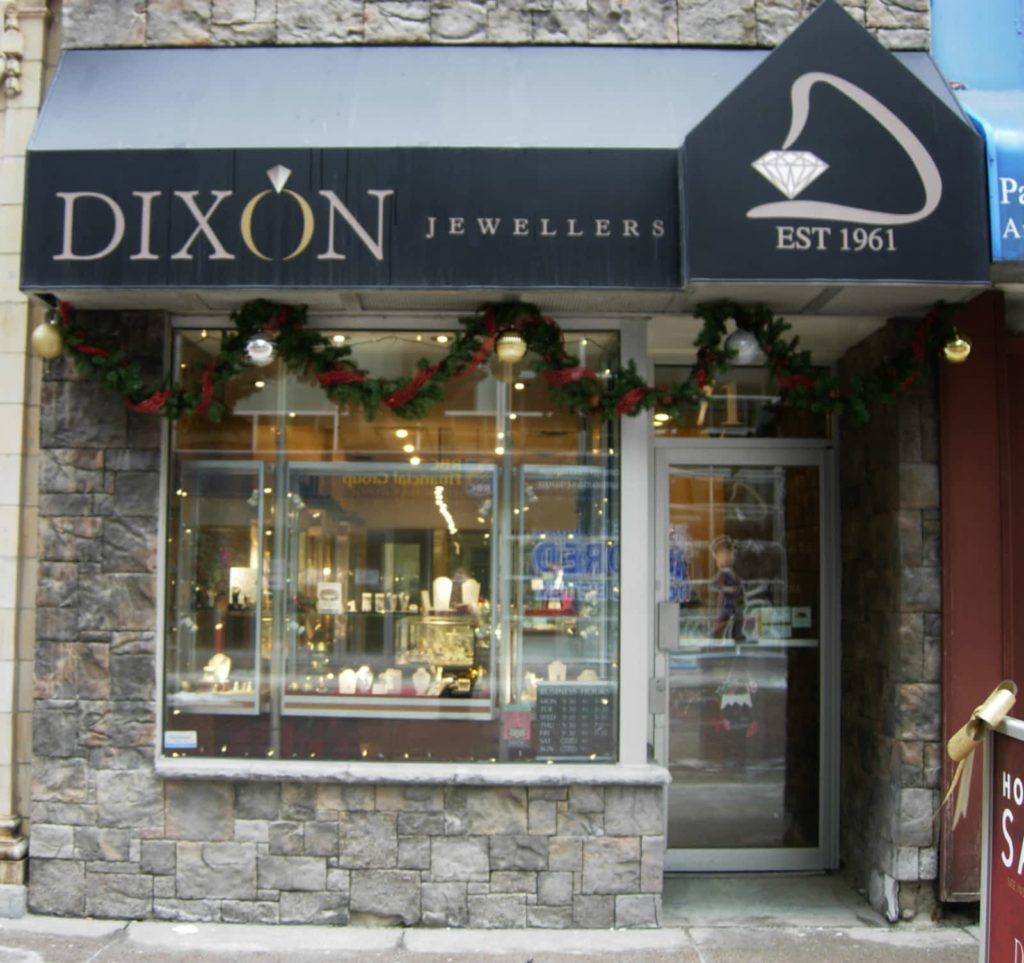 Address: 71.5 Sparks St., Ottawa, ON K1P 5A5, Canada
Dixon Jewellers has been in business in Ottawa for over 50 years and specializes in engagement rings and bespoke design. The majority of Dixon's jewelry is still handcrafted, custom-made, or manufactured on-site.
Do you have a pet that you adore? Dixon's craftsmen can make jewelry from an impression or photograph of your pet's paw.
Besides that, the store also has investments in silver, gold, and diamonds if you want to make transactions related to them.
Unique Gifts and Souvenirs
Looking for a fun gift to give to a friend or kid? Check out The Gifted Type and Boogie + Birdie. They're short walks near Sparks Street that shouldn't last more than 10 minutes.
The Gifted Type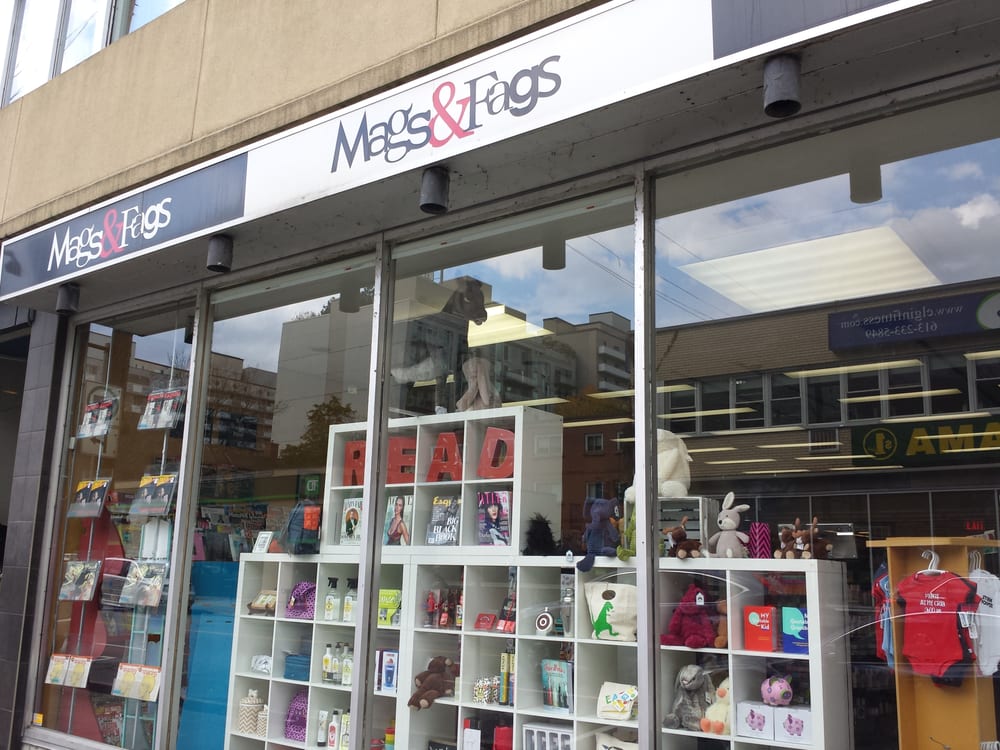 Address: 254 Elgin Street Ottawa, ON K2P 1L9
The Gifted Type is a gift shop specializing in unique and quirky items. It has a wide range of products, including stationery, books, toys, and novelty gifts.
Boogie + Birdie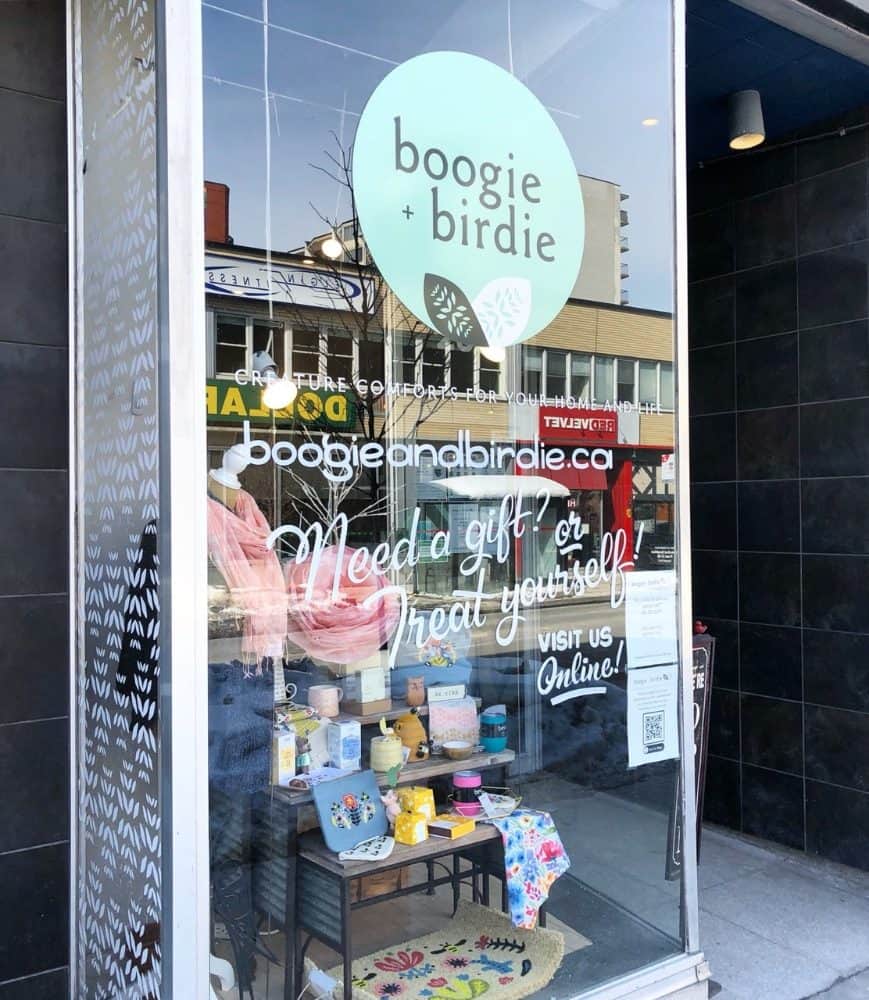 Address: 256 Elgin St, Ottawa, ON K2P 1L9, Canada
Boogie + Birdie is a lifestyle boutique offering a carefully curated selection of home decor, gifts, accessories, and Canadian-made products. It focuses on sustainable and ethically sourced goods.
Local Art and Crafts
Besides fashion and souvenirs, Sparks Street also has a few stores that sell fantastic art pieces for the more artistically inclined shopper.
Canada's Four Corners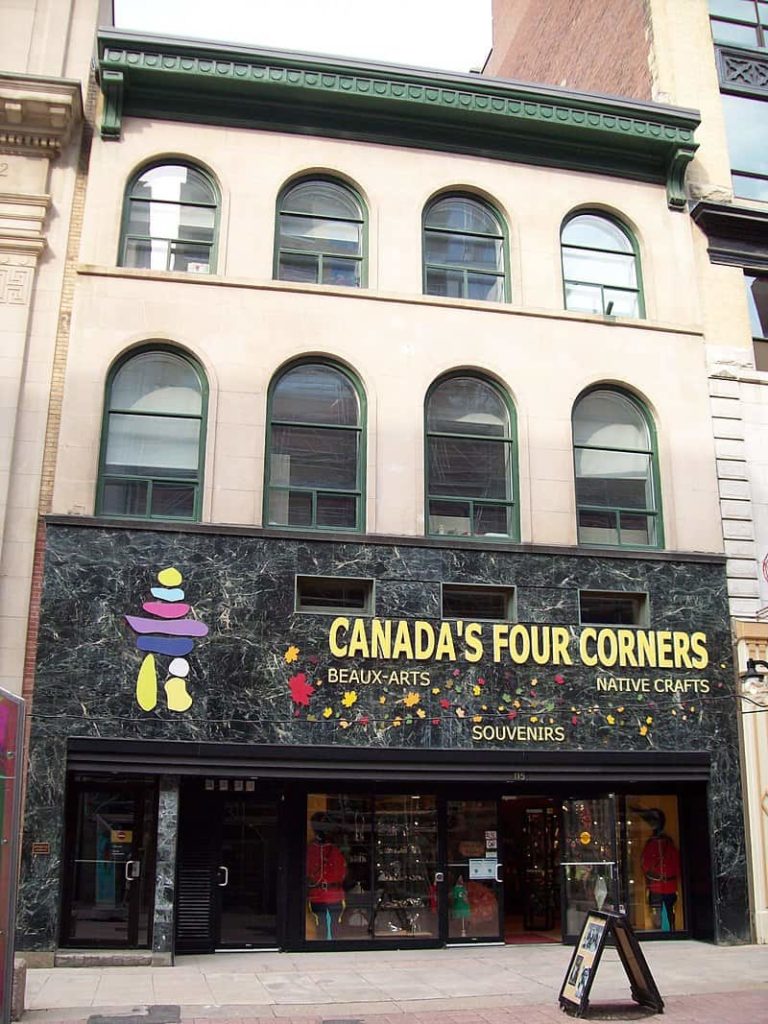 Address: 93 Sparks St., Ottawa, ON K1P 5B5, Canada
This boutique on Sparks Street sells Canadian gifts and artwork at reasonable prices. Canada's Four Corners has everything from maple syrup gifts to apparel, ornaments, artwork, jewelry, and more.
This is a great option if you're visiting Ottawa and want a souvenir, or if you're looking for comforting gifts to send overseas.
The Snow Goose Gallery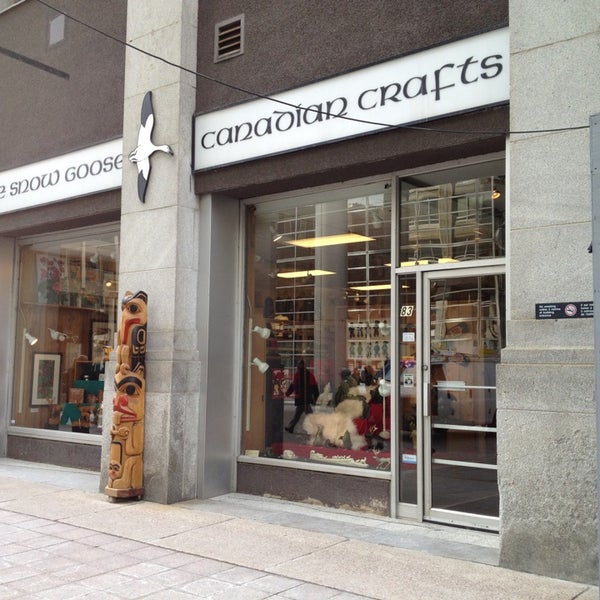 Address: 83 Sparks St., Ottawa, ON K1P 5A5, Canada
Since 1963, the Snow Goose Gallery on Sparks Street has specialized in Inuit and First Nations art. It has a great selection of First Nations wood carvings, Inuit sculptures, moccasins, prints and drawings, and other items.
If you're the kind of person who appreciates native culture and legends, I highly recommend checking this store out.
Where to Eat and Drink on Sparks Street
Sparks Street in Ottawa offers a variety of dining and drinking options to suit different tastes and preferences. Here are a few suggestions for places to eat and drink on Sparks Street.
Name
Address
Price Range
Must-Order Items
D'Arcy McGees - Sparks Street
44 Sparks St., Ottawa, ON K1P 5A8, Canada
$9.92-$25.81
• Fish and Chips

• Shepherd's Pie

• Irish Stew

• Blarney Chips

Riviera
62 Sparks Street Ottawa ON K1P 5A8
$51+
• Beef Tartare w. Truffle & Potato Chips

• Braised Lamb Shank

• Lobster Spaghetti

• Seafood Chowder

Nate's Deli
202 Sparks St., Ottawa, ON K1P 5C1, Canada
$11.90-$19.85
• Philadelphian Sandwich

• Shawarma Plate

• Gyro Wraps

• Hommus and Tabbulee

Little Victories Coffee Roasters
44 Elgin St, Ottawa, ON K1P 1C7, Canada
$9+
• Kenya Kabare

• Sunshine

• 7-10 Split Espresso

• Brownies
D'Arcy McGees – Sparks Street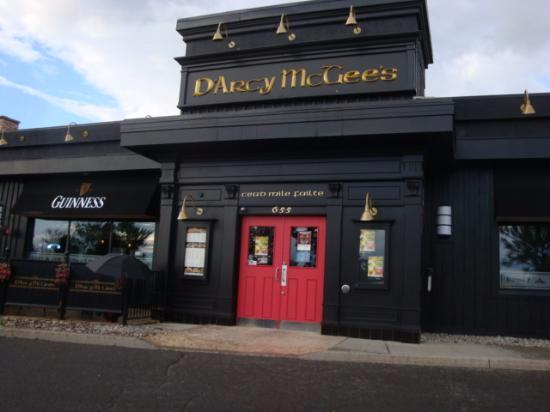 Address: 44 Sparks St., Ottawa, ON K1P 5A8, Canada
Price Range: $9.92-$25.81
Must-try Dishes:
Fish and Chips
Shepherd's Pie
Irish Stew
Blarney Chips
D'Arcy McGee's is a well-known Irish pub and restaurant on Ottawa's Sparks Street. It is named after Irish-Canadian politician and Father of Confederation Thomas D'Arcy McGee.
The main attraction for us Ottawans is its authentic Irish cuisine, offering a menu filled with classic pub fare and Irish specialties.
You can indulge in traditional dishes such as fish and chips, shepherd's pie, and Irish stew, all prepared with fresh ingredients and rich flavors. Vegetarian and gluten-free options are also available, ensuring there's something for everyone.
Riviera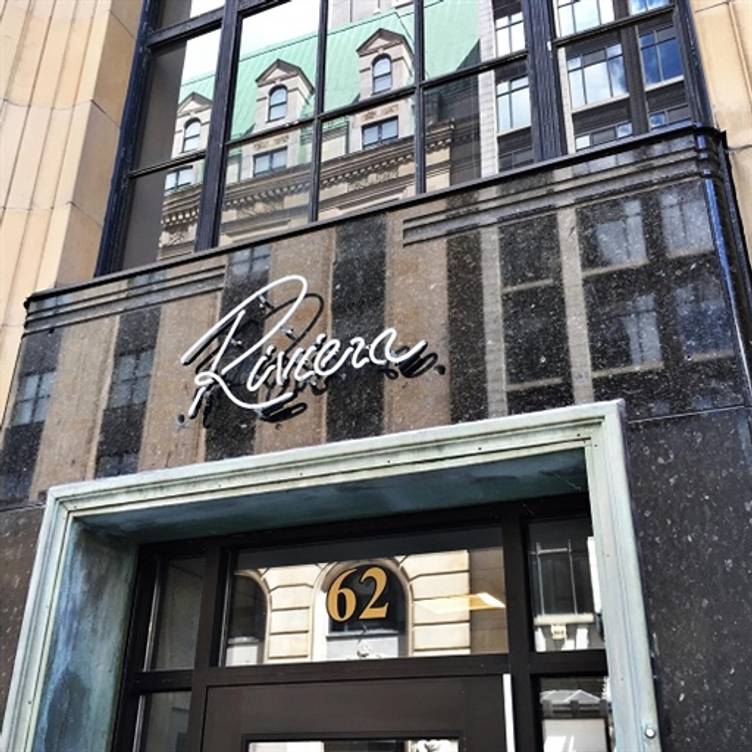 Address: 62 Sparks Street, Ottawa, ON K1P 5A8
Price: $51+
Must-try Dishes:
Beef Tartare w. Truffle & Potato Chips
Braised Lamb Shank
Lobster Spaghetti
Seafood Chowder
When you ask me for a high-end restaurant in Ottawa, the Riviera is the first restaurant that I would recommend to you. It features a gorgeous interior and delicious cuisine that is definitely a must-try for any classy gastronome.
From the seafood bar to the fresh homemade pasta with lobster to the rib of beef on polenta, this is market cuisine at its best.
Nate's Deli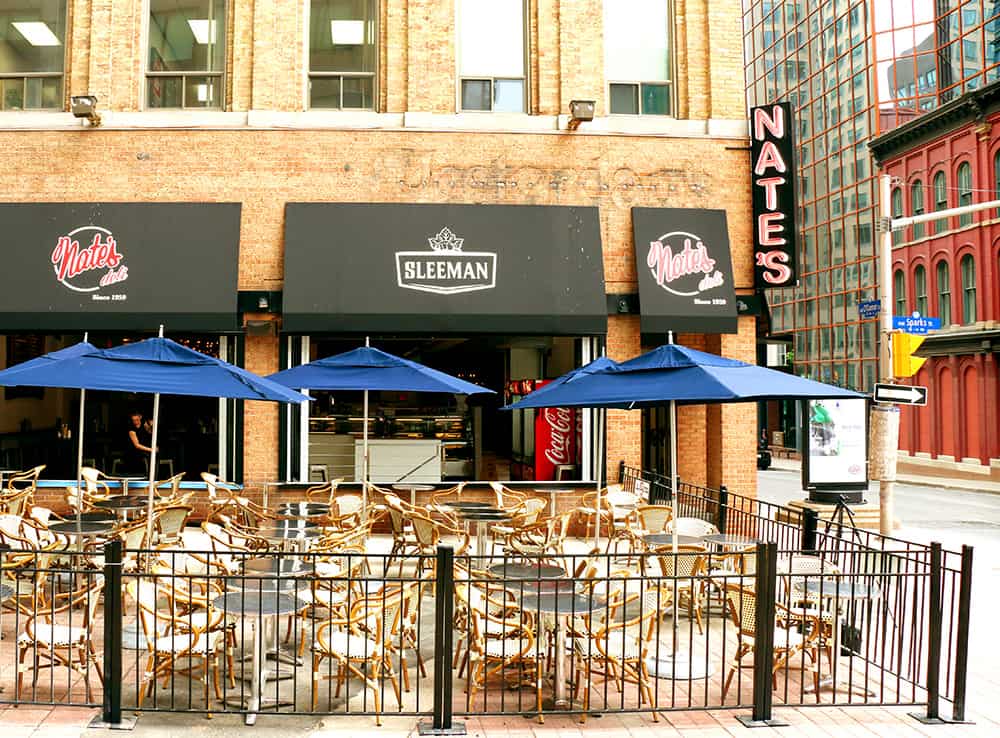 Address: 202 Sparks St., Ottawa, ON K1P 5C1, Canada
Price: $11.90-$19.85
Must-try Dishes:
Philadelphian Sandwich
Shawarma Plate
Gyro Wraps
Hommus and Tabbulee
A well-known and beloved establishment, Nate's Deli has been serving Ottawans for over 35 years now with its delicious Middle Eastern cuisine and Jewish deli classics.
Its menu includes favorites such as falafel, shawarma, hummus, baba ganoush, and fresh salads bursting with flavor. Nate's Deli also serves classic Jewish deli dishes like matzo ball soup, smoked meat sandwiches, and latkes.
Little Victories Coffee Roasters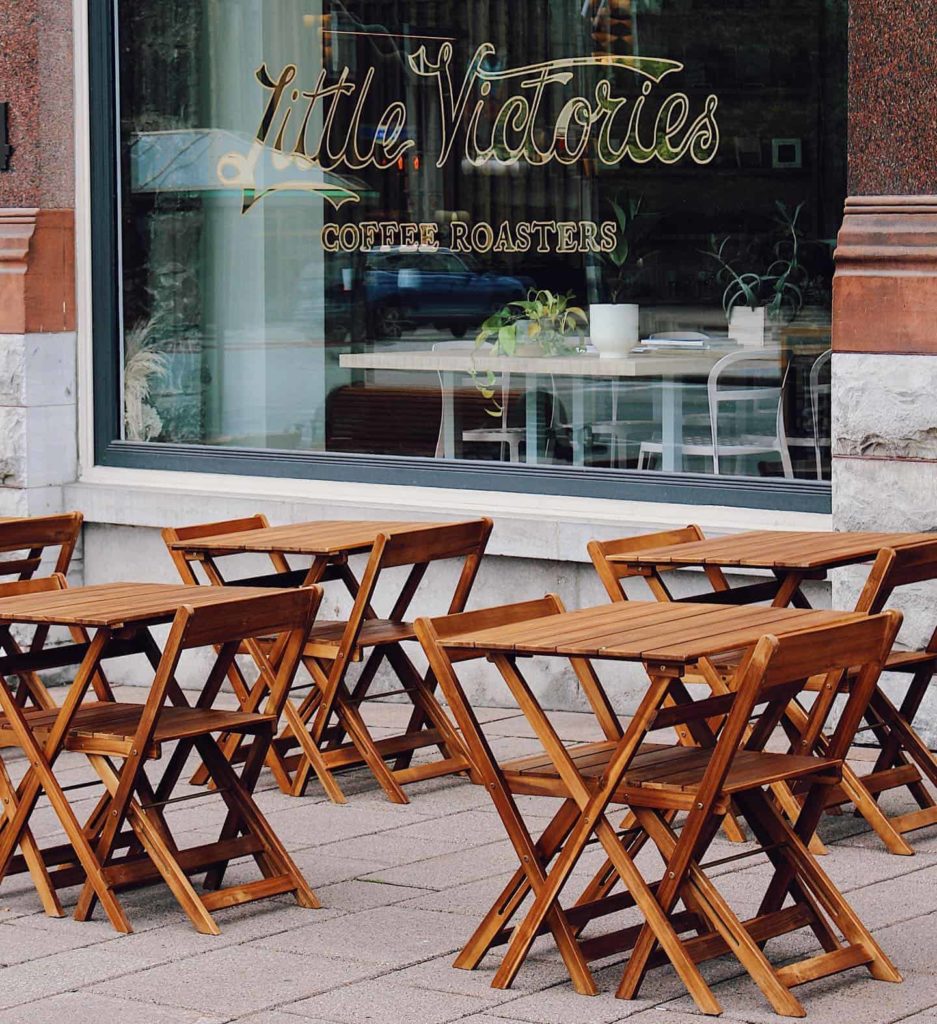 Address: 44 Elgin St, Ottawa, ON K1P 1C7, Canada
Price: $9+
Must-try Dishes:
Kenya Kabare
Sunshine
7-10 Split Espresso
Brownies
I love having a warm cup of coffee after a long day of shopping. Whenever I get a caffeine craving, I always make sure to head over to Little Victories Coffee Roasters for a relaxing break.
The main focus of Little Victories' staff is to serve exceptional coffee made from ethically sourced, high-quality beans. They carefully select their beans from around the world and roast them in-house to achieve the perfect balance of flavors.
Whether you prefer a rich and robust espresso, a velvety latte, or a pour-over that highlights the nuances of the beans, the skilled baristas at Little Victories will craft your beverage with precision and care.
In addition to the cafe's expertly brewed coffee, Little Victories also offers a selection of freshly baked pastries and light snacks to complement your drink.
From buttery croissants to delectable muffins, the food offerings here are crafted to satisfy your cravings and enhance your coffee experience.
Events and Festivals on Sparks Street
Sparks Street's vibrant atmosphere makes it an ideal place to hold events and festivals every year. Here are some notable events that I and other Ottawan locals go to whenever they take place.
Canada Day Celebrations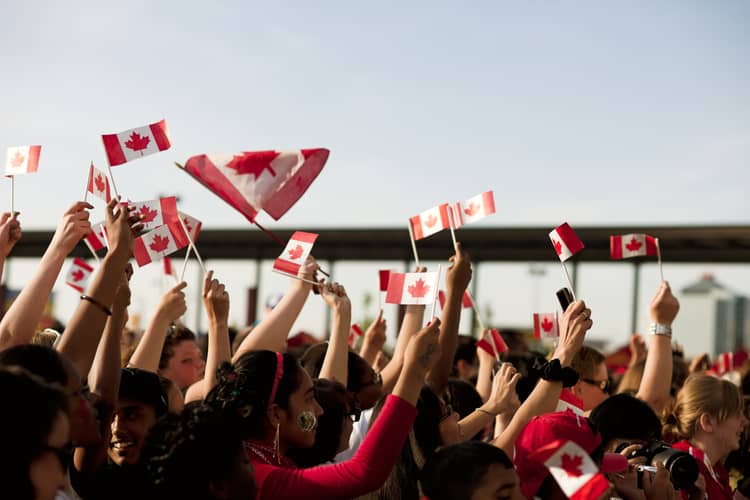 When: July 1st
Sparks Street is a prime location for Canada Day festivities in Ottawa. It typically features live music, cultural performances, food vendors, and family-friendly activities to celebrate Canada's national day on July 1st.
Buskerfest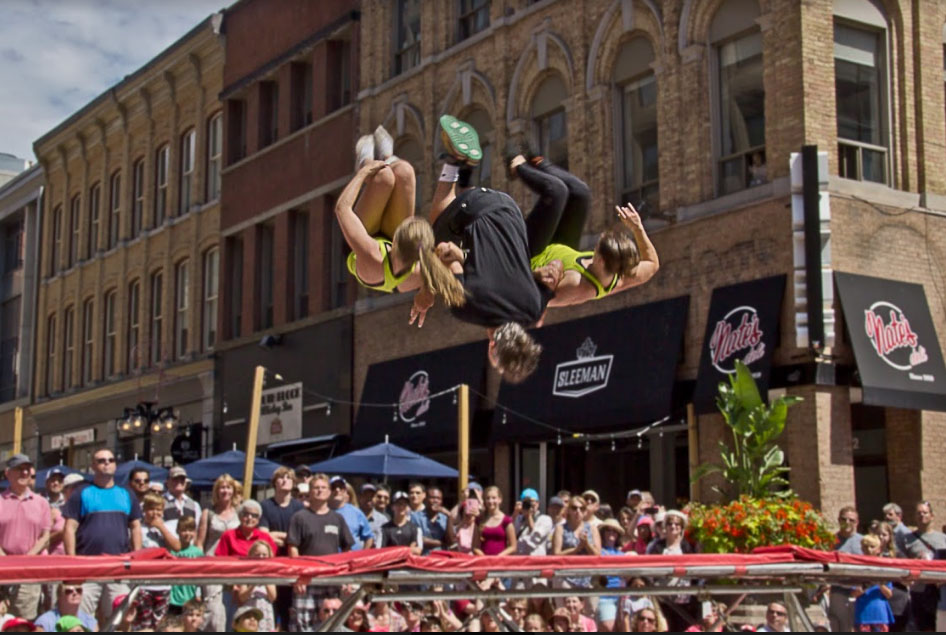 When: August 4-7, 2023
This lively festival showcases street performers and buskers from around the world. If you are a fan of acrobats, musicians, magicians, and other talented artists, this is your chance to watch them!
They will gather on Sparks Street this coming August 4-7 to entertain visitors with their extraordinary skills and thrilling stunts.
Ottawa Ribfest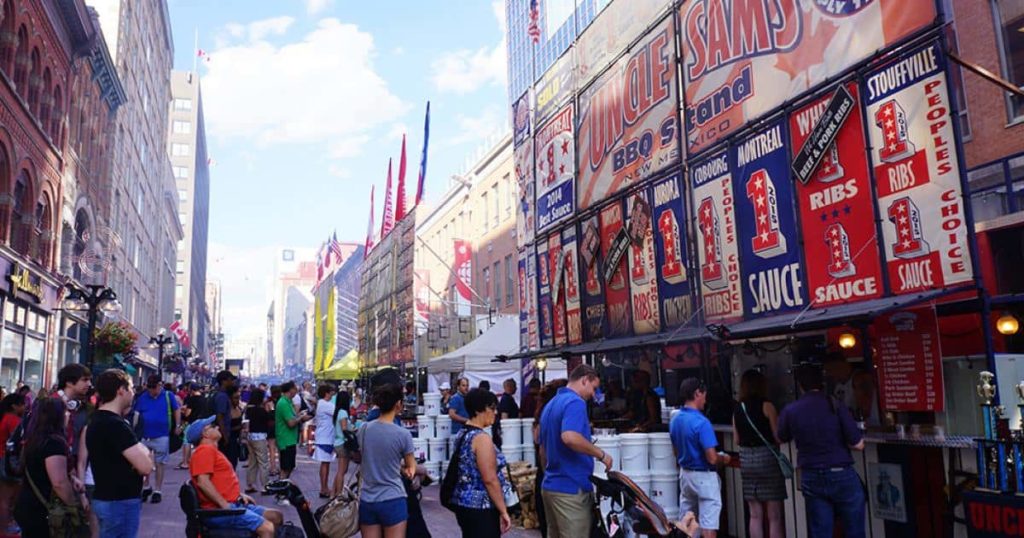 When: Late May to Early June
Rib fans everywhere will love this event as BBQ rib vendors from all over North America cook their specialty dishes for everyone to enjoy. Although ribs are the main star of the show, you can also find other grilled foods such as chicken, beef, and pork.
This is a pretty great event to go to with your family since it also features some activities you can participate in.
PoutineFest
When: Between February to May
A celebration of Canada's beloved comfort food, PoutineFest brings together numerous food vendors offering various poutine creations. This festival allows you to indulge in different renditions of the classic dish while enjoying live music and entertainment.
Sparks Street Festival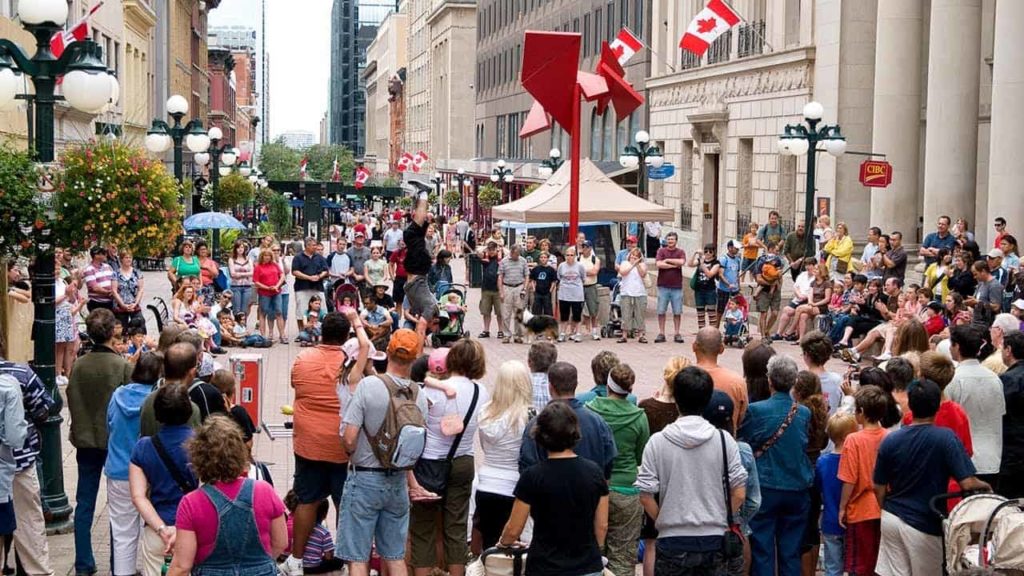 When: Summer season
The Sparks Street Festival is a summer event that transforms the pedestrian mall into a bustling hub of activity. It typically includes street performers, live music, art displays, food vendors, and interactive activities for people of all ages.
Christmas Lights and Celebrations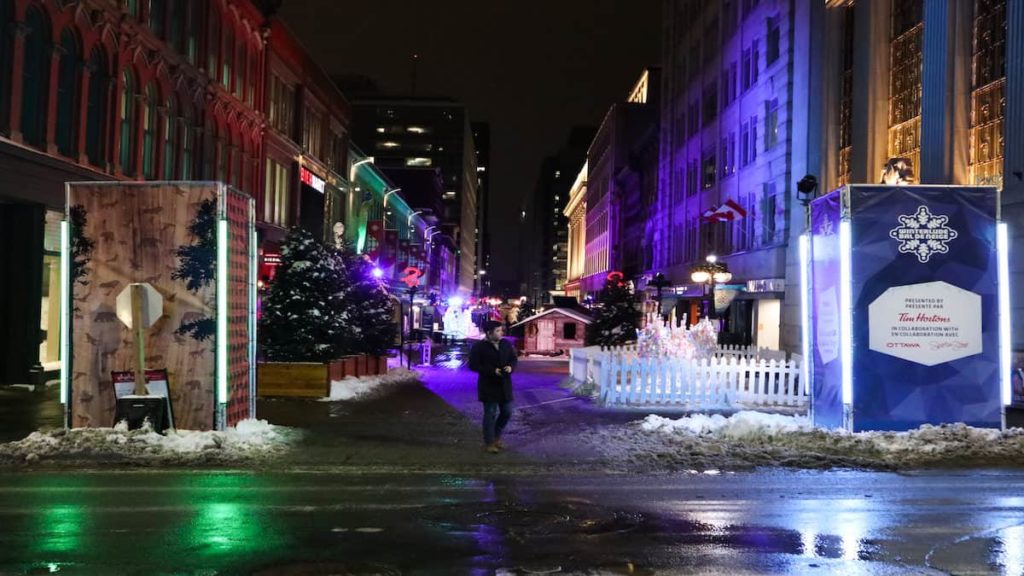 When: Christmas season
During the holiday season, Sparks Street is adorned with festive lights, creating a magical atmosphere. The street often hosts Christmas markets, carolers, and special events, making it a popular destination for locals and tourists alike.
I always recommended checking with official sources or local event calendars for the most accurate and up-to-date information on current and upcoming events. This is especially important if you're eyeing a specific one to attend!
When is the best time to visit Sparks Street?
Most Ottawans agree that summer is a pretty great time to visit Sparks Street since the weather is pleasant and it comes alive with outdoor patios, street performers, and special events. 
Tips for Shopping on Sparks Street on a Budget
If you're shopping on a budget on Sparks Street in Ottawa, here are a few things that I do to make the most of my money:
1. Look for sales and discounts.
Keep an eye out for sales, discounts, and clearance racks in the stores on Sparks Street. Many shops offer seasonal sales or have ongoing promotions.
Take advantage of these opportunities to find affordable deals and discounted items.
2. Explore thrift and secondhand stores.
Consider visiting thrift stores or secondhand shops in and around Sparks Street. These stores often offer clothing, accessories, and other items at significantly lower prices than traditional retail stores.
You might find unique and affordable treasures while also being environmentally conscious.
3. Make comparisons between shops.
Before making a purchase, take the time to compare prices and options across different stores. This will help you find the best deals and ensure that you're getting the most value for your money.
Consider browsing online as well, as some stores may have exclusive online offers or promotions.
4. Consider shopping during the off-season.
Look for items that are off-season or out of fashion. Retailers often discount seasonal items when they are no longer in high demand.
For example, shop for winter clothing in the summer or summer items in the winter. This can lead to significant savings.
5. Negotiate and bargain with the sellers.
In some stores, particularly in smaller boutiques or at market stalls, you may have some room to negotiate the price.
Polite and friendly haggling may sometimes result in a better deal, especially if you're purchasing multiple items or if the item has a slight imperfection.
Remember, while shopping on a budget, it's important to prioritize your needs and stick to your planned spending limits.
With some careful planning and savvy shopping, you can find great deals and enjoy a satisfying shopping experience on Sparks Street in Ottawa.
Tips for a Great Shopping Experience on Sparks Street
To truly make the most out of your shopping trip, let me share a few tips that will come in handy for you.
1. Explore all the boutiques.
Sparks Street is home to various boutiques and specialty shops.
Take the time to explore these unique stores that offer a wide range of products such as clothing, accessories, art, and souvenirs. You might find one-of-a-kind items that you won't find elsewhere.
2. Visit local art galleries.
Sparks Street is known for its art scene, and you'll find several art galleries in the area. Browse through the galleries to admire and purchase works of local artists.
It's a fantastic way to support the local art community and bring home a unique piece of art.
3. Consider looking at souvenir shops.
If you're looking for Ottawa-themed souvenirs or gifts, Sparks Street has several souvenir shops to choose from. These shops offer a variety of items such as keychains, magnets, postcards, t-shirts, and more.
Take a stroll through these stores to find something memorable to commemorate your visit to Ottawa.
4. Plan for upcoming seasonal events.
Sparks Street hosts various events and festivals throughout the year. Check the event calendar to see if there are any special shopping events happening during your visit.
These events often feature outdoor markets, pop-up shops, and additional vendors, providing an enhanced shopping experience.
5. Take a break at the nearby cafés and restaurants.
Shopping can be tiring, so make sure to take breaks and recharge at one of the cafés or restaurants along Sparks Street. Enjoy a cup of coffee, grab a quick bite, or indulge in a delicious meal to refuel and continue your shopping spree.
6. Check the stores' opening hours.
Before heading to Sparks Street, check the opening hours of the stores you plan to visit.
Some shops may have different operating hours or be closed on certain days of the week. Knowing the opening times will help you plan your shopping excursion more efficiently.
Remember to have fun and enjoy your shopping experience on Sparks Street. It's a vibrant and bustling area with a wide range of shops and unique offerings!