Is Ottawa a gay-friendly city?
In the years that have passed, the LGBTQ+ community has come a long way in their advocacy for acceptance.
I'm friends with a lot of people who are part of the community. And let me tell you now, they are some of the loveliest people I've ever met.
And because of this, I do my best to share a message of love, acceptance, and positivity about the LGBTQ+.
If you're reading this, then I'm sure you're wondering if Ottawa is a safe place for the LGBTQ+ community. Allow me to give you an overview of the city's position with regard to gay-friendliness.
What does it mean to be a gay-friendly city?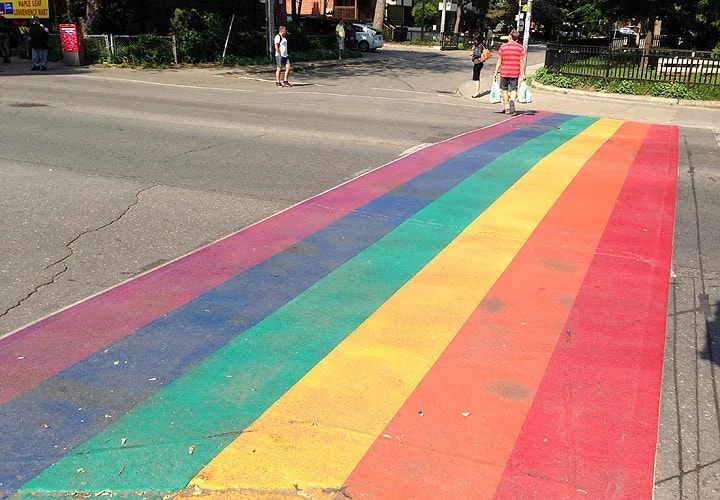 Being a gay-friendly city means having legal protections for the LGBTQ+ community, giving them safe spaces, and having events and celebrations for them.
A gay-friendly city also gives them the support, rights, and representation that they need.
Here's a more detailed look at the key aspects of a gay-friendly city:
1. Legal Protections
The city needs to have robust legal protections in place to ensure equal rights for queer people.
This includes laws prohibiting discrimination based on sexual orientation and other related things. These apply to areas such as employment, housing, and public services.
2. LGBTQ+ Community Spaces
A gay-friendly city needs to have a safe space for LGBTQ+ individuals. These are the spaces that allow them to live authentically and without fear.
These spaces come in many forms. It can be a bar, a community space, or a cultural organization.
At the end of the day, the main goal is to make LGBTQ+ members feel safe and accepted.
3. Events and Celebrations
A gay-friendly city must be in full support of LGBTQ+-specific events and celebrations. These events include pride parades, festivals, and cultural activities.
These things help to promote a sense of acceptance and pride within the community.
4. Support Services
A gay-friendly city offers plenty of support services and resources for LGBTQ+ individuals.
These may include the following:
LGBTQ+ helplines
Counseling services
LGBTQ+ healthcare experts
Youth programs
Transgender support
5. LGBTQ+ Representation and Inclusion
One of the top priorities of a gay-friendly city is to show LGBTQ+ individuals that they are loved and welcome. The best way to do this would be to include representation in different areas.
A few examples would be to consider them when making policies and to include educational material. Said material could come in the form of books and videos about the community's history and rights.
6. Safety and Acceptance
Cities need to make it possible for LGBTQ+ people to live their real lives. This means that they can go about their day without worrying about being picked on, harassed, or hurt.
The best way to do this involves educating the people and promoting positive messages for the LGBTQ+ community.
7. Ongoing Commitment to LGBTQ+ Rights
Gay-friendly cities work for social justice and the rights of LGBTQ+ people. Some examples are changing laws, helping LGBTQ+ groups, and fighting against discrimination.
A city needs laws, social attitudes, community support, and cultural acceptance for gay people to feel welcome there.
LGBTQ+ History in Ottawa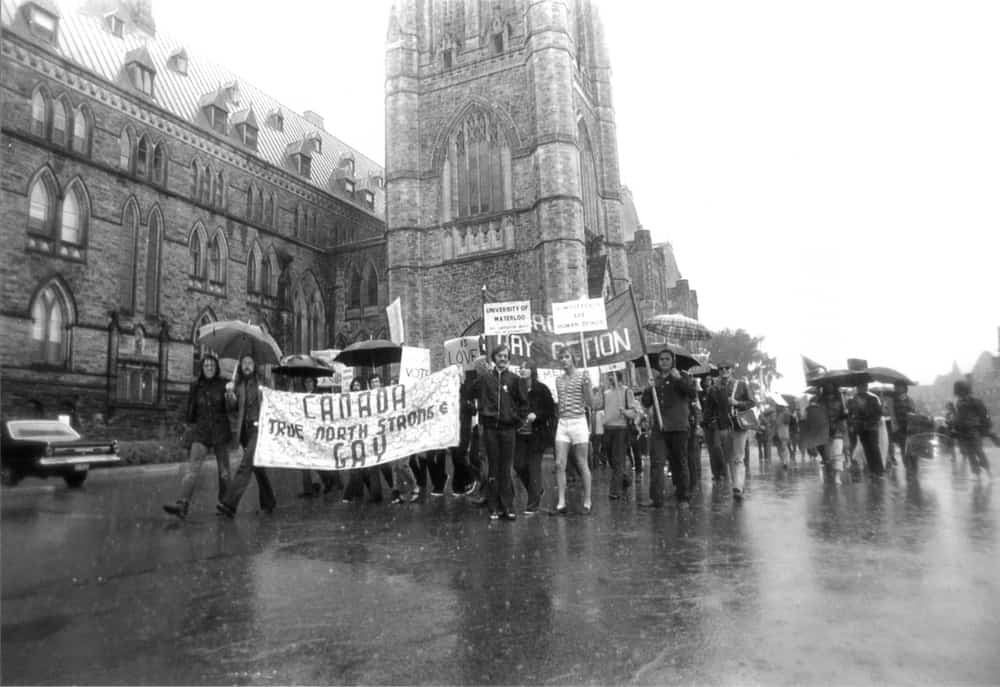 Over the years, the LGBTQ+ community in Ottawa has had to deal with problems and unfair treatment. Fortunately, the city has come a long way in allowing the community to live authentically.
Let me show you some of the highlights in Ottawa's LGBTQ+ history.
1969–1970: the Gay Liberation Front (GLF) was set up in Ottawa. This event gave the community a voice where they could protest and fight for the rights of LGBTQ+ people.
1982: Ottawa would then hold the first pride in March. Unfortunately, the small gathering of about 50 people would experience harassment from the community.
1986: Ottawa held the first AIDS Walk to bring attention to HIV/AIDS and the people suffering from it.
1992: Capital Xtra!, a newspaper for LGBTQ+ people in the area, was founded. It was a place where people from the community in Ottawa could talk about their challenges and rights.
1996: The Ottawa Police Service set up a committee to deal with issues related to LGBTQ+ people. It was also in charge of making things better between the police and the community.
2003: Canada made same-sex marriage legal. This allowed LGBTQ+ couples to get married, including those in Ottawa, and all over the country.
2005: The Pink Triangle Services, which is now called Kind Space, opened its doors. This was the first center for LGBTQ+ people in Ottawa and helps the community by giving them support, resources, and programs.
2011: The Canadian Museum of History opened "Love, Identity, and Loss: A Community Remembers." It looked at the history of the LGBTQ+ community in Ottawa.
2012: Ottawa held the first Transgender Day of Remembrance service. It was a way to honor and remember transgender people who have died because of violence.
2017: This year saw the start of the first National Capital Pride Run. This annual event in Ottawa brings together sports and support for LGBTQ+ people.
2021: A virtual version of Ottawa Pride, a festival for the LGBTQ+ community that happens every year, took place.
These accomplishments show how far the LGBTQ+ community in Ottawa has come.
How does Ottawa compare to other gay-friendly Canadian cities?
In the latest survey by Moving Waldo, Ottawa was ranked 4th in the top 10 most gay-friendly cities in Canada. It is outranked by Toronto, Montreal, and Vancouver, who are ranked 1, 2, and 3, respectively.
Here's the full table of Canada's most gay-friendly cities.
| City | Ranking |
| --- | --- |
| Toronto | 1 |
| Montreal | 2 |
| Vancouver | 3 |
| Ottawa | 4 |
| Edmonton | 5 |
| Winnipeg | 6 |
| Calgary | 7 |
| St. John's | 8 |
| Halifax | 9 |
| Nelson | 10 |
LGBTQ+ Landmarks and Events in Ottawa
Several venues and events are significant to the LGBTQ+ community here in Ottawa. Each of them helps foster visibility, community, and inclusivity in the city.
Here are some prominent LGBTQ+ landmarks and events in Ottawa:
Landmarks
The Village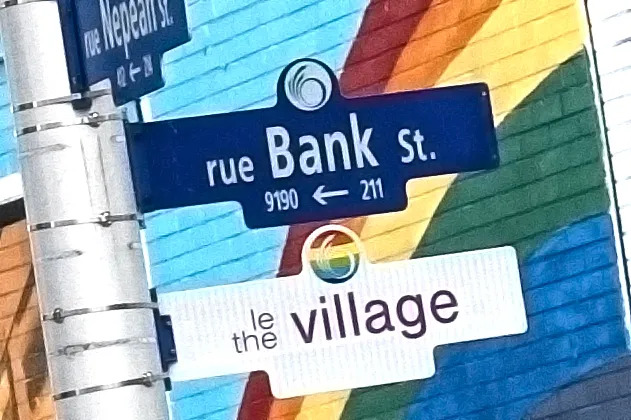 Address: 176 Gloucester St #204, Ottawa, ON K2P 0A6, Canada
The Gay Village in Ottawa is a lively area with businesses that welcome people who are LGBTQ+. There are a lot of bars, restaurants, and groups for the community to join.
Aside from that, it's a place where people from the LGBTQ+ community and tourists can meet each other. This is a great opportunity for you to socialize with the community!
The Lookout Bar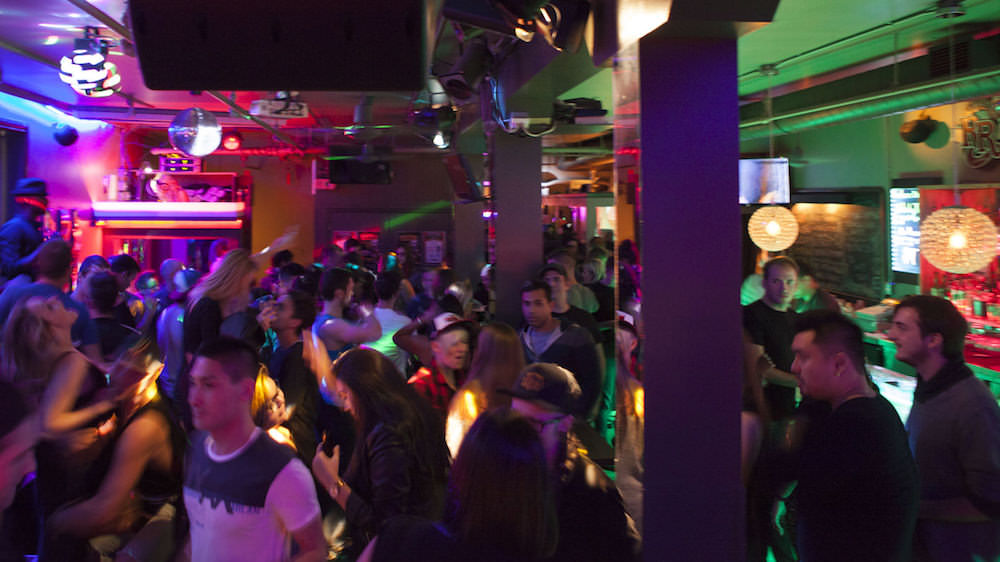 Address: 41 York St 2nd floor, Ottawa, ON K1N 5S7, Canada
This is a long-time bar that has been open to LGBTQ+ people, where they can express themselves and be free. Besides that, The Lookout has been a historically popular place for people to meet each other and just have a great time.
It has a friendly atmosphere and hosts many different events. The LGBTQ+ community here likes to go to drag shows and karaoke nights, among other things.
Swizzles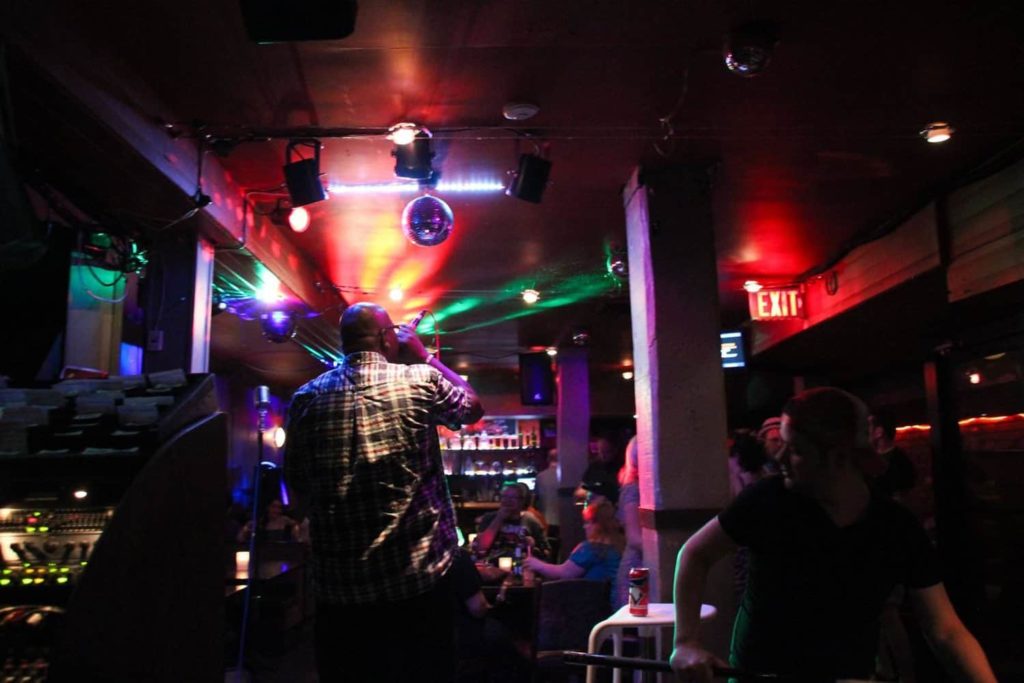 Address: 246 B Queen St, Ottawa, ON K1P 5E4, Canada
Swizzles is another well-known bar and entertainment spot for LGBTQ+ people. The bar has always been an important part of LGBTQ+ nightlife in Ottawa.
In terms of shows, the bar has drag shows, trivia nights, and overall has a friendly atmosphere for its customers.
Events
The Ottawa Capital Pride Festival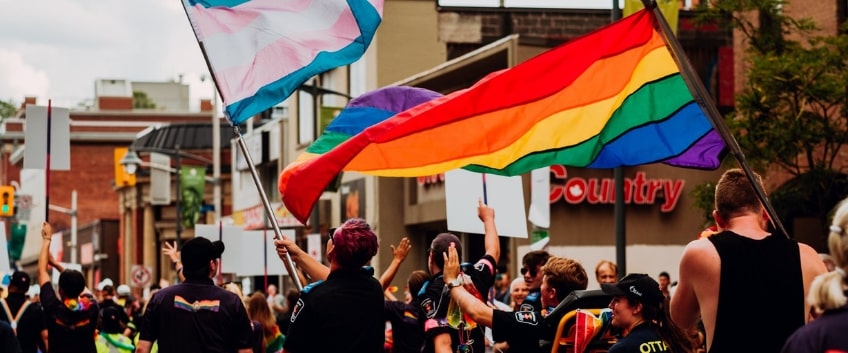 When: August
The Capital Pride Festival is a big yearly event on the LGBTQ+ calendar in Ottawa. It has a parade, concerts, cultural events, and gatherings for the whole community.
At this event, pride is on full display, and messages about love and acceptance are everywhere.
The Ottawa Dyke March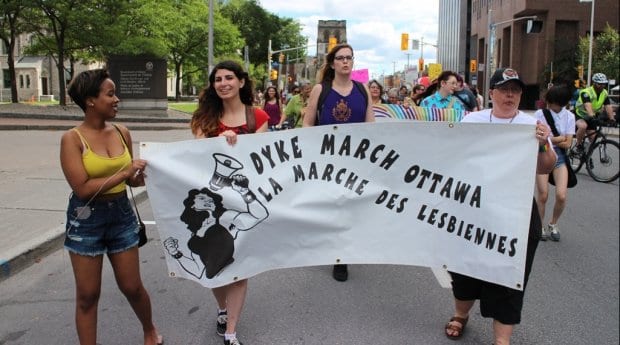 Address: Varies
The LGBTQ+ community in the area puts on the Ottawa Dyke March every year. It shows how lesbian, queer, and bisexual women in the community live their lives.
This event helps show solidarity, a sense of belonging, and empowerment.
Legal Rights and Protections for LGBTQ+ Individuals in Ottawa
In Ottawa, people who are LGBTQ+ have legal rights and are protected by the law to ensure they don't get treated differently.
Here are some of the most important legal rights and protections that people in Ottawa have:
Federal Laws
The Canadian federal government has enacted laws that protect LGBTQ+ individuals from harassment.
For example, the Canadian Human Rights Act does not tolerate discrimination based on gender. This applies to several areas, including:
Employment
Housing
Federal Government Services
Marriage Equality
Since 2005, same-sex marriage has been legal in Canada. This gives LGBTQ+ couples the same rights and recognition as heterosexual couples when it comes to marriage.
Employment Rights
LGBTQ+ people can't be treated badly at work because of who they are, according to both federal and provincial laws. This makes it illegal for employers to treat people differently because of their gender identity or expression.
Hate Crime Legislation
Canada has hate crime laws that punish people who hurt LGBTQ+ people out of hatred or bias. These laws make it harder to get away with crimes against the LGBTQ+.
It also serves to send a strong message against hate-motivated violence.
A few examples of these laws include:
Anti-discrimination laws in employment for sexual orientation
Anti-discrimination laws in the provision of goods and services for sexual orientation
Anti-discrimination laws in all other areas for sexual orientation
Access to Healthcare
LGBTQ+ members that live in Ottawa have the right to get medical care without being treated differently. Medical professionals are expected to take care of their patients, regardless of gender and identity, in a competent and kind way.
Changing Legal Gender Markers
Queer people have the right to change their passports, driver's licenses, and other legal documents to reflect their preferred gender identity.
This process doesn't need surgery or other medical procedures and simply requires a visit to the appropriate office for the document.
LGBTQ+ Parental Rights
People who are LGBTQ+ and live in Ottawa have legal rights to adoption, foster care, and assisted reproductive technology. These parents are also recognized and protected by the law.
Available Resources for LGBTQ+ Individuals in Ottawa
There are many resources and support services for LGBTQ+ people in Ottawa that offer help, information, advocacy, and a sense of community.
Here are some notable resources:
Kind Space (Formerly known as Pink Triangle Services)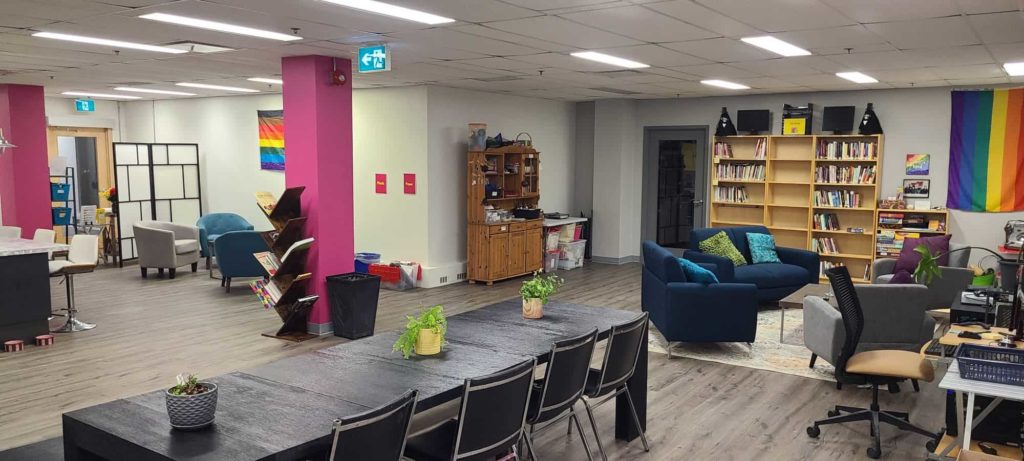 This is an LGBTQ+ community center that offers support for individuals of all ages and addresses a wide range of needs, resources, and more.
Here's a table of their services:
| Service | Purpose |
| --- | --- |
| Community Resource Referrals | Allows community members to submit their recommendations of service providers or community spaces that are LGBTQ+ friendly. |
| Space Rentals | Offers events and safe spaces for the LGBTQ+ community. |
| The Pantry | A supplemental food bank and snack bar that aims to counter food insecurity in the LGBTQ+ community. |
| Trans ID Clinic | Provides both medical and emotional support for transgender individuals. |
| Drop-in Groups | Different gatherings that cater to different groups of the LGBTQ+ community. Refer to this page to see the different categories. |
Ottawa-Gatineau Queer-Friendly Business Directory
This online directory lists LGBTQ+-friendly businesses and services in the Ottawa-Gatineau region.
It helps individuals find inclusive spaces for various needs, including health care providers, legal services, and social activities.
Ottawa Police Service LGBTQ+ Liaison Committee
The police have a person who works with the community to help them with their problems regarding discrimination and hate crimes. It helps people in law enforcement get along and treat each other with respect.
This also makes it easier for the police and the LGBTQ+ community to talk to and understand each other.
Youth Services Bureau (YSB)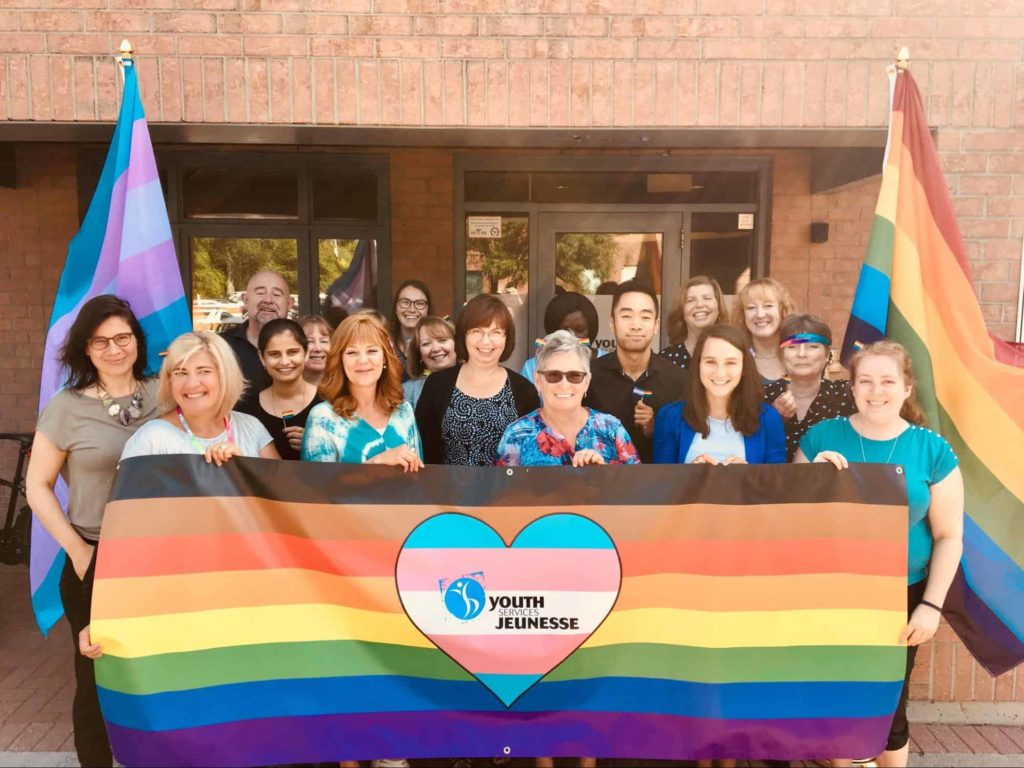 For LGBTQ+ youth in Ottawa, YSB offers a range of programs and support services. These programs help them with things like housing and education that are based on their individual needs.
Ottawa Coalition to End Violence Against Women (OCTEVAW)
This group works to stop violence against women in Ottawa. Despite its name, it also brings attention to the violence that LGBTQ+ people face.
Its members help survivors of violence by giving them support, information, and resources. They also advocate for systemic change and laws that will lessen the violence against LGBTQ+ individuals.
LGBTQ+ Health Initiative
The Somerset West Community Health Center is in charge of this project. It has health programs and services for the LGBTQ+, such as:
Counseling
Sexual health services
Access to LGBTQ+-competent healthcare providers in Ottawa
Ottawa Pflag
Pflag is a national group that helps the families, friends, and parents of LGBTQ+ people. It offers peer support, resources, and educational opportunities to help families and allies understand and help their LGBTQ+ loved ones.
Challenges and Discrimination Faced by LGBTQ+ Individuals in Ottawa
Even though LGBTQ+ rights and protections have come a long way in Ottawa, there are still problems and discrimination against LGBTQ+ people. Here are some common issues:
Discrimination and Prejudice
Discrimination and prejudice still happen in many areas of life, which is quite unfortunate, to say the least. This happens in a few places, like housing, education, and public services.
Violence and Hate Crimes
Even though the law protects LGBTQ+ people in Ottawa, violence motivated by hate is still a concern. They may be the target of physical or verbal attacks that hurt them physically and emotionally.
Violence and discrimination are especially likely to happen to transgender people.
Health Disparities
People who are LGBTQ+ and live in Ottawa often face unique health problems. Because of their specific needs, it can be hard to find good healthcare services that address diseases like certain cancers, STDs, and more.
Bullying and Stigma
Youth who are LGBTQ+ in Ottawa may be bullied at school or in other places. This hurts their mental health, self-esteem, and chances of doing well in school.
To solve these problems, we need environments that are both supportive and welcoming.
Transgender Rights and Healthcare
Transgender people often have trouble getting healthcare that fits their gender identity. They also have challenges getting the law to recognize them.
Because of their special needs, they experience significant delays in getting treatment and medication. They also don't have much access to resources and services that treat their unique health issues like STDs and breast and cervical cancer.
Intersectional Discrimination
LGBTQ+ members who are also people of color are much more likely to face more discrimination. This is often because of the way their identities overlap.
They may face problems that are unique to them because of racism, xenophobia, and cultural differences.
Family and Legal Issues
It's common for queer couples to run into problems with family law and other things. Even though same-sex marriage is legal, it can be hard for couples to get the legal protections they need.
In fact, some LGBTQ+ couples have trouble getting their relationship or parental rights protected.
Final Thoughts on Ottawa's Gay-Friendliness
Great strides have been made to make Ottawa as inclusive and safe for the LGBTQ+ community. And although I can say that Ottawa welcomes the queer community, we can still do better.
As allies, we need to promote messages of positivity about the LGBTQ+ community. At the end of the day, they are human, and they need support just like the rest of us.
Their identities are special and thus should be supported. They've been through many years of oppression, and we can continue turning that around by accepting and understanding them and their unique struggles.
This is my perspective, and I hope that I can reach out to you for the sake of our LGBTQ+ friends.