Discover Amazing Things to Do in Ottawa on a Long Weekend
Long weekends give us an extra day to relax, recharge, and regroup before the start of a new week. Plus, it's more time to spend with friends and family.
If you're planning on spending a long weekend in Ottawa, we've got you covered.
From events and exhibitions to fun family and kids' activities, here are some great ways to spend a long weekend in Canada's capital.
Family Day – (Third Monday in February)
Family Day was established to give hard-working Canadians more time with their loved ones. The heart of the long winter is the perfect time to spend a snow day in Ottawa.
Winterlude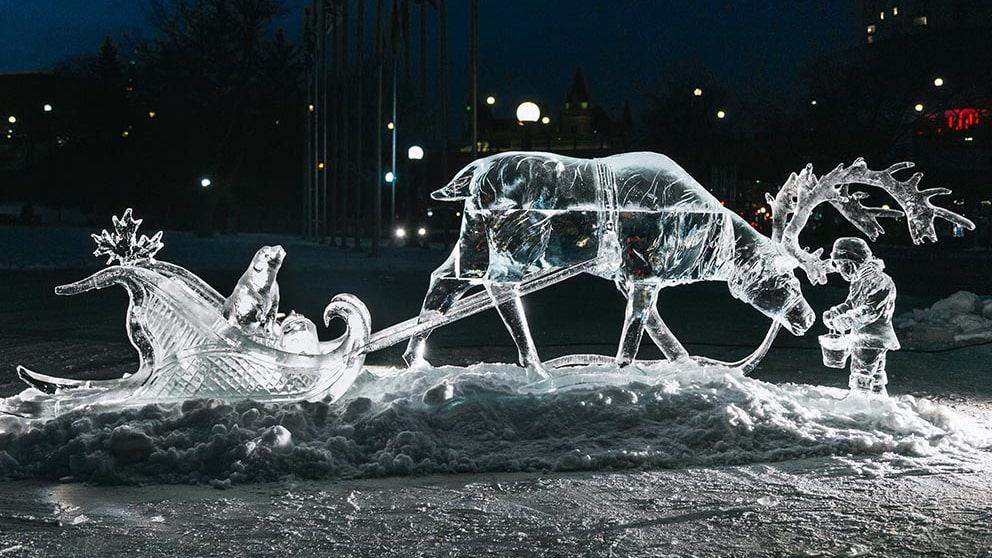 Winterlude is one of the biggest winter events in Canada. This popular, family-friendly, free annual festival brings together all the best winter has to offer in an urban winter wonderland setting.
It's three weeks of celebrations to fill winter with fun and fantastic events culminating on Family Day. Expect food, music, skating, skiing, snow sculptures, and more!
Highlights of Winterlude include:
International sculpture competition in the Crystal Garden of Confederation Park
Skating along Rideau Canal Skateway to the accompaniment of live music
The Snowflake Kingdom, which is a giant winter playground filled with fun activities like the famous giant snow slides in Jacques Cartier Park
Victoria Day
Queen Victoria's birthday was declared a Canadian holiday in 1845, and we've been celebrating with a long weekend on the Monday between the 18th and the 24th of May ever since.
Canadian Tulip Festival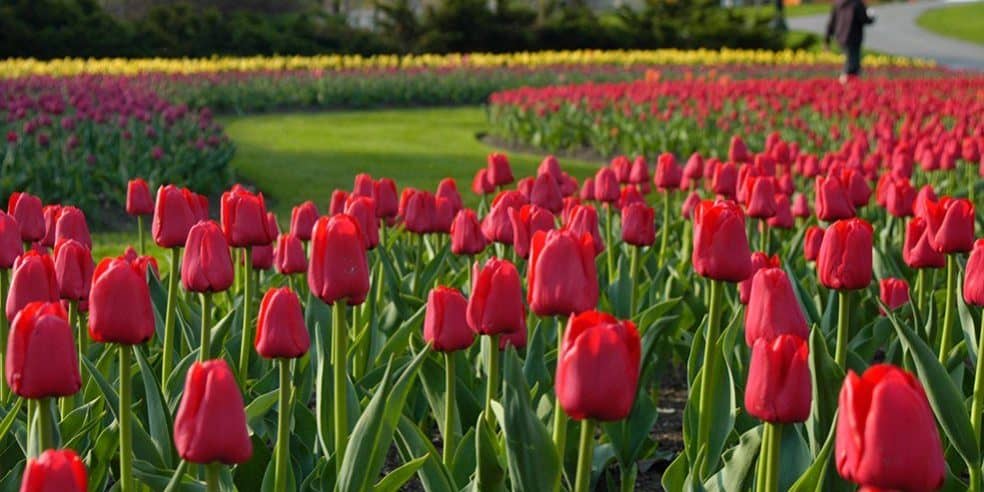 For 11 days each May, the Canadian Tulip Festival celebrates the iconic flower with 120 tulip beds across Ottawa and Gatineau.
There are massive displays, including over 300,000 tulips blooms in Commissioner's Park along the Rideau Canal.
In addition to massive tulip spectacles, highlights of the world's largest tulip festival include:
Viewing tulips lit up at night at Commissioner's Park
Tulip Bingo
Tulip Legacy Walking Tour
Photo workshops
Free outdoor movies
Victoria Day fireworks
Ottawa Children's Festival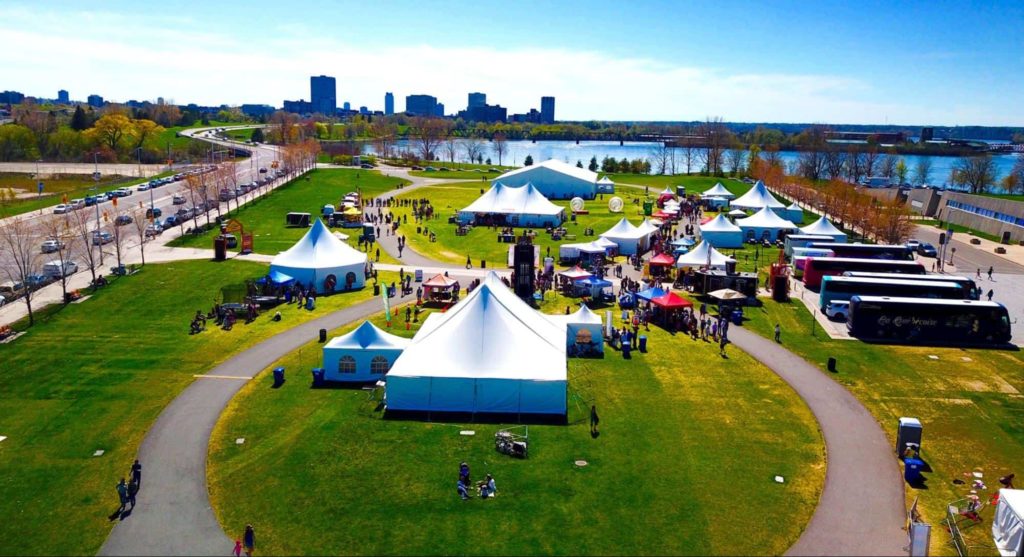 The Ottawa Children's Festival is an annual 5-day extravaganza of theatre, dance, and music for young audiences of all ages.
The festival brings award-winning, world-class performance artists from across Canada and around the world, and also offers a variety of educational programs, workshops, and activities that focus on encouraging the arts as an essential part of children's education.
Canada Day
Canada Day is celebrated across the nation as the anniversary of the Canadian Confederation, which occurred on July 1, 1867.
And what better place to have a birthday bash for Canada than in the capital city?
LeBreton Flats Park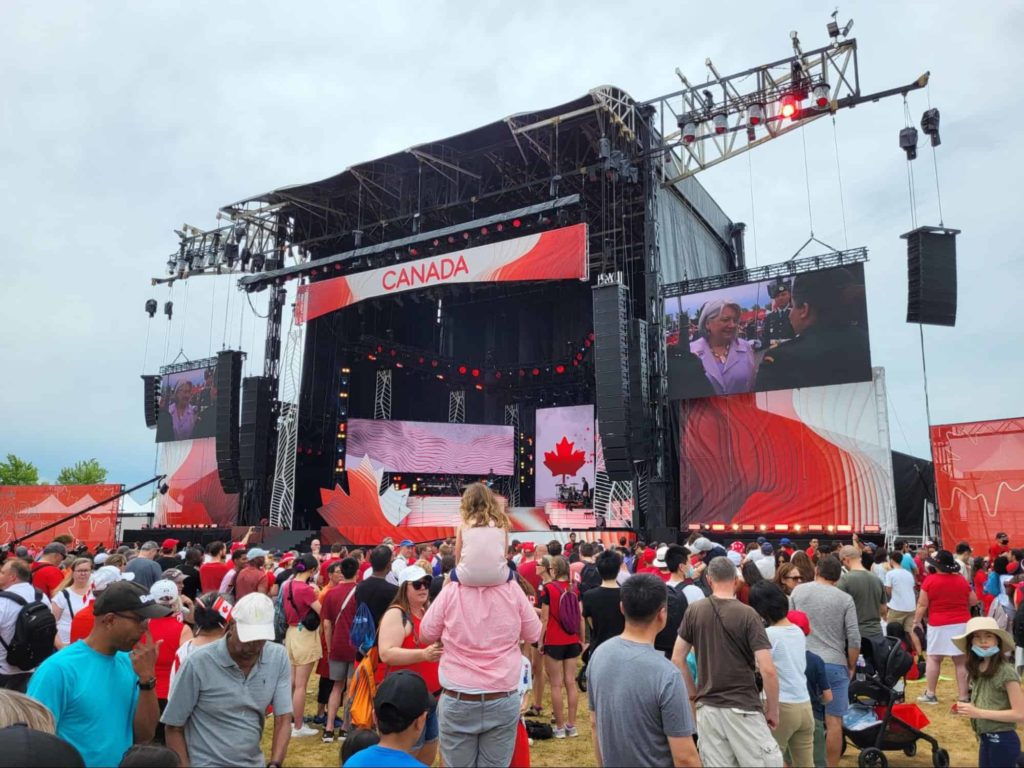 Although Parliament Hill has been the official site of Canada Day for over 50 years, construction moved the main festivities to LeBreton Flats Park and Place des Festivals Zibi in 2022.
The main stage at LeBreton Flats Park hosts the daytime ceremony and live evening show, highlighting athletes, music artists, and other inspiring Canadians from across the country.
In addition to the main programming, Tim Horton's spectacular Canada Day Fireworks is also held near LeBreton Flats Park and can be viewed there or from Place des festivals Zibi and the surrounding area.
However, the nation's biggest celebration holds a wide variety of events and fireworks displays around the city.
Ottawa Jazz Festival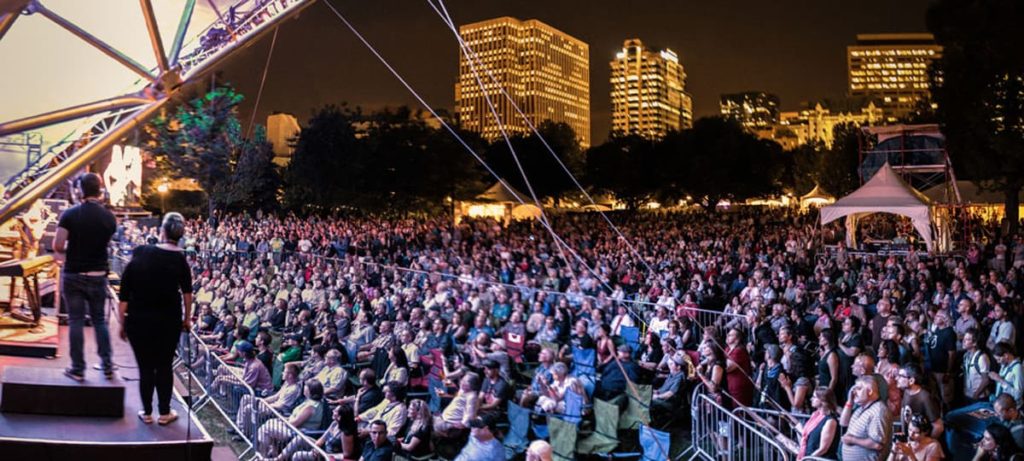 The TD Ottawa Jazz Festival is a 10-celebration of live performances at Marion Dewar Plaza at Ottawa City Hall.
Starting the last Friday in June and ending on the Canada Day weekend, Downtown Ottawa comes alive with the vibrant sounds of jazz, funk, soul, and more played by musicians from across Canada and around the world.
Colonel By Day
The civic holiday, which falls on the first Monday in August, became known as Colonel By Day in Ottawa in 1996.
This is in honor of Lieutenant Colonel John By who supervised the construction of the Rideau Canal and founded Bytown, which became the city of Ottawa.
Ottawa International Buskerfest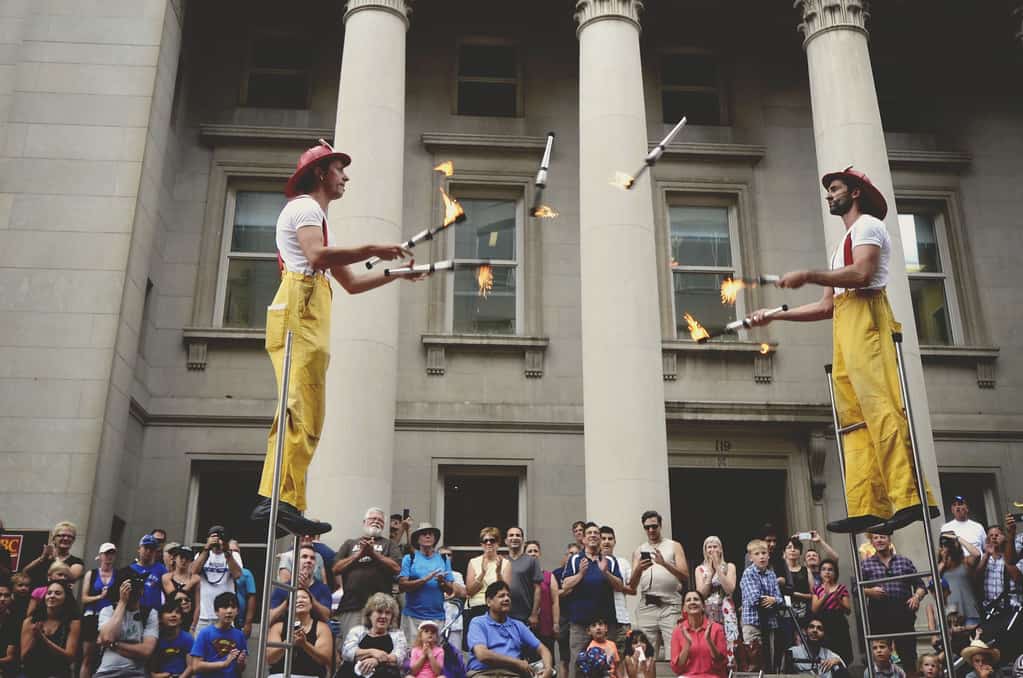 The annual Ottawa International Buskerfest comes to downtown Ottawa along Sparks Street from Kent Street to Elgin Street, hosting the biggest lineup of street performers from all over the world.
Firebreathers, face-painters, contortionists, clowns, comedians, jugglers, acrobats, magicians, and more, take over the streets with unorthodox entertainment on four stages.
Admission to this live event is free, but donations are appreciated.
Northern Lights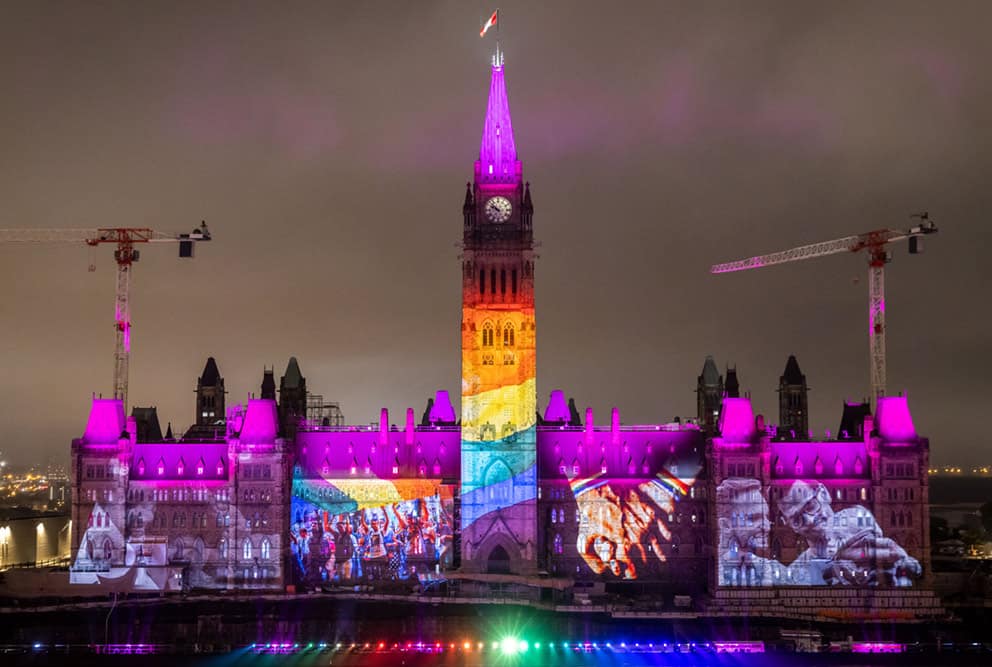 Colonel By Day falls right in the middle of the Northern Lights sound and light show on Parliament Hill.
From the beginning of July to the beginning of September, this free bilingual show combines innovative technology and distinct artistic styles to create a unique multimedia experience that brings to life key figures and events in Canadian history.
The show is updated every year to incorporate different Canadian milestones, and all are portrayed using evocative narration and original music amid the backdrop of the Parliament buildings.
Labour Day
Canadians have been celebrating Labour Day since 1894, but its origins began in 1872 when rallies were held in Toronto and Ottawa to celebrate the success of the Toronto printers' strike that won a shorter work day at a time when union activity was criminal.
Today, the first Monday in September marks the unofficial end of summer and the start of a new school year, but it's also a day to remember the hard-won achievements of the labor movement.
Bushels of Fun Down on the Farm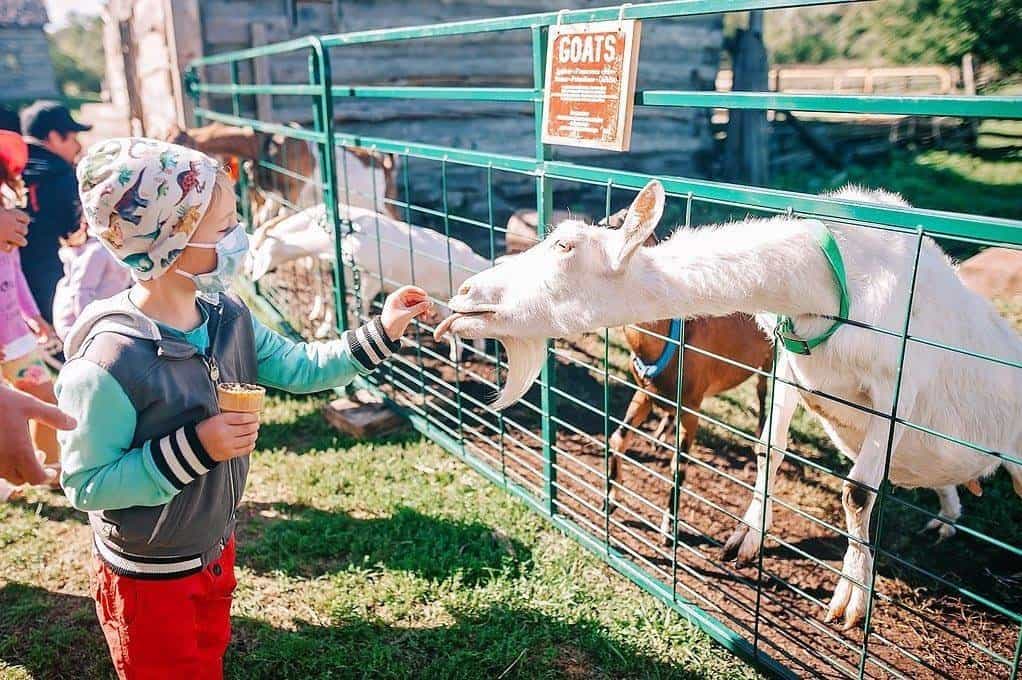 Labour Day weekend is the start of Fall Fun at the Log Farm. This family-friendly destination is a quaint country oasis located right in the heart of the city.
It's a unique experience that offers a glimpse into the past and allows visitors to find out what life was like on the farm in the 1800s.
Celebrate Labour Day and get ready for fall by taking in some of these highlights:
Find your way through the corn maze
Take a wagon ride
See the friendly farm animals, like sheep, cows, chickens, goats, horses, alpacas, and more
Take a walk in the woods down Scarecrow Lane
Visit the imaginary play areas and the famous corn sensory table in the kid's barn
Gatineau Hot Air Balloon Festival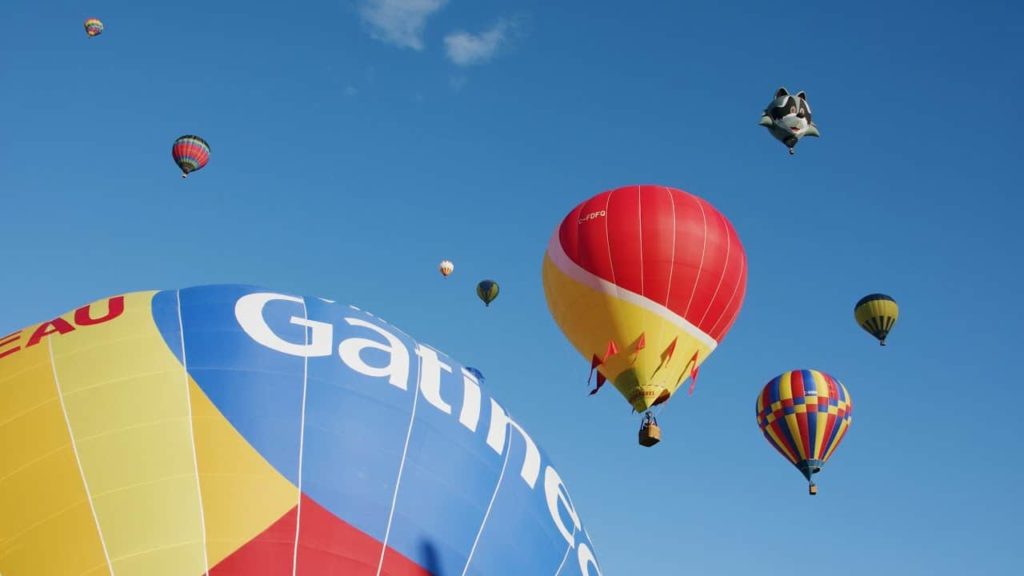 Labour Day is the final day of the Gatineau Hot Air Balloon Festival. Look up, and you'll see dozens of colorful hot air balloons in all shapes and sizes lighting up the sky over Gatineau's Parc de la Baie.
You can take a ride in one too. The festival also offers live entertainment for kids and adults, a carnival amusement park, fireworks, buskers, and more!
Conclusion
Ottawa has a handful of long weekends, each filled with various different events and celebrations. If you're looking for the perfect place to enjoy your off days from work, there's nowhere better to go than in Canada's capital city.