Ultimate Guide for Visiting Éco-Odyssée
Nestled in the heart of Gatineau Park, Éco-Odyssée offers a unique and unforgettable outdoor experience that is perfect for nature lovers of all ages. What's more, Gatineau Park is just across the river from Ottawa, so it's easy to get to!
From serene paddleboat rides to immersive explorations of lush wetlands, Éco-Odyssée is a must-visit destination for anyone looking to escape the hustle and bustle of city life. Here, you can disconnect from the artificial and instead connect with the natural world.
My own experience at Éco-Odyssée was nothing short of magical as I was immediately struck by the beauty of the park's tranquil waterways and the abundance of wildlife. As I paddled through the maze of canals and marshes, I felt a sense of peace and serenity.
Whether you're looking to spend a relaxing afternoon with family and friends or embark on a solo adventure into the heart of nature, Éco-Odyssée has something for everyone.
What is Éco-Odyssée?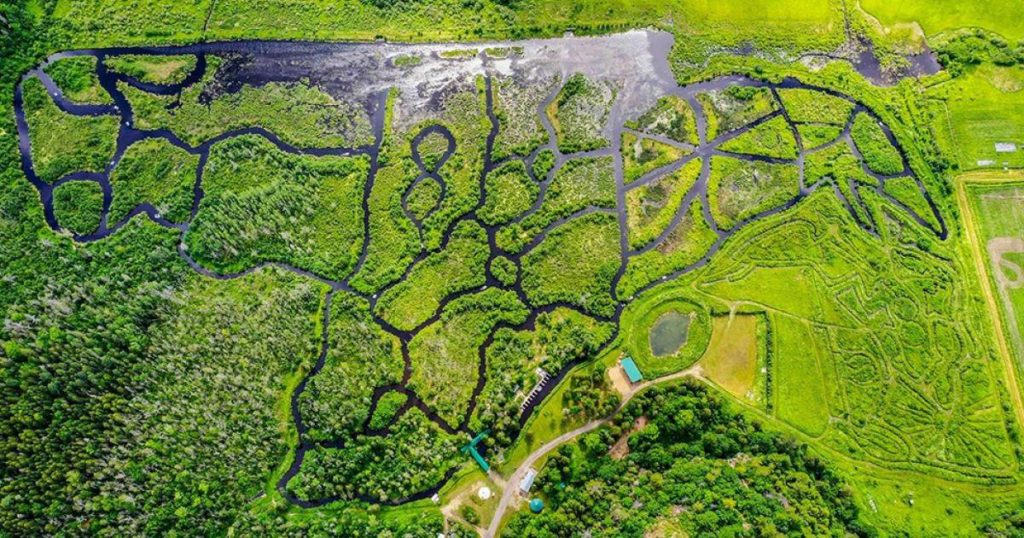 Éco-Odyssée is an eco-tourism attraction that offers visitors the opportunity to explore local waterways and wetlands. You can get through by paddle boat through a network of channels and water paths.
The site features 60 navigable water hectares and more than six kilometers of water trails and provides visitors with a unique and immersive outdoor experience.
You can choose from a variety of paddle boat routes, each with different themes and levels of difficulty, and you can also enjoy walking trails, picnic areas, and a playground.
Éco-Odyssée aims to promote environmental conservation and education through its eco-friendly and sustainable practices. Plus, through its interpretation of the natural and cultural heritage of the region.
Where is Éco-Odyssée?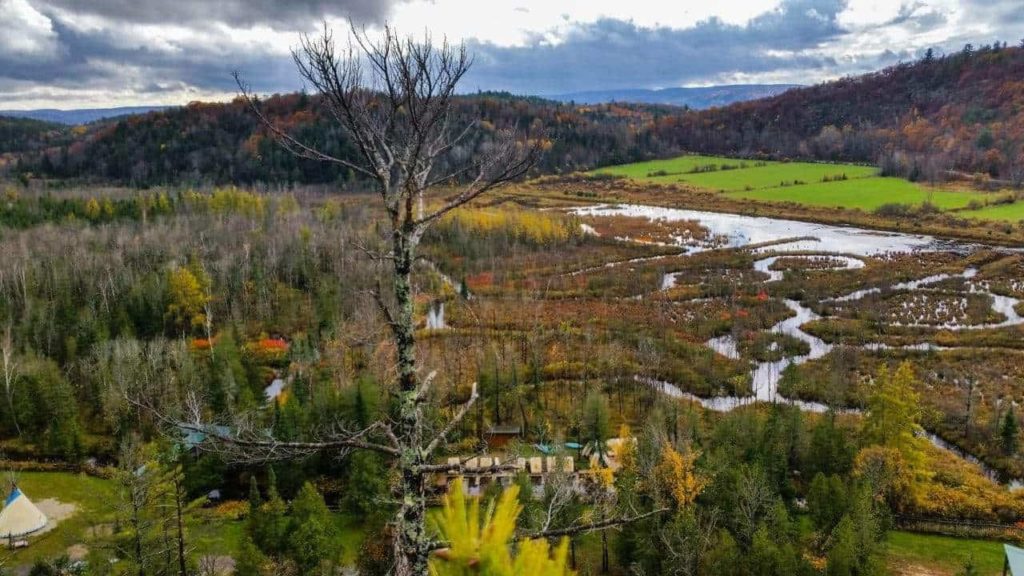 Éco-Odyssée is located in Gatineau Park, Quebec, and can be specifically found in the village of Wakefield. It's approximately a 30-minute drive away from downtown Ottawa. 
Operating Hours and Rates of Éco-Odyssée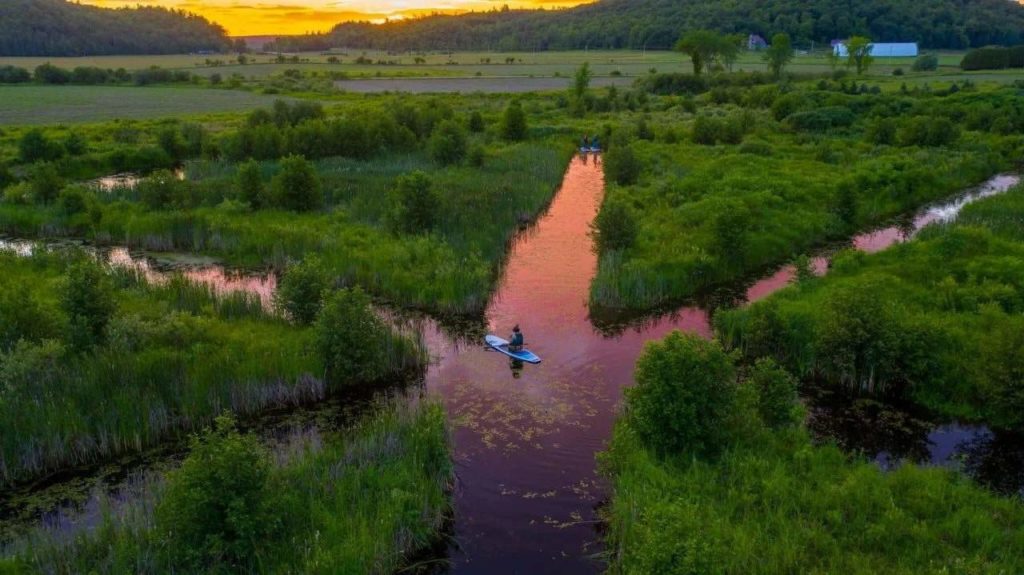 From June to September, Éco-Odyssée is open daily from 9:00 AM – 5:00 PM. From May to October, it's also open on weekends from 10:00 AM – 4:00 PM.
And from October to November, Éco-Odyssée is open during weekends only from 10:00 AM – 4:00 PM.
For a detailed look at the rates of Éco-Odyssée, you may refer to the table below:
Activity
Pricing
Site Access (Summer)
1 Adult: $8

1 Child (under 14 years old): $4

Water Maze (Summer)
*Price per watercraft

Pedal Boat: $60 / pedal boat

3 - Person Canoe: $60 / canoe

2 - Person Canoe: $50.00 / canoe

Kayak: $45 / kayak

Paddle Board (SUP): $45 / paddle board

*Prices depend on the season and the adventure selected*

Bows & Arrows (Summer)
Lone Wolf – 1 person: $15

The Small Horde – 4 people: $65

The Horde – 8 people: $100

The Horde – 10 people: $120

The Horde – 12 people: $140

The Horde – 14 people: $160

The Gust – 16 people: $180

Private Game – min. of 4 people: $222

Éco-noctura (Summer)
1 Adult: $18

1 Child (under 14 years old): $15

Site Access/Snowshoe Trails (Winter)
Adult: $8

Child (under 14 years old): $5

Ice Skating in the Maze
Adult: $20

Child (under 14 years old): $15

Young child (under 3 years old): FREE

Rentals
Skate Sharpening: $8

Rental of a learning support: $8

Skating at Éco-Odyssée (Winter Package)
$226+
Lodging in the Evasion (Winter Package)
$137+
Lodging at the Modern Lodge Le Bellevue (Winter Package)
$137+
Family Skating Package
$42 - $72
Valentine's Day Package - 2 Adults
$45+
Glamping & Adventure (Summer Package)
$251+
Splashing around in a Water Maze (Summer Package)
$253+
Summer Adventure in Wakefield (Summer Package)
$238+
On Edge of the Valleys (Summer Package)
$269+
The Twilight + Éco-noctura (Summer Package)
Paddleboard (1 person) + Éco-Noctura: $57

2-Person Canoe + Éco-Noctura: $75

3-Person Canoe + Éco-Noctura: $95

Pedal Boat (2 Adults) + Éco-Noctura: $90

Family Pedal Boat (2 Adults & 2 Children) + Éco-Noctura: $115

The Wanderer + Éco-noctura (Summer Package)
Paddleboard (1 Person) + Éco-Noctura: $52

2-Person Canoe + Éco-Noctura: $70

3-Person Canoe + Éco-Noctura: $90

Pedal Boat (2 Adults) + Éco-Noctura: $85

Family Pedal Boat (2 Adults & 2 Children) + Éco-Noctura: $110
Things to Do in Éco-Odyssée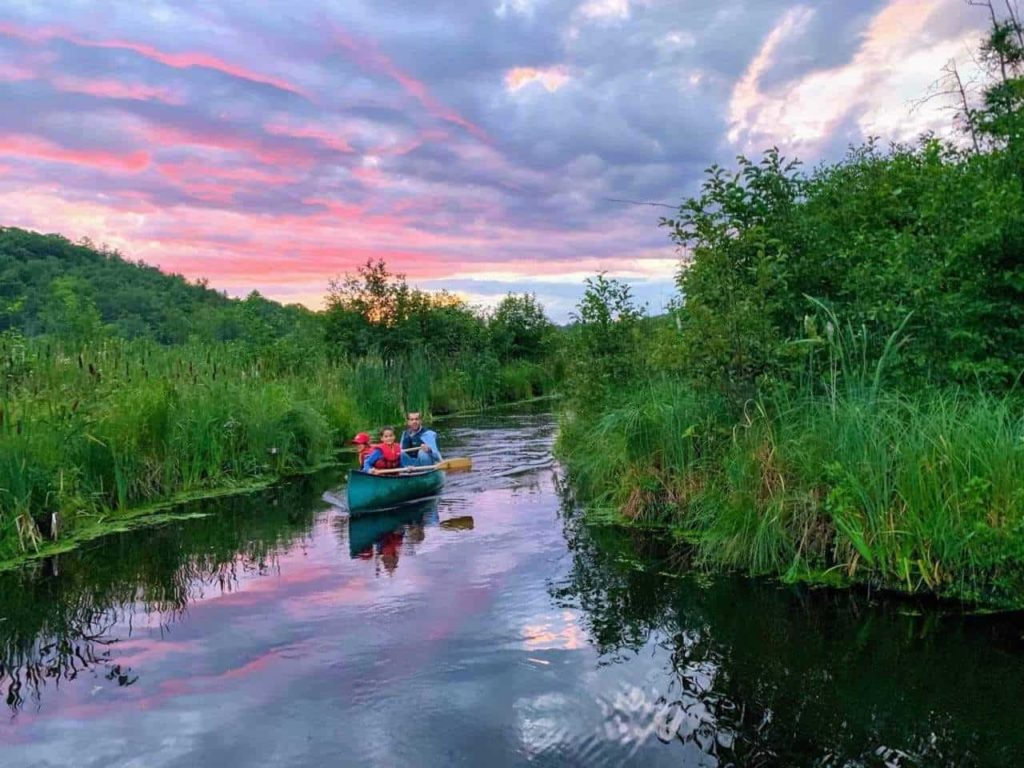 As I walk through the lush forests surrounding Éco-Odyssée, I can't help but feel invigorated and energized. The fresh air and sounds of nature all around me are a welcome respite from the hustle and bustle of city life.
One of my favorite activities at Éco-Odyssée is taking a pedal boat tour through the maze of waterways. As I glide along the calm waters, the natural beauty all around me is almost overwhelming, yet also puts me at complete ease.
What's great about Éco-Odyssée is just how many available activities there are for every type of person. So regardless of what you're into, there's no doubt that there's definitely something here for you!
Winter Activities
Go ice skating in the daytime.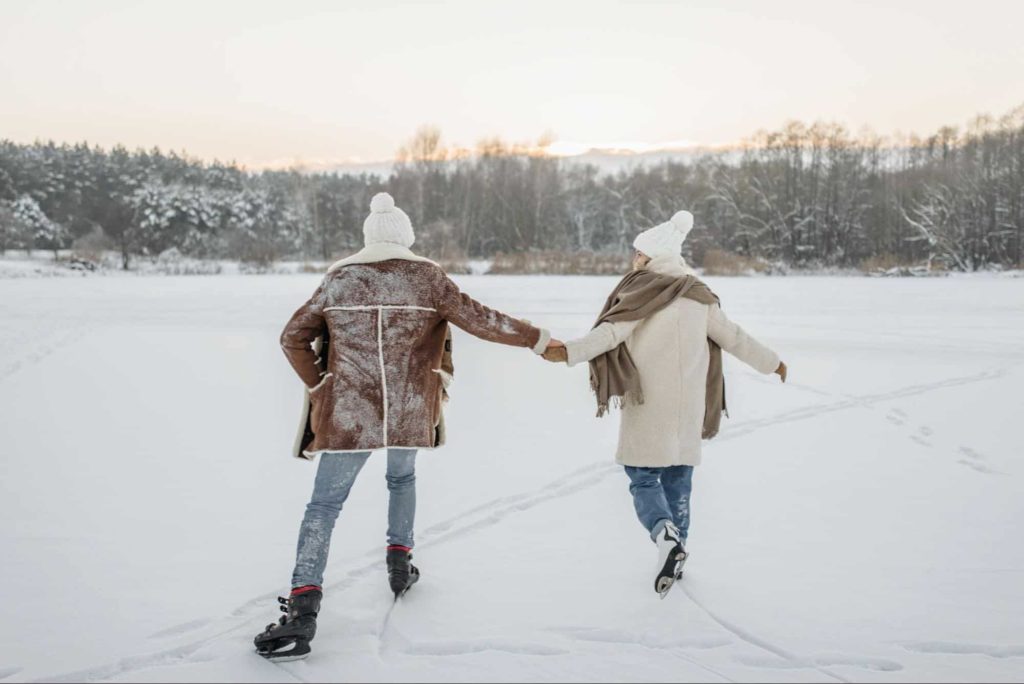 Glide through a winter wonderland and embark on an enchanting journey where you can experience the beauty of nature in a unique and thrilling way. Skate on icy trails that wind through the pristine ecosystems of marshes, forests, and fields.
With up to 5 km of groomed trails, get ready for a truly magical forest skating experience that is perfect for individuals, couples, and families alike.
Skate during the night.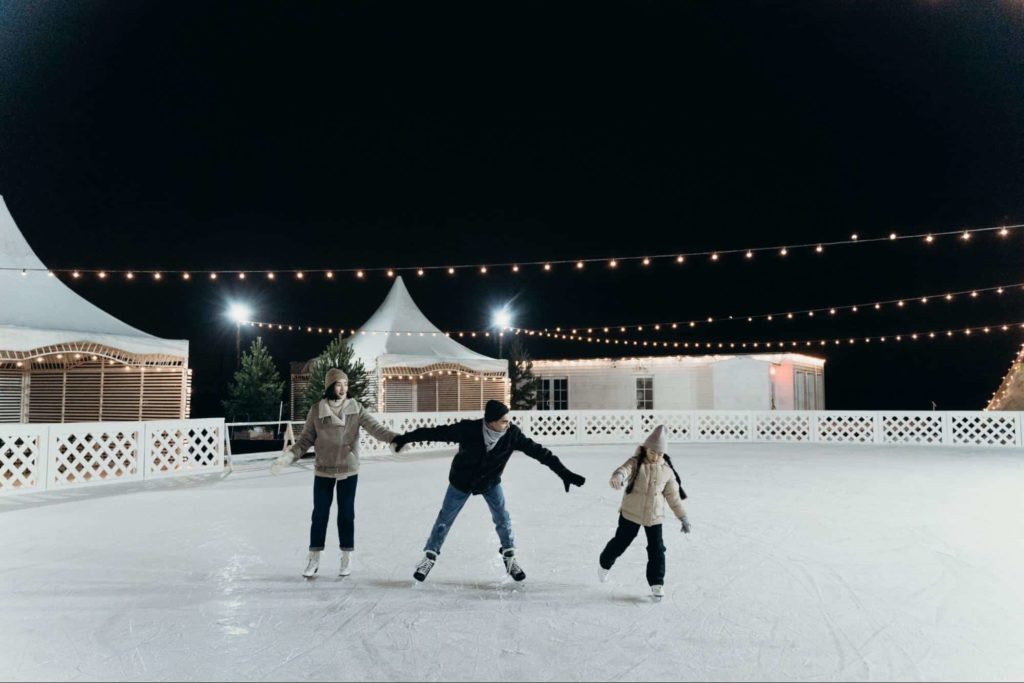 Experience the magic of skating under the stars at Éco-Odyssée, where the skating trails are illuminated every evening from Thursday to Sunday. This creates an enchanting atmosphere that you won't want to miss for anything in the world.
But wait, there's more! Thursday nights are extra special, with live musical performances to keep the good times rolling. It's honestly one of the best activities to make unforgettable moments with your loved ones.
Journey through the Walking Labyrinth.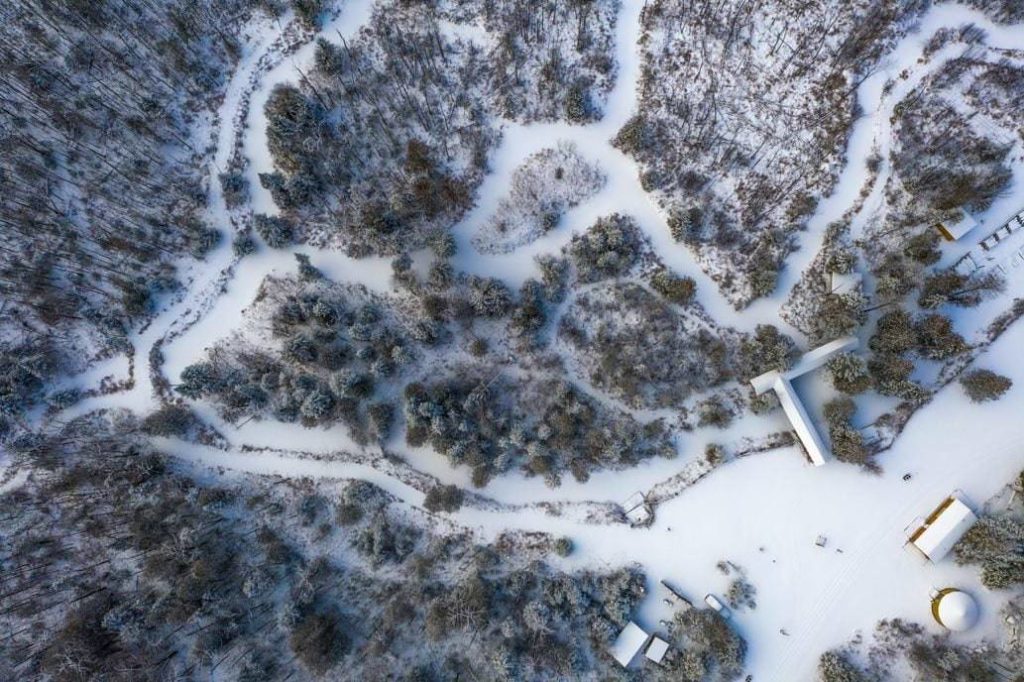 In winter, you can enjoy a refreshing time at the walking labyrinth, which offers an intriguing challenge. Instead of walls, the maze is cleverly designed with small water channels and natural vegetation, providing a challenging yet exciting adventure for all.
The good news is that there's no need to make a reservation, and the activity is free if you've booked another adventure at the park. So don't miss the opportunity to experience nature and the thrill of the unknown as you navigate through the maze!
Stroll along the walking trails.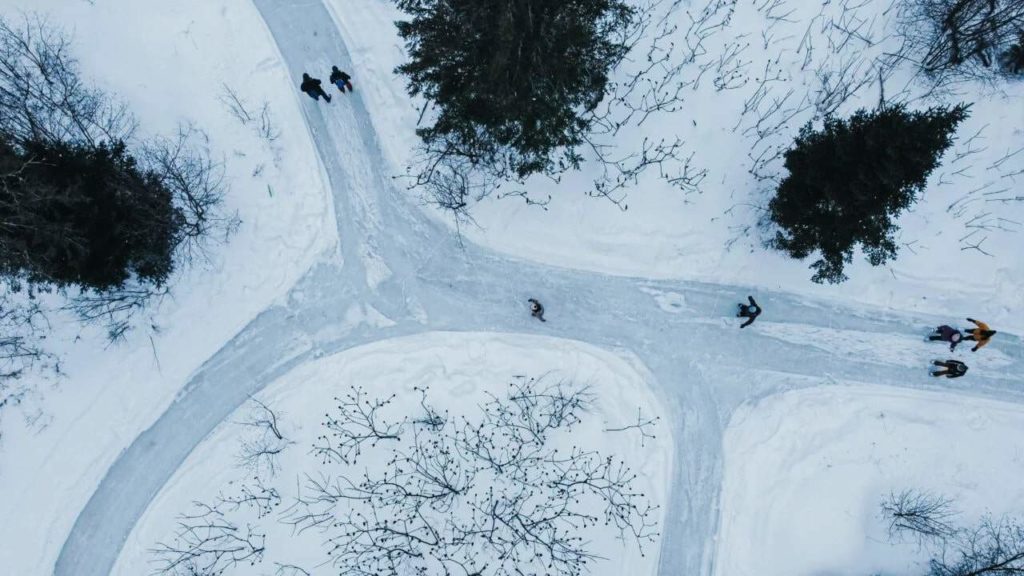 Embrace the snowy beauty of Éco-Odyssée by exploring this winter wonderland on snowshoes! The 1.5km hiking trails offer a scenic adventure through the pristine wilderness.
Feel the crunch of snow under your feet and take in the fresh, crisp air. It's the perfect way to spend a winter day!
Snowshoe rentals are available on-site, making it easy and convenient to enjoy this fun activity.
Summer Activities
Paddle through the maze along the water.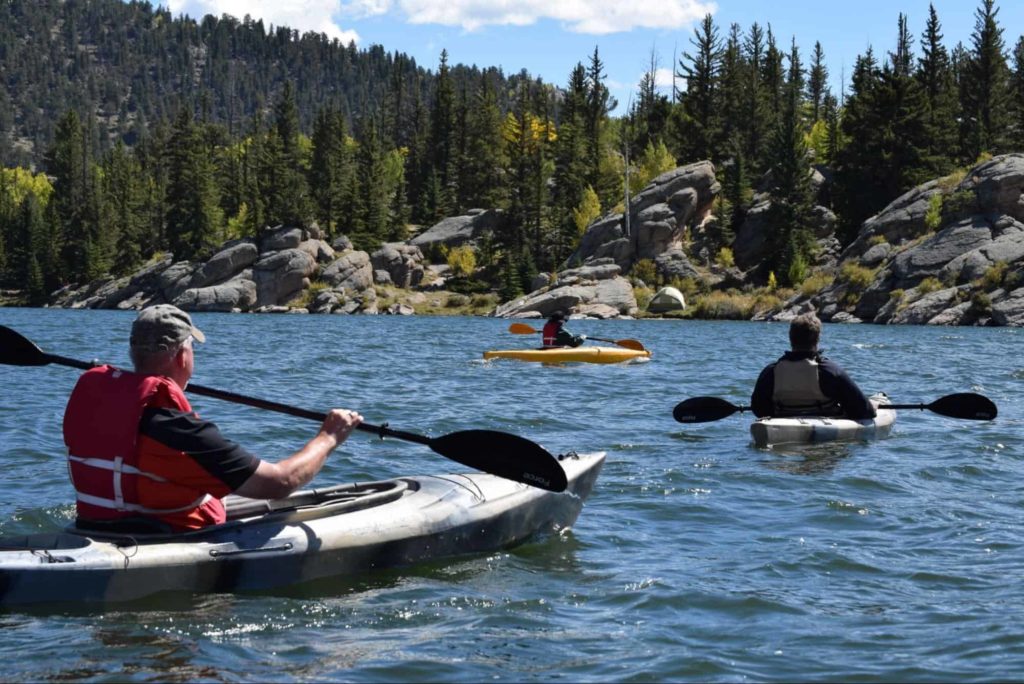 Explore the mesmerizing waterways of Éco-Odyssée in a unique way – by paddle boat, canoe, stand-up paddleboard, or kayak! This allows you to navigate through the maze by following simple instructions on-site to enjoy all its different facets.
Get ready to soak up the beautiful scenery, breathe in the fresh air, and enjoy the tranquility of nature as you paddle through the winding waterways. Don't be afraid to take some stunning pictures during the ride!
Try out Bows and Arrows.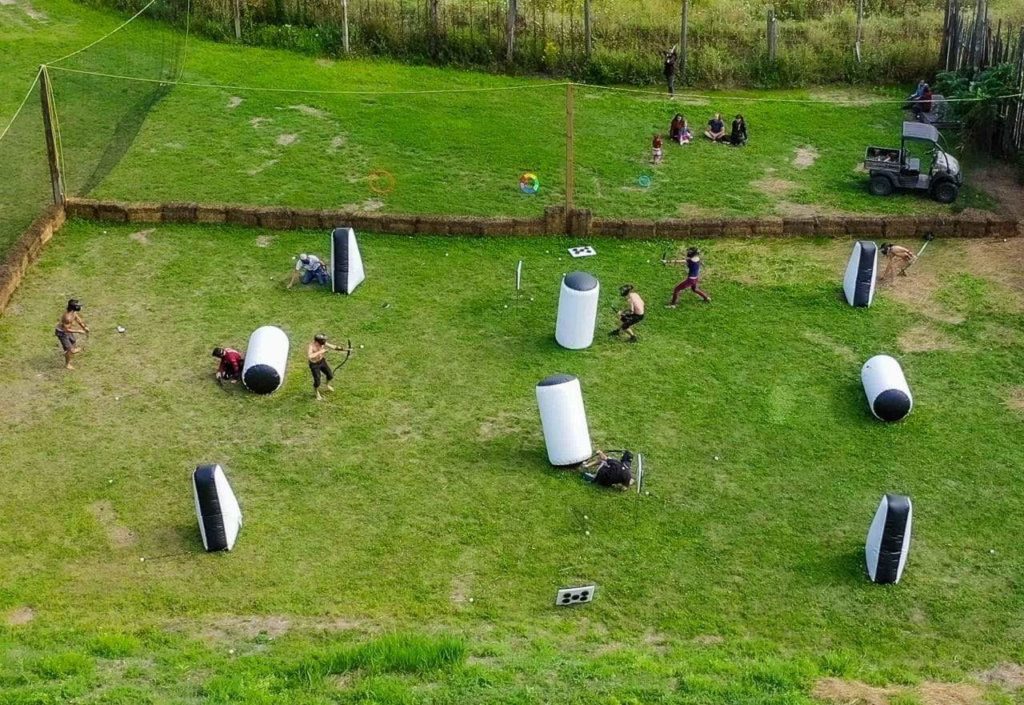 Looking for a fun and exciting group activity to enjoy in nature? Look no further than Bows and Arrows!
This thrilling game requires agility, quick reflexes, and a sense of adventure. Whether you're playing with friends or meeting new people, you're sure to have a blast!
Join in on the excitement of this popular sport and experience the rush of aiming and shooting with a bow and arrow in a natural setting.
Visit Eco-Noctura.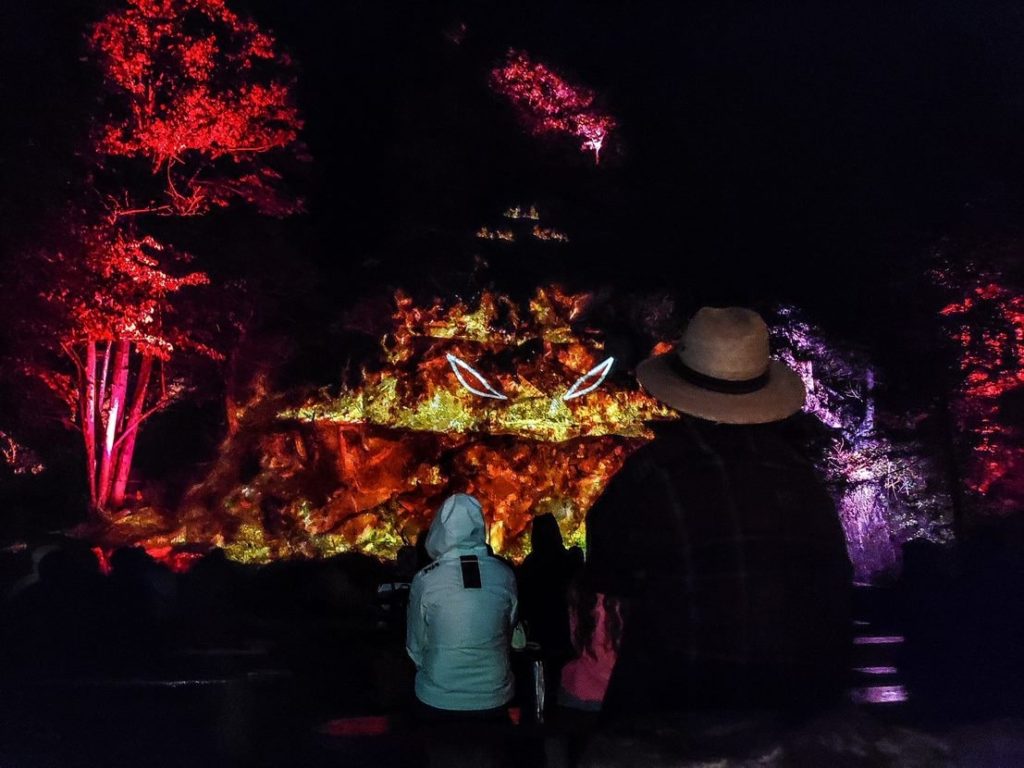 As the sun sets, Éco-Odyssée's enchanting forest transforms into a captivating world of wonder. It's said that the stone cliff's face comes to life to share the legendary tale of Amik the Beaver.
Delve into the extraordinary stories of the water maze's iconic animals as they unfold in a grand and magical show. Take an unforgettable journey into the heart of nature, where storytelling and nature combine to create an immersive and captivating experience.
Go on a treasure hunt.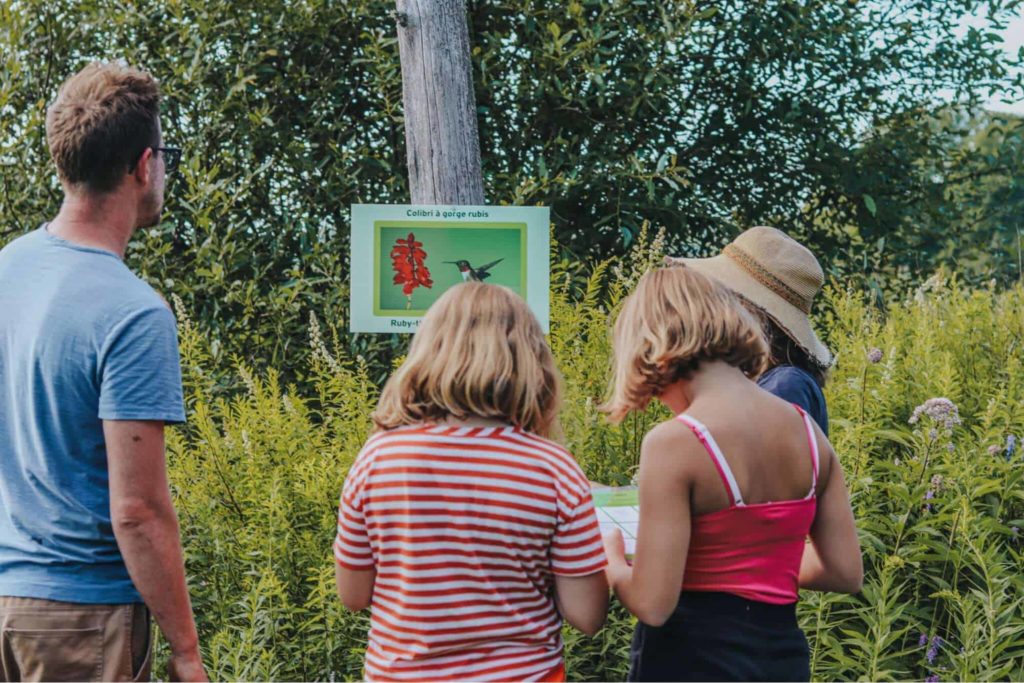 If you want a fun and educational activity that you can also do with your kids, look no further than the Treasure Hunt! Your little ones will love exploring the park and learning about nature conservation, wildlife, and the park itself.
This exciting activity is a great way to spend the day with your family while also fostering a love and appreciation for the environment. With ten questions to answer, the Treasure Hunt is sure to keep you and your kids engaged and entertained.
Go beaver-watching.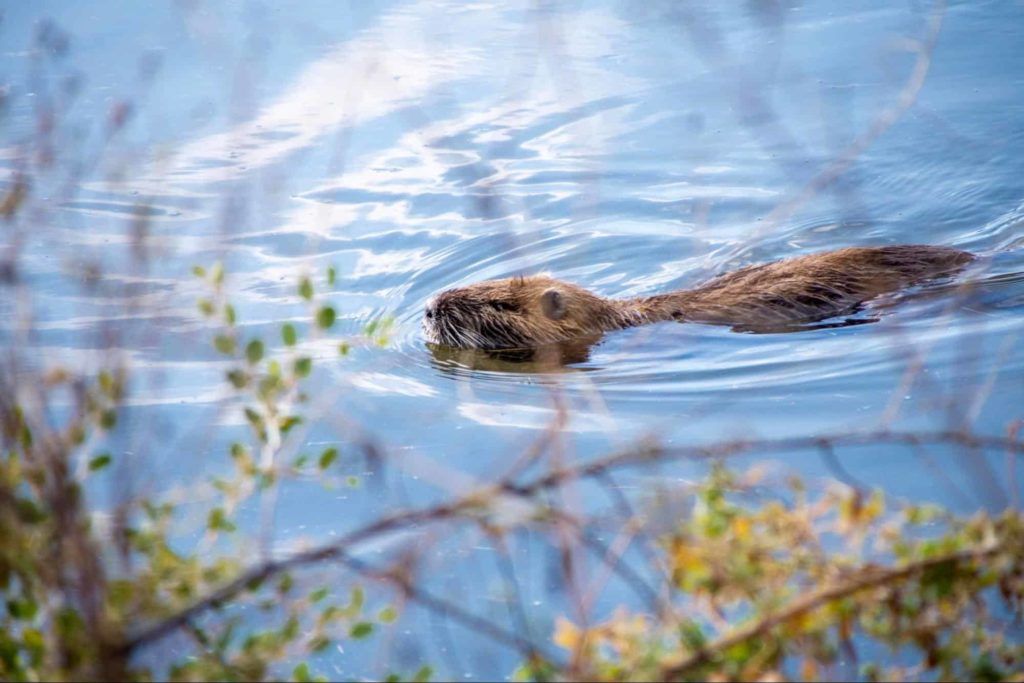 As the sun starts to set, an exciting opportunity presents itself for nature lovers at Éco-Odyssée. Witness the adorable family beavers as they emerge from their lodges and venture out into the park to forage for food.
So don't forget to bring your cameras and get ready to capture some unforgettable moments of these furry creatures in their natural habitat.
Have a picnic.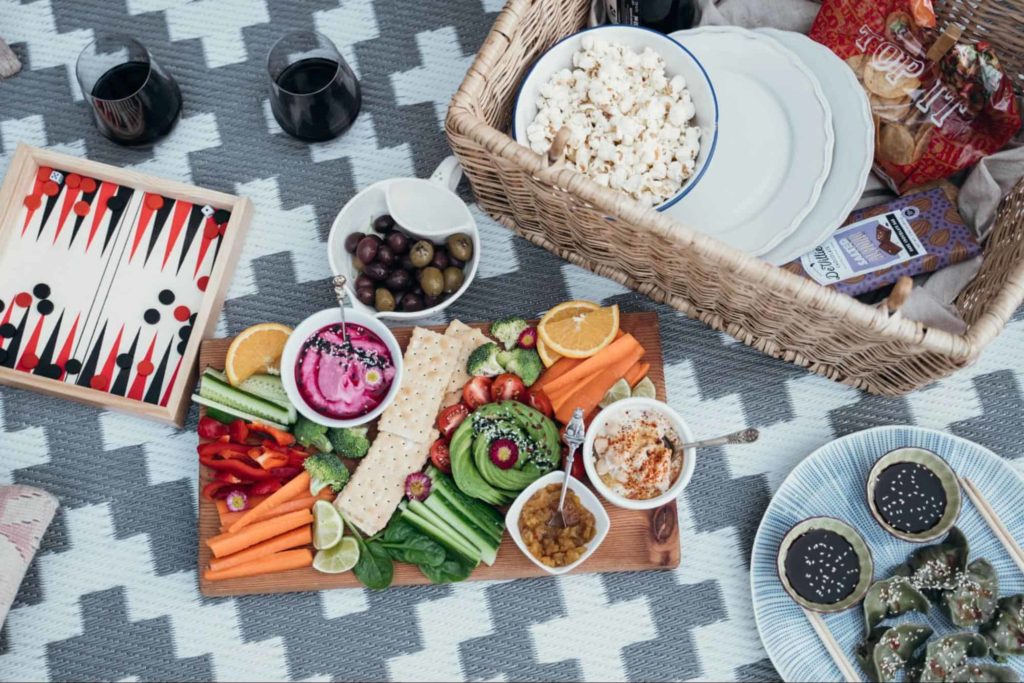 If you get hungry during all the fun, there are a variety of picnic areas to suit your needs, including a covered area that provides protection from both the sun and rain.
Whether you're with a small group of friends or a large school group of up to 60 young people, Éco-Odyssée has you covered. So don't be afraid to pack even just sandwiches, bottled water, or juice, and take a break before jumping into the fray again.
Warm up by the campfire.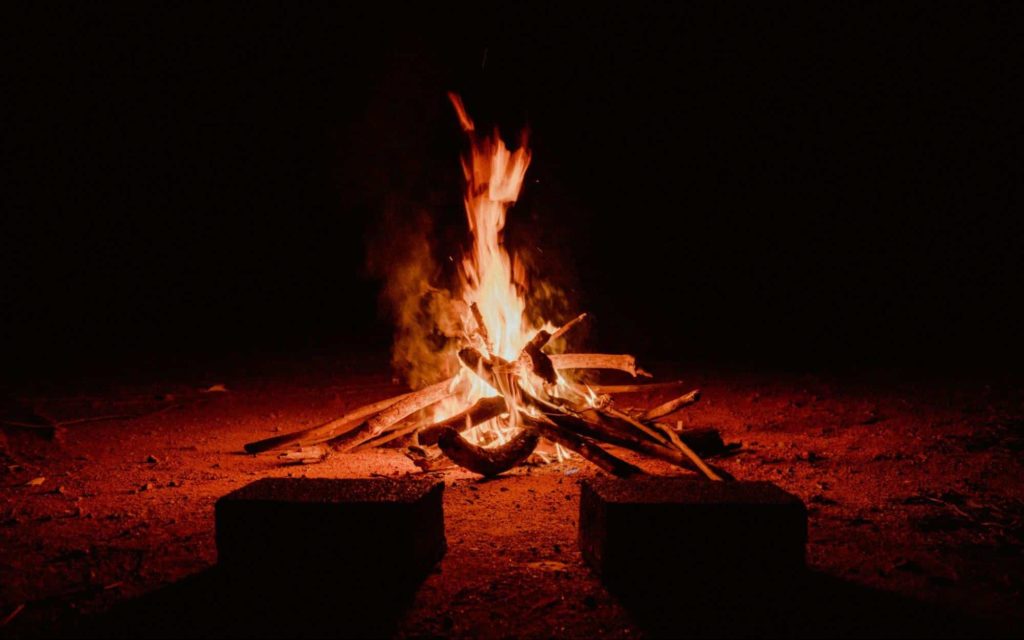 After a full day of excitement, you can gather around the warmth of a cozy campfire located near the large tipi. Even if you just need to warm up on a chilly snow day, the campfire area is perfect for roasting marshmallows and sharing stories with everyone.
Please just note that a special reservation is required for evening campfire activities.
Play some volleyball.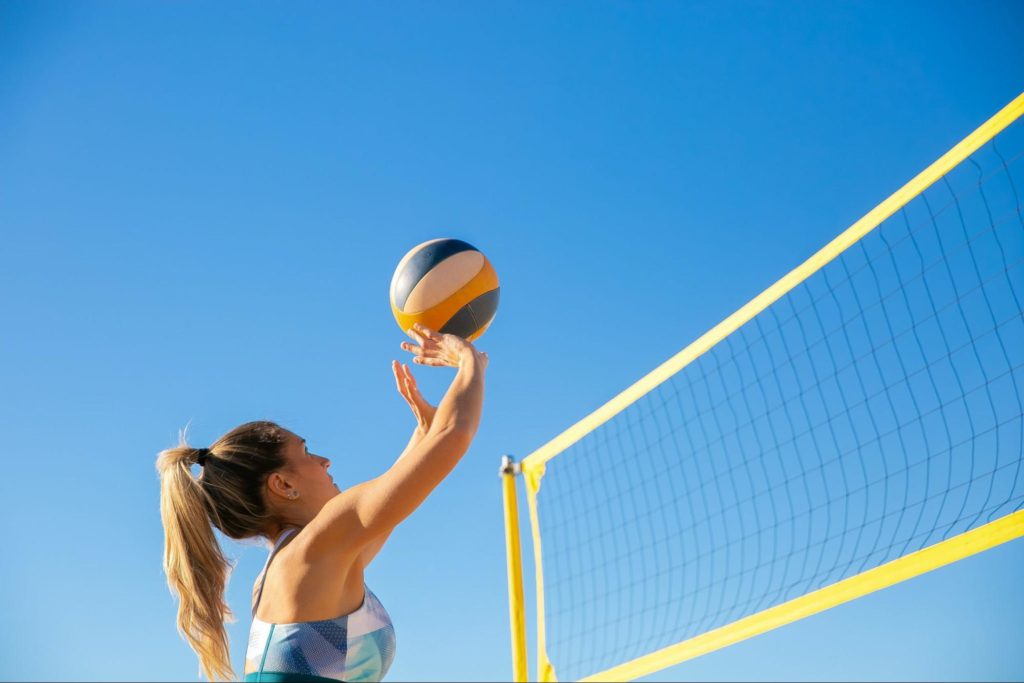 If you're looking for something to do in between activities, why not play a game of volleyball on the sand court located next to the covered picnic area? Éco-Odyssée will provide the volleyball, so all you need to bring is your competitive spirit!
Where to Stay at Éco-Odyssée
Visitors of Éco-Odyssée in Gatineau Park can stay at the Le Bellevue if they plan on staying for more than a day. Le Bellevue offers glamping, modern lodges, and woodland cottage options for you during your stay.
Depending on the type of environment you prefer, you can get a place at the top of a mountain or somewhere in the middle of a forest.
You can find Le Bellevue at 3 Chem. des Bois-Francs, Wakefield, QC J0X 3G0, Canada. You can also contact them through their official website or give them a call at 1 (438) 499-9040.
Where to Eat at Éco-Odyssée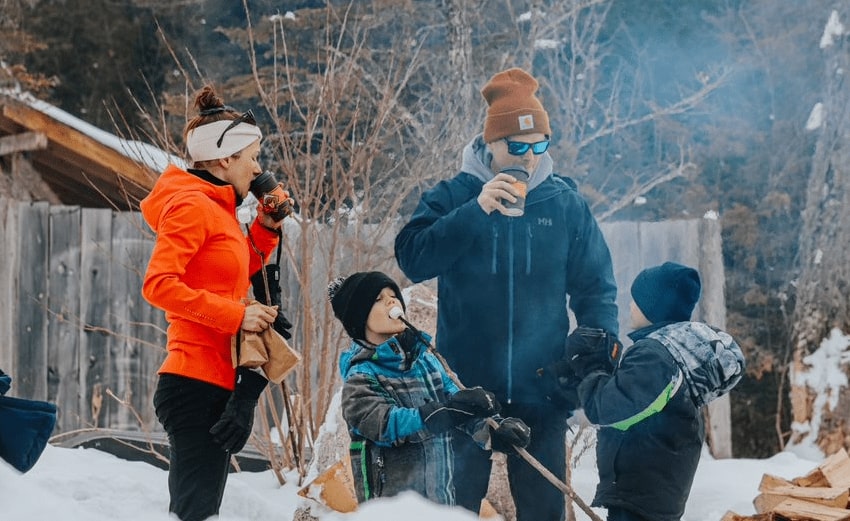 Snack Shack by Éco-Odyssée is the nature park's very own eatery that offers a variety of snacks and refreshments for visitors to enjoy during their visit. The menu includes items such as hot dogs, sandwiches, ice cream, chips, and drinks.
This snack stand provides a convenient option for those who want to grab a quick bite to eat without having to leave the park. It's open during the park's operating hours and is accessible to all visitors.
Reminders When Visiting Éco-Odyssée
Before you book your tickets to Éco-Odyssée, here are some important things you need to keep in mind:
Please do not bring your domestic animals to the site.
Skate rentals are not available at this time of year.
For your safety and the safety of others, drugs and alcohol are not permitted on any of the watercraft.
Please note that the facilities are not wheelchair accessible.
Adventure awaits even for the littlest ones! Infants as young as 6 months old are welcome to join the fun.