The CPKC Holiday Train Returns in 2023 to Light up November with Holiday Cheer
The Holiday Train is back for its 25th cross-continent tour this November, and it'll be its first journey as Canadian Pacific Kansas City (CPKC) since the merger. Two decorated trains will travel through the U.S. and Canada to spread holiday cheer.
Events are free, and attendees are encouraged to donate to local food banks to help those in need. The Canadian Train leaves Maine on November 21, visiting Maine, Quebec, and ending in Port Moody, British Columbia, on December 18.
Each event includes live music, brief food bank presentations, and stunningly decorated trains. The trains don't offer rides and host approximately 191 shows.
The CP Holiday Train program, launched in 1999, has raised over C$22.5 million and collected 5 million pounds of food for food banks in North America. CPKC is the only transnational railway linking Canada, the U.S., and México.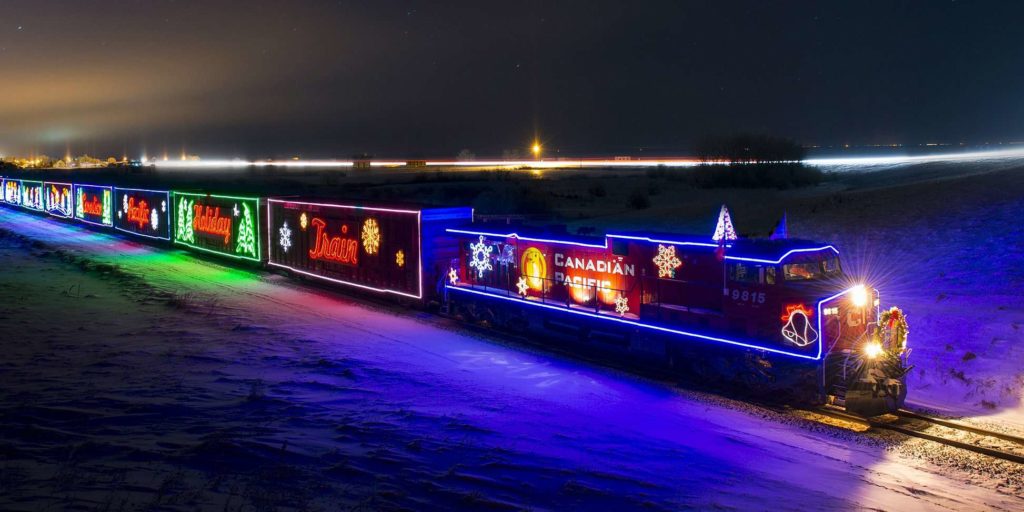 Don't waste the chance to see stunning performances up close and help those in need with your kind donations this year. We promise you, there's nothing better than getting to watch a good show knowing that you've contributed something for the greater good!
For a detailed look at the train's schedule when it stops in Ottawa, take a look at the table below:
| Where | When |
| --- | --- |
| Finch — Tracks adjacent to James Street between Williams Street and George Street | Monday, November 27, 2023 | 2:30 PM 2:45 PM – 3:15 PM |
| Merrickville — 103 East Broadway and County Road 2, south side of the railway crossing near Bay Street | Monday, November 27, 2023 | 4:45 PM 5:00 PM – 5:30 PM |
| Smiths Falls — Smiths Falls CPKC train station (63 Victoria Street) | Monday, November 27, 2023 | 6:20 PM 6:30 PM – 7:00 PM |
| Perth — CPKC rail yard at Herriott Street | Monday, November 27, 2023 | 7:40 PM 8:00 PM – 8:30 PM |