Into firing? Here are the top 5 places with amazing shooting ranges in Ottawa.
Are you looking for a new way to pass the time and want to try your hand at channeling your inner sharpshooter? As someone who's been known to hit the bullseye (occasionally) myself, I'm excited to share with you the best shooting ranges in Ottawa!
Whether you're a seasoned shooter or a complete beginner, Ottawa's gun ranges offer a range of experiences, from target practice to tactical training. With so many options to choose from, it can be tough to know where to start.
That's why we've put together this guide to the best shooting ranges in Ottawa, so you can find the perfect spot to let off some steam and sharpen your shooting skills. So, let's lock and load, shall we?
RA Gun Club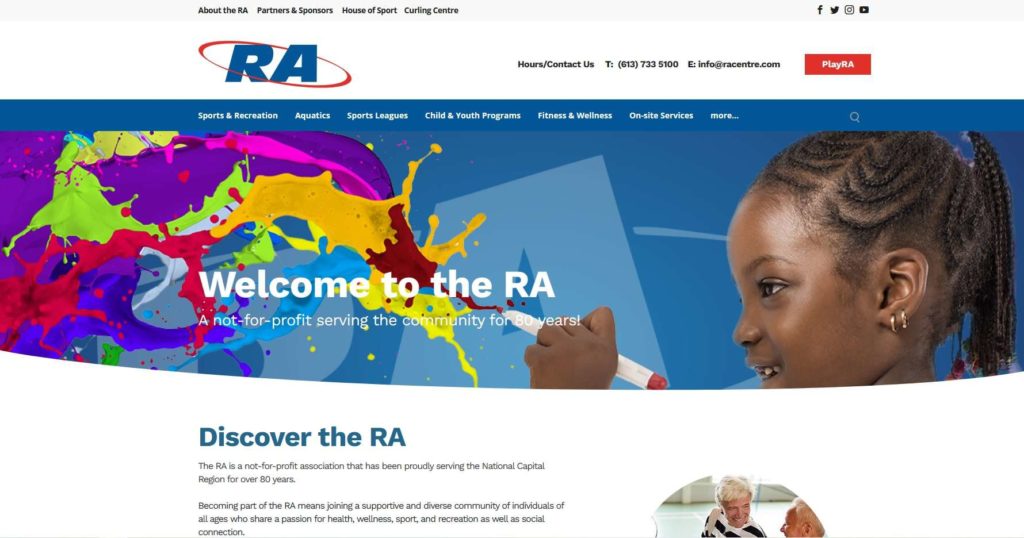 ADDRESS: 2451 Riverside Drive, Ottawa, ON K1H 7X7
CONTACT DETAILS: (613) 733-5100 | [email protected]
WEBSITE: https://www.racentre.com/
The RA Gun Club holds its activities and events at the RA Center, a recreation and activity center in Ottawa. The RA itself is a not-for-profit association that's been proudly serving the National Capital Region for over 80 years.
What sets the RAGC apart from other shooting ranges in Ottawa is its indoor range, which is the only one in the city. This allows for year-round shooting practice regardless of weather conditions.
The RAGC caters to both rifle and pistol shooters, offering a range of different disciplines to practice. It even offers a number of popular Olympic shooting events for those looking to compete at a higher level.
The RAGC also offers the Canadian Firearms Safety Course (CFSC) and the Canadian Restricted Firearms Safety Course (CRFSC) monthly at the RA Centre. This is a great opportunity for those who are just starting out or want to get their firearms license.
It's no problem even if you don't own a firearm because the RAGC has a variety of firearms available for member use under club supervision at no extra charge. From .22 LR single-shot target rifles to air rifles and a range of pistols and revolvers.
Eye and ear protection is mandatory but is thankfully provided by the club. All you need to purchase are the targets and ammunition, both of which are available at the range.
You might be wondering if you need your PAL to join the RA Gun Club, and the answer is no. However, you're required to receive it or start the process of receiving it within the first three months of your membership.
PAL is the minimal course to own a firearm or purchase ammunition in Canada.
Members who only participate in air rifle and/or air pistol shooting disciplines and have no need to use club firearms are exempt from the PAL requirement. But you must still register for and complete the respective internal club safety course(s).
| Service | Rates |
| --- | --- |
| Adult Full Membership (1 Year) | $320 |
| Adult IPSC Membership (Nov. 1 - Apr. 30) | $180 (Full Season) |
| Junior Membership (12 - 17 Years Old) | $80 (Half Season) |
Stittsville Shooting Ranges Inc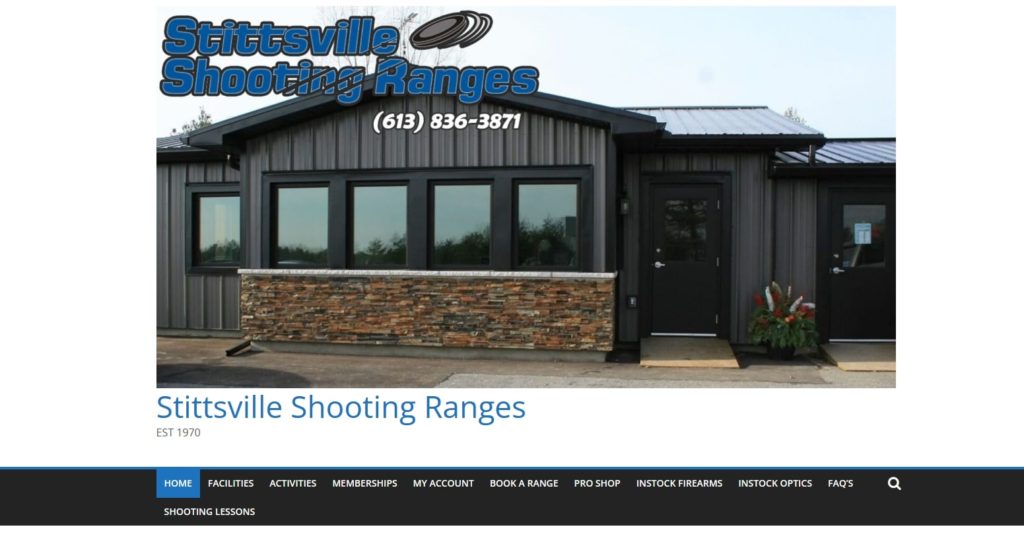 ADDRESS: 7265 Fernbank Rd, Stittsville, ON K2S 1B6, Canada
CONTACT DETAILS: (613) 836-3871
WEBSITE: https://stittsvilleshootingranges.com/
If you're looking for a shooting range in Ottawa, Stittsville Shooting Ranges Inc should definitely be on your list. I recently had the opportunity to check out this place, and I was thoroughly impressed.
Firstly, I appreciated how safety-conscious it is with range bookings being mandatory, and it limits the number of guests you can bring to one person to ensure safety.
Plus, the knowledgeable staff is always available to answer any questions you may have, which is especially great if you're a beginner.
The onsite pro shop has everything you need to get started, from firearms to ammunition, targets, range equipment, and reloading supplies. And if you can't find what you're looking for, the staff can even special order it for you from its suppliers.
Stittsville Shooting Ranges offers three types of shotgun shooting: Skeet, Trap, and 5 Stand. Skeet is a recreational and competitive activity where clay targets are thrown from two machines, and you have to shoot a total of 25 targets.
Trap is another recreational and competitive activity where clay targets are thrown from a single machine in a bunker in front of the shooter. 5 Stand is a more hunting-like experience where different types of targets roll across the ground.
It's always great to have options, and Stittsville Shooting Ranges definitely provides a lot for you to choose from and try out.
Shooters can practice their accuracy with rifles, and they offer different types of firearms for this, including bolt action, semi-auto, lever action, and even black powder. It also allows handgun shooting, and the two most common types are semi-auto and revolver.
However, before using handguns, everyone must complete their onsite handgun safety course.
| Service | Rates |
| --- | --- |
| Skeet | $10.62 |
| Trap | $10.62 |
| 5 Stand | $23.89 |
| Rifle Range Booking | $17.70 |
| Handgun Range Booking | $17.70 |
| Archery | $13.27 |
In The Air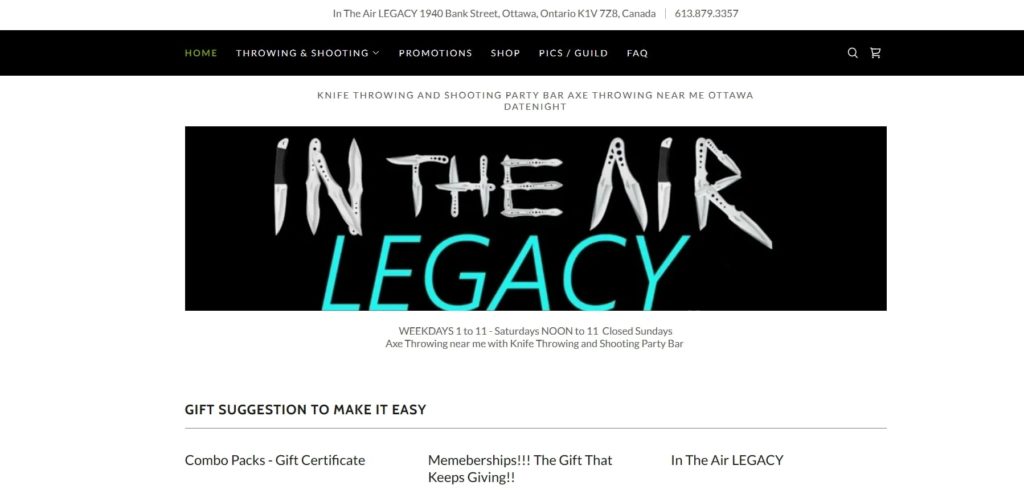 ADDRESS: 1940 Bank St, Ottawa, ON K1V 7Z8, Canada
CONTACT DETAILS: +1 (613) 879-3357
WEBSITE: https://intheairguild.com/
Are you looking for a unique, adrenaline-pumping experience that doesn't require commitment from the start? Look no further than In The Air's BB Gun Ultra!
First and foremost, there's no need for a membership or license, making it accessible for anyone ages 12 and up. So even if you're only just trying it out for the first time, you don't have to worry if you end up feeling like it's not for you.
When you visit, it's all fully coached, and the sessions are supervised, so you can rest assured that your safety is a top priority.
But what really sets In The Air apart is the experience itself because you can enjoy 90% of the excitement of a full firing range for just 10% of the cost. And with the added bonus of bar beverages available during your session, you won't even notice the time flying.
With no booking required, guests can walk in and choose from a selection of firearms, including Berettas, Glocks, Revolvers, and bolt action rifles. Each guest gets their own private lane to enjoy the thrill of the most realistic firing experience possible.
Returning visitors are in for a treat as well, with a 20% discount on ongoing sessions available for those who have fired with In The Air before. And if you're feeling extra adventurous, why not try your hand at axe-throwing or knife-throwing there?
| Service | Rates |
| --- | --- |
| In The Air Gun Ultra Shooting Range Gift Cards (Basic) Ages 12 and up | $30.95 |
| In The Air Gun Fully Advanced Experience! Ages 12 + | $59.95 |
Archery Games Ottawa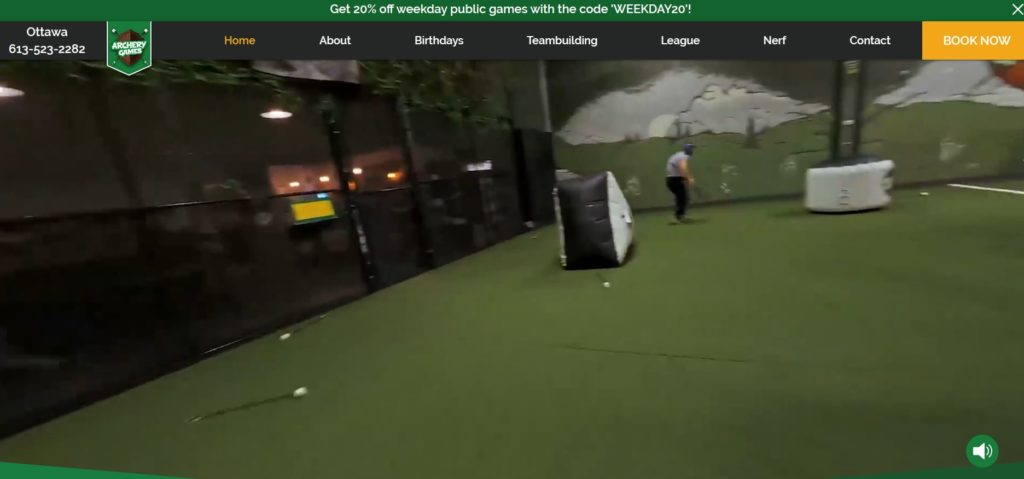 ADDRESS: 1860 Bank St #3b, Ottawa, ON K1V 7Z8, Canada
CONTACT DETAILS: +1 (613) 523-2282
WEBSITE: https://www.archerygames.ca/
Since we're talking about shooting ranges, it doesn't just mean firearms because archery is another fun activity we can do there! At Archery Games Ottawa, we can try out Combat Archery, which is like dodgeball but with bows and soft foam-tipped arrows.
The 75-minute session starts with 15 minutes of training and basic archery practice, and then you'll get to play through a variety of game modes for an hour of gameplay.
If you're looking to save some money, take advantage of the weekday deal, where if you play a game on a weekday, you get 20% off your general admission price. This offer can be used for up to 10 players per booking, so gather up your friends and have fun!
Combat Archery is perfect for all kinds of events, from corporate team-building to birthday parties and bachelor-bachelorette parties.
Don't worry about bringing your own equipment, as all equipment is provided, including adult and kids' bows, arrows, and arm guards. And for public games, you can book for less than ten people and join an Open Game to battle it out against other teams.
Your group will be paired with other Open Game groups to a maximum of 20 players in the arena. And for a more private experience, book a Private Game for 10-20 players, where the session is completely private to your group.
But before you can start playing, all archery games participants must sign a waiver before entering the arena.
Booking this venue was one of the best things we did during our last office team-building day!
| Service | Rates |
| --- | --- |
| Public Game (1 - 9 Players) | $29/Player |
| Private Game (10 - 20 Players) | $290 |
| Private Game (24+ Players) | Contact them for pricing (Discounts will be given depending on group size) |
XQuest Archery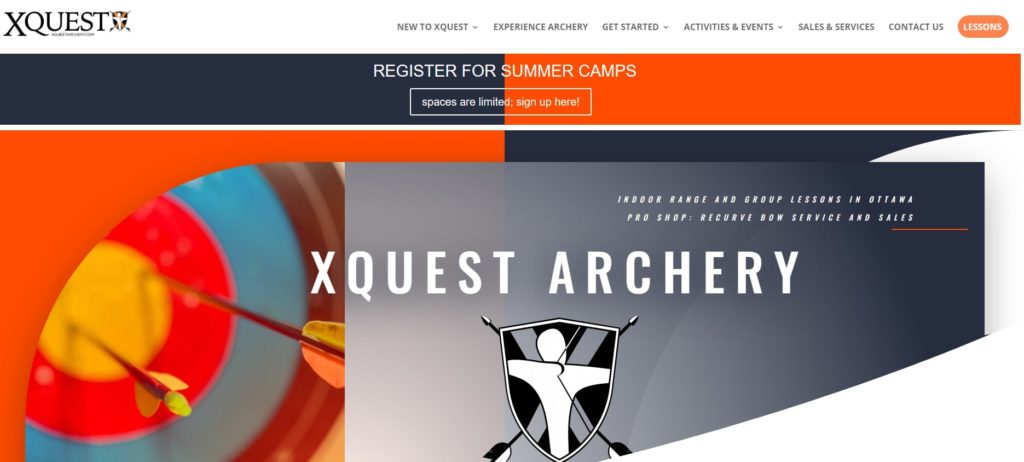 ADDRESS: 830 Industrial Ave Unit 9, Ottawa, ON K1G 4B8, Canada
CONTACT DETAILS: +1 (613) 736-6606
WEBSITE: https://www.xquestarchery.com/
What sets XQuest Archery apart from the rest is its focus on developing the individual, not just the athlete. Its passion for archery is evident in every aspect of its operation, from the top-notch coaching staff to the well-stocked pro shop.
Since 2008, XQuest Archery has been a family-run company currently owned and operated by Janice Clark.
Janice's extensive experience in competitive archery, including competing in trials for the 2012 London Olympics and the 2015 Pan Am Games. This means that she brings a wealth of knowledge and expertise to every aspect of the business.
XQuest's National Coaching Certification Program (NCCP) Coaches offer instructional classes for archers at all levels, from beginners to intermediates. There are also competitive development coaching programs if you want to take your skills higher.
And with an in-house pro shop, you'll never be without the gear you need to shoot your best. Its knowledgeable staff can help you find the perfect equipment and service your existing gear to ensure you're always performing at your best.
| Service | Rates |
| --- | --- |
| Experience Archery (1 Hour) | $35 |