11 Best Restaurants That You Must Try in Centretown Ottawa
Centretown in Ottawa is a food lover's paradise and, having had the pleasure of trying some of the best restaurants it has to offer, we were definitely spoiled for choice.
The area is a melting pot of cultures, and it's reflected in the variety of restaurants that call this place home. You'll find everything from traditional Italian dishes to exotic Middle Eastern cuisine.
Our personal favorites are the delectable seafood platter at Whalesbone and Stella Luna Gelato Cafe's handcrafted gelato cake. Or if we're looking at another long night at the office, we loved getting takeout at Kettleman's for its coffee and bagels.
In short, Centretown has something for everyone, especially if you know the best places to look!
Best Restaurants in Centretown
Whalesbone Oyster House
ADDRESS: 430 Bank St, Ottawa, ON K2P 1Y8, Canada
CONTACT: 613 231-8569
WEBSITE: https://thewhalesbone.com/
MUST-ORDER MENU ITEMS: Caesar Salad ($20), Triple Chocolate Mousse Cake ($16), Truffle Fries ($16), Tuna Poke Bowl ($31), Dry Aged Striploin ($46)
PRICING: $$$
For fellow seafood lovers, the Whalesbone is like heaven on earth with its smorgasbord of mouthwatering dishes and a perpetually stocked fresh oyster bar. That's why you definitely have to start off with a plate of fresh, briny oysters.
These oysters are sourced from all over Canada and are just decadent when paired with its signature mignonette sauce.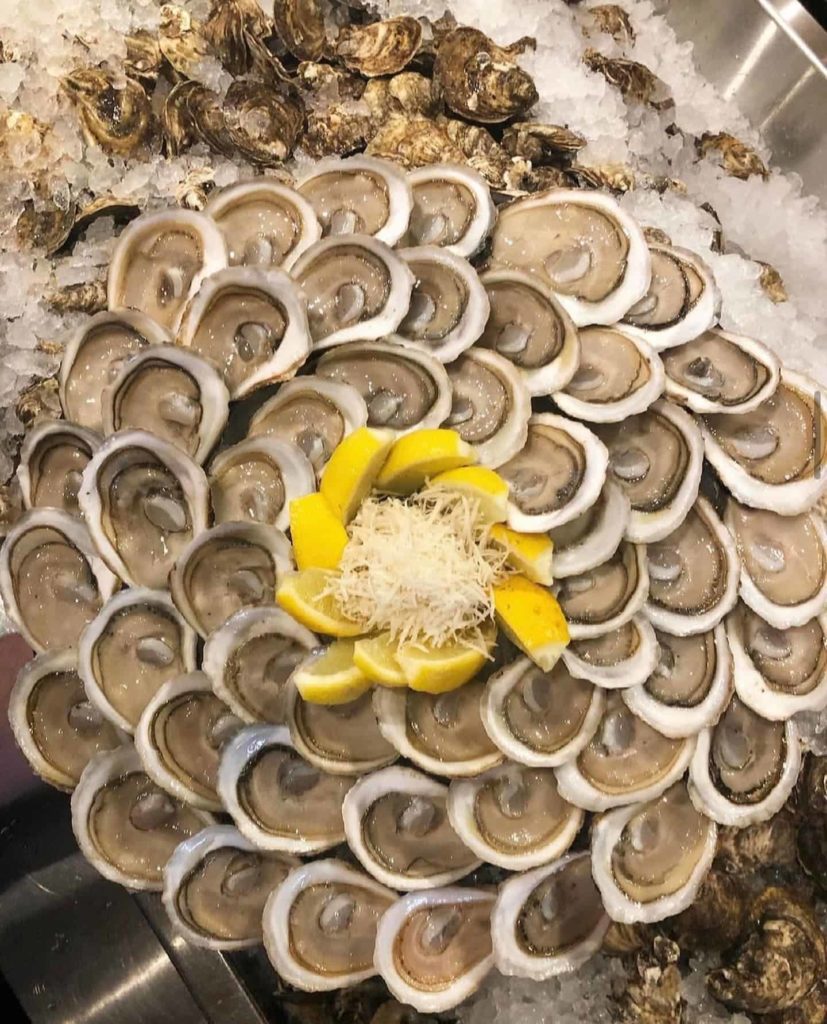 For something heartier, we got the Angus Striploin, dry-aged to perfection and served with truffle fries that are crispy on the outside and fluffy on the inside. The Lobster Risotto was to die for with how rich and creamy the succulent lobster meat was.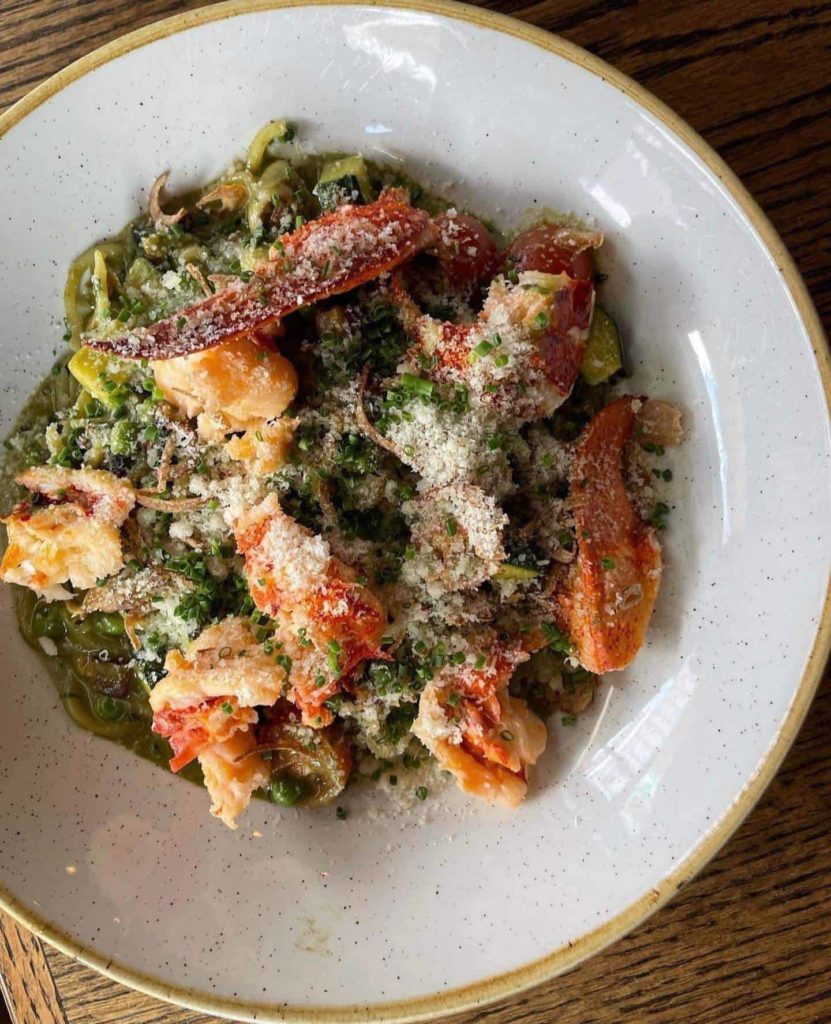 Before heading off, don't miss out on the utterly decadent Chocolate Mousse that'll have you scrambling to order another to take home! It's neither too sweet nor too rich, making it the perfect dish to end your night with.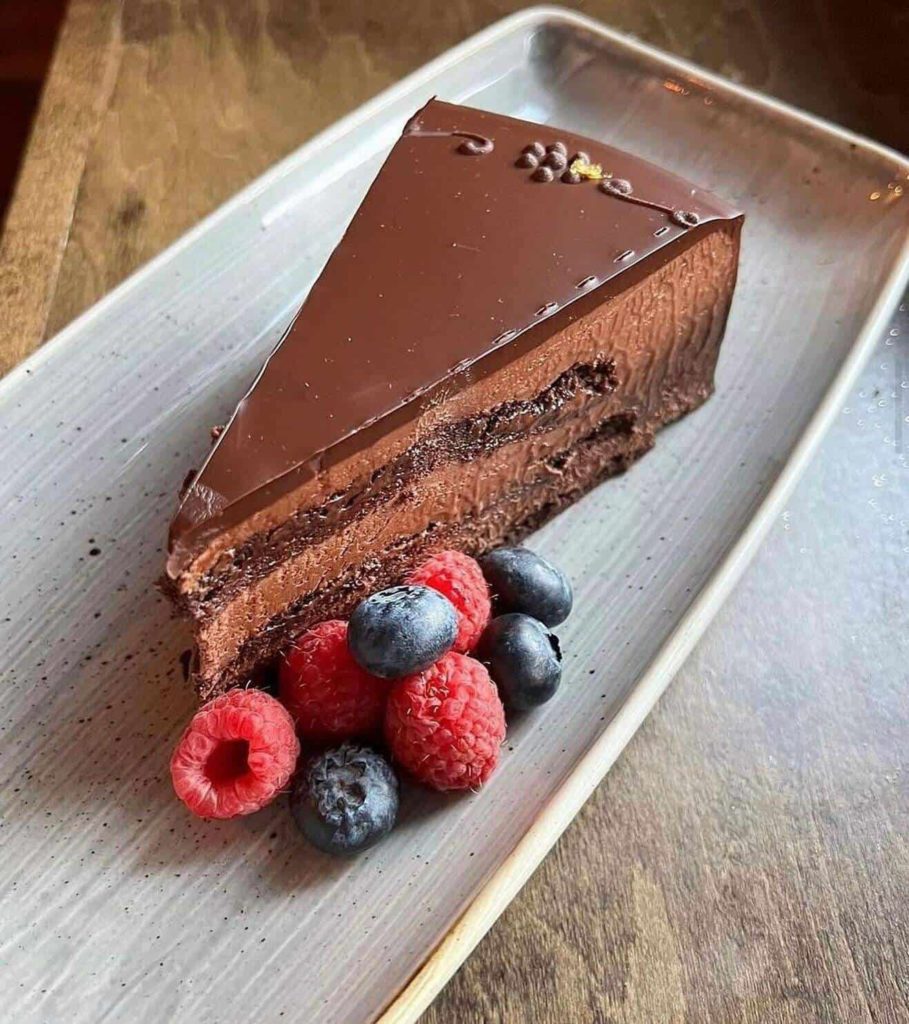 Atelier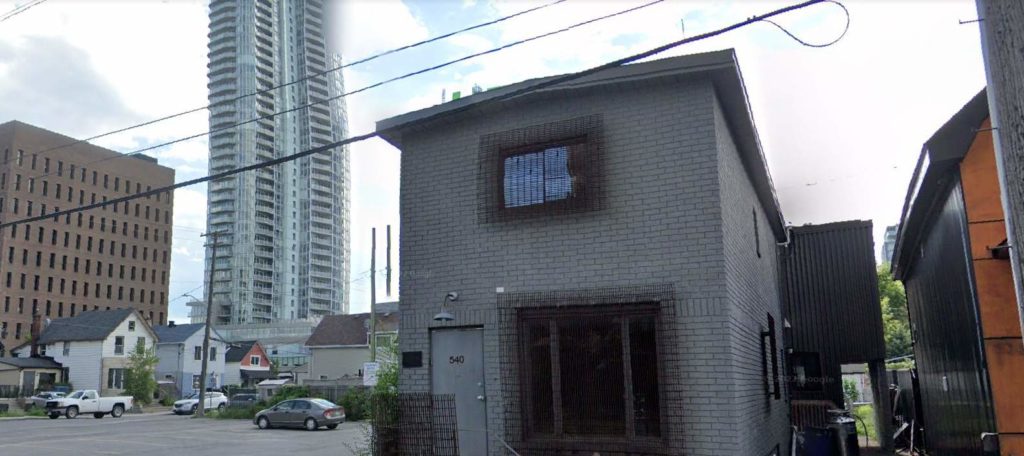 ADDRESS: 540 Rochester St, Ottawa, ON K1S 4M1, Canada
CONTACT: 613 321-3537
WEBSITE: https://www.atelierrestaurant.ca/
PRICING: $$$
Centretown is home to some of the best restaurants in Ottawa, but if you're looking for a truly unique dining experience, Atelier is the place to be. From its seemingly unassuming look at the front, inside we were transported to a contemporary bistro.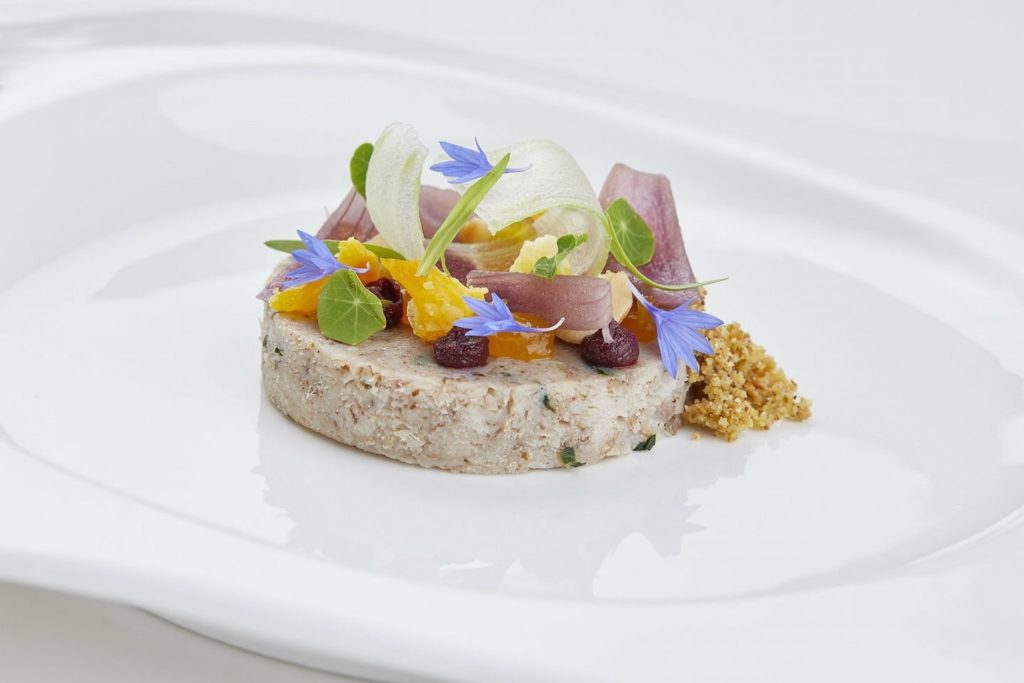 You'll be treated to a gourmet-tasting menu that will blow your mind almost as soon as you walk in. Each dish was practically a work of art that we were almost too scared to take a bite of it!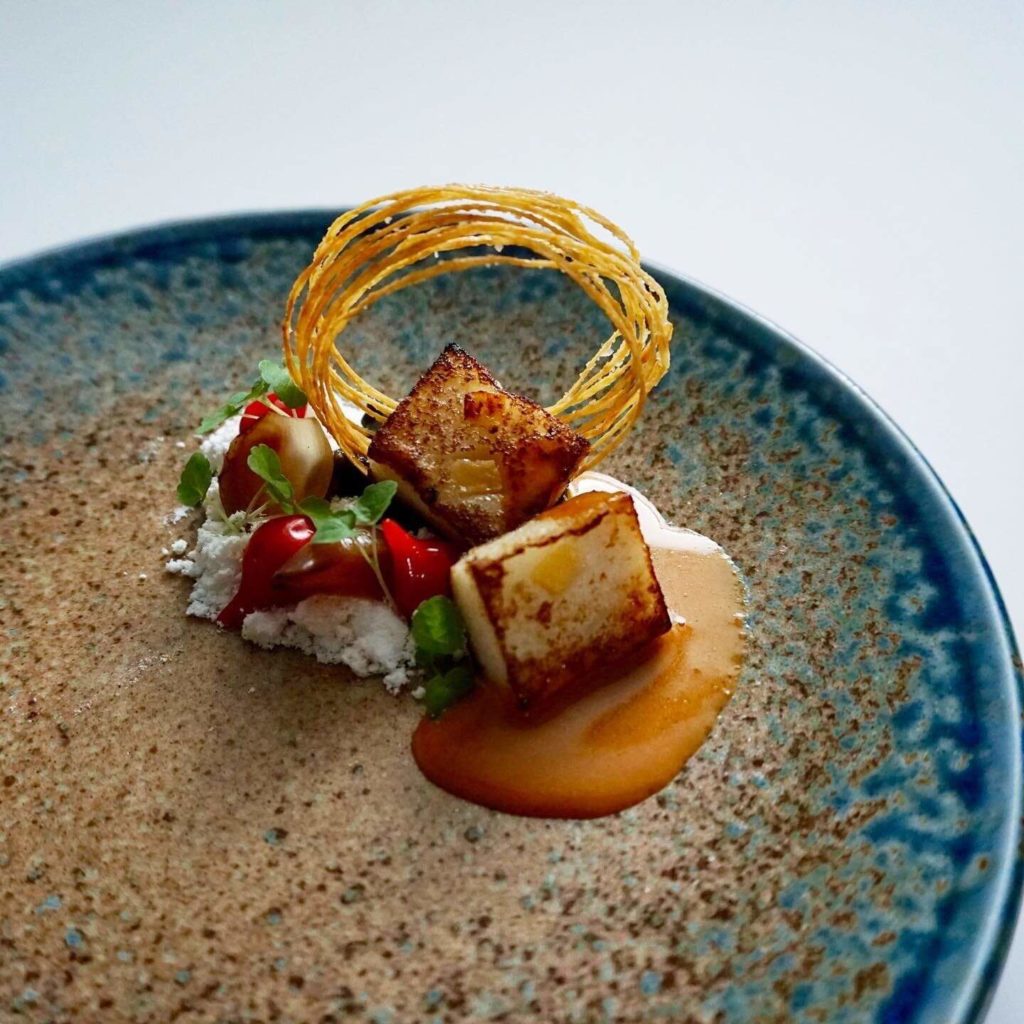 Atelier's 44-course tasting menu is quite an unforgettable culinary journey, as it features only the freshest and highest-quality ingredients sourced from local producers. And the entire meal is complemented by any of Atelier's available wines.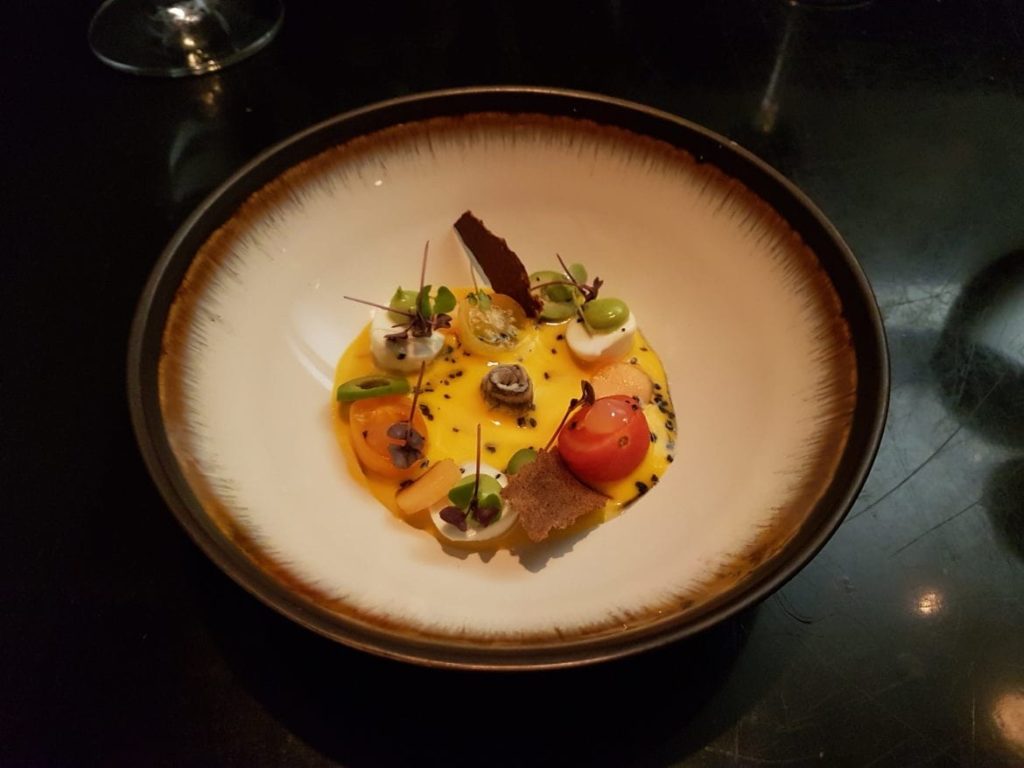 This restaurant truly sets itself apart by how each dish is presented with the innovative and artistic plating of each meal, adding an element of surprise to your experience. The attention to detail makes each dish a feast for both the eyes and the palate.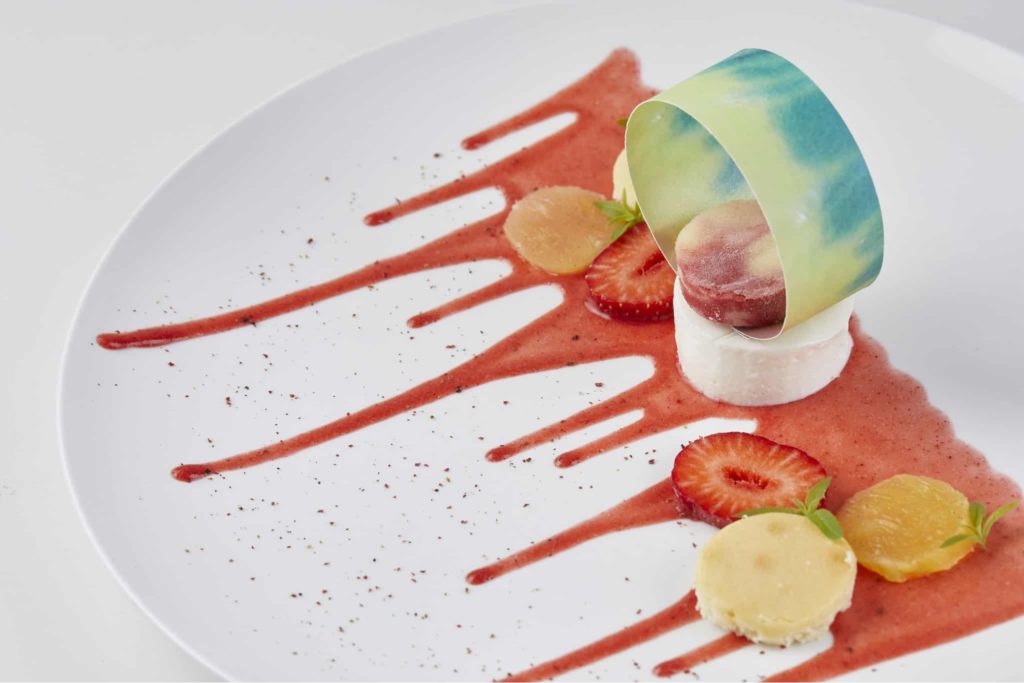 Although Atelier is on the higher-end side of the spectrum, it's definitely worth the price for the unforgettable experience you'll have. Whether you're a local or just visiting Ottawa, a trip to Atelier should be on your bucket list.
SuzyQ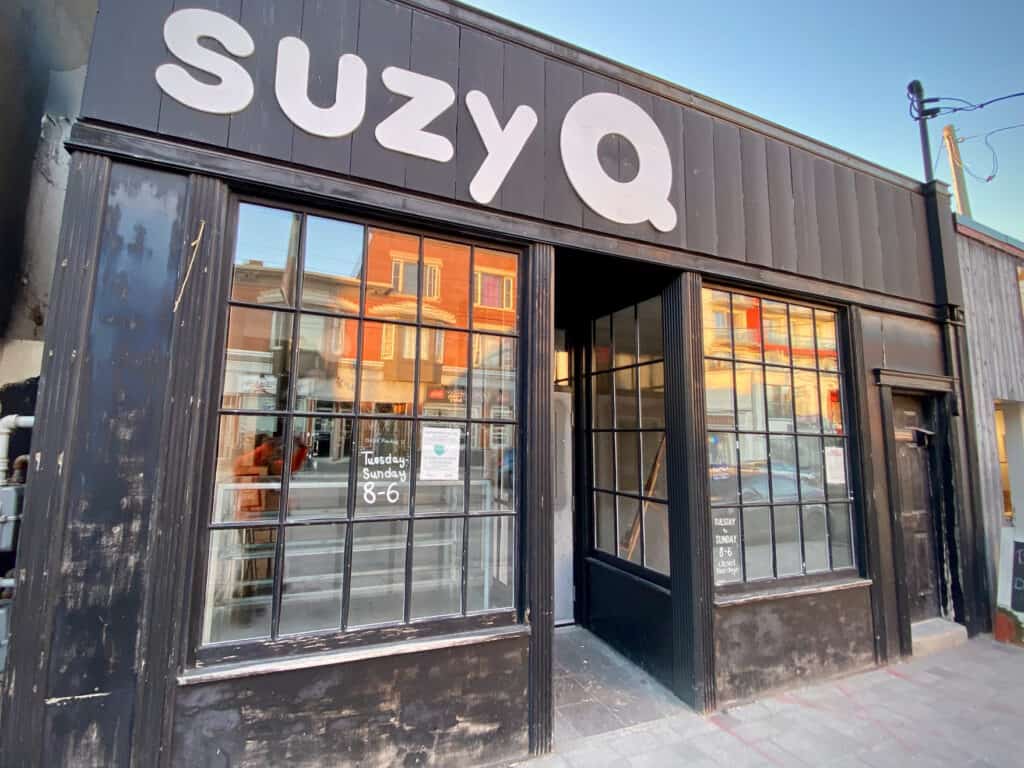 ADDRESS: 1015 Wellington St. W, Ottawa, ON K1Y 2V7, Canada
CONTACT: 613 724-2451
WEBSITE: https://suzyq.ca/
MUST-ORDER MENU ITEMS: Cinnamon Toast Crunch, D'Ohnut, Boston Cream, Sourdough Munkki, Cookies & Cream Cheese
PRICING: $$
Calling all doughnut lovers! SuzyQ is a doughnut shop with a twist that you wouldn't want to miss out on during your trip to Centretown.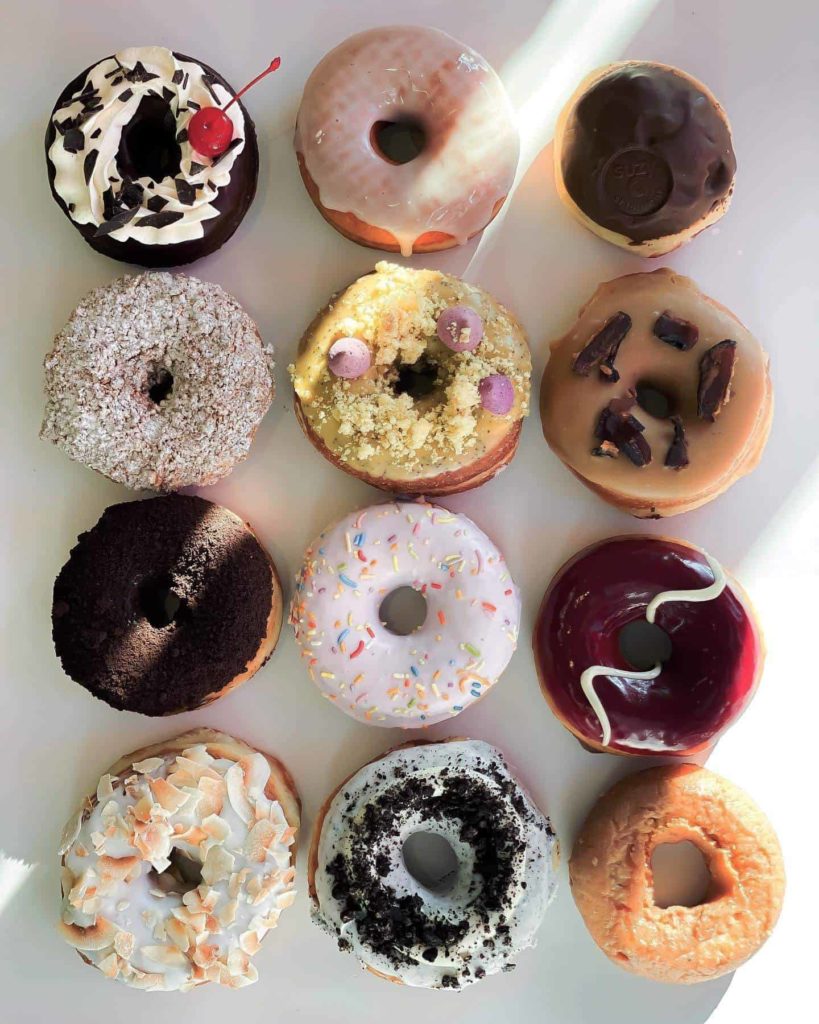 The aroma of freshly made doughnuts will greet you as soon as you step in, and your senses will be delighted by the variety of flavors on display. We're speaking from experience since this is one of our favorite shops for our weekly donut runs!
You can't beat the classic flavors like the Boston Cream, which if you haven't tried yet, you at least have to try out for yourself once. Thankfully, SuzyQ offers boxes of six donuts for only $23 where you can combine different flavors!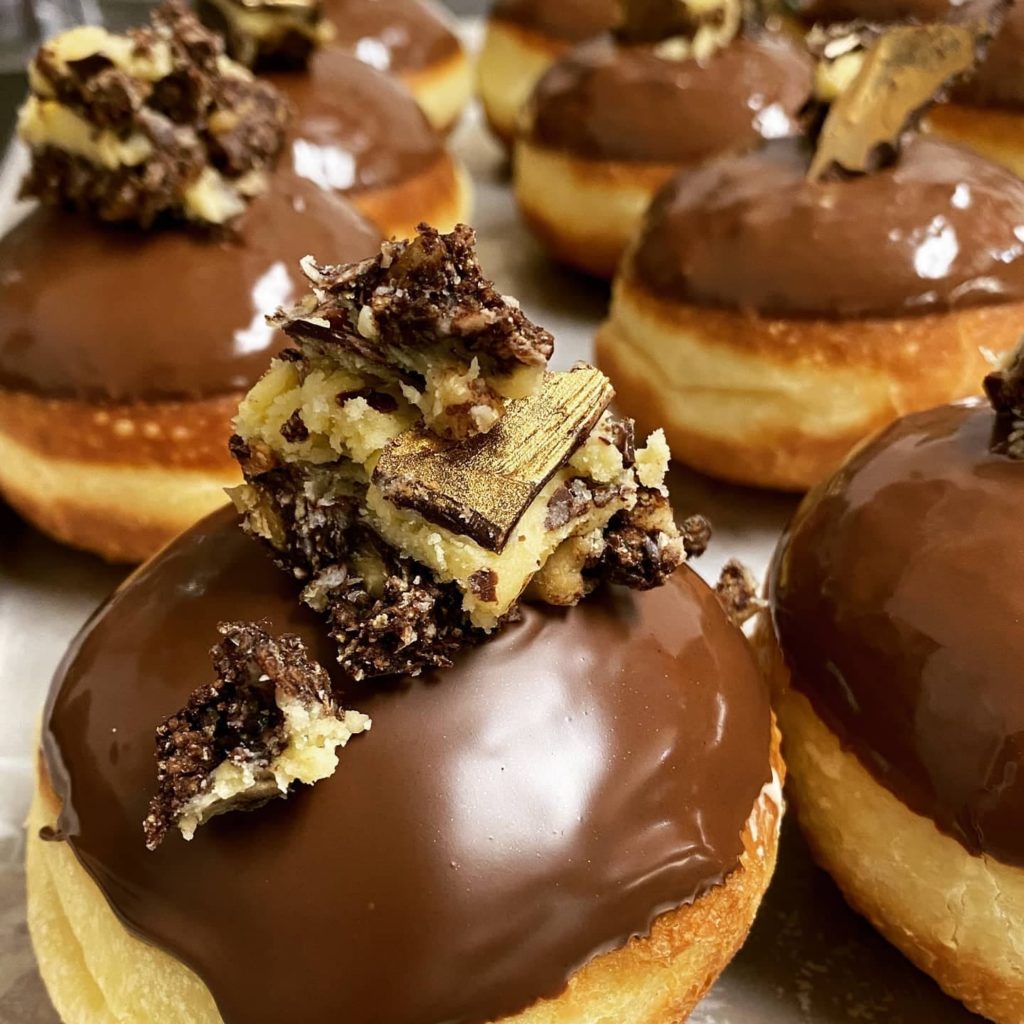 If you're feeling adventurous, we recommend going for the D'Ohnut. It's a playful nod to a beloved TV show that you might be familiar with from the name alone.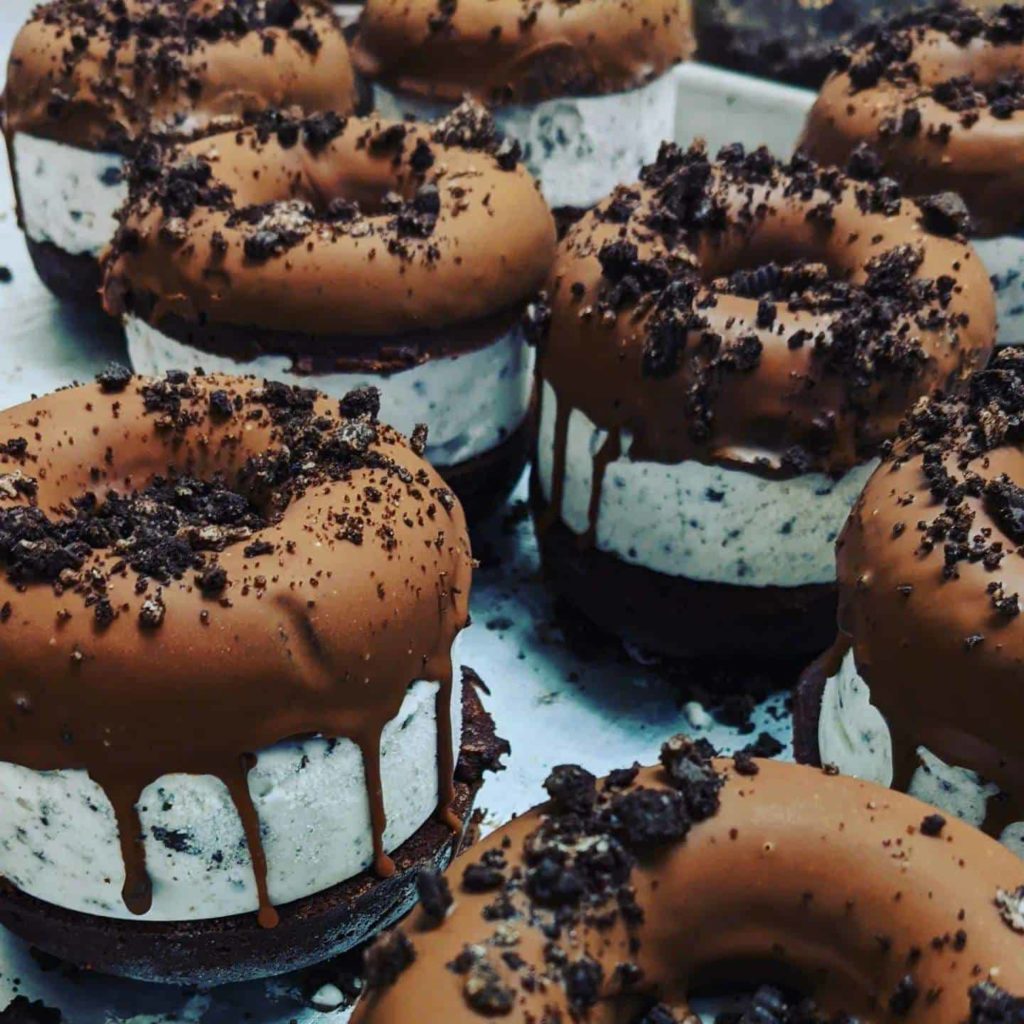 And for those who want to try something new, we loved SuzyQ's unique flavors like the Toasted Coconut & Lime, Passionfruit Poppyseed, and Cardamom. These don't just satisfy your cravings for something sweet, but it offers a new taste sensation!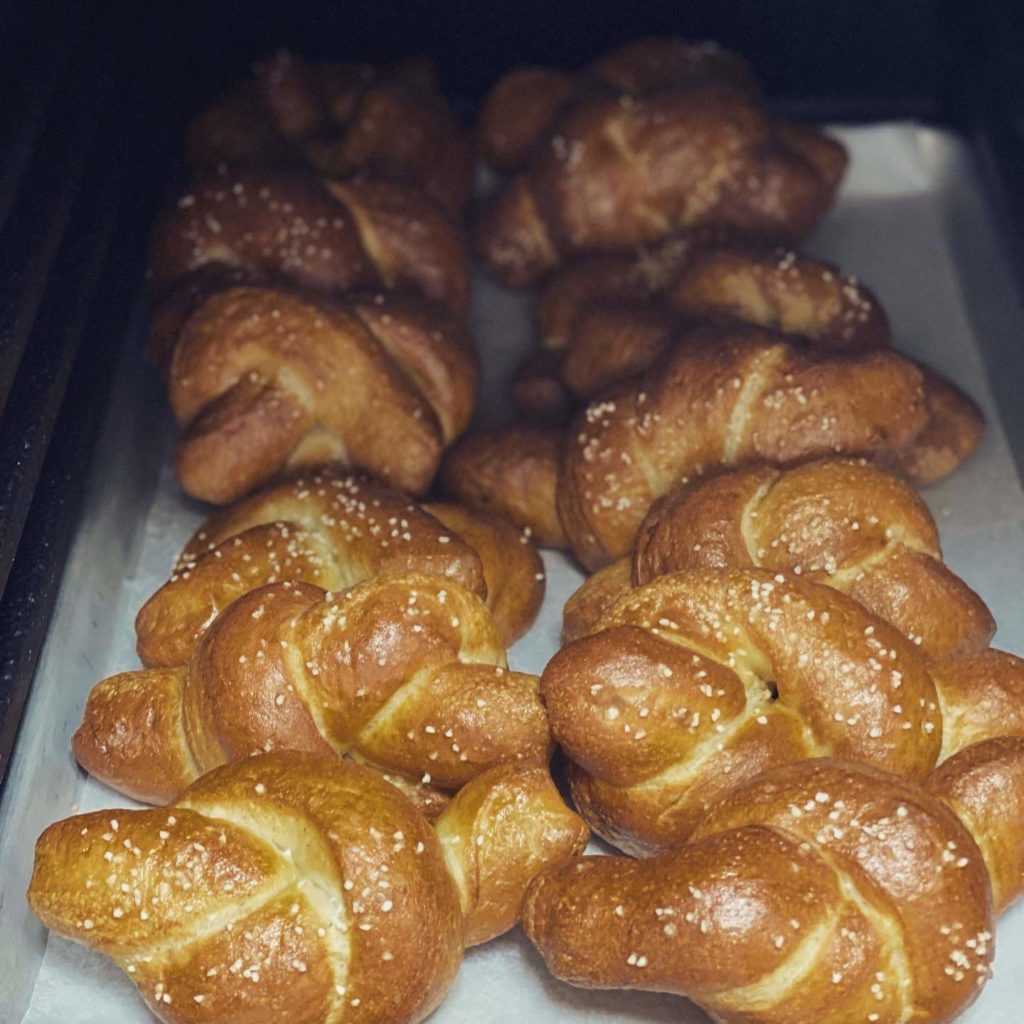 The doughnuts may be a bit more expensive than your average bakery, but it's worth every cent. So come indulge your sweet tooth at SuzyQ and treat yourself to some of the best doughnuts in Ottawa.
Stella Luna Gelato Cafe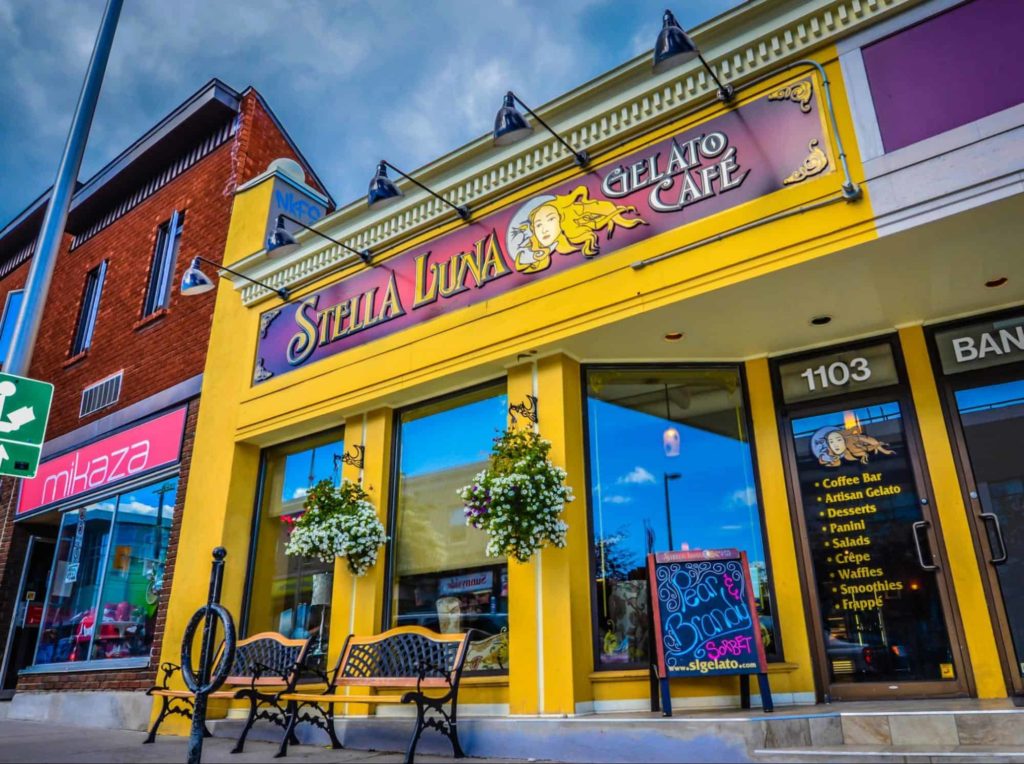 ADDRESS: 1103 Bank St, Ottawa, ON K1S 3X4, Canada
CONTACT: 613 523-1116
WEBSITE: https://www.slgelato.com/
MUST-ORDER MENU ITEMS: Gelato Cake, Ferrero Rocher Ice Cream, Buttermilk Waffles, Caramel & Banana, Nutella & Banana
PRICING: $$
When it comes to giving in to your sweet tooth, look no further than Stella Luna Gelato Cafe. This charming little spot in Centretown is a staple for its handcrafted gelato flavors, all made with fresh, locally-sourced ingredients.
We may or may not have stocked up our own office pantry's fridge with some of our favorite treats from this charming cafe.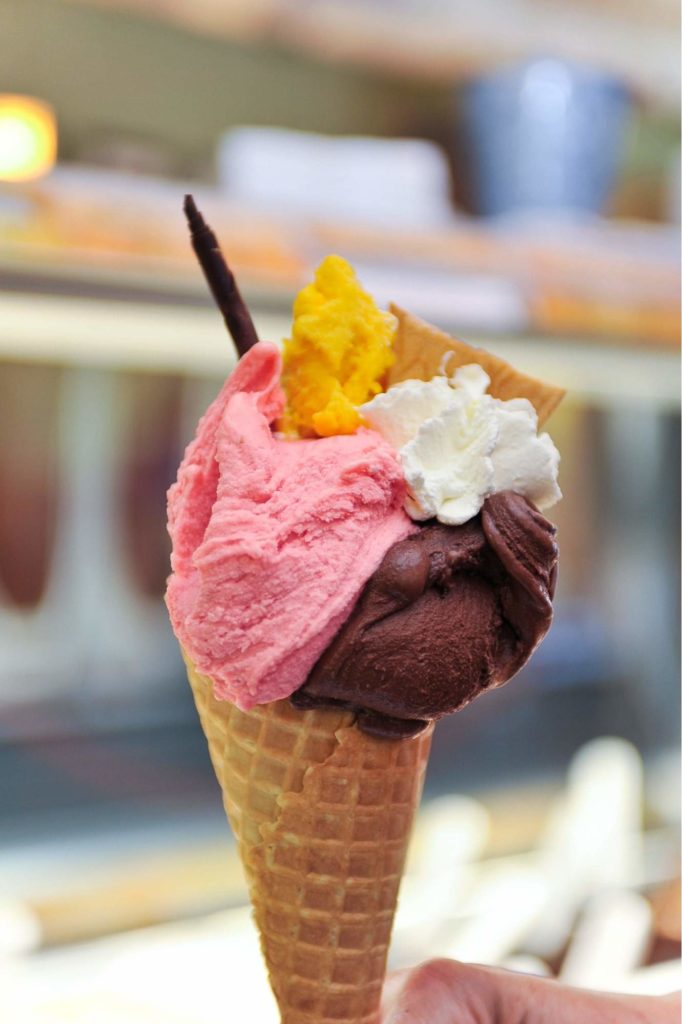 One of the must-try dishes at Stella Luna is Gelato Cake, and this decadent dessert is a feast for the senses. It's crafted with layer upon layer of creamy gelato and cake and is all topped off with your choice of toppings.
If you're in the mood for something a little more classic, you can't go wrong with the Pistachio Gelato. This flavor is a fan favorite, and we verified just why it's so loved.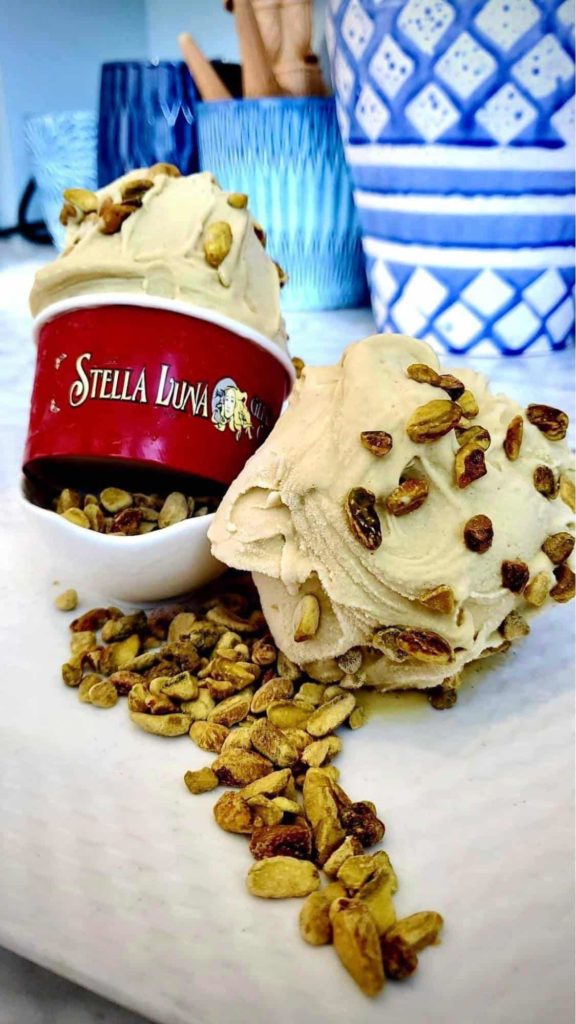 Made with fresh pistachios and a touch of sweetness, it's the perfect balance of creamy and crunchy, with a nutty flavor that will leave you wanting more.
For those who love the combination of sweet and savory, you just can't go wrong with the Buttermilk Waffles with Caramel & Banana! The fluffy waffles are topped with sweet caramel sauce, fresh banana slices, and a dollop of whipped cream is just heavenly.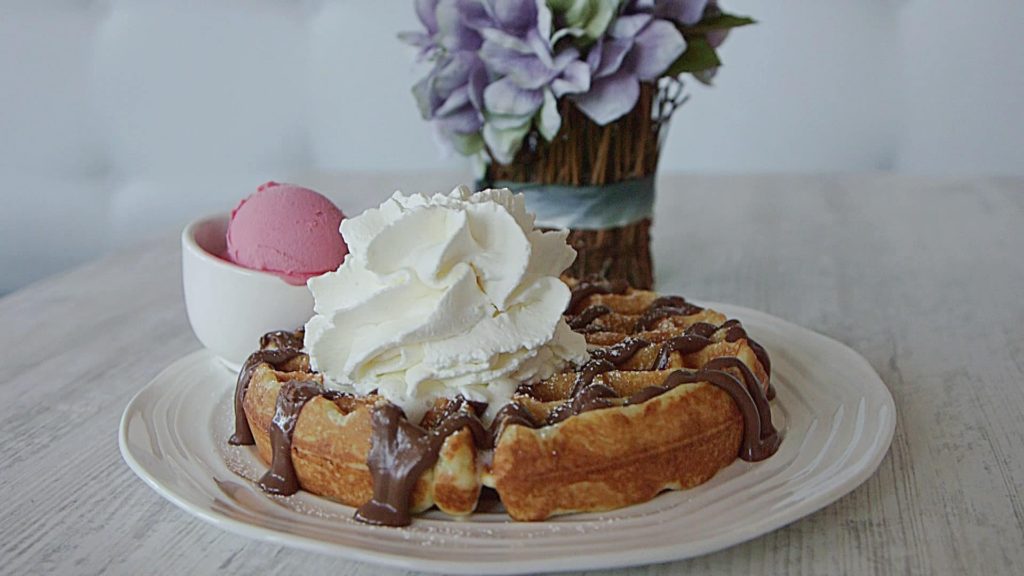 Take the best Instagrammable pics of your food and enjoy the sweetest treats here at Stella Luna Gelato Cafe!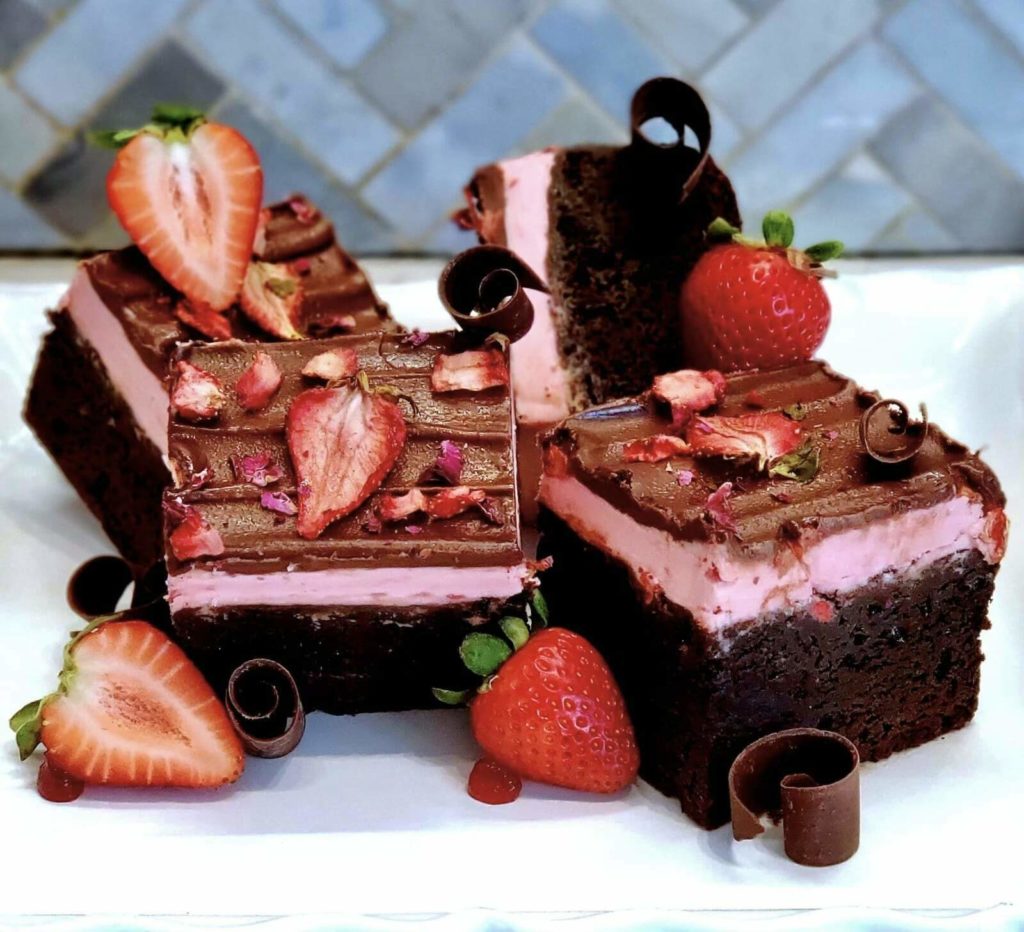 BeaverTails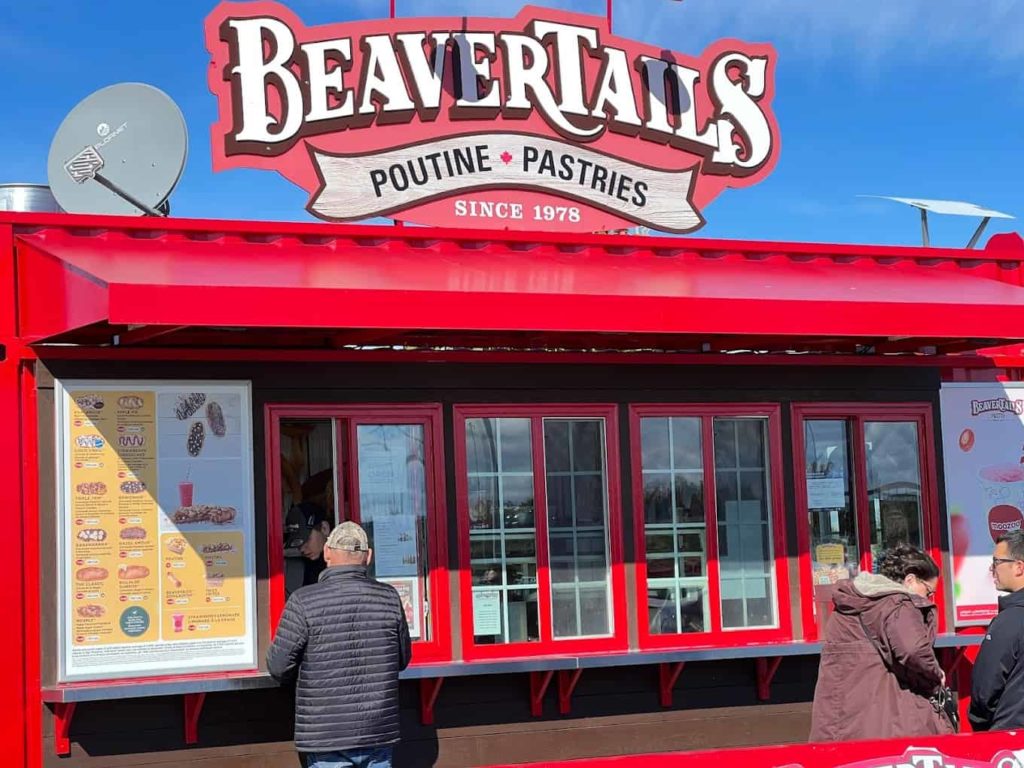 ADDRESS: 69 George St, Ottawa, ON K1N 1K1, Canada
CONTACT: 613 241-1230
WEBSITE: https://beavertails.com/
MUST-ORDER MENU ITEMS: Classic, Bananarama, Strawberry Cheesecake, Brownie, Mehple, Triple Trip, Avalanche, Apple Pie, Coco Vanil, Hazel Amour, Killaloe Sunrise
PRICING: $
Are you ready to indulge in a true Canadian delight? Look no further than BeaverTails, the iconic pastry shop with humble beginnings right here in Ottawa.
What makes these treats so special aside from being a childhood classic and a staple for almost every Ottawan? Each BeaverTail is hand-stretched to really resemble a beaver's tail and fried until crispy!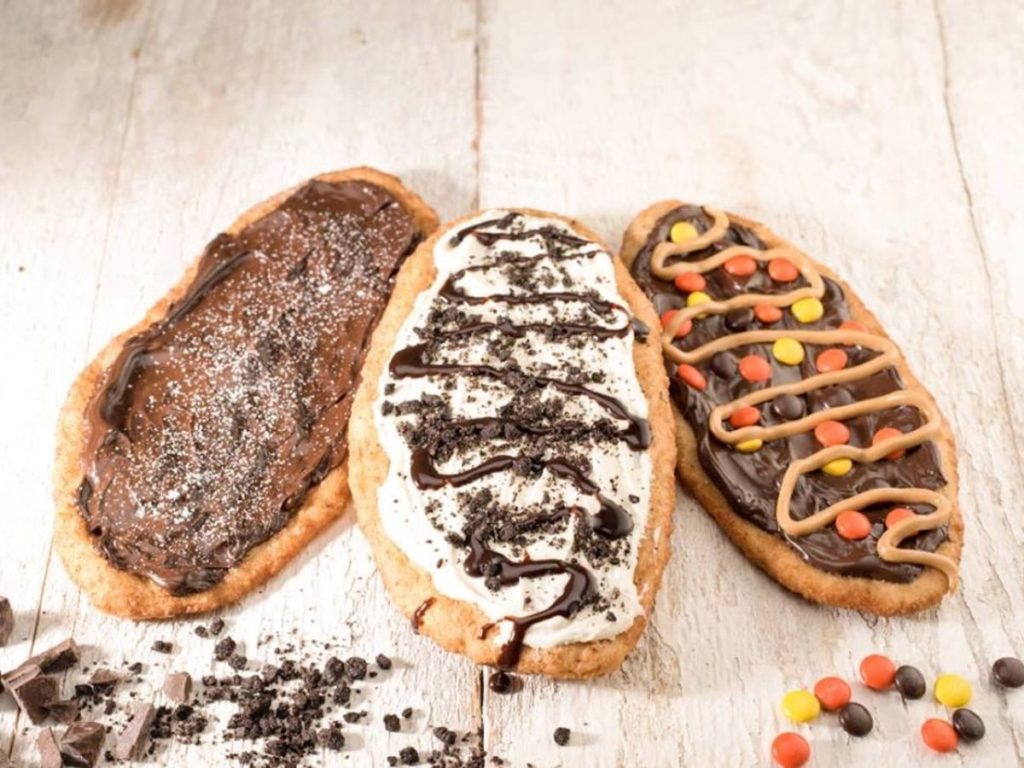 Then, they're topped with your choice of sweet and savory toppings, like the classic cinnamon and sugar. There are mouthwatering combinations like Bananarama, Strawberry Cheesecake, and Coco Vanil.
Even if you're not fond of sweet pastries, there's no denying that BeaverTails is more than just dessert. It's something that reminds us of our childhoods as Ottawans.
Fraser Cafe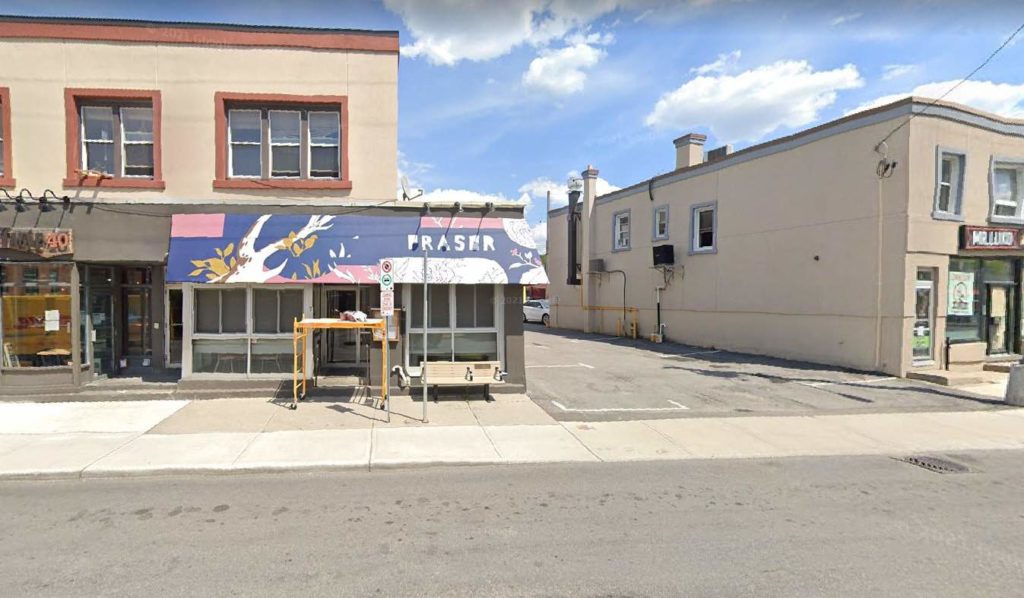 ADDRESS: 7 Springfield Rd, Ottawa, ON K1M 1C8, Canada
CONTACT: 613 749-1444
WEBSITE: https://frasercafe.ca/
MUST-ORDER MENU ITEMS: Beef Tartare ($28), Oysters ($26), Beef Tenderloin ($46), Cheeseburger ($24), Eggs & Hash ($25)
PRICING: $$$
If you're looking for a cozy cafe with delicious food, Fraser Cafe in Centretown should definitely be on your list. With a wide selection of breakfast items like fluffy french toast and satisfying eggs & hash, almost everyone can find something they like.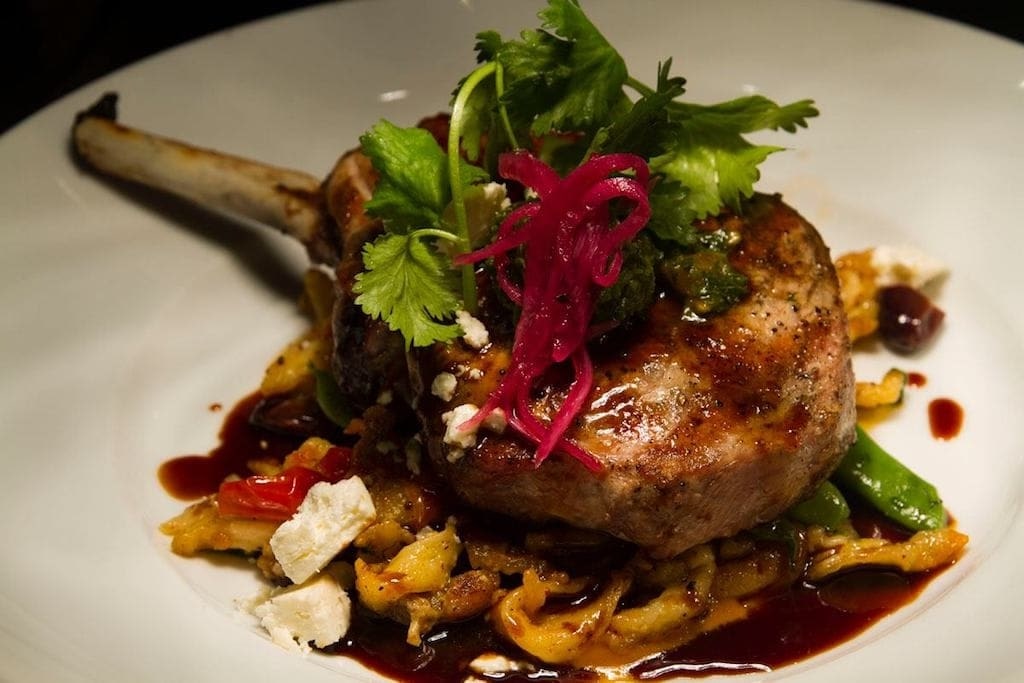 We hope you're not tired of seafood yet because Fraser Cafe is another restaurant you have to jot down on your Centretown bucket list for awesome seafood options. In particular, we loved the fresh oysters that are available during its dinner menu.
And if you've had enough of that and are in the mood for meat, the mouth-watering bacon-wrapped beef tenderloin or the succulent lamb shank are juicy and flavorful.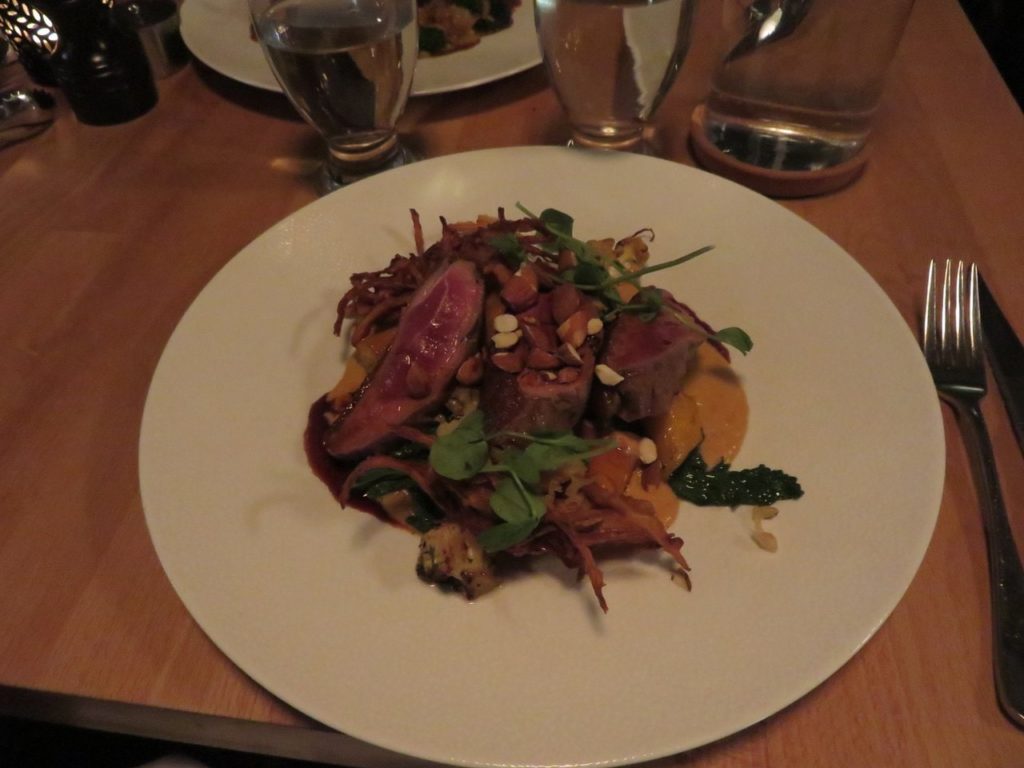 Fraser Cafe's shrimp croquettes and the Bigoli & Tomato Sofrito pasta are dishes that we can't recommend enough if you want something lighter.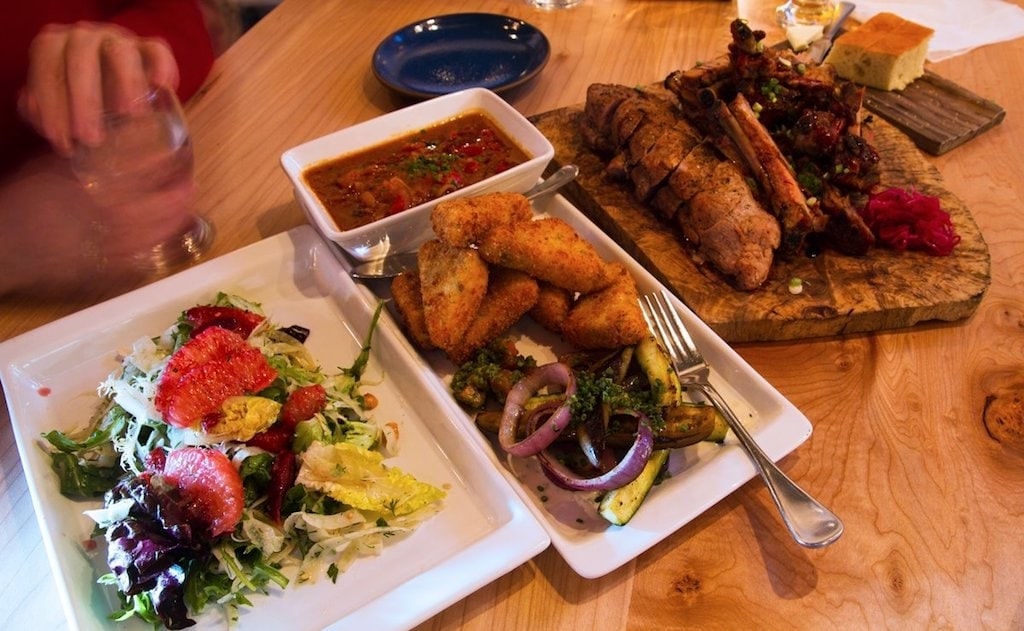 Don't forget to finish off your meal with a delicious cup of coffee or tea to keep you warm during a chilly Ottawa day. Fraser Cafe's charming atmosphere and delicious food make it the perfect spot for a cozy brunch or an intimate dinner with friends.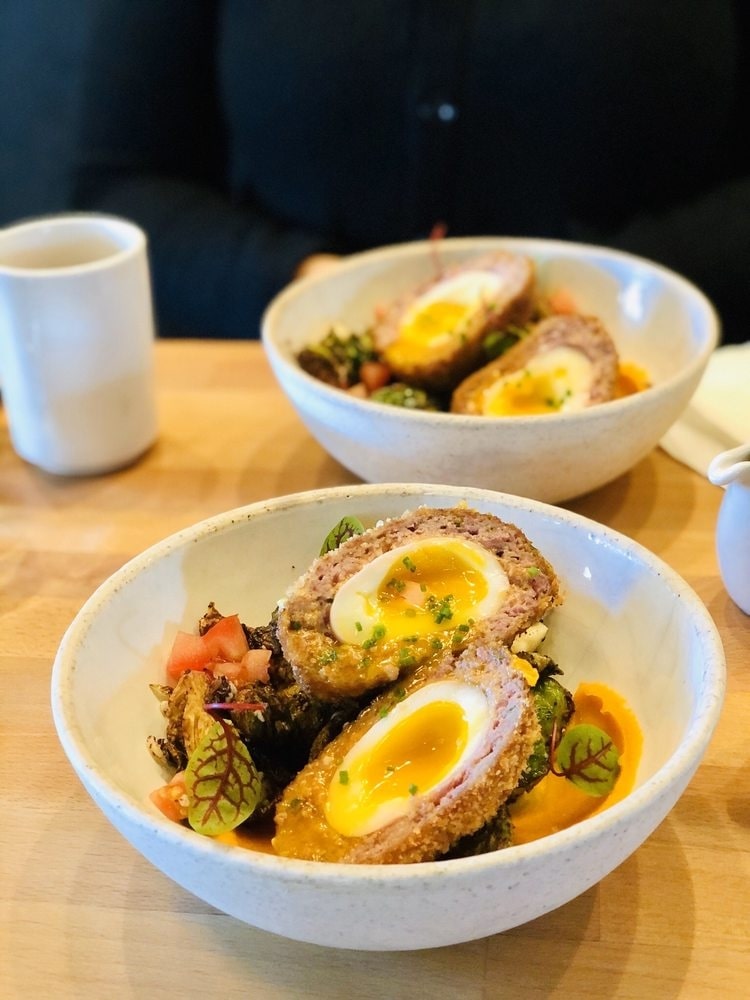 Manx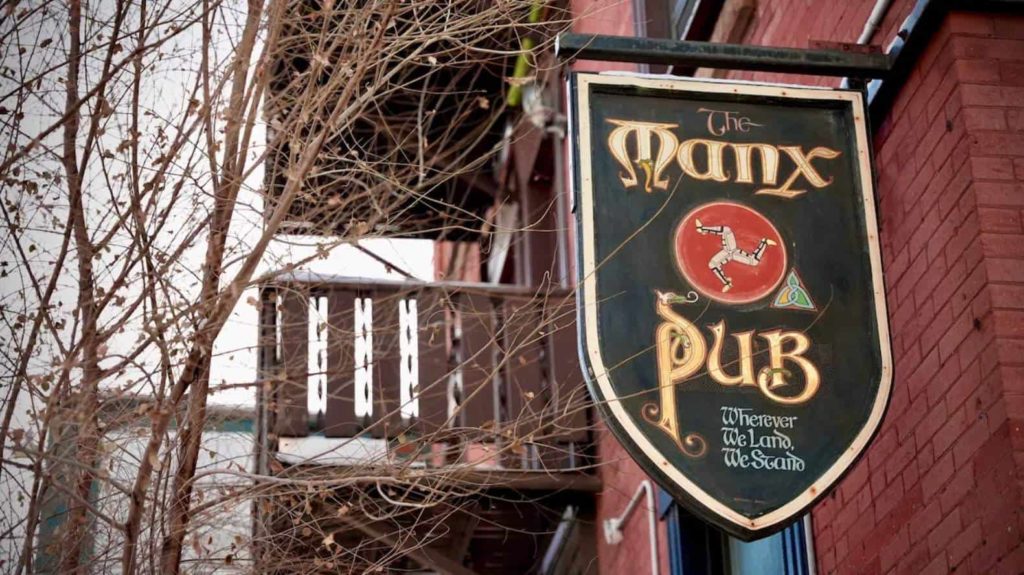 ADDRESS: 370 Elgin St Suite No. 1, Ottawa, ON K2P 1N1, Canada
CONTACT: 613 231-2070
WEBSITE: https://www.manxpub.com/
MUST-ORDER MENU ITEMS: Lamb Curry Wrap ($20), Huevos Rancheros ($15), Furlonger Club ($20), Banana Bread French Toast ($16), Quesadillas ($14),
PRICING: $$
Looking for a spot to unwind and enjoy a meal? The Manx Pub is a neighborhood favorite in Centretown that offers a diverse menu that caters to all tastes.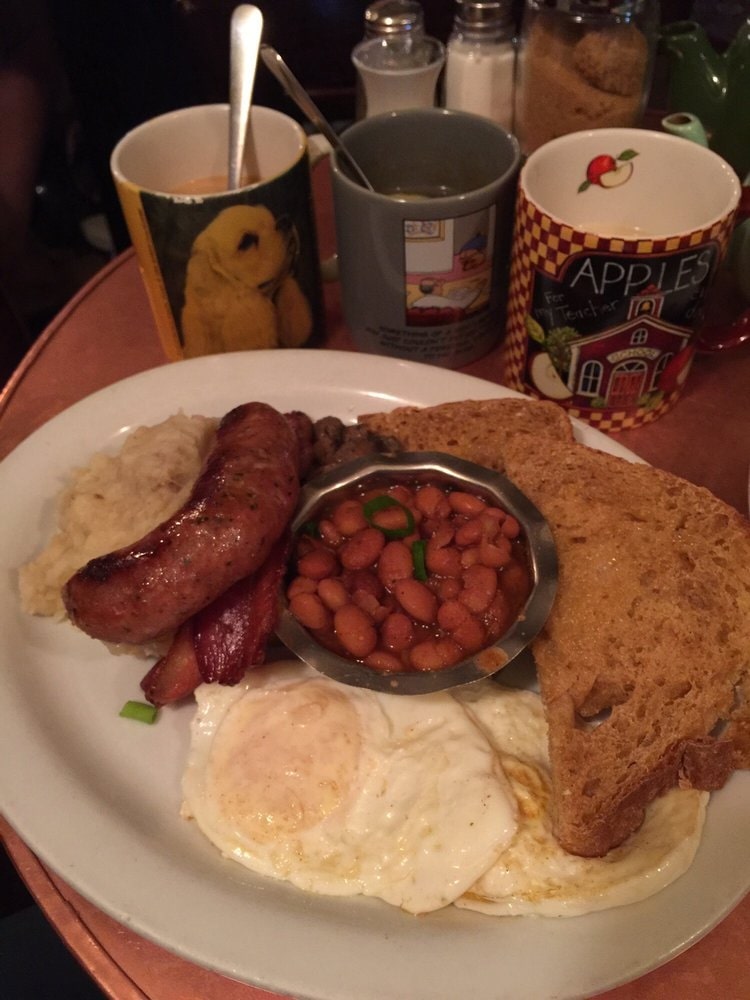 This includes plenty of vegetarian options, with around half of the menu items being veggie-friendly, making it a great choice for all types of diners.
Our favorite thing about it is the big portions of its brunch menu, perfect for days we can't be bothered to eat in the mornings.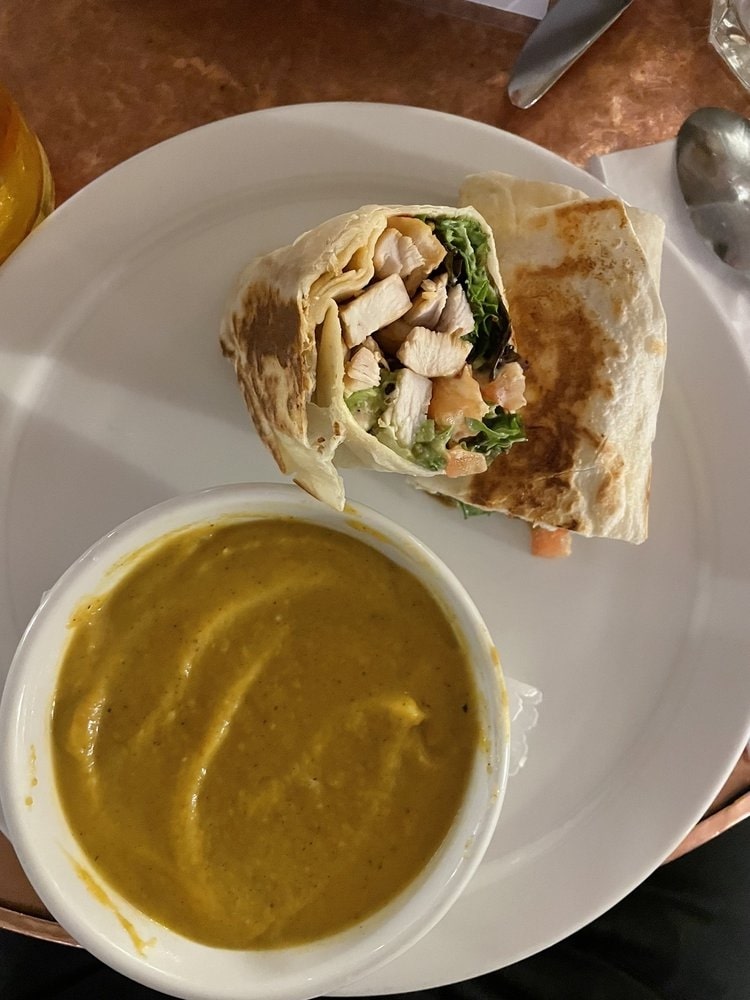 The mouth-watering Lamb Curry Wrap, featuring tender lamb wrapped in a tortilla with a flavorful curry sauce, is our go-to if we're on the go but need something quick and filling.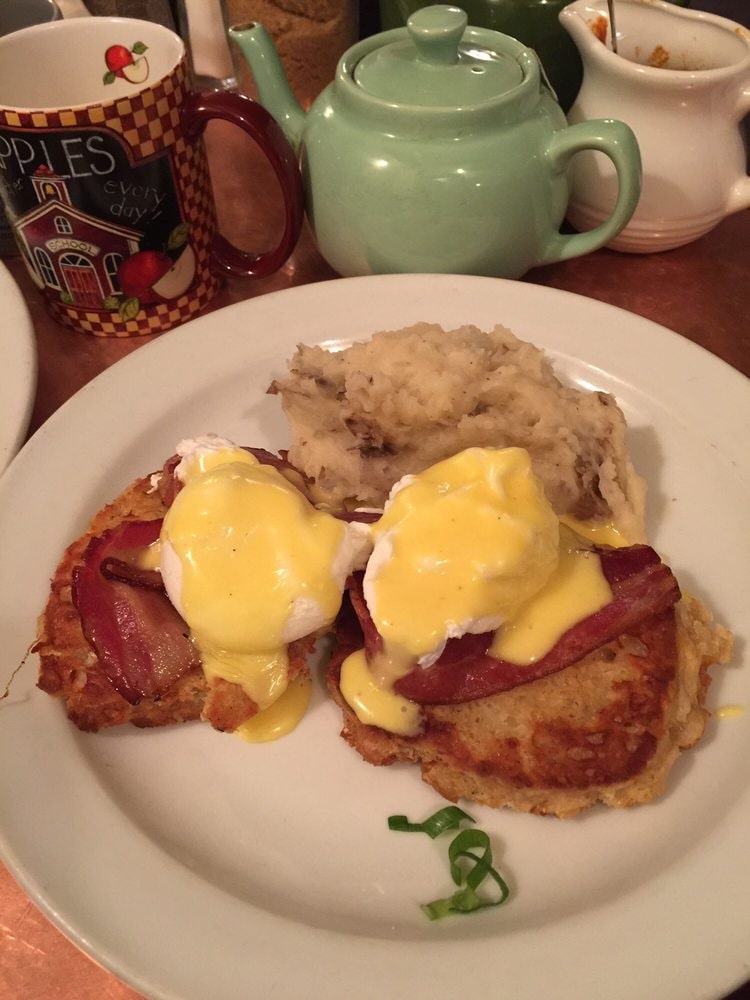 The Huevos Rancheros are also a popular choice, with perfectly fried eggs atop crispy corn tortillas, smothered in rich tomato sauce and served with avocado and sour cream.
For something lighter, the Tofu Tacos is a standout, with crispy tofu nestled in warm corn tortillas and topped with fresh salsa and guacamole.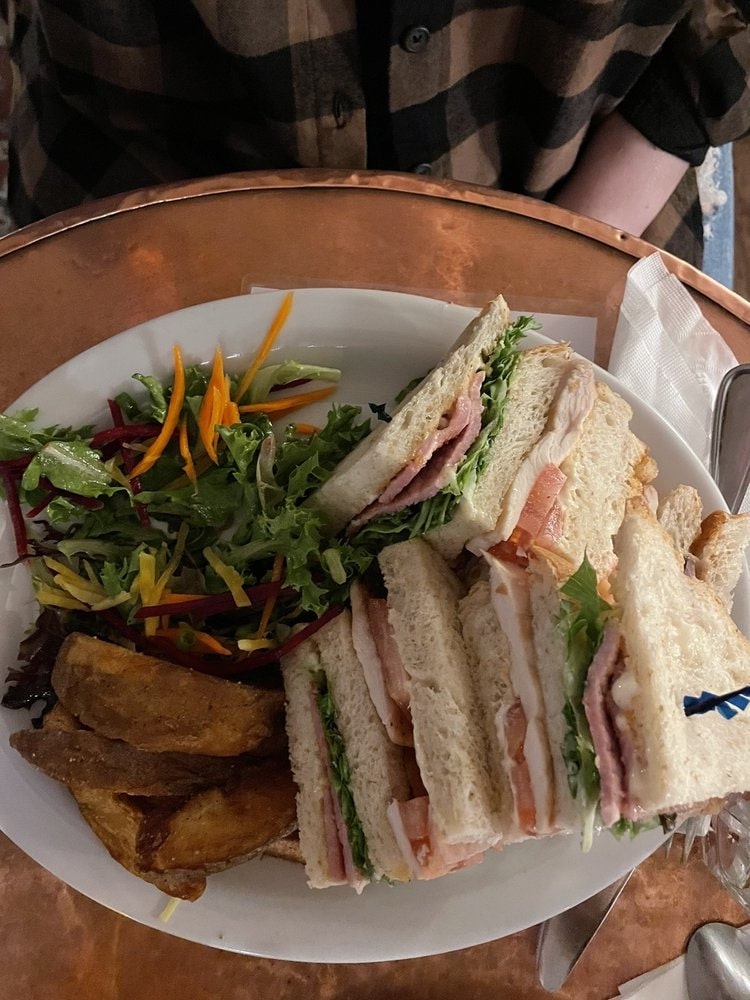 The Furlonger Club sandwich is also a must-try, as it's piled high with turkey, bacon, lettuce, tomato, and mayo.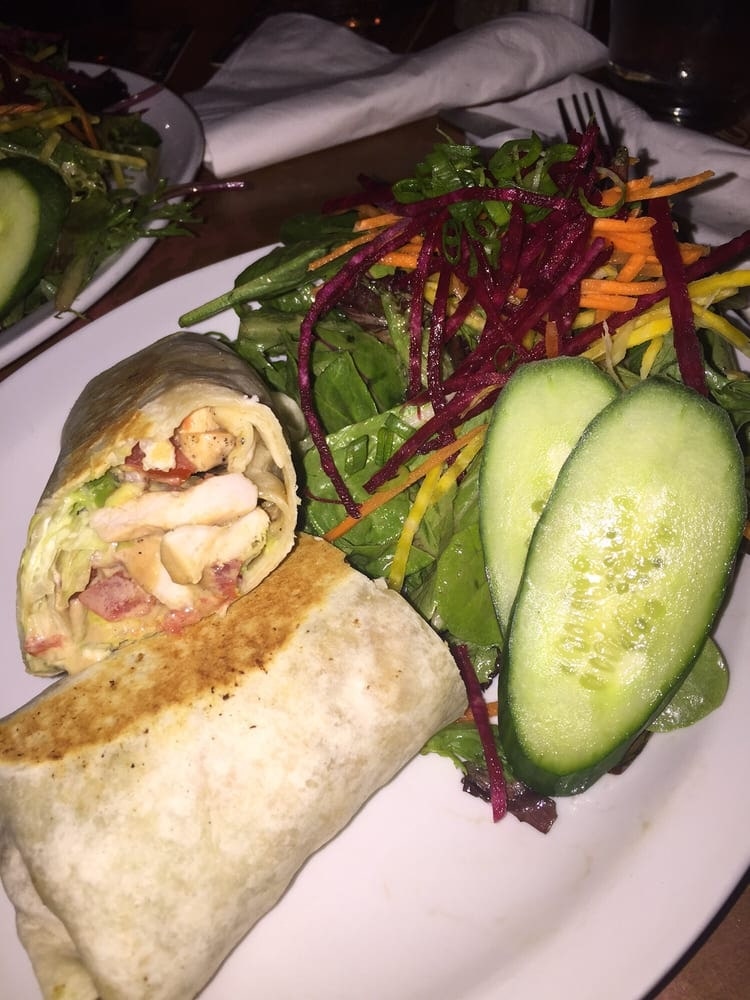 It's not just the food that draws patrons in, it's also this pub's great selection of craft beers and cocktails, along with the warm and inviting atmosphere. With friendly service and good vibes, it's the perfect spot for a relaxed and enjoyable night out.
Kettleman's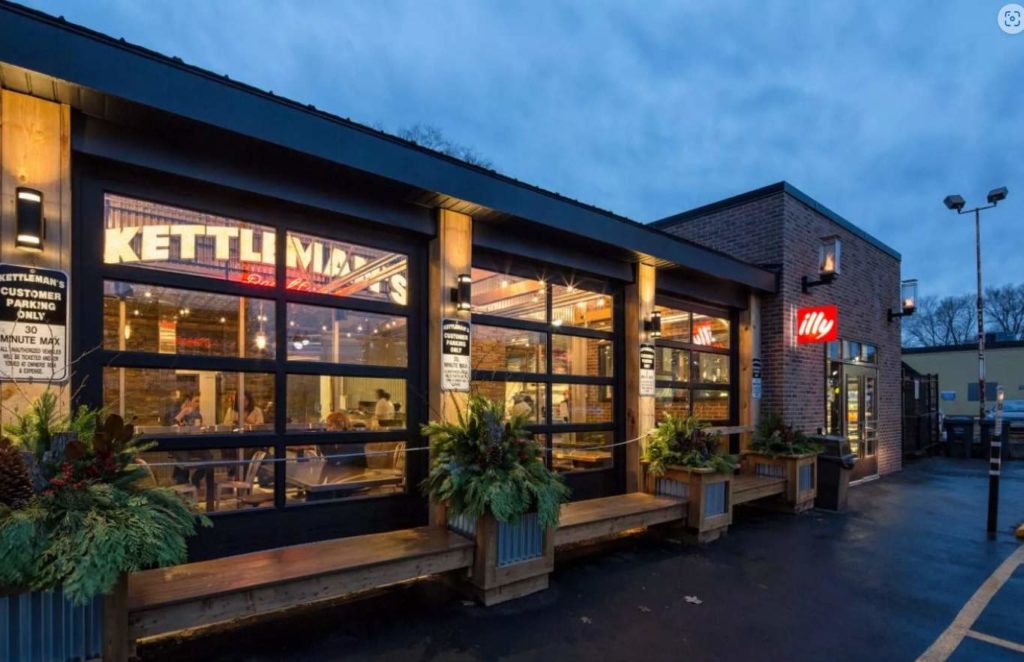 ADDRESS: 912 Bank St, Ottawa, ON K1S 3W4, Canada
CONTACT: 613 567-7100
WEBSITE: https://www.kettlemansbagels.ca/
MUST-ORDER MENU ITEMS: Kettleman's Special ($10.99), Breakfast Bagel Meal with Egg & Bacon ($5.99), Plain Bagel ($1.79), Western Bagel Sandwich on an Everything Bagel ($6.79), Tuna Bagel Sandwich on an Onion Bagel ($7.99)
PRICING: $
If the chewy, doughy goodness of bagels is what you're into, then Kettleman's is the place to be. With locations throughout Ottawa, you'll never be too far from its famous Montreal-style bagels.
And for those like us that are always running late for the bus or are trying not to arrive late at the office or school, Kettleman's is a godsend with how portable the food is. The amount of time saved eating your bagel sandwich on the road is quite a lot.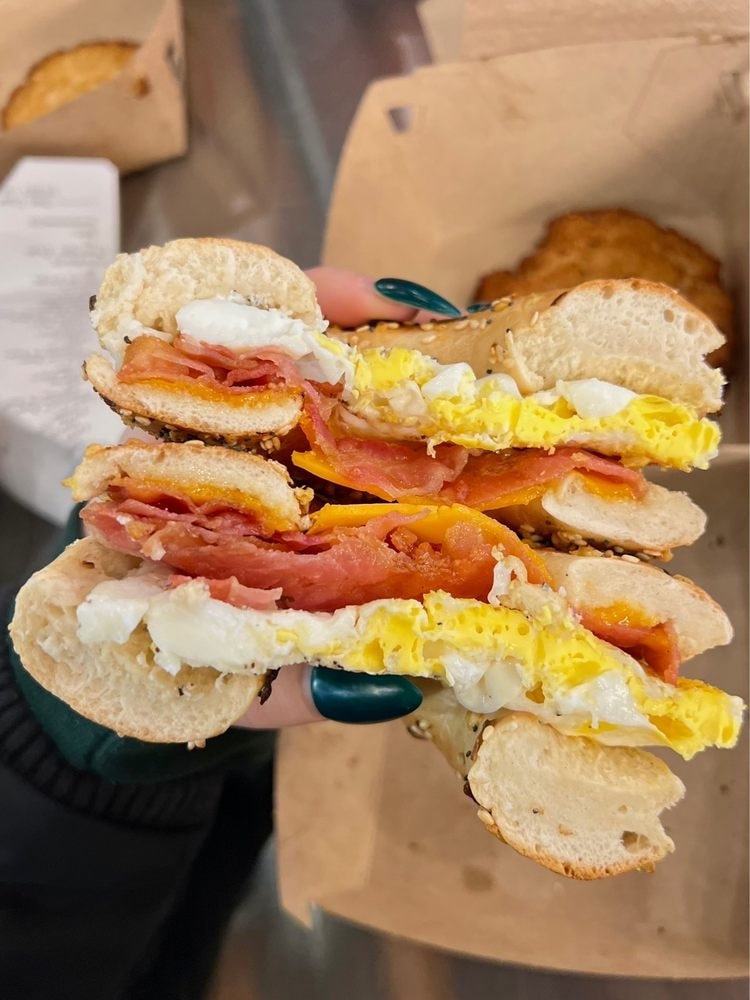 Kettleman's is more than just your average bagel shop, offering a variety of toppings and spreads to make your bagel experience even better. There's the classic cream cheese, homemade hummus, and even smoked salmon.
If you're looking for a breakfast that'll really hit the spot in the mornings, try the Kettleman's Special, which includes smoked salmon and cream cheese. Or, you can opt for the Breakfast Bagel Meal with Egg & Bacon for a quick, delicious start to your day.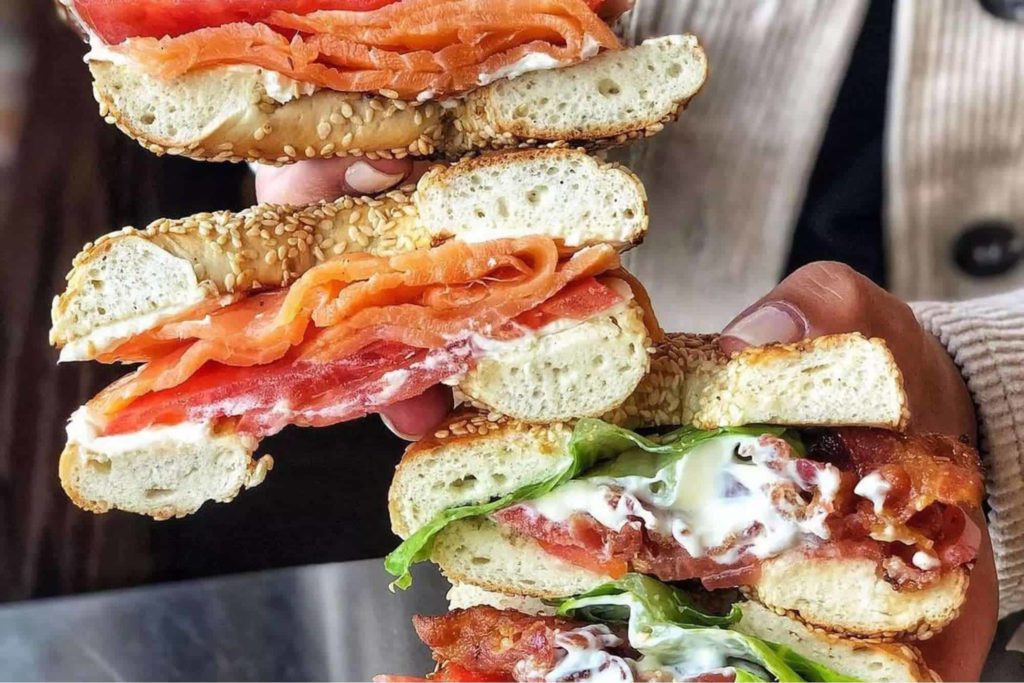 The Western Bagel Sandwich on an Everything Bagel is a classic favorite, with ham, cheddar cheese, and peppers. Or, for something a little different, try the Tuna Bagel Sandwich on an Onion Bagel, which is loaded up with tuna salad, lettuce, and tomato.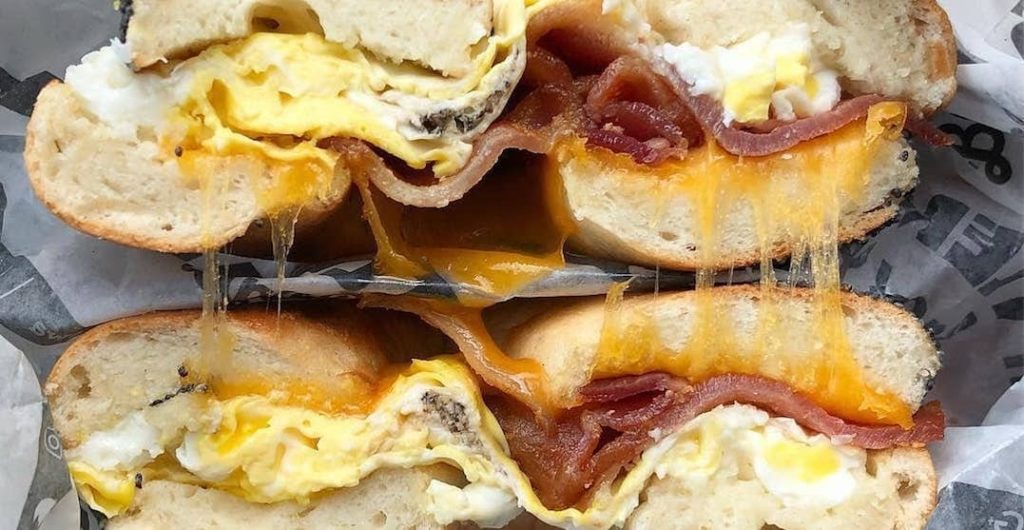 Pair your bagel sandwich or meal with a piping hot cup of coffee, and you've got the perfect meal any time of day. So why not stop by Kettleman's and see for yourself why we love it so much?
La Bottega Nicastro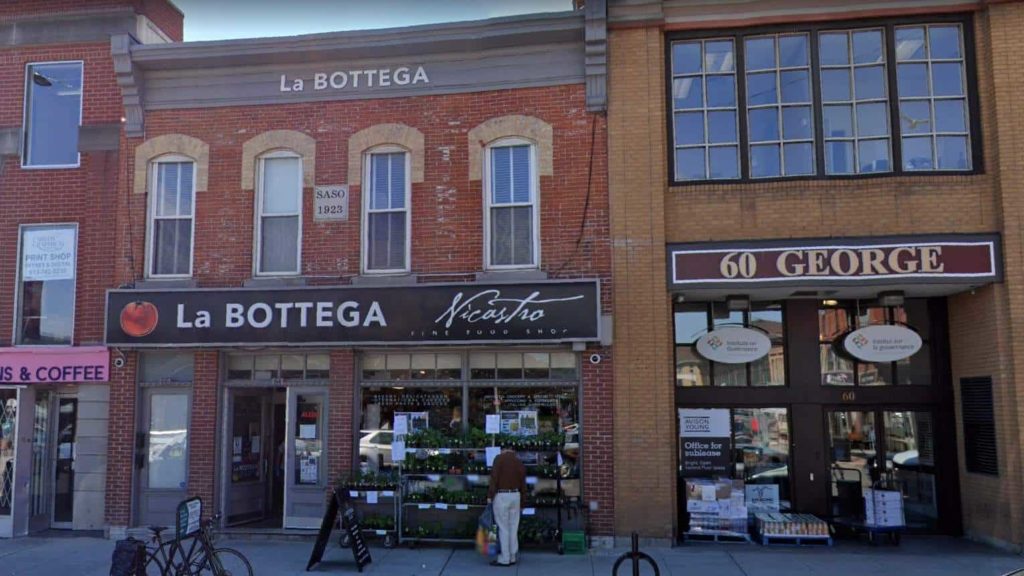 ADDRESS: 64 George St, Ottawa, ON K1N 5V9, Canada
CONTACT: 613 789-7575
WEBSITE: https://www.labottega.ca/
MUST-ORDER MENU ITEMS: Pistachio Cream ($11.99), Biscotti ($5.99), Olive Oil ($9.99), Fresh Pasta ($6.99), Asiago Cheese ($7.50)
PRICING: $
If you haven't visited La Bottega Nicastro yet, you're missing out on a true Italian experience. As you step inside, you'll be greeted by the aroma of freshly baked bread, cured meats, and specialty cheeses that'll transport you straight to the streets of Rome.
We helped ourselves with the deli's offerings, such as an incredible selection of authentic Italian meats like Mortadella, a delicious and slightly sweet cured meat.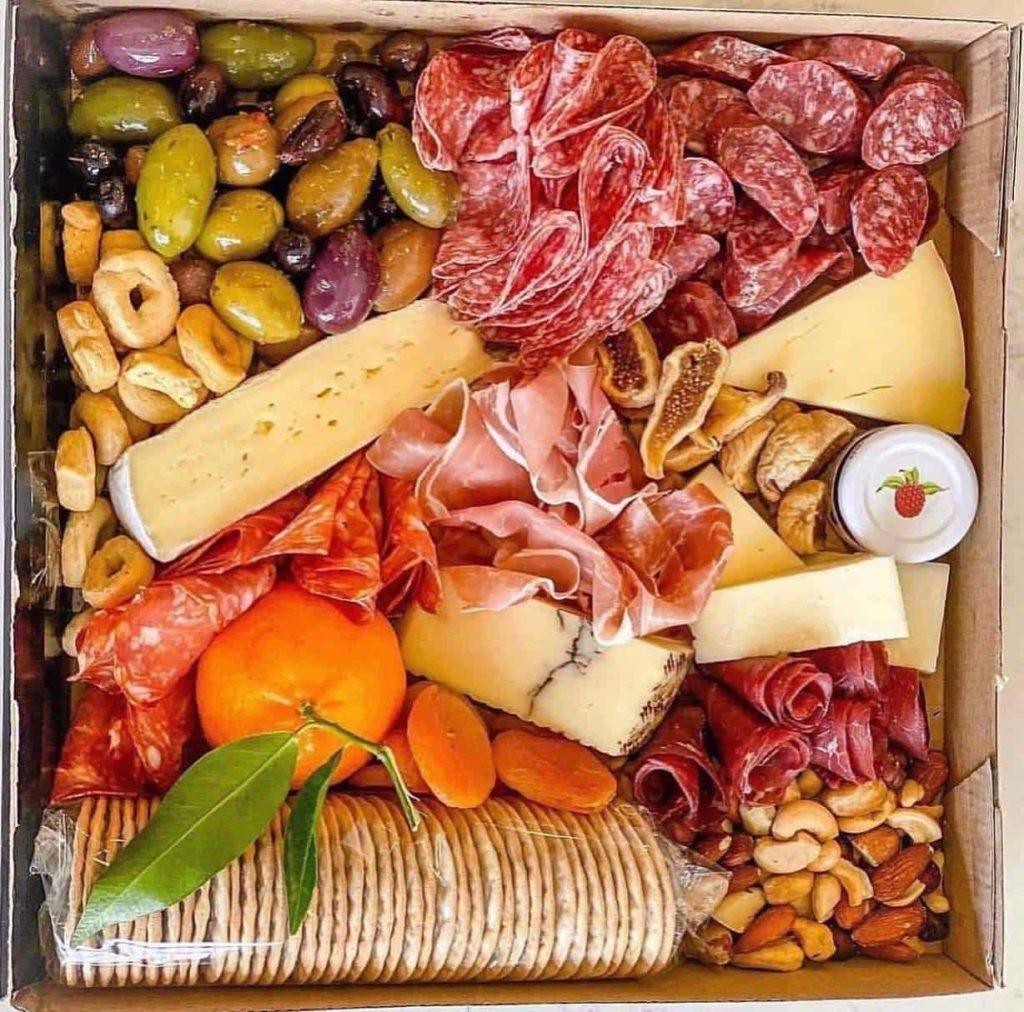 The Pesto Platter, made with freshly made pesto sauce and served with slices of crusty bread that are perfect for dipping, quickly solidified its place at the top of my favorites.
After gorging on these savory treats, you can't pass up on the Italian Creme Cake, which is a rich and oh-so-creamy dessert. You also can't go wrong with the Biscotti, which is a perfect combination of crunch and sweetness.
It also pairs perfectly with a hot cup of coffee!
La Bottega Nicastro is also known for its wide range of specialty cheeses that will tantalize your taste buds. From well-known cheeses like mozzarella to lesser-known ones like Asiago, its cheese storage is well-stocked.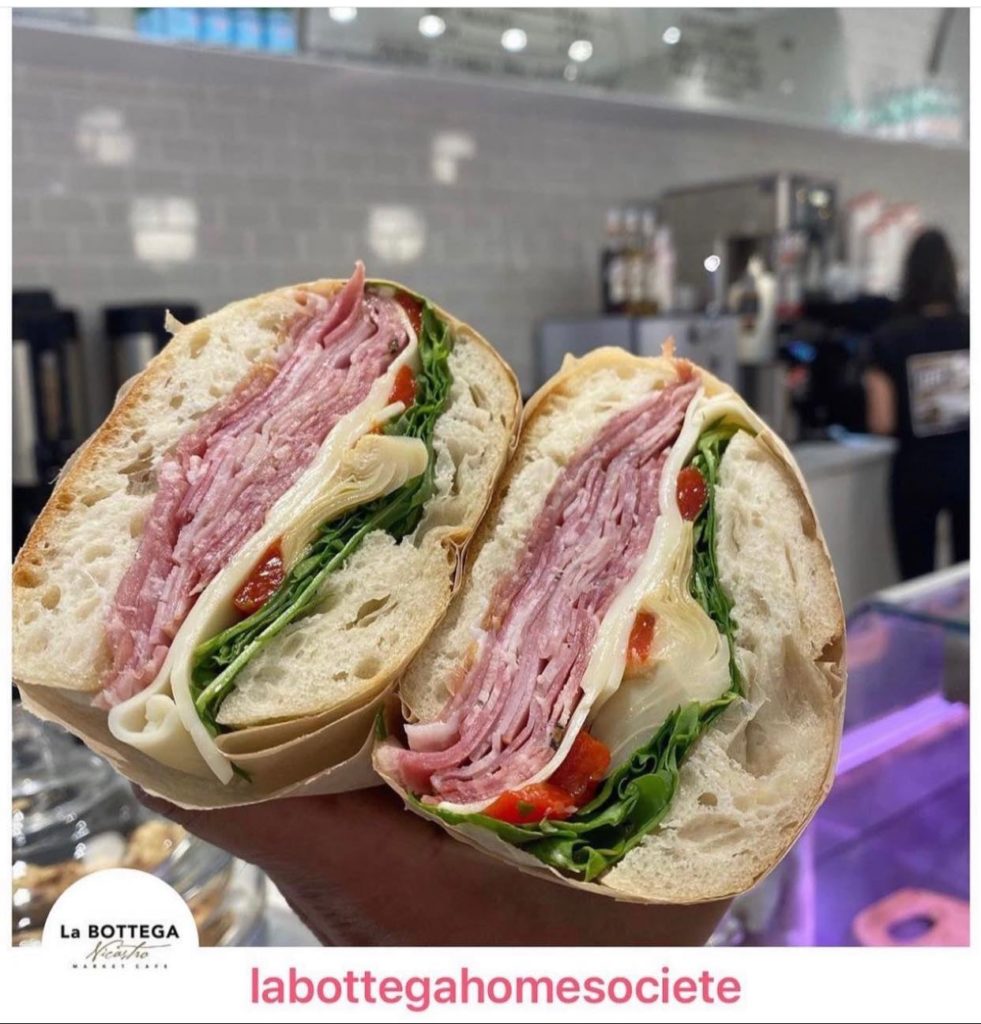 Fresh pasta is another must-try at La Bottega Nicastro. It's made in-house with the finest ingredients, and you can taste the difference in every bite. 
Before saying goodbye, don't forget to stock up on some authentic Italian olive oil to take home with you! With its authentic Italian fare and warm, welcoming atmosphere, it's no wonder why it's a favorite among locals and visitors alike.
Supply and Demand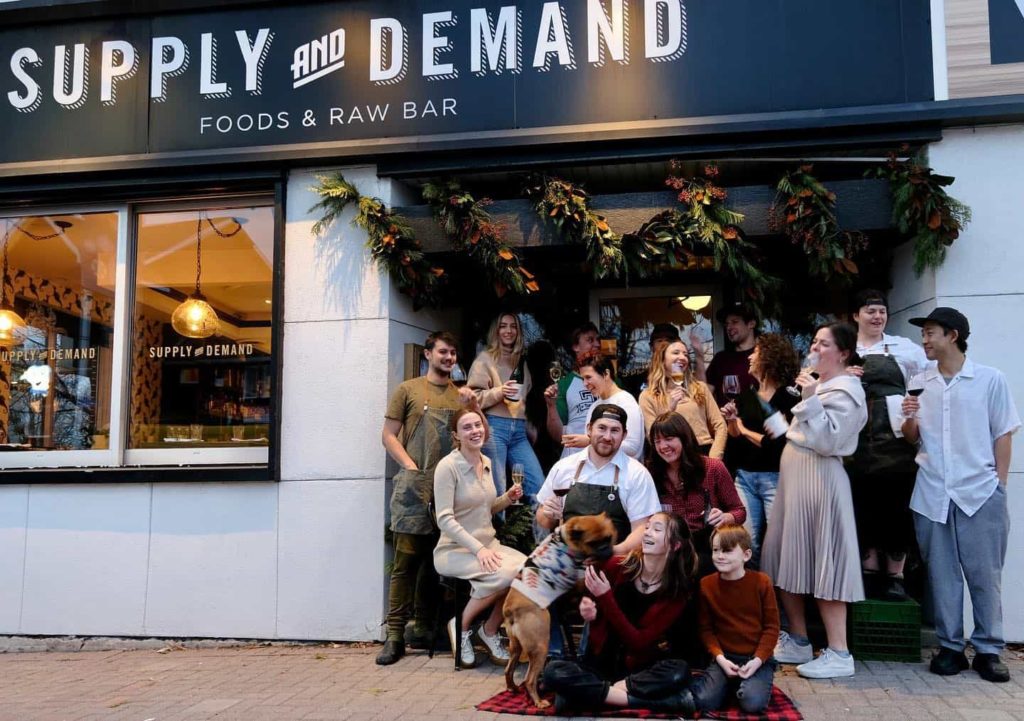 ADDRESS: 1335 Wellington St. W, Ottawa, ON K1Y 3B7, Canada
CONTACT: 613 680-2949
WEBSITE: https://www.supplyanddemandfoods.ca/restaurant/
MUST-ORDER MENU ITEMS: Squid Ink Rigatoni ($28), Albacore Tuna Crudo ($24), Mafaldine with Mushrooms ($30), Classic Beef Tartare ($22), Steelhead Trout ($42)
PRICING: $$$
Supply & Demand is the best destination for those looking to indulge in a luxurious yet laid back dining experience. It offers a wide variety of contemporary cuisine, boasting an array of fresh seafood dishes that are sure to get your taste buds tingling.
The food alone looked as if it belonged only within the confines of a picture, not on our plates waiting to be eaten by us. But we did manage to take the first bite and it was one of the best decisions we'd made in our lives.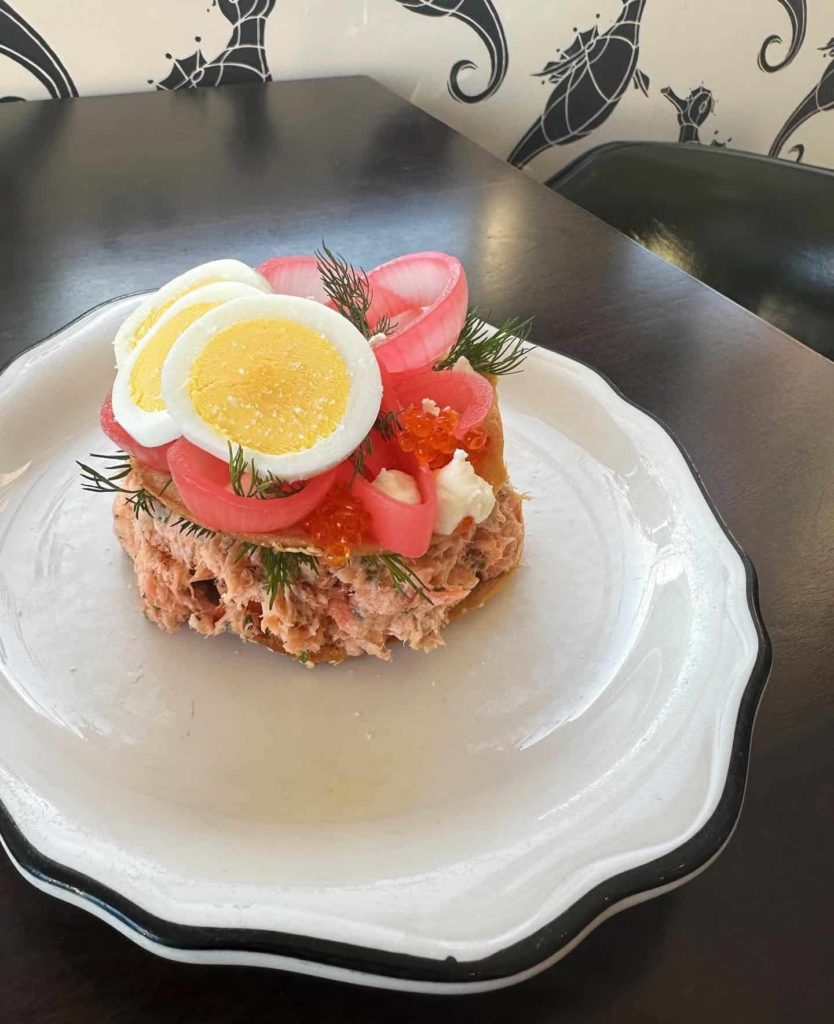 The Squid Ink Rigatoni, which is served with a delectable Fennel Sausage Ragu, has a different sort of umami that's impossible to put into words. The Steelhead Trout was cooked to perfection and served with a side of crispy and flavorful Brussels Sprouts.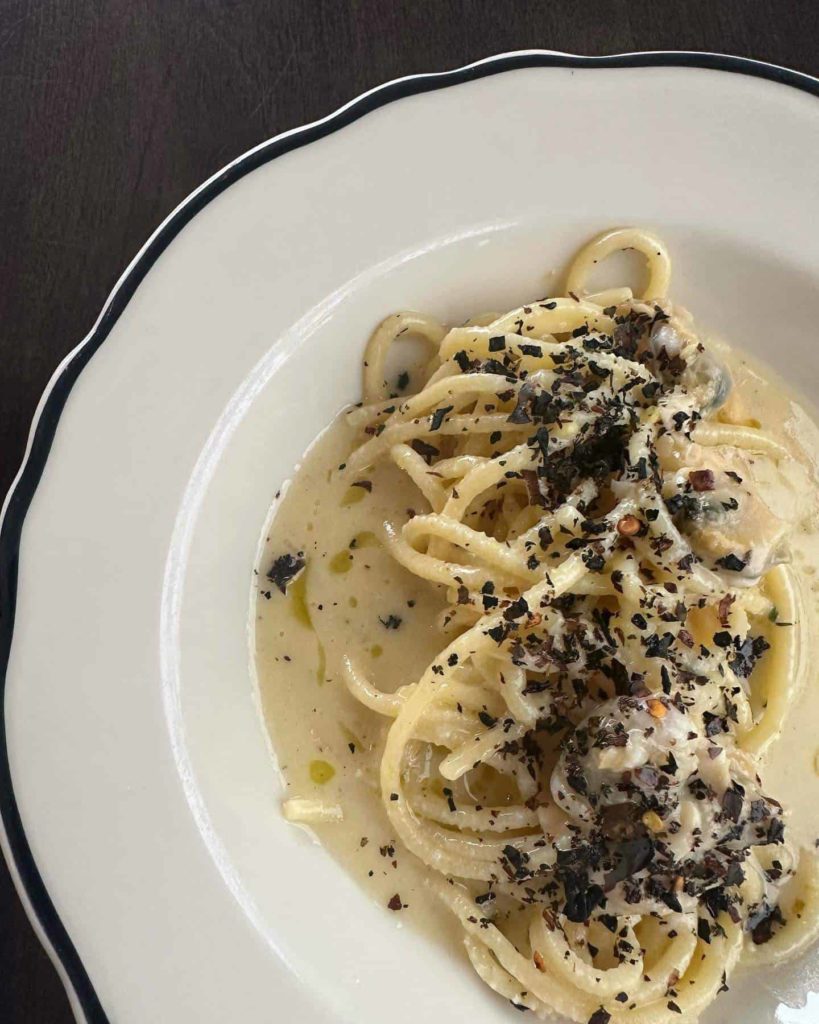 The Albacore Tuna Crudo and the oysters, which are both incredibly fresh and packed with flavor, only enhanced our already great dinner. Even a classic dish like Spaghetti with meatballs was somehow given a modern twist and made better here.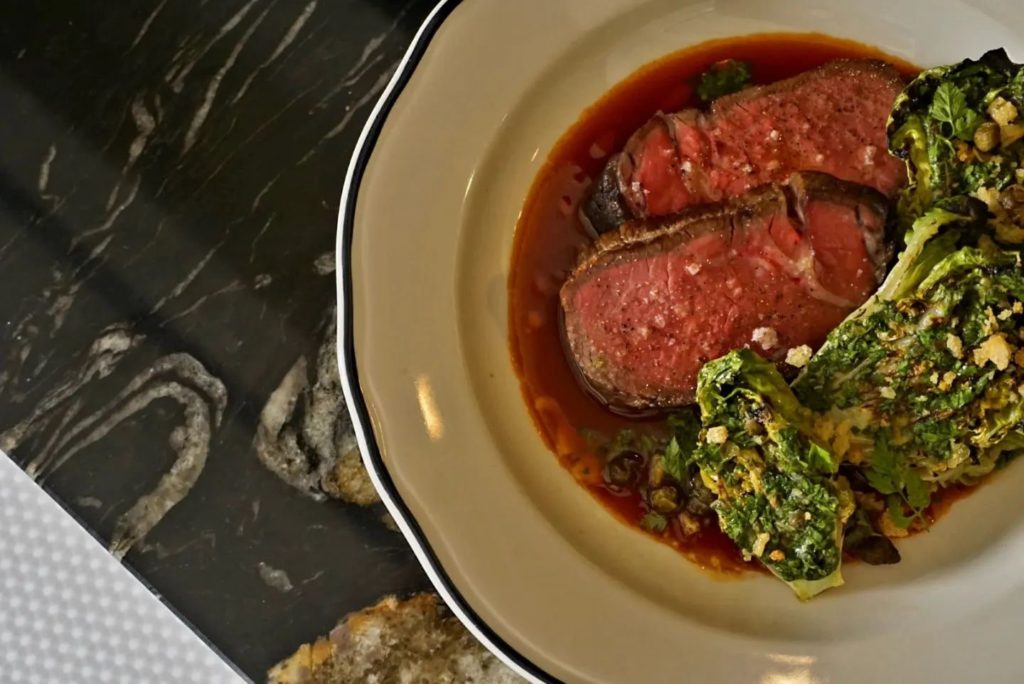 A night here won't be complete without indulging in at least one of the signature cocktails or a glass of wine from the extensive wine list. And don't forget to save room for dessert, especially since the Cream Cheese Gelato is the perfect way to finish.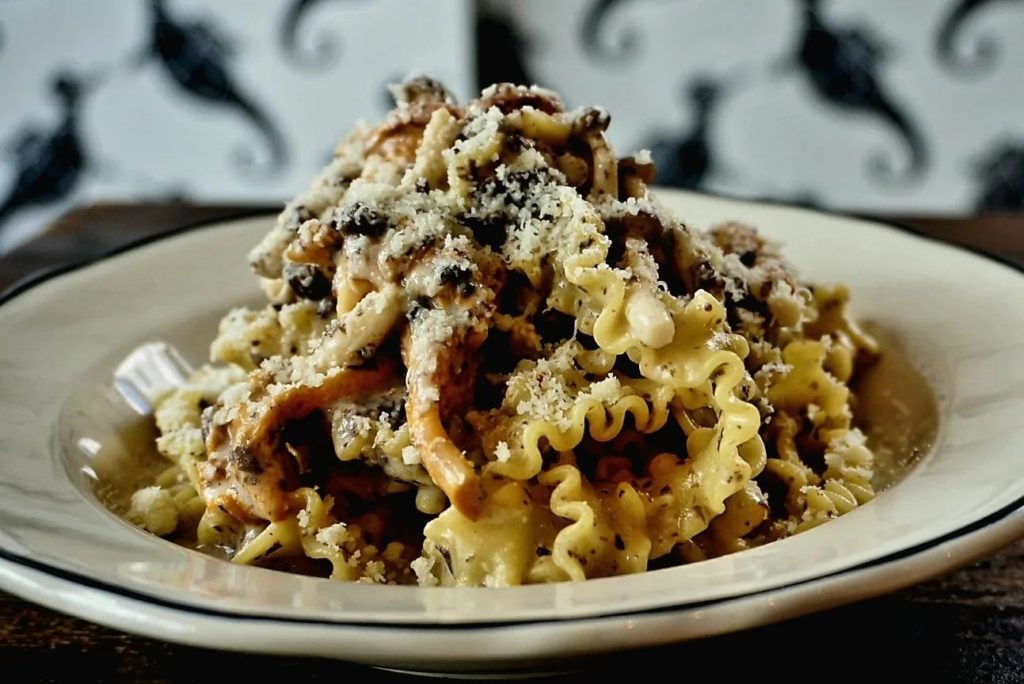 With its intimate ambiance, impeccable service, and delicious cuisine, Supply and Demand is well worth our crying wallets.
Union Local 613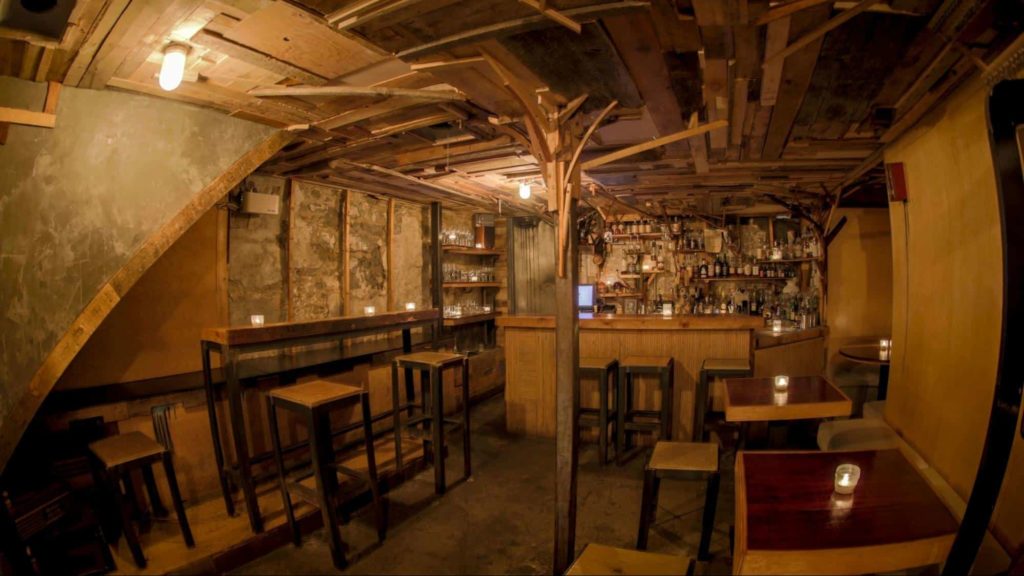 ADDRESS: 315 Somerset St W, Ottawa, ON K2P 0J8, Canada
CONTACT: 613 231-1010
WEBSITE: https://www.union613.ca/
MUST-ORDER MENU ITEMS: Nashville Chicken Sandwich ($20), Shrimp & Grits ($30), Ginger Braised Pork Belly ($32), Cornbread ($10), Grilled Swordfish Steak ($33)
PRICING: $$
Craving some classic pub grub with a twist? Union Local 613 on Somerset Street is a trendy bar and restaurant that offers a unique atmosphere with great food.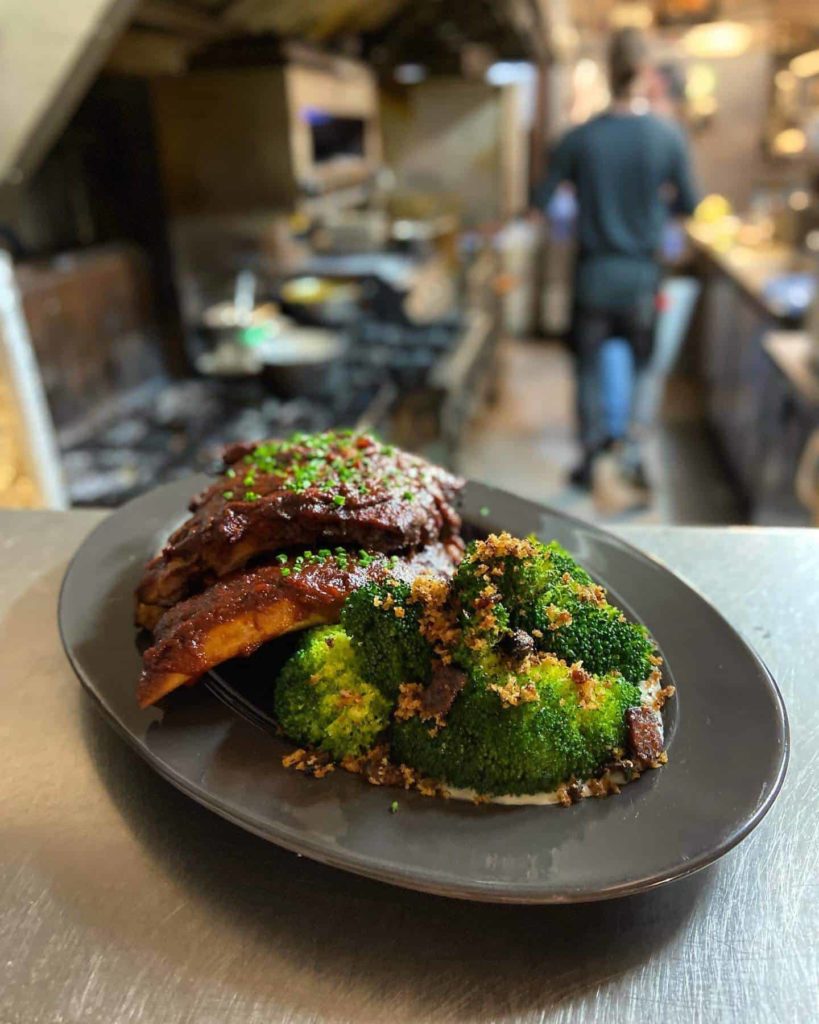 With an impressive selection of craft beers and cocktails, it's a great spot for a night out with friends or a romantic evening with your special someone. For us, it turned out to be an awesome place to eat and be merry with coworkers after a long day.
The brunch menu is worth getting out of bed for before noon, with classic breakfast dishes like chicken and waffles and indulgent treats like cornbread and beignets.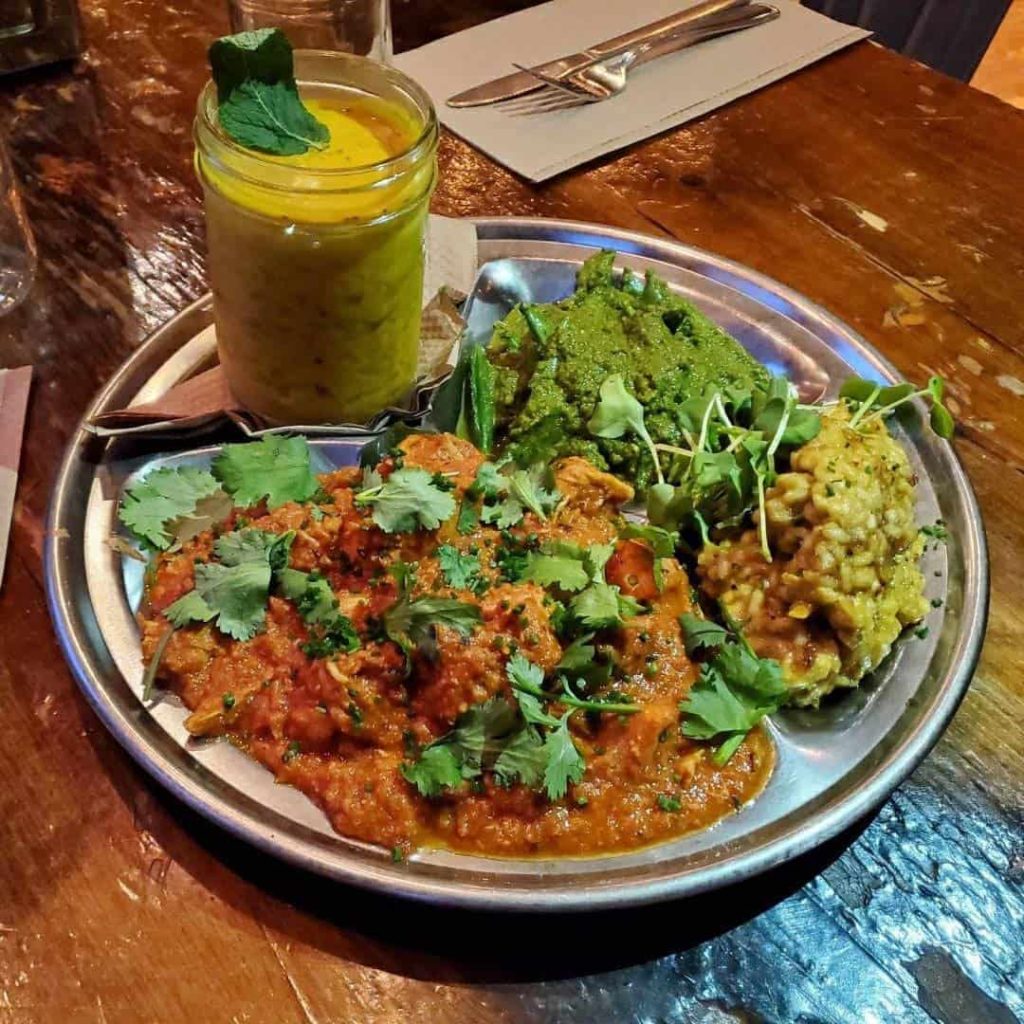 But if you're looking for something more substantial, you can't go wrong with the smoked duck confit, cooked to perfection and bursting with flavor. There's also the juicy and succulent lamb dish.
The northern char is another must-try, but our favorite was the shrimp and grits which were simply divine with their complex flavors that worked together in harmony.
Regardless of what you choose, don't forget to save room for the signature dessert — fried donut holes that are crispy on the outside and perfectly gooey on the inside.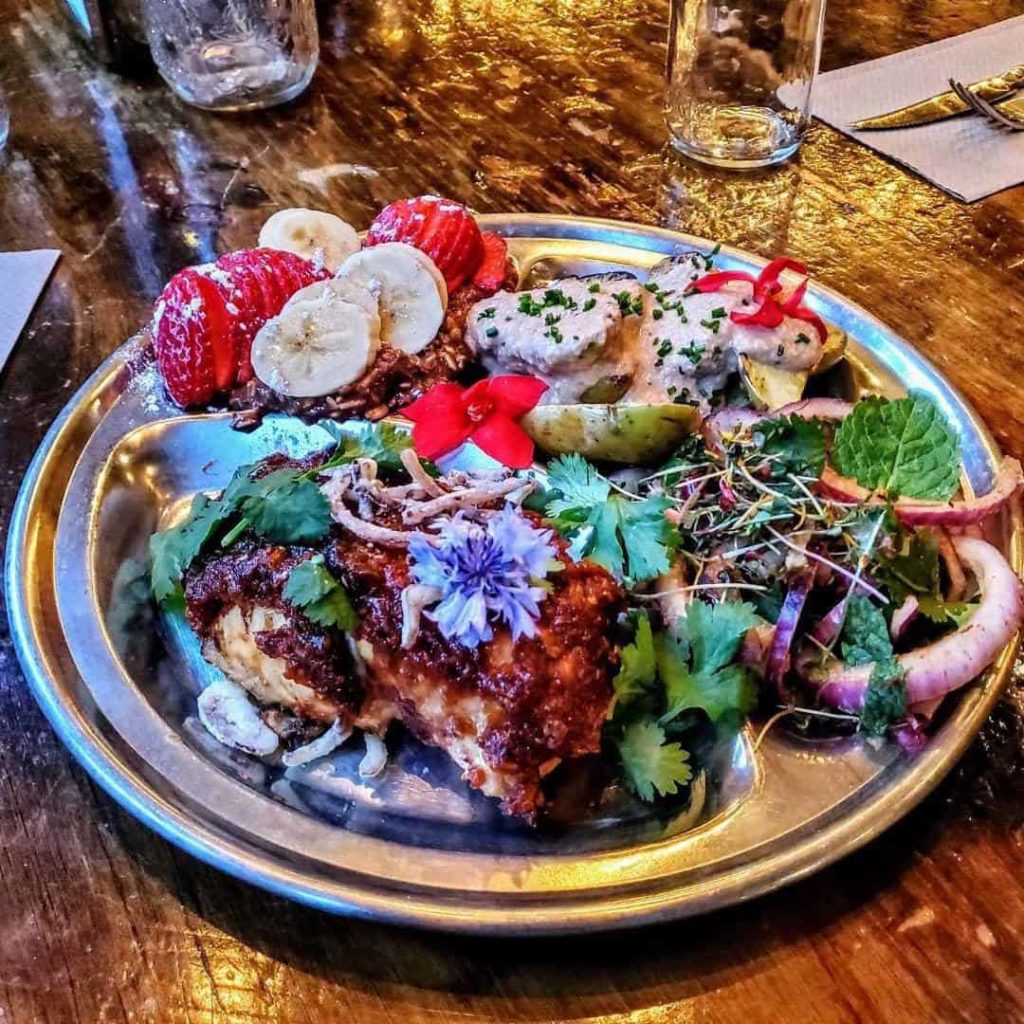 With its warm and inviting atmosphere and delicious food, Union Local 613 can be the right spot to catch up with old friends or make new ones. So why not come and visit to unwind for a night of food, drink, and laughter?
---
| Restaurant | Address | Main Specialty | Pricing |
| --- | --- | --- | --- |
| Whalesbone Oyster House | 430 Bank St, Ottawa, ON K2P 1Y8, Canada | Oyster bar, and sustainable seafood dishes. | $$$ |
| Atelier | 540 Rochester St, Ottawa, ON K1S 4M1, Canada | 12-course menu with a focus on molecular gastronomy. | $$$ |
| SuzyQ | 1015 Wellington St. W, Ottawa, ON K1Y 2V7, Canada | Uniquely flavored donuts. | $$ |
| Stella Luna Gelato Cafe | 1103 Bank St, Ottawa, ON K1S 3X4, Canada | Yummy, and cold sweet treats. | $$ |
| BeaverTails | 69 George St, Ottawa, ON K1N 1K1, Canada | Delicious fried dough pastries. | $ |
| Fraser Cafe | 7 Springfield Rd, Ottawa, ON K1M 1C8, Canada | Locally sourced, globally inspired dishes. | $$$ |
| Manx | 370 Elgin St Suite No. 1, Ottawa, ON K2P 1N1, Canada | Pub grub occasionally accompanied by some live music. | $$ |
| Kettleman's | 912 Bank St, Ottawa, ON K1S 3W4, Canada | Freshly baked bagels. | $ |
| La Bottega Nicastro | 64 George St, Ottawa, ON K1N 5V9, Canada | Authentic Italian deli meats, and products. | $ |
| Supply and Demand | 1335 Wellington St. W, Ottawa, ON K1Y 3B7, Canada | Contemporary farm-to-table cuisine. | $$$ |
| Union Local 613 | 315 Somerset St W, Ottawa, ON K2P 0J8, Canada | Southern-inspired dishes & libations. | $$ |
*Pricing Guide
$ = Affordable/Budget-friendly
$$ = Mid-range/Slightly more expensive
$$$ = High-end/Expensive