The Most Exciting Activities You Can Do in Ottawa's Confederation Park
Confederation Park is a beautiful public location in the heart of Ottawa, Canada's capital city. It's the favorite location of many Ottawans, including myself!
Want to visit the park but don't know what to do? Here are a few activities that I can recommend!
Relax and enjoy the green space.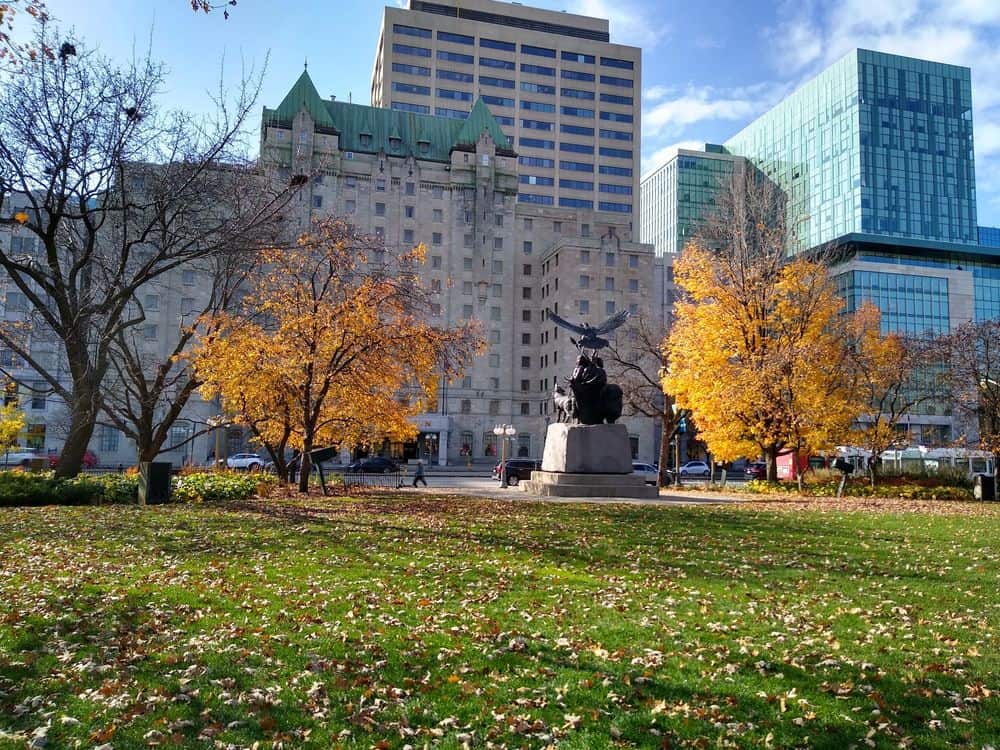 Confederation Park provides a peaceful and picturesque green space in the heart of the city. Take a leisurely stroll, have a picnic on the grass, or simply find a bench to sit on and enjoy the surroundings.
My family and I love having picnics in the park just to bond and share stories with one another. If you haven't tried going on a picnic in Confederation Park yet, I highly recommend it!
Pro tip:
Since the park is a public place, it's best to plan your visit when the park isn't very crowded. It's agreed by many locals that the best months to visit are from March to June when the temperature is warm and the park is less crowded.
Participate in fitness and recreational activities.
The park provides opportunities for outdoor activities such as jogging, walking, or cycling. Occasionally, you may find fitness classes, tai chi, and yoga sessions that you can join for free.
Of course, you can also do other recreational activities here.
The park has big patches of grass that are perfect for frisbee or playing catch. There are also plenty of picturesque spots where you can take photos that you can post on your social media page.
Pro tip:
There is no set schedule for when fitness classes take place in Confederation Park. But you can visit sites like allevents.in for updates.
Try out the Confederation Park bistro.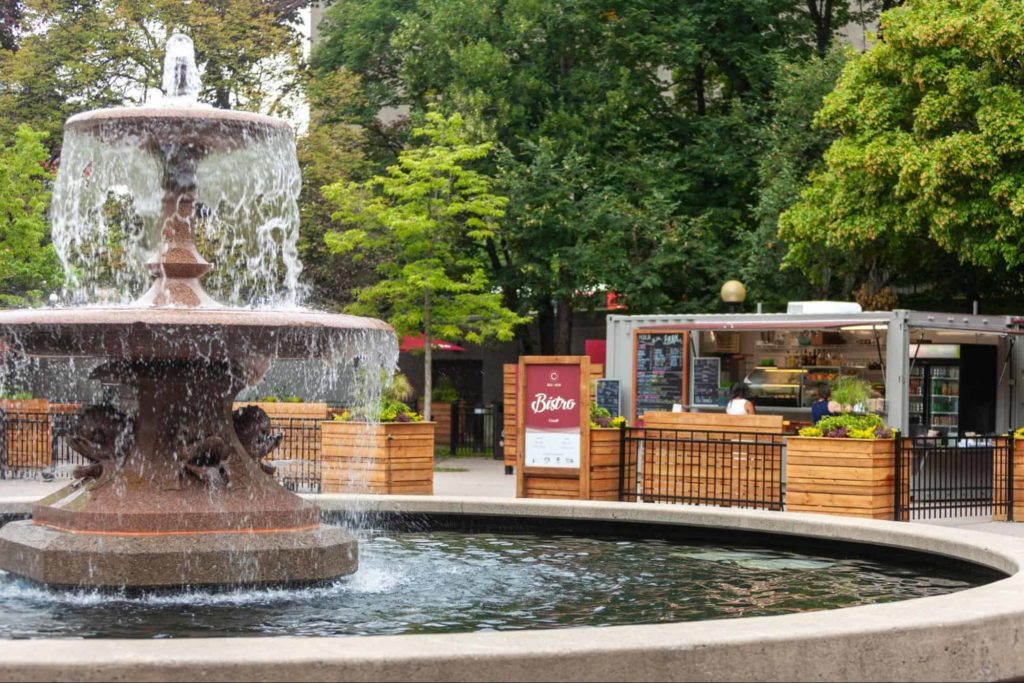 Location: Elgin Street and Laurier Avenue, Ottawa ON K1P 5J2
Hours: Daily starting early June, 9 am to 9 pm
Menu:
All-day menu includes an assortment of sandwiches, fine pastries, baked goods, bars, salads, ice cream and popsicles, beer, wine, and hot beverages.
Vegetarian options are available.
Price Range: $5.50 – $10
The NCC has worked with local restaurant entrepreneurs to improve the experience of Ottawa's urban parks and their shorelines. Each NCC Bistro has a contemporary patio design and a diverse menu of food and beverages.
Come for the cuisine, but stay for the scenery! Enjoy patio season at the Bistro and improve your experience in an urban park.
From personal experience, I consider the NCC Bistro in Confederation Park to be a true urban sanctuary. It is tucked away from the hustle and bustle of the streets in the heart of downtown Ottawa and gives you a great opportunity to eat good food and relax.
Besides that, it is located close to the famous Rideau Canal, so you can enjoy its beautiful scenery while you dine.
Pro tip:
The menu is subject to change, so do expect that some dishes may not be available when you visit. Also, it's worth mentioning that the bistro's opening hours may vary according to the weather.
Admire public art installations.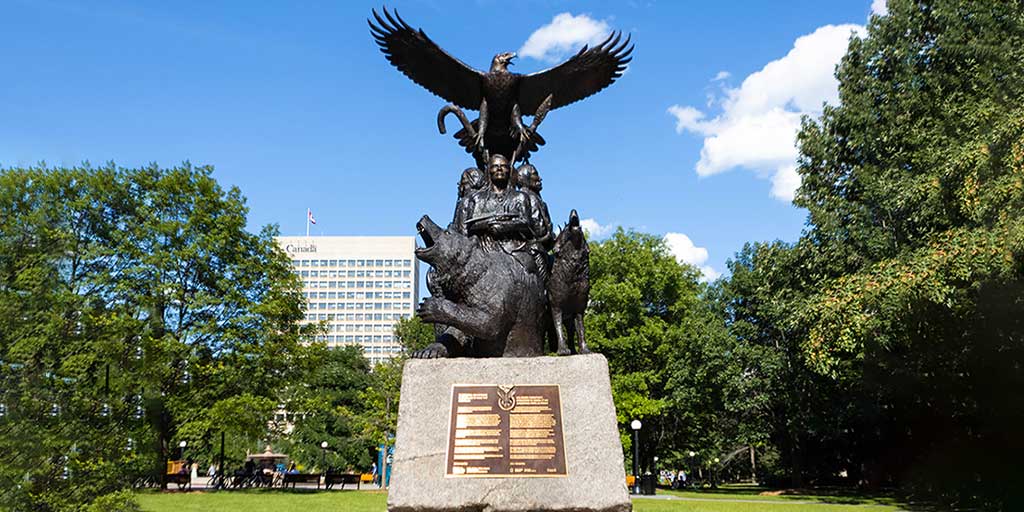 Location: Elgin St, Ottawa, ON K1P 5J2, Canada
Operating hours:
Confederation Park features various public art installations, sculptures, and monuments. Take a walk around the park and appreciate the creativity and beauty of these artworks.
It's worth noting that some of these installations aren't permanent, and you might see different ones the next time you visit.
If you've seen all the installations in the park and want to see more, take a quick walk to Ottawa City Hall. Here, you can find even more amazing works of art.
Pro tip:
If you've seen all the installations in the park and want to see more, take a quick walk to Ottawa City Hall since it's near Confederation Park. Here, you can see even more amazing works of art.
Enjoy the winter activities.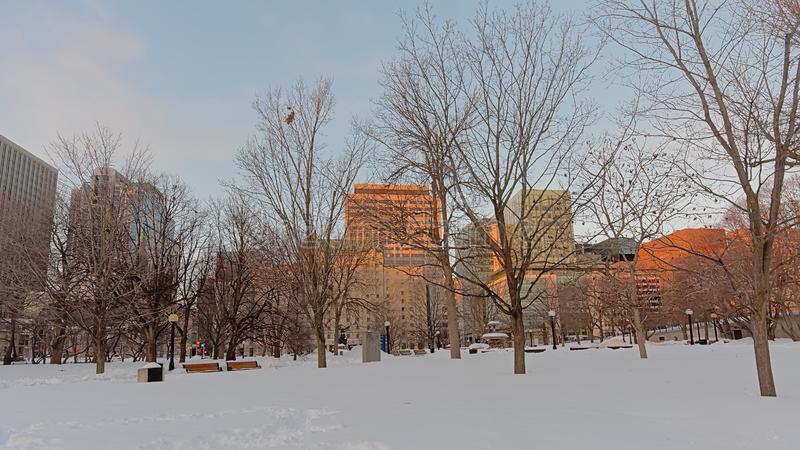 During the winter months of October to April, Confederation Park becomes a hub for activities in the snow. The park's ice rink offers public skating along with rentable skates so anyone can participate.
If you're a fan of these kinds of activities, I highly recommend that you visit the park in February. This is where the Winterlude festival takes place, and you can find live entertainment, expertly crafted ice sculptures, and other exciting activities.
Shop and dine on Sparks Street.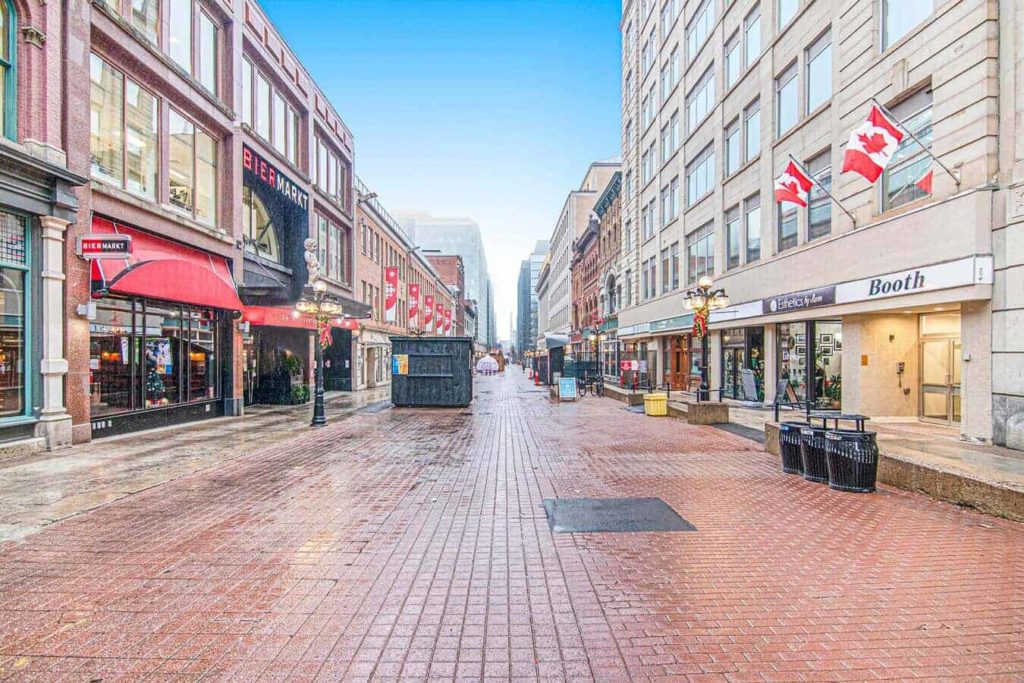 Location: 200-100 Sparks Street, Ottawa, ON, Canada, Ontario
Operating hours:
9:30 AM- 10:00 PM (Shops differ in closing and opening times)
This beloved pedestrian-only street is a beloved location for both Ottawans and tourists alike.
Take a stroll down Sparks Street (Shopping guide in sparks street downtown ottawa) to explore the many shops that it offers. It is known for its variety of shops, boutiques, and retail establishments that are always brimming with people.
You can find a range of stores offering clothing, accessories, souvenirs, and other goods here that might catch your eye. The street is especially popular during festivals and events when vendors set up temporary stalls.
If you're in the mood for some good food, the street is also lined with numerous outdoor cafés, restaurants, and patios, providing visitors with an opportunity to relax, dine, and people-watch.
Overall, it's a great place to enjoy some shopping and good food.
Pro tip:
If you're looking for a specific shop, you'll find an information kiosk near the corner of Elgin and Spark Street. You can gather maps and brochures, and get advice from friendly staff as to where you should go.
Go shopping in the ByWard Market.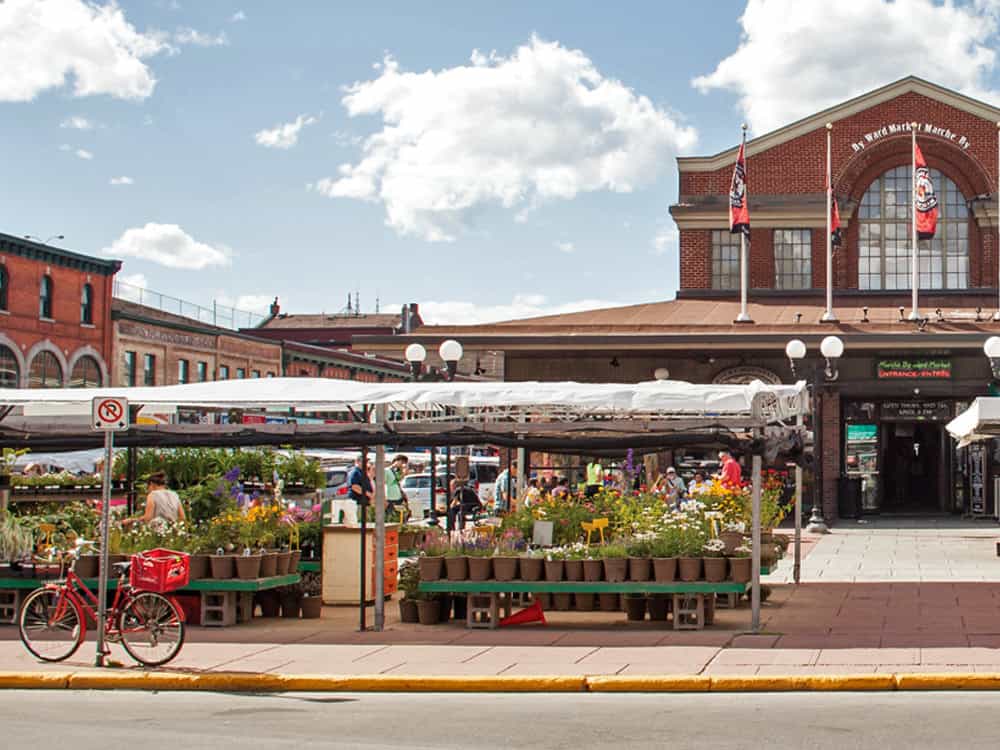 Location: 55 Byward Market Square, Ottawa, ON K1N 9C3, Canada
Operating hours:
Monday-Saturday: 10 AM-6 PM
Sunday: 10 AM-5 PM
The ByWard Market is a vibrant neighborhood located just a few blocks away from Confederation Park. It is home to numerous restaurants, cafes, and shops, and is a great place to explore and shop for souvenirs.
This is primarily an outdoor market, with stalls and stands lined up along the streets. During the summer, there is a variety of fresh vegetables, flowers, baked goods, and other food items available.
It's a terrific spot to pick up fresh ingredients or grab a quick bite from one of the many food booths.
In addition to the outdoor vendors, the market also has a complex called the ByWard Market building. There are specialty food shops, boutiques, restaurants, and cafes inside.
Pro tip:
Parking can be limited in the ByWard Market area, particularly during busy times. Consider utilizing public transport or alternative modes of transportation, such as walking or cycling.
Attend the festivals and events.
Confederation Park is a popular venue for festivals and events throughout the year. It hosts Winterlude, an annual winter festival featuring ice sculptures, skating, and various activities.
Depending on the season, there are different events that will take place. Here are a few notable ones.
Canada Day Celebration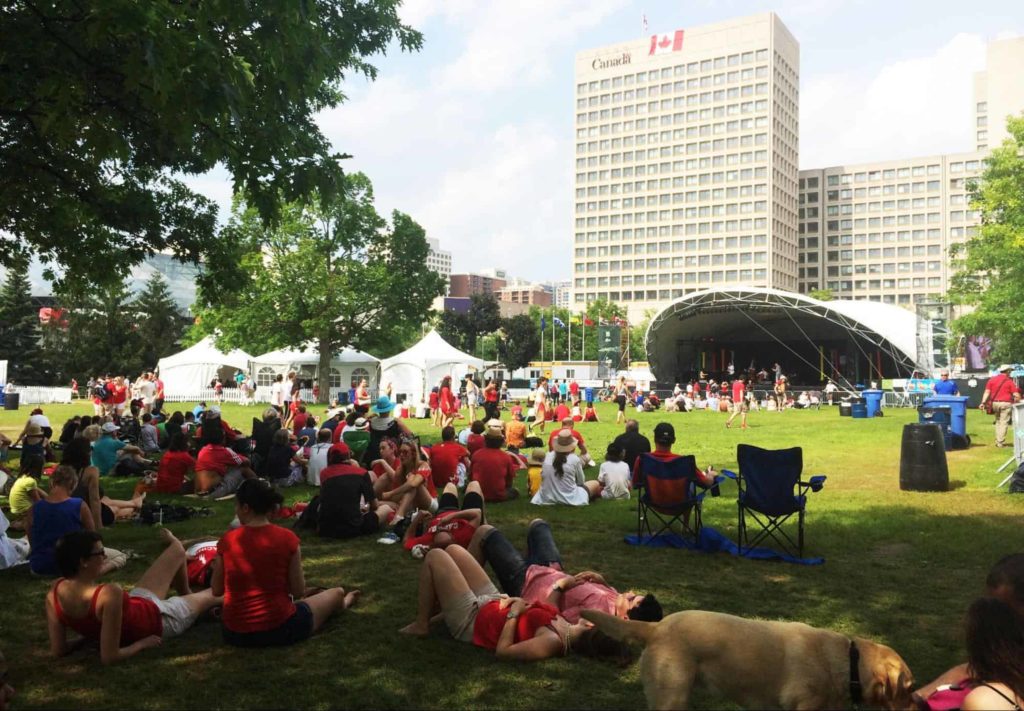 When: July 1st
Confederation Park is a hub of activity on Canada Day, July 1. It hosts a ton of different activities that will give you an incredible time.
Throughout the day, concerts and shows by well-known Canadian musicians and artists
take place in Confederation Park alongside other key locations such as Parliament Hill.
Different kinds of music, like rock, pop, folk, and classical, are played at these concerts so that a wide range of people can enjoy them.
You will also see streets such as Wellington Street and Elgin Street come to life with street performers, food vendors, family-friendly activities, and festive decorations.
Winterlude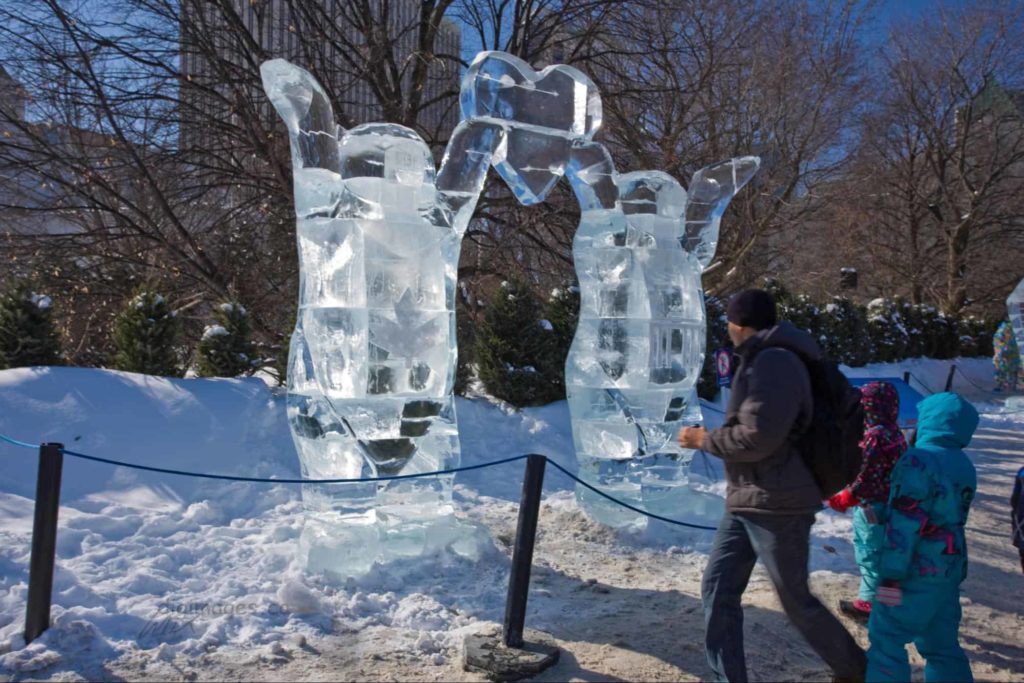 When: February
Confederation Park is one of the key locations for the Winterlude festival, typically held in February. The park features snow and ice sculptures, outdoor ice skating, live entertainment, and interactive activities.
Ottawa International Jazz Festival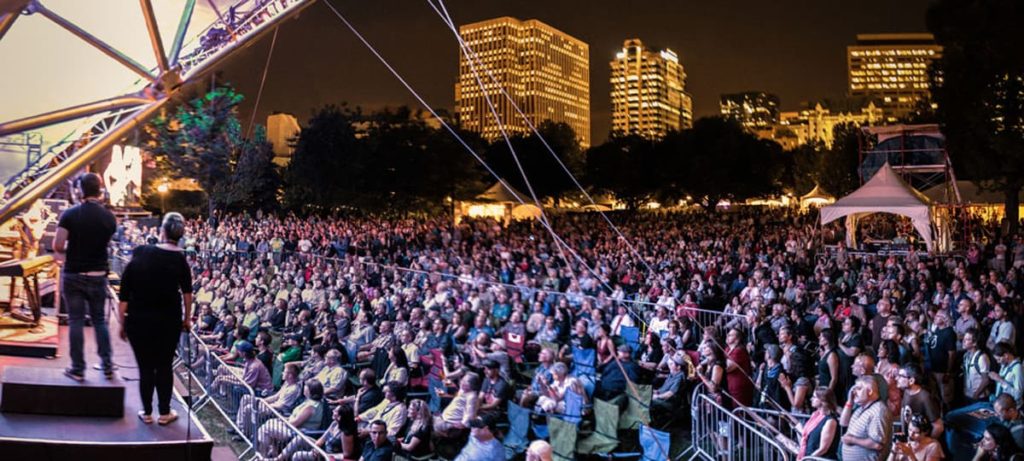 When: Late June to early July
The Ottawa International Jazz Festival is held every year at the end of June or the beginning of July. Jazz musicians from around the world and from the area perform live in the park.
In addition to the music, there are often other things to do and see at the Ottawa International Jazz Festival. This could include food vendors, artists, interactive workshops, jam sessions, and educational events for music fans of all ages.
Christmas Lights Across Canada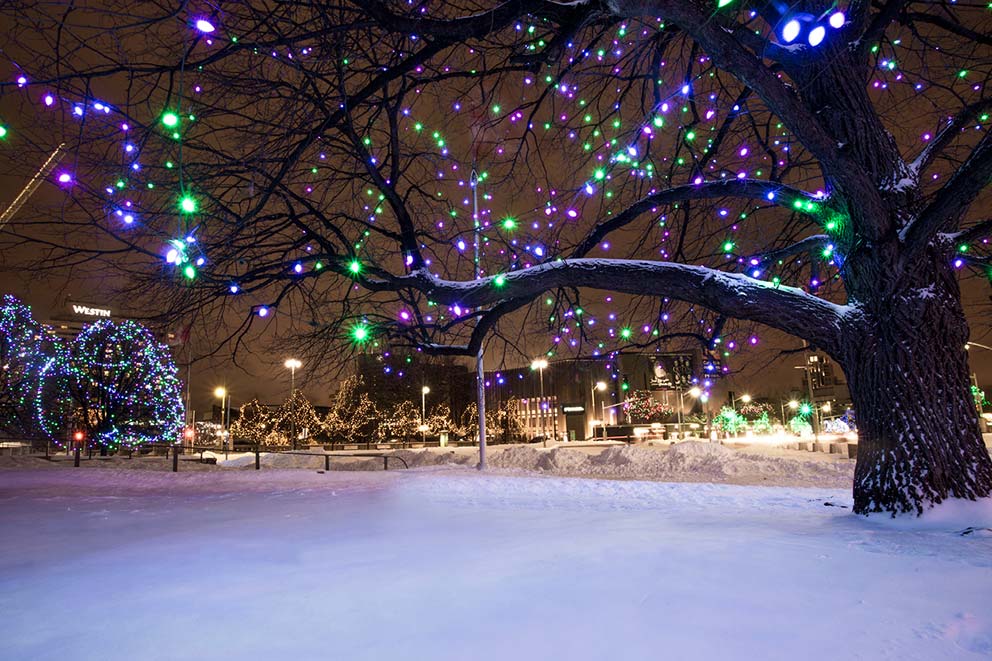 When: Late November to early January
From late November to early January, Confederation Park is part of the Christmas Lights Across Canada program.
It will be illuminated with festive lights, creating a magical atmosphere for visitors to enjoy. This will help you create memories with your loved ones with picturesque scenery.
Pro tip: 
If you want to attend a specific festival, I highly recommend that you mark your calendar. There is a dedicated website that keeps track of all upcoming events in Confederation Park.
Explore the signature landmarks.
Confederation Park is located in downtown Ottawa, making it easy to visit some of the capital's key landmarks.
National War Memorial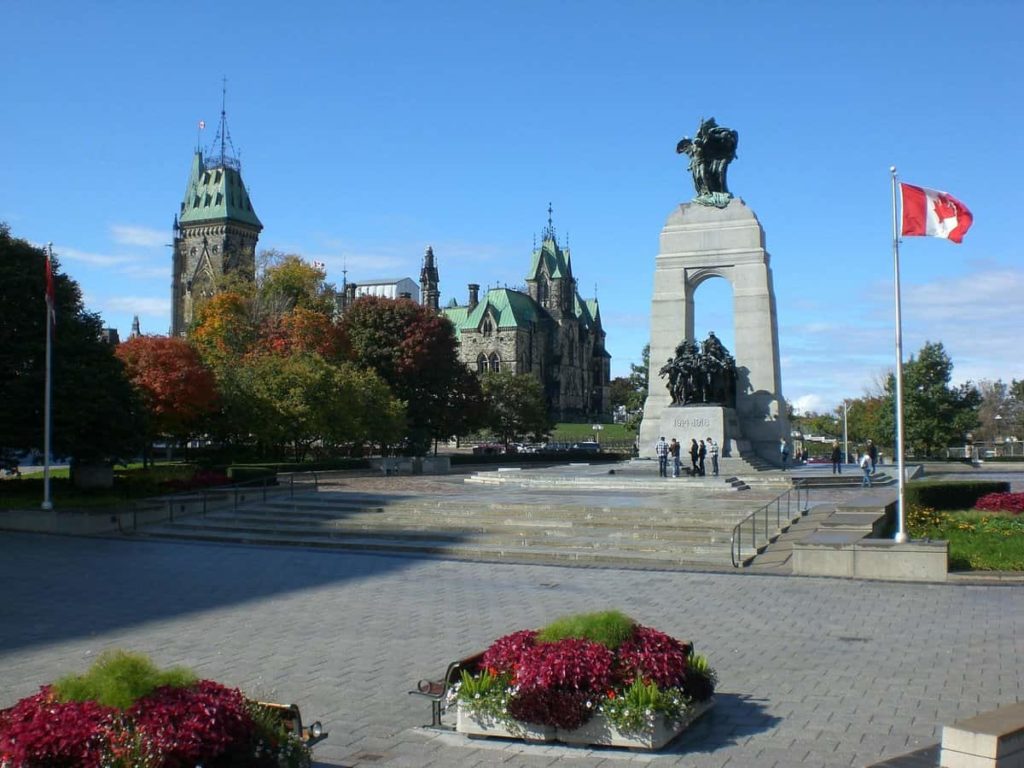 Address: Wellington St, Ottawa, ON K1P 5A4, Canada
Operating hours:
The National War Memorial is a historic monument located just a few blocks away from Confederation Park. It honors the sacrifices made by Canadian soldiers in various wars and conflicts.
The center granite arch of the National War Memorial is a symbol of the sacrifices made by Canadian soldiers. On top of the structure is a bronze statue called "The Response" or "The Great Response."
It shows a man carrying a sword and a wreath, which stands for how Canada answered the call of duty. There are also several other bronze plaques and sculptures at the monument that show scenes from different wars.
You also have the Tomb of the Unknown Soldier at the base of the memorial. It holds the remains of a Canadian soldier who died in World War I, but no one knows their identity.
It serves as a memorial to all the brave, unnamed Canadian troops who died in service of their country.
National Gallery of Canada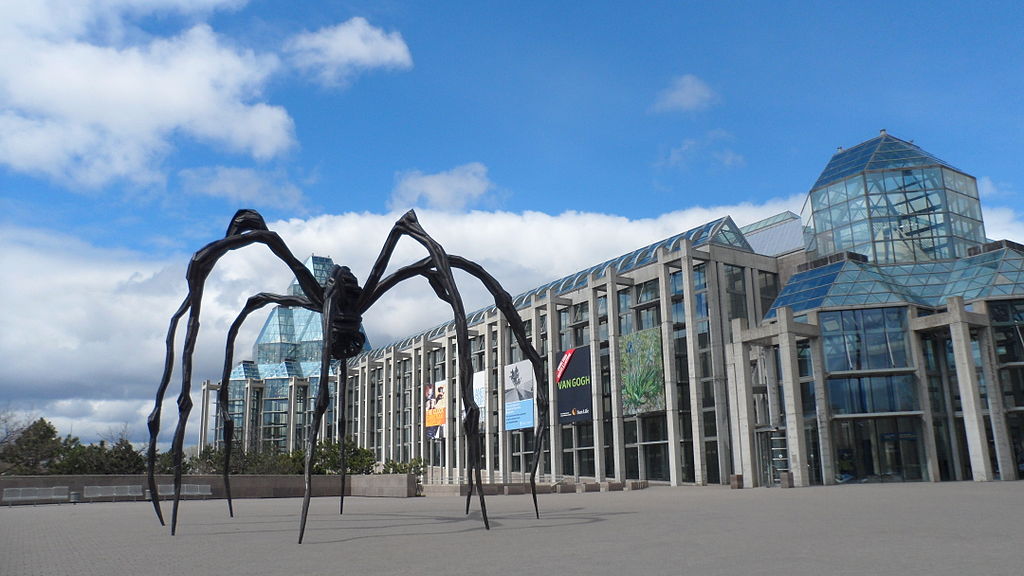 Address: 380 Sussex Dr, Ottawa, ON K1N 9N4, Canada
Operating hours:
Monday to Sunday (Except Thursday): 10 AM-5 PM
Thursday: 10 AM-8 PM
Admission Fee:
Members – Free
Adults – $20
Adults 65+ (Proof of age required) – $18
24 and under / Students (Proof of age or ID required) – $10
Families (2 adults & 3 youths age 17 and under) – $40
Children (Age 11 and under) – Free
The National Gallery of Canada is located adjacent to Confederation Park and is home to a vast collection of Canadian and international art, including paintings, sculptures, and photographs.
It also features some incredible indigenous art that represents the diverse cultures of the natives of Canada.
Then you've got the Rideau Chapel, which I believe is one of the better attractions in the gallery due to its beautiful stained glass windows created by artist Guido Nincheri.
Parliament Hill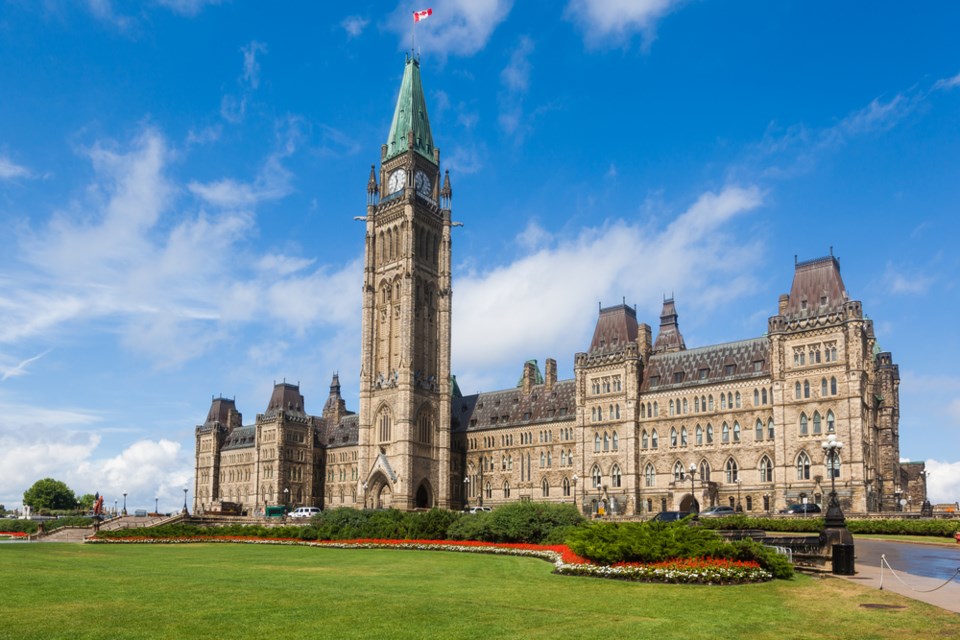 Address: Wellington St, Ottawa, ON K1A 0A9, Canada
Operating hours:
Parliament Hill is a famous landmark located just a short walk away from Confederation Park. It is home to the Canadian Parliament Buildings and offers breathtaking views of the Ottawa River.
After taking a six-minute walk, you can find famous buildings such as the Peace Tower and the Houses of Parliament.
It offers a look at what goes on with Canada's federal government and some of the ceremonies that take place, such as the changing of the guard from June to August.
Rideau Canal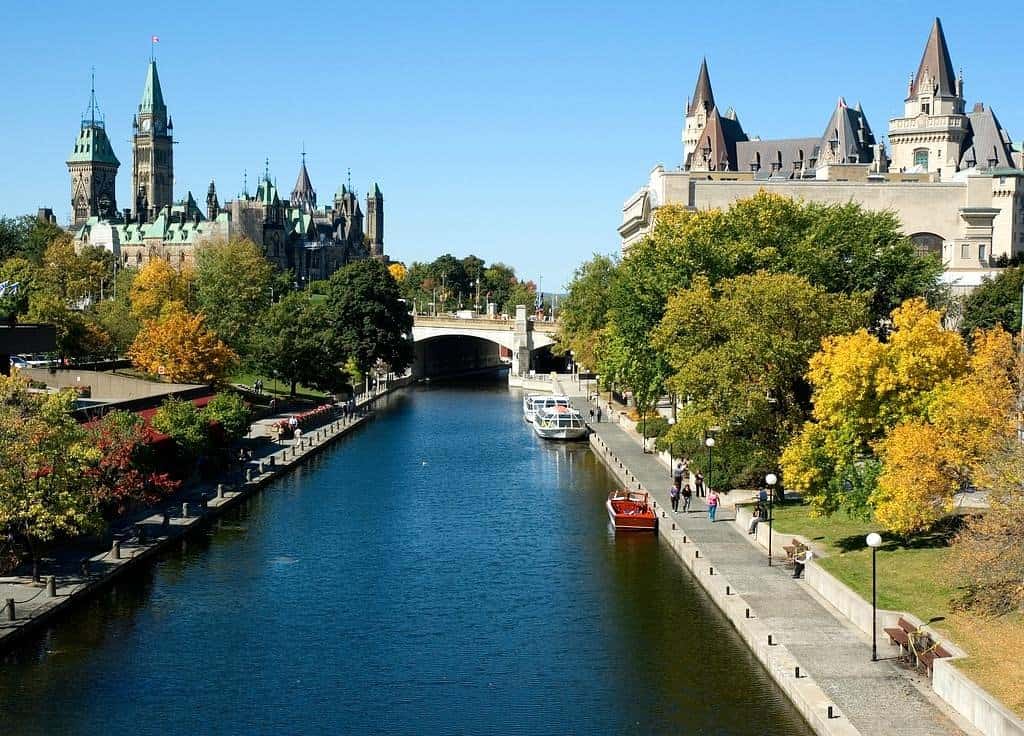 Address: Ottawa, ON, Canada
Operating hours:
May 20 to June 26: Victoria Day: 9:00 am – 7:00 pm
June 27 to September 5: Canada Day, August Civic Holiday, and Labour Day: 9:00 am – 7:00 pm.
Sept 6 to Oct 10: Thanksgiving: 9:00 am – 5:00 pm
Admission Fee:
General:
Group Tour for Commercial Group, per person: $ 3.40
Education Program: $ 1.90 per person
Group Camping without Showers, per person: $ 4.90
Lockage: (Per foot)
Single Lock and Return: $ 0.90
One Day: $ 1.60
Transit one-way: $ 4.65
Six Days: $ 5.05
Seasonal: $ 8.80
Seasonal (Rental House Boats): $ 13.10
Seasonal (Commercial): $ 28.80
Boat Launching:
Per Day: $ 9.80
Per Season: $ 98.10
Mooring: Per Foot:
Overnight (includes day mooring): $ 0.90
Seasonal, overnight: $ 9.80
Seasonal (Commercial), overnight: $ 19.60
The Rideau Canal is a UNESCO World Heritage Site that runs through downtown Ottawa. It is a popular spot for boating, walking, and cycling, and offers stunning views of the city.
By touring the canal, you will see plenty of other landmarks including its iconic lock system which allows boats to navigate through changes in elevation along the waterway.