9 Activities You Can Do in the Ottawa Memorial Auditorium
While the Ottawa Memorial Auditorium has been around since 1919, it still remains a beloved location to this day.
Affectionately referred to as "The Aud," it's a building that has seen countless events take place in its lifespan, and continues to see use for all kinds of purposes.
Check out these fun activities that you can do if you want to visit the place.
Attend a concert or performance.
The Ottawa Memorial Auditorium boasts a rich history and is steeped in tradition. It's been a pillar of our cultural and entertainment scene for decades.
When you walk through its doors, you're entering a venue that's seen some of the most iconic moments in our city's history. That in itself adds a layer of depth and significance to the experience.
The intimacy of the venue is a game-changer. Unlike the huge stadiums that can sometimes leave you feeling disconnected from the performance, the Memorial Auditorium provides a cozy, up-close-and-personal setting.
The acoustics are spot on, so every note and word carries beautifully. Rock, classical, comedy, and just about any show will be guaranteed to sound incredible
But what truly makes attending a concert or performance at the auditorium outstanding is its versatile lineup. This venue caters to a broad spectrum of tastes.
You can catch everything from local indie bands to renowned international acts, from Broadway shows to symphony orchestras. It's like a one-stop shop for cultural and entertainment experiences.
And let's not forget the convenience factor. Located right in the heart of Ottawa, the auditorium is easily accessible and surrounded by fantastic dining options and lively bars.
This means you can make a night of it, enjoying a meal or drinks with friends before or after the show. It's all part of the affair.
Rent the space for a private event.
One of the best things about the Ottawa Memorial Auditorium is its long history. Having a wedding, business meeting, milestone celebration, or any other kind of special event at this place gives it a touch of class and local importance.
The venue itself can handle a lot of different kinds and sizes of events. You can make it your own because the seating is movable, the sound quality is great, and the facilities are state-of-the-art.
Like fancy galas, rockin' shows, and everything in between, you can hold almost anything here. It's up to you to use your imagination to make this place into something truly special.
Another great thing about the auditorium is that it's got a central location in the capital. The theater is right in the middle of Ottawa, so it's easy for your friends to get to, whether they are locals or just visiting.
You can also easily walk to nearby restaurants and entertainment choices, so you can plan a full day or night of memorable experiences.
Guests will remember the venue for a long time thanks to its historical feel. And besides, who could forget a special event taking place in an auditorium?
It's an extra special experience, one that is bound to have your guests sharing stories with their friends and family!
Watch a comedy show.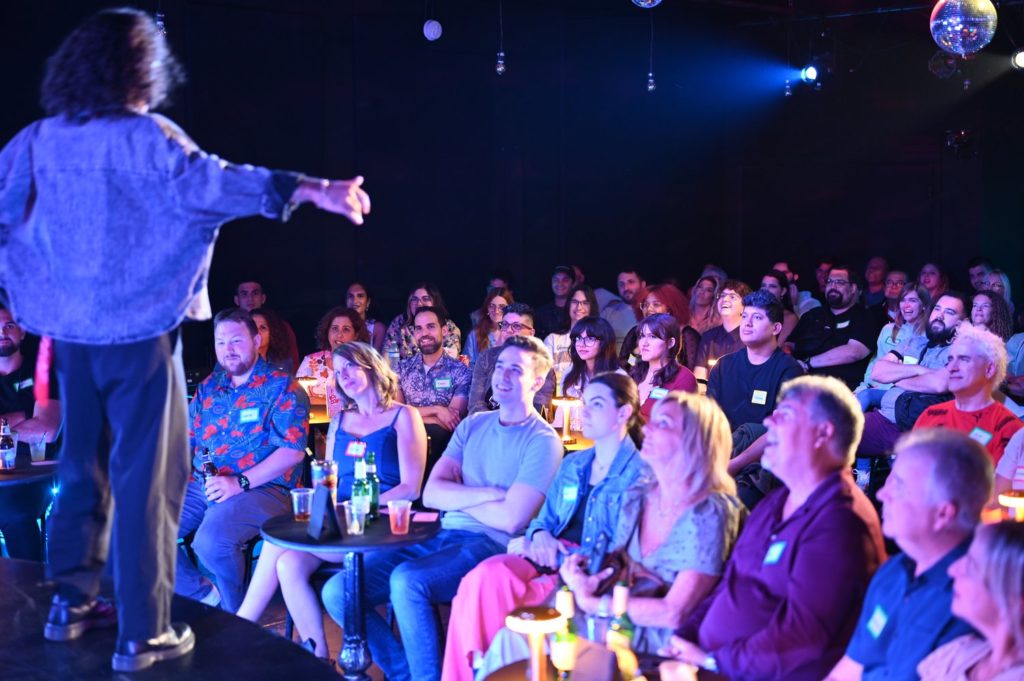 One of the distinctive features of comedy shows at the auditorium is the intimate setting it offers.
Unlike larger, more impersonal comedy clubs, The Aud provides a more personal experience. You're closer to the action, and the connection between the audience and the comedians is palpable.
The variety of comedic styles is another reason why comedy shows at The Aud are such a hit. These shows often feature a mix of comedic approaches, catering to a diverse audience.
You are bound to find something that tickles your funny bone with the observational humor, satire, and slapstick comedy, shows that The Aud offers. The diverse lineup keeps the show engaging and appeals to a wide range of comedic tastes.
And to add further to that, attending a comedy show at The Aud means sharing laughs with fellow Ottawans. This event allows you to connect with your local community through the universal language of humor.
The shared enjoyment of a well-timed joke fosters a unique sense of togetherness and camaraderie, making the experience even more enjoyable.
Last but not least, comedy shows at The Aud offer a welcome escape from the everyday routine. It's a chance to unwind, let loose, and immerse yourself in the humor delivered by talented comedians.
The moment you step into The Aud for a comedy show, you're transported into a world where laughter reigns supreme, providing a well-deserved break from the stresses of everyday life.
Watch the ongoing dance rehearsals and performances.
The auditorium hosts a variety of performances, ranging from classical ballet to contemporary and cultural dance forms. This diversity means you can enjoy an array of styles and discover something new with every visit.
The intimacy of the auditorium's setting is perfect for dance performances. It allows you to see every graceful movement up close and personal, which is a rare treat.
The acoustics are excellent, ensuring that you hear all the notes of the music and the whisper of the dancers' feet. This creates a sense of immersion that few larger venues can match.
The talent on display is exceptional, with the dancers who grace the stage being top-notch professionals.
What makes this truly exciting is that you're guaranteed to witness remarkable technique and skill from both local and global performers. It's a chance to see the magic that these dancers bring to the stage.
But the experience doesn't end with the final performance. You also have the option of watching rehearsals, which provides you with a unique opportunity to see how these incredible performances come together.
I find that there is something truly special in seeing the hard work and dedication that the dancers and choreographers put into perfecting their art, which can be both educational and inspirational.
It offers a behind-the-scenes look at the creative process that's usually hidden from the audience.
Attend a dazzling theatre show.
Theatre plays make the stage of the Ottawa Memorial Auditorium come alive with the talents of actors and performers, pulling you into the narrative with their skill and passion.
The shows at The Aud often spotlight the remarkable local talent that graces our city. It's an opportunity to support and applaud the artistic capabilities within our community.
These serve as a platform for local actors, directors, and crew members to shine, showcasing their dedication and creativity.
The theater goes deeper than simple entertainment; it's a form of cultural enrichment. It exposes you to diverse perspectives, emotions, and stories, often challenging your thinking and sparking meaningful conversations.
If you attend a theater show at The Aud, you are effectively broadening your cultural horizons and gaining a deeper appreciation for the arts.
Not only that, but theater has the unique power to evoke a wide range of emotions, from laughter to tears and everything in between.
The experience is a rollercoaster of feelings, and it's in these moments that you truly connect with the performers and your fellow audience members. It's a shared journey into the world of emotions and storytelling.
Join the community events that regularly take place.
One thing that I attend in the Ottawa Memorial Auditorium is the events that are regularly held by my fellow locals.
The heart of any community gathering is, well, the community! It's a celebration of togetherness, a moment when neighbors, friends, and residents unite to share in the collective spirit of Ottawa.
What makes the community gatherings at The Aud so incredible is its diverse events. You could be attending a local arts and crafts fair, a cultural festival, a charity event, or a town hall meeting.
There's always something new and exciting happening, catering to a wide range of interests.
Many gatherings also feature local talent. It's a showcase of the artistic and creative abilities within our community, as local bands, artists, craft vendors, and food artisans get a platform to show off their work.
So, whether you're a long-time resident or a newcomer, don't miss the opportunity to be a part of these lively and enriching community events at The Aud.
Take some friends, family, or a significant other to free movie nights.
Movie lovers everywhere need to attend the free movie nights that the Ottawa Memorial Auditorium occasionally hosts. It usually features a specific theme to keep things interesting and prevent the movie nights from getting repetitive.
What makes these movie nights truly special is that they're accessible to everyone. Regardless of your age or background, these events welcome all movie enthusiasts.
It's a chance for families, couples, and individuals to enjoy a night out without any cost.
As for the movies themselves, have a unique ability to transport us to different worlds, elicit a wide range of emotions, and spark meaningful conversations.
You really don't have to be a cinephile to appreciate cult classics or contemporary blockbusters. What matters is that you enjoy the experience and just have fun.
Play some bingo with the other locals.
The Aud's Bingo games welcome everyone. Age, background, or experience is irrelevant here.
It's an inclusive game that offers enjoyment for all. Kids, adults, and old-timers are free to participate and have fun with one another, making it such a great activity for the community.
There's an undeniable thrill that comes with bingo. As each number is called, the room is filled with anticipation.
It's a fun and suspenseful experience that keeps you on the edge of your seat, and when you finally shout "Bingo!" and hear the crowd's cheers, the sense of triumph is exhilarating.
Besides, who can resist the allure of exciting prizes? Bingo at The Aud often comes with cool rewards and giveaways, and the chance to win everything from cash to gift baskets adds an extra layer of excitement to the game.