The Website Builders in Ottawa
If you're looking for a simple and convenient way to create a custom website, check out website builders.
That said, we picked the best website builders in Ottawa that DIY creators can use to create stunning sites for their businesses, portfolios, and advocacies.
Website building can be a fun and rewarding project with the companies on this list. Yes, even if you have limited technical know-how.
To further help you, we have included a list of costs and answers to your most pressing questions about website building.
How much do website builders cost in Ottawa?
The cost of using website builders to create your online presence varies depending on the service provider you choose. More popular companies that offer complex and powerful features tend to charge a bit higher.
Know that plans across all companies are similar in pricing patterns. Generally, business website plans with more features and protection will be more expensive.
Here is pricing information from selected website builders to give you an idea of what to expect when hiring a company.
Company
Cost (Per Month)
Wix

Website plans

Connect Domain: $5.82 (US$4.50)

Combo: $10.99 (US$8.50)

Unlimited: $12.50 (US$16.15)

VIP: $24.50 (US$31.66)




Business/e-Commerce plans

Business Basic: $21.97 (US$17)

Business Unlimited: $32.31 (US$25)

Business VIP: $45.23 (US$35)

Zyro
Website: $11.62 (US$8.99)

Business: $14.85 (US$11.49)

Advanced Store: $33.47 (US$25.90)

Squarespace
Personal: $24.56 (US$19)

Business: $42.65 (US$33)

Basic Commerce: $46.54 (US$36)

Advanced Commerce: $84 (US$65)

Weebly
Personal: $11.63 (US$9)

Professional plan: $20.68 (US$16)

Performance: $37.48 ($29)

Site 123
Per month fees for annual plan

Basic: $13.96 (US$10.80)

Advanced: $21.71 (US$16.80)

Professional: $29.47 (US$22.80)

Gold: $37.22 (US$28.80)
Top Website Builders in Ottawa
Choosing the best website builders requires taking a critical look at the company's offerings. We have used the following criteria to ensure our list only includes brands that provide high-standard services.
1. Wix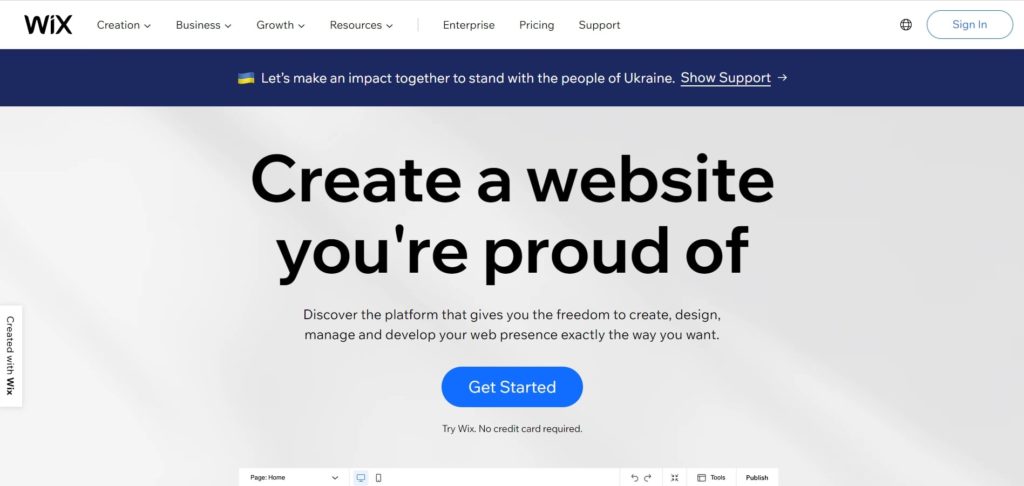 Test
Info
PRODUCTS
- Website design

- Advanced web development

- Mobile app

WEBSITE
https://www.wix.com/
OPERATING HOURS
Help center and live chat operates 24/7
| | |
| --- | --- |
| Criteria | Rating |
| Range of features | ★★★★★ (5/5) |
| Cost | ★★★☆☆ (3.5/5) |
| User interface | ★★★★☆ (4.5/5) |
| Customer support | ★★★☆☆ (3.5/5) |
| Payment options | ★★★★☆ (4/5) |
| Reachability | ★★★☆☆ (3/5) |
Wix is one of the most popular website builder companies nationwide for good reasons. It offers a user-friendly interface and plenty of professionally designed templates.
Moreover, the company offers reasonable package prices.
We love that the developers included a drag-and-drop feature, which allows you to customize your site more freely while doing away with coding.
We love that the inspiration behind it lies in the developers' intention to empower all kinds of people to build their online presence.
It's also a power move, as it rides the wave of businesses turning to the Internet to market themselves. Practical business owners will look for an easy-to-use platform for their sites, and Wix's offerings fit the bill.
We think the Wix Help Center page is also neat. Hundreds of articles populate the page, but you can easily find your way to answers because of the proper labeling and clean formatting.
We find the wealth of information a bit of a downside, though. Beginners can become overwhelmed by such a large database, especially if they insist that they need to know everything at once.
That said, we suggest learning the software app at your own pace or within a realistic timeframe.
We love that the company is reachable via live chat and online call requests. But since it caters to 150 million users (and counting), communication hiccups will always loom in the background.
Offers a free version
Broad selection of beautiful website templates
Intuitive and beginner-friendly user interface
Comprehensive knowledge base
Feature-packed application can be overwhelming
Starting price for business sites a bit expensive
Customer Reviews
Professional-looking templates
"I find it truly amazing how little work I need to put in to make an amazing website. You will have people think the website was made by a professional not by yourself in a short amount of time." —Md A., GetApp
Simple interface empowers users
"My overall experience with Wix is positive. I have created several websites for customers and friends and just taking the time to get their visions and create them with such ease is what I like when I deal with Wix.com. I think when you pay for the more premium platform there is a better option to be more creative for the website you are designing. I am excited to try that in the future if a customer permits and pay for the upgrades at that time so I can see what Wix can do on a more premium level." —Michelle M, GetApp
2. Zyro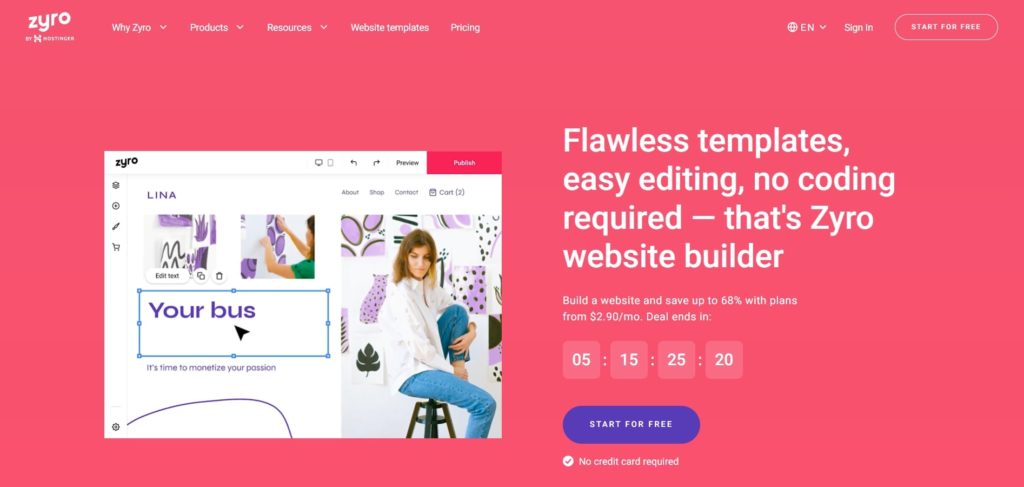 Test
Info
PRODUCTS
- Website development

- Artificial Intelligence tools

- Business emails

WEBSITE
https://zyro.com/
CONTACT DETAILS

[email protected]

OPERATING HOURS
Help center and live chat operates 24/7
| | |
| --- | --- |
| Criteria | Rating |
| Range of features | ★★★★☆ (4.5/5) |
| Cost | ★★★★☆ (4.5/5) |
| User interface | ★★★★☆ (4.5/5) |
| Customer support | ★★★★☆ (4.5/5) |
| Payment options | ★★★★★ (5/5) |
| Reachability | ★★★★☆ (4/5) |
If you're a budget-conscious user who needs quick results, opting for Zyro's website building services is a smart move.
For a low price, the company offers the ever-so-convenient drag-and-drop feature for easy website customization. Furthermore, they made available a comprehensive set of Artificial Intelligence (AI) tools that can assist you with design decisions from slogans to logos.
Combining these two features allows for speedy website development and launching, giving you more time to promote your brand.
But while the company's application has plenty of room for customization, you can only take advantage of its full potential if you know how to code. Otherwise, you might not fully realize your design vision due to template limitations.
Know that Zyro does not offer a free version, unlike other website builders. The silver lining is that if you pay for a plan, you can get your money back should you choose to cancel within three months.
We also love that Zyro integrates a free Secure Socket Layer (SSL) certificate in their packages. This feature is essential to include on websites, as it helps secure customer information, which can solidify your integrity as a business owner.
SSL certificate comes free of charge
Convenient and powerful AI tools
Over 100 templates to choose from
Offers free custom email for three months on all plans
Templates allow limited customization
No free plan available
Customer Reviews
Great platform at an attractive price
"A great alternative to more expensive competitors.
I love the new features being added regularly, bought a multi-year plan. It's been great so far and support has been really pleasant and helpful, usually respond within a couple of hours.
Highly recommended for all levels of experience." —Patryk Widejko, Trustpilot
Premium customer support
"I love the Zyro platform, it's so easy to use and implement. It has the exact tools I need to build my website in a few hours and many articles we can read if we need help in the Help Center. However, the best thing here is their customer support, it is just perfect, I always feel like I have a premium treatment or something like that. —Luis F. Azuaje B., Trustpilot
3. Squarespace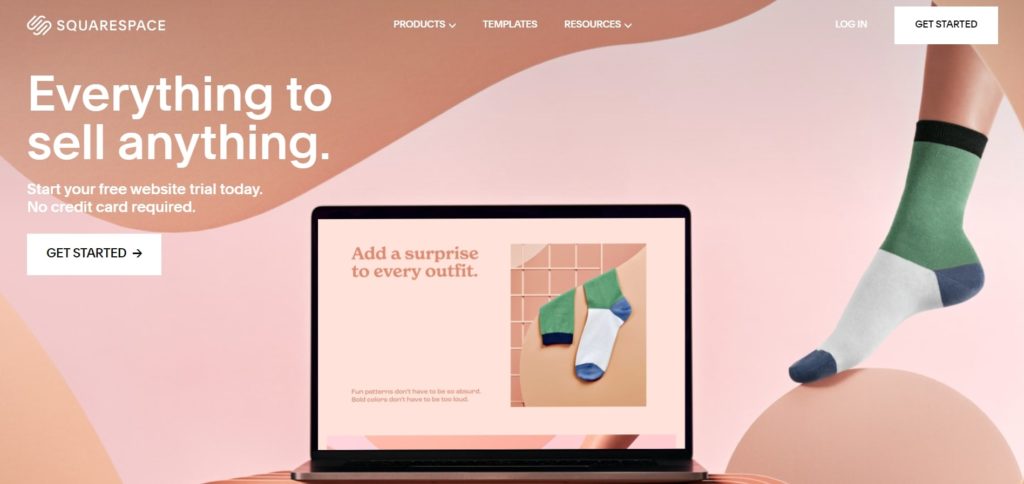 Test
Info
PRODUCTS
- Website building

- E-commerce templates

- Video maker

WEBSITE
https://www.squarespace.com/
OPERATING HOURS
24/7 customer support
| | |
| --- | --- |
| Criteria | Rating |
| Range of features | ★★★★★ (5/5) |
| Cost | ★★★☆☆ (3/5) |
| User interface | ★★★★☆ (4/5) |
| Customer support | ★★★☆☆ (3.5/5) |
| Payment options | ★★★★☆ (4/5) |
| Reachability | ★★★☆☆ (3/5) |
You can sell your products no matter what website builder you choose. But if you want a tailored experience, Squarespace is the right company for you.
The company's e-commerce templates are drop-dead gorgeous. The designs are so stylish and streamlined, which we believe will compel potential customers to stay on your site.
Moreover, Squarespace offers customization tools that match your product types. Say, a scheduler for your professional service or a direct download button for digital content.
Aside from the attractive and functional templates, the company takes its business support to a higher level by providing you with management tools for orders, checkouts, and payments.
However, know that the e-commerce features are comprehensive, meaning it will take some time to learn the ropes. The website building interface is also not as intuitive as other options.
Nonetheless, you can reap great rewards if you devote your time to learning how this website builder works and are willing to pay a slightly higher price.
Sleek and attractive website templates
Templates optimized for mobile
Offers a wide range of e-commerce capabilities
Provides free learning resources, ideal for beginners
Packages are pricier
Provides smaller room for customization
Customer Reviews
Ideal for basic website building
"I like how easy this was to use for a basic design. If you have images, text, and basic layouts that you want to use for a website, this is an easy-to-use design editor. While there are some things that take a little time to figure out, it is mostly drag-and-drop, and walks you through the steps and makes things look good most of the time." —Clint K., GetApp
Perfect for creating neat websites
"I have been satisfied with my Squarespace experience and would recommend it to others. Our website is clean and functional and it was easy to learn how to do everything on the backend." —Melissa H., GetApp
4. Weebly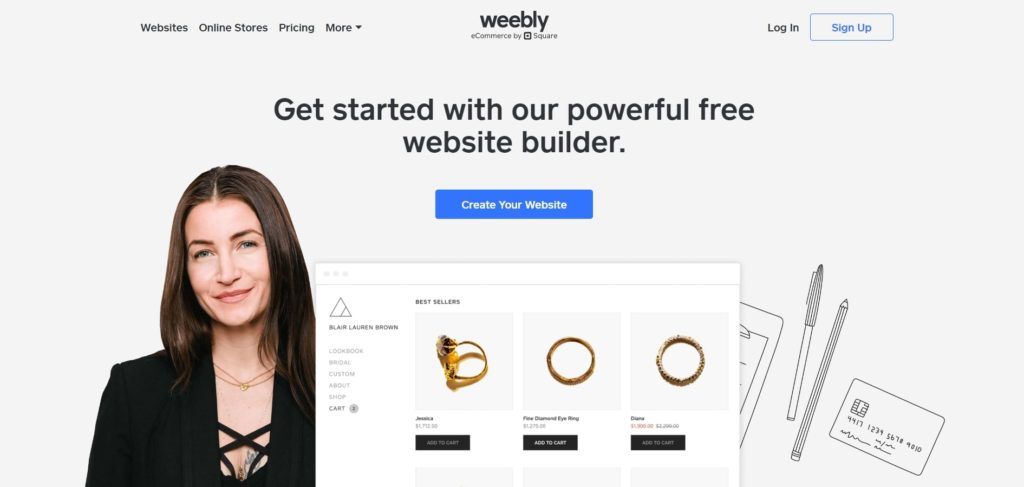 Test
Info
PRODUCTS
- Website builder

- E-commerce tools

- Email marketing

WEBSITE
https://www.weebly.com/?lang=en
OPERATING HOURS
Live chat and email support operates 24/7
| | |
| --- | --- |
| Criteria | Rating |
| Range of features | ★★★★☆ (4/5) |
| Cost | ★★★★☆ (4/5) |
| User interface | ★★★★★ (4.5/5) |
| Customer support | ★★★★☆ (4/5) |
| Payment options | ★★★★☆ (4/5) |
| Reachability | ★★★★☆ (4/5) |
For business owners in a hurry to build a website without having to deal with complicated instructions and whatnot, Weebly is the next best thing.
The company saw to it that its website builder is straightforward, incorporating a simple interface, drag-and-drop feature, and theme-switching capabilities.
Weebly provides templates that are modern and built for high-resolution images. However, their color palettes are predominantly subdued and neutral, almost minimalist, which is a bit cliche in website design.
The upside is that should you choose to switch templates, you will not have to customize your site from scratch, unlike other website builders.
Know that you can't undo massive site changes using the builder. So if you're changing your website theme or adding elements, you need to be 100% certain.
Nonetheless, Weebly offers acceptable features that will satisfy your desire to build a website quickly without spending a fortune.
Free plan available
Provides mobile-responsive design templates
Simple user interface
Competitive prices
Limited template customization features
Builder lacks a universal undo button for major site changes
Customer Reviews
Accommodates all skill levels
"Ease of use is the most important quality for me. But not only is it easy to use, [but it's also] easy to get good quality results without a lot of know-how." —Tim D., GetApp
Impressive customer support
"The customer support is very nice and everything is easy to use. I have used Weebly on and off for many years and was always generally happy with it." —Emily S., GetApp
5. Site 123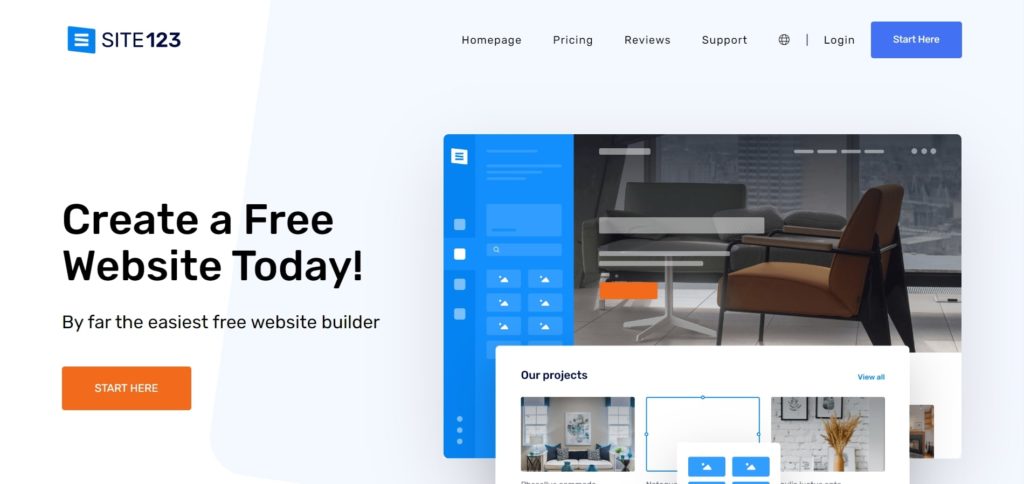 Test
Info
PRODUCTS
- Website editor

- SEO tools

- Custom domains

WEBSITE
https://www.site123.com/
OPERATING HOURS
Customer support operates 24/7
| | |
| --- | --- |
| Criteria | Rating |
| Range of features | ★★★☆☆ (3.5/5) |
| Cost | ★★★★☆ (4/5) |
| User interface | ★★★★☆ (4.5/5) |
| Customer support | ★★★★☆ (4.5/5) |
| Payment options | ★★★★☆ (4/5) |
| Reachability | ★★★★★ (5/5) |
Customers looking to build a simple website will find Site 123 an appealing website builder.
The company offers four packages, with the plan for business websites coming at reasonable prices.
Site 123 also makes web design as simple as a few clicks and tweaks. You'll need to answer a few questions, which their web builder will use to generate a template.
We find this simplicity enticing to customers who want to launch a website quickly. It's also good news for entrepreneurs who plan to create multiple websites, as it will not take long to set up one.
But probably because it's too simple, Site 123's features are unfortunately limited. For instance, drag-and-drop is non-existent, meaning creative freedom is limited.
Its e-commerce tools also include only the basic features. You're better off using other companies if you need a much more powerful website to market your services and products.
Nonetheless, the company's offerings are perfect for selling your personal brand, especially if you have little technical know-how. They also have a reputation for prompt responses to queries, so you'll feel supported on your website building all throughout.
Allows you to create websites quickly and easily
Basic e-commerce tools available
Features perfect for building personal websites
Excellent customer support
At-a-glance plan prices lacking in details
Features are not fit for creating complex websites
Customer Reviews
Allows no-sweat website publishing
"The website was easy to set up, and following the instructions was intuitive. The site design is excellent and the layout supports and highlights my content. I did have to use technical support to "publish" the site, but my issues were quickly resolved." —Bill C., GetApp
Puts client satisfaction first
"I have 2 websites (professional and personal ones), both of them paid, and I think it's super quick to use and build the website, while the visual result is super good and looks quite modern. In addition, the customer support is super fast, probably their best part." —Gines H., GetApp
FAQs about Website Builders in Ottawa
---
Website builders have grown and improved through the years to make creating websites accessible to many people. If you want to establish your online presence, don't pass up the opportunity to get a hold of this liberating and convenient technology.
But if DIY website building won't cut it for you, we suggest checking out our list of the best web design services in Ottawa instead.